The 12 Best State Parks in Utah (2023)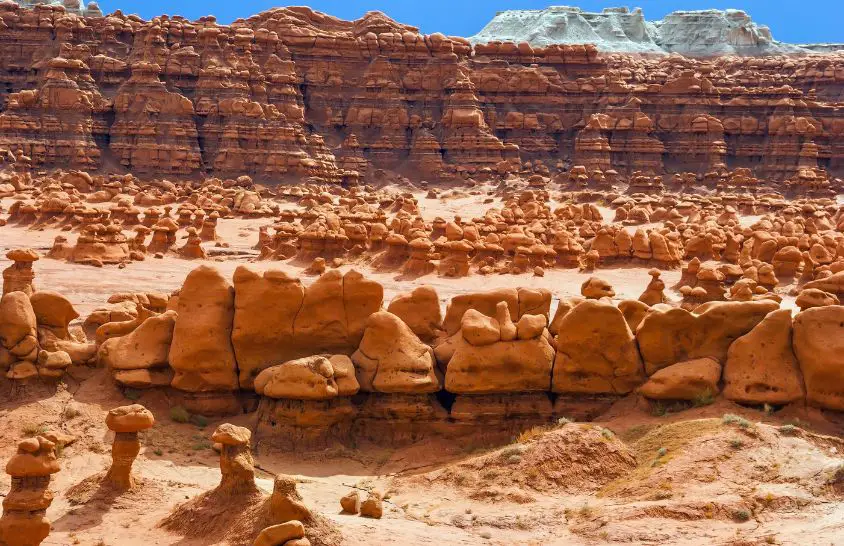 Utah is home to some of the most stunning state parks (and national parks) in the United States. Whether you're looking for some of the best hikes in America or a relaxing lakeside stroll, there's something for everyone in this beautiful state. With so many amazing choices, it can be hard to decide which state parks are the best – so that's why I made this list. 🙂 Let's take a look at some of the top parks in Utah. 
Antelope Island State Park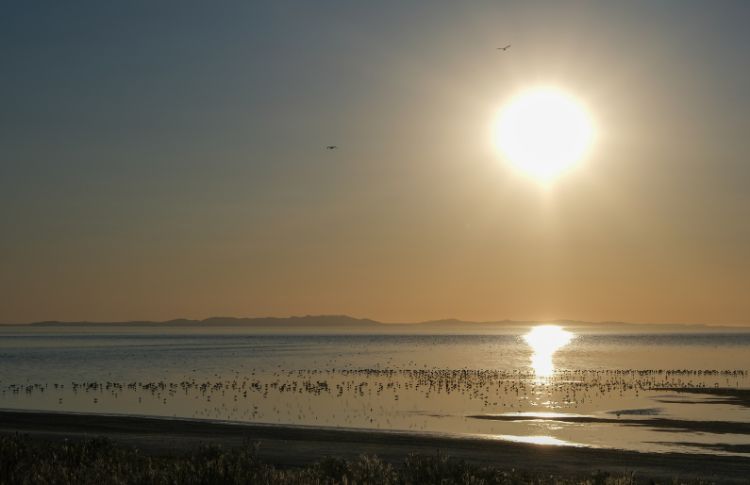 Antelope Island State Park – an oasis of rangelands and wildlife that offers a refuge from the Wasatch Front. Just drive across the causeway – a narrow two-lane road spanning from mainland to island – and you'll be in a world of tranquility and stunning views.
This park is home to some incredible history, as it was first explored by John C. Fremont and Kit Carson in 1845, and has since been home to Fielding Garr Ranch House – the oldest continually inhabited Anglo home in Utah still on its original foundation. There are many activities to enjoy here, like camping, hiking, biking, horseback riding, birdwatching, beach trips (public restrooms with showers available), and more. You can also visit the Island Buffalo Grill or take a guided e-bike tour (open seasonally).
Plus, there are plenty of accessible overlook areas for visitors with disabilities. So, if you're looking for a peaceful place to get away from it all while exploring some fascinating history, Antelope Island State Park is a must-visit on this list.
Dead Horse State Park
Embark on an adventure like none other at Dead Horse State Park. Located in a stunning desert landscape of canyons, high desert woodland, and miles of trails, it's a great spot for outdoor enthusiasts looking for a unique and memorable experience. 

This park is full of modern amenities for visitors to enjoy, including campgrounds with beautiful views and connections to nature that will create long-lasting memories. Plus, you can look forward to some incredible night sky viewing after the sun sets – the dark starry skies are sure to be a highlight of your visit! 

In addition, explore 17 miles of mountain bike trails, 8 miles of hiking trails, or just wander around the park and marvel at its beauty. And don't forget to check out the famous Legend of Dead Horse Point – it's said that wild mustangs were herded onto this promontory point in order to choose which horses they wanted. Unfortunately, the heart-breaking event left some horses trapped without water until they died within view of the Colorado River far below (hence the name, "Dead Horse" State Park).

View Official Website 
East Canyon State Park
Tucked away in the mountains, East Canyon State Park park is home to a popular reservoir for boating and fishing, as well as plenty of camping sites. Plus, it's also rich in history with its connection to the Mormon Pioneer Trail and the Donner Party. 

The Donner Party was the first wagon train to pass through East Canyon back in 1846, setting up a route that would be followed by thousands of pioneers heading westward to California and Utah. The trail was treacherous and slow-going because of high brush and rocky obstacles that they encountered along the way – only 47 of the original 87 were able to reach their destination. 

One year later, Brigham Young and his group of Mormons were able to more quickly traverse this same trail due to all their hard work. Today visitors can still get a glimpse of what those pioneers experienced during their journey with miles of trails for biking, hiking or horseback riding. There are also plenty of amenities available, from tents and hammocks for camping, glamping sites, RV trailers, cabins, and more!

View Official Website
Escalante Petrified Forest
Take a trip to Escalante Petrified Forest State Park and experience an outdoor wonder like no other. Located in central Utah, this state park is home to a fascinating petrified forest full of colorful pieces of wood that are said to be haunted. 

Explore the miles of trails that wind throughout the park, including the main Petrified Forest Trail, which is a one-mile loop through lava flows and thousands of pieces of petrified wood. You can also take on the Sleeping Rainbows trail, an optional .75-mile loop off the Petrified Forest Trail that requires scrambling and climbing over rocks. 

And you won't want to miss out on seeing the 50-foot petrified tree, which was opened to the public in 2014 and can be viewed from its roots all the way up to its tip. Beyond sightseeing, visitors can also enjoy camping along Wide Hollow Reservoir or rent a canoe or kayak for some water fun. With an elevation of 5,900 feet, you're sure to have a unique experience at this state park – just don't forget to take photographs!

View Official Website
Goblin Valley State Park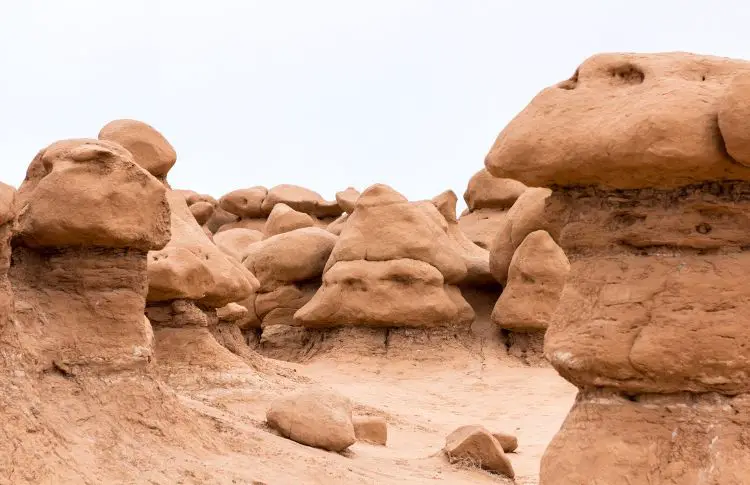 Goblin Valley State Park, located in Green Valley, is unlike anything else around. With its Mars-like landscape covered with sandstone goblins and formations, it's easy to see why this park has become so popular. Goblin Valley was first discovered by cowboys searching for cattle in the late 1920s. Then it was Arthur Chaffin who stumbled upon the secluded valley while looking for an alternative route between Green River and Caineville. When he saw the five buttes and strange-shaped rock formations surrounded by a wall of eroded cliffs, he knew he had found something special. 

Today, visitors can explore the geological history behind Goblin Valley State Park. The exposed cliffs reveal parallel layers of rock that have been bared by erosion over time, providing insight into what formed the valley's unique landscape today. 

Plus, there are plenty of activities to take part in, which include camping, hiking, biking, canyoneering, disc golf, and night sky viewing. One hike you don't want to miss is The Three Sisters – a 250-yard trail that will take you past some of the most iconic goblin formations within the park. Afterward, you can snap a photograph or two at its observation point as your souvenir from such an unforgettable visit.

View Official Website
Goosenecks State Park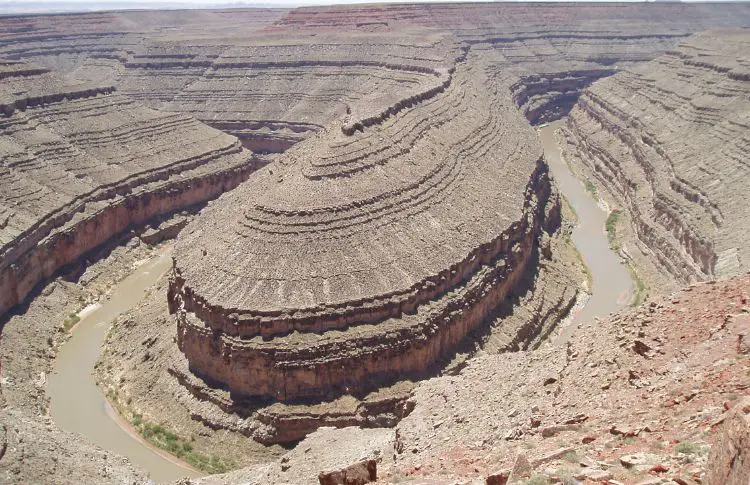 Experience one of the most stunning examples of an entrenched river meander in North America at Goosenecks State Park. Situated on the edge of a deep canyon, this small park provides awe-inspiring views of the San Juan River winding its way through the desert 1,000 feet below. 

Gaze at the results of 300 million years of geological activity, where the San Juan River winds and carves its way through, flowing a distance of over six miles while advancing one and a half miles west on its way to Lake Powell. 

From Alhambra Rock to Monument Valley, you'll be able to take in some incredible sights all around you. Goosenecks State Park is pet-friendly and offers activities such as sightseeing, photography, star gazing, picnicking and camping. However, please note that there are no hiking or bike trails within the park – bikes are only permitted on public roads – and it can get extremely hot during summer months with limited shade available. 

If you're looking for an opportunity to marvel at nature's raw beauty from high above the San Juan River canyon, then make sure to stop by Goosenecks State Park.

View Official Website
Otter Creek State Park
Head to Otter Creek State Park for an unforgettable experience that combines the best of ATV riding, boating, and bird watching. Located right on the otter creek resevoir, this quiet getaway is the perfect spot for a peaceful escape. 

Explore the three ATV trails, including the Paiute Trail System, directly from the park for an adrenaline-pumping adventure. Or take on a record catch from Otter Creek Reservoir, a prime fishery. Don't miss out on going birding during spring and fall as many bird species pass through the park along their journey along the Pacific Migratory Bird Flyway. 

The reservoir has quite a history too! After local Mormons applied for water rights in 1897, construction began on one of the oldest dam projects in Utah. Despite being denied financial assistance to build it initially, they still decided to go ahead with construction with Robert Dixon Young leading them as a supervisor – he had no prior experience in dam building either! The 40-foot-high dam was eventually completed and is now described by state engineers as "one of the best and more secure earth reservoir dams in the country"!

View Official Website
Jordanelle State Park
From the majestic waters of the Jordanelle Reservoir to the towering cottonwoods of the Upper Provo River, Jordanelle State Park truly has something for everyone. Located above Heber Valley in Wasatch County, Utah, this park offers a variety of activities to enjoy. 

Pack your camping gear and explore the three distinct recreation areas – Hailstone, Rock Cliff, and Ross Creek – each with its own unique outdoor experience waiting for you. Whether you plan on spending a day or a weekend here, you'll find plenty of opportunities for picnicking, camping, boating, fishing, hiking, and night sky viewing. 

For an unbeatable experience on the water, head to Hailstone Recreation Area for swimming, wakeboarding, and waterskiing along Jordanelle Reservoir's beautiful shorelines. Or visit Rock Cliff Recreation Area to get up close with nature in its tall cottonwoods. Hike through pristine forests or hop in a canoe or motorboat while admiring the peaceful scenery around you. No matter what kind of outdoor adventure you're looking for – Jordanelle State Park is your perfect escape from city life!

View Official Website
Quail Creek State Park
At Quail Creek State Park, you can enjoy the best of both worlds – a mild winter climate and some of the warmest waters in Utah. Whether you're looking for a peaceful camping trip or an adventurous day out on the lake, this park has it all. 

Quail Creek reservoir was completed in 1985 to provide irrigation and culinary water to the St. George area. Most of the water that flows into this reservoir comes from the Virgin River, which is transported through a buried pipeline. This deep reservoir reaches up to 120 feet in some places, making it cold enough to sustain stocked rainbow trout, bullhead catfish, and crappie. You can also find largemouth bass and bluegill swimming in the warmer upper layers of the lake. 

Whether you're an avid fisherman or just want to take a dip on a hot summer day, there's no shortage of fun activities at Quail Creek State Park! Take advantage of the 24 campsites available for overnight stays, as well as BBQs and picnic tables for day trips. You can even hit the ski trails or rent a boat from nearby marinas.

View Official Website
Rockport State Park
Located in northern Utah, this park offers something for everyone all year round. During the summer months, visitors can fish, boat and waterski on Rockport Reservoir. There are also three developed campgrounds with tent and RV sites, as well as primitive campgrounds for those looking to experience a true outdoors adventure. 

Winter activities include ice fishing and access to nearby snowmobile trails. Rockport State Park was also certified as an International Dark Sky Place in 2021, making it a great spot to witness star-filled night skies. Utah is fantastic, by the way, for dark sky viewing.

Plus, there's plenty of wildlife to observe – from mule deer and chipmunks to elk and bobcats (though they're not often seen). At an elevation of 6,000 feet and 770 acres of surface water acreage, Rockport State Park is the perfect place to escape the city hustle while enjoying some quality time in nature.
Sand Hollow State Park
At Sand Hollow State Park, you'll be able to experience the best of both worlds – incredible blue waters, red sandstone landscapes, and 15,000 acres of perfectly sculpted dunes. This sprawling 20,000-acre park is one of the most visited destinations in Utah, and with good reason. 

Whether you're a boater, a biker, an OHV rider or an equestrian, there's something for everyone here. A favorite destination for local off-highway vehicle (OHV) enthusiasts, Sand Mountain provides 15,000 acres of perfectly sculpted dunes. The red sand serves as an incredible backdrop for Sand Hollow reservoir – nearly twice the size of Quail Creek Reservoir and perfect for boating and other water recreation activities. 

You can also hike through the park and take in all the beauty that it has to offer. With its warm waters and unique landscape, Sand Hollow is a must-see destination in Utah if you're looking for a fun outdoor adventure filled with activities from fishing to riding ATVs!

View Official Website
Snow Canyon State Park
Step into a breathtaking world when you visit Snow Canyon State Park. Located in the Red Cliffs Desert Reserve, this 7,400-acre park is home to a unique and fragile desert environment with stunning views of lava flows, sandstone cliffs, and majestic canyons. 
No matter what adventure you're looking for, this park has something for everyone. Take a hike or bike ride on one of the 38 miles of trails or explore on horseback with over 15 miles of equestrian trails. Enjoy nature studies, wildlife viewing, photography, camping, ranger talks, and junior ranger programs too. 
For the ultimate outdoor experience, camp in the peaceful campground surrounded by ancient lava flows and red Navajo sandstone. Keep an eye out for seasonal nature programs too!
What Activities Can I Expect in Utah State Parks? 
Utah is more than just a pretty backdrop – you can expect countless hours of fun activities, such as hiking, ATV riding, boating, and more. Here's a more complete list: (But note, not EVERY park has all of these amenities, so double check the park's official website for more info.)
Camping: Utah State Parks offer a variety of camping experiences, from RV and tent sites to primitive camping. Choose from over 2,000 campsites at over 20 parks. 
Hiking: Utah State Parks offer trails of all levels, from easy to strenuous. You'll find great hikes that take you to sweeping views of the state's deserts, forests, and canyons. You can also explore the many slot canyons, arches, and other unique geological features in the area.
Cycling: Bike trails are available in many of Utah's State Parks, ranging from easy trails to more challenging mountain biking trails. Whether you're looking for a leisurely ride or an adrenaline-packed adventure, you'll find it in Utah's State Parks.
Boating: Enjoy a day out on the water with kayaking, canoeing, SUP, and motorized boating at select parks. Fishing: Fish for trout, walleye, bass, catfish, and more in Utah's many waterways. 
ATV Riding: Explore the outdoors with ATV, UTV, and OHV trail-riding opportunities at select parks. 
Wildlife Watching: Spot wildlife such as elk, deer, bison, and more in a variety of natural habitats. Hiking: Take a hike through Utah's stunning landscapes, from desert landscapes to alpine forests. 
Picnicking: Enjoy a picnic in a scenic setting or pick up a snack at one of the many concession stands in state parks. 
Golfing: Hit the links at select state parks for a game of golf surrounded by stunning Utah scenery.
Frequently Asked Questions About Utah State Parks
What is the biggest state park in Utah?
The biggest state park in Utah is Antelope Island State Park, which we wrote about above. In total, the park spans an incredible 22,000 acres, making it the largest state park in the state. 
What is the most popular state park in Utah?
The most popular state park in Utah (from 2016 data) was Sand Hollow State Park. However, Sand Hollow, Antelope Island, Jordanelle, and Dead Horse Point are all pretty popular parks.