The 11 Best Kentucky State Parks (2023)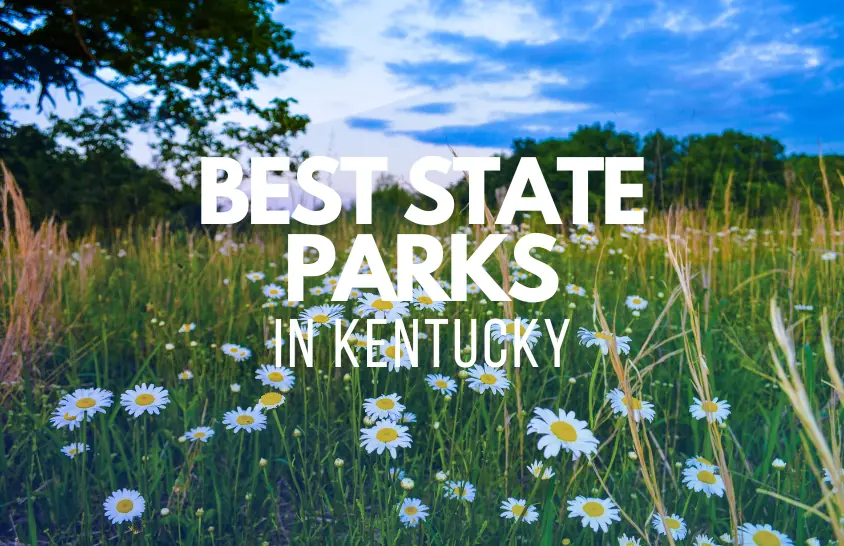 Welcome to the Bluegrass State, where rolling hills meet lush forests, dramatic waterfalls, and pristine lakes. Kentucky is home to some of the most beautiful state parks in the country, and we're excited to take you on a journey to explore 11 of them.
Whether you're looking for a weekend getaway or a week-long camping trip, Kentucky state parks offer endless opportunities for outdoor adventure, relaxation, and fun. From hidden caves to natural bridges, from historic sites to breathtaking vistas, there's truly something for every type of traveler in Kentucky's state parks.
So, without further ado, let's dive into the 11 state parks we'll be exploring in this article:
Big Bone Lick State Park
If you're looking for a unique outdoor experience, Big Bone Lick State Park in Kentucky is the place to go. From discovering salt springs on the Big Bone Creek trail to seeing an actual herd of bison, this park has something for everyone.
Take a stroll and spot some of the park's wildlife, or explore the prehistoric past with its museum and diorama pit. For those wanting to spend the night, there are plenty of campsites available. And don't forget to grab some souvenirs from the gift shop!
For animal lovers, make sure you take a visit to the bison herd – it's open every day of the year and is one of North America's largest land mammals. You can also take photos or brush up on your knowledge at their educational center.
Carter Caves State Resort Park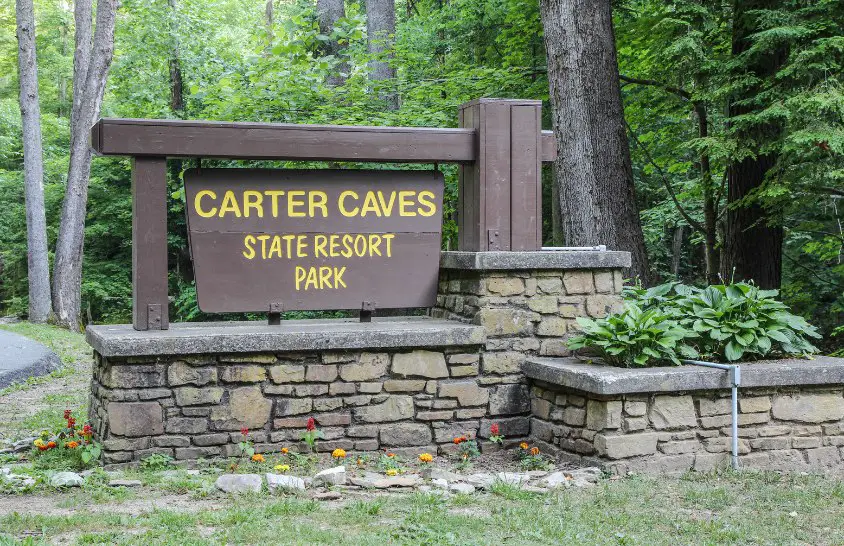 If you're looking to explore a hidden underground world, then look no further than Carter Caves State Resort Park in northeastern Kentucky. Take an adventure beneath the forested hills of this resort and marvel at the stone fans, mounds of stalactites and stalagmites that were formed over millions of years.
Above ground, there's plenty of activities to enjoy too. Take a refreshing hike on the many trails and admire natural bridges, arches, caves, sinkholes, cliffs, and a boxed canyon. Then head underground to explore 20 winding caverns and be wowed by a 30-foot underground waterfall along with many more jaw-dropping sights.
Aside from cave tours and hiking trails, Carter Caves also offers Paddling, Rappelling and Rock Climbing, Swimming, Mini Golf, Horseback Riding Trails, Playgrounds, Picnic spots for birding & fishing lovers as well as Tennis Courts.
Cumberland Falls State Park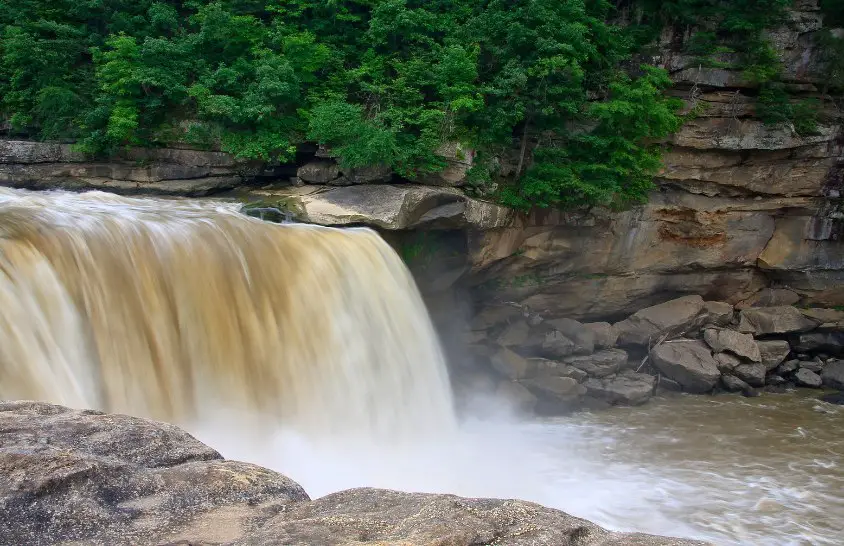 Ready to explore one of the most breathtaking state parks in Kentucky? Look no further than Cumberland Falls State Park. This park is an absolute paradise for hikers, with 17 miles of trails winding through the forest, leading to some of the most scenic spots in the area. Nature lovers will also have a blast here; Cumberland Falls is home to a variety of wildlife, and the Moonbow Trail connects with many backpacking trails in Daniel Boone National Forest.
Aside from hiking, this park has plenty of other activities and amenities to enjoy. Explore the majestic Cumberland Falls, take a tour of Pinnacle Knob 1937 Fire Tower, go horseback riding through the forest, or gem mine for fossils (in season). You can also spend your day swimming, picnicking, fishing or birding – all within a stunning natural backdrop.
E.P. "Tom" Sawyer State Park
Head to E.P. "Tom" Sawyer State Park for a state park in Kentucky that has it all! Located on the outskirts of Louisville, this 554-acre oasis is filled with lush fields and rolling hills that were once farmland, and now offer some of the finest indoor and outdoor recreation facilities in the state of Kentucky.
There are plenty of activities to enjoy here; take a dip in the largest public outdoor swimming pool and splash park in Louisville, take a hike along the shaded Goose Creek Nature Trail, test your skills at the only outdoor public archery range in Louisville, ride on one of six Supercross BMX tracks in the nation, or join an interpreter for a guided hike or educational program.
If you're looking to spend more time there, you can also go picnicking, horseback riding, fishing, birding, and more. 
Fort Boonesborough State Park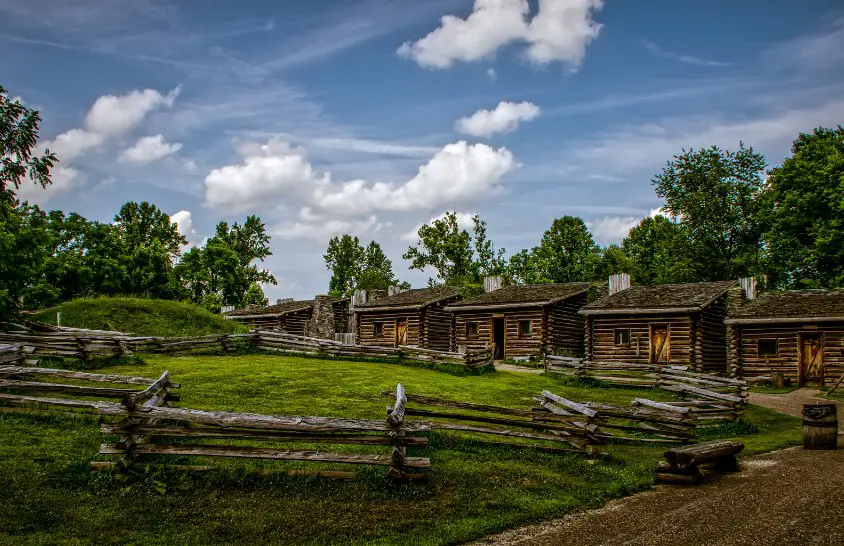 If you're looking for a park with a rich history, look no further than Fort Boonesborough. Located in the Richmond area of Kentucky, this park is where Daniel Boone and his men established the state's second settlement.
Today, the fort has been reconstructed as a working site complete with cabins, blockhouses, and furnishings – all of which you can explore. To bring history to life even more vividly, there are also 18th-century life skills and period craft demonstrations available. Plus, new archaeological findings have supplied even more information which can be read about on the original fort's interpretive signage.
For those looking to stay overnight, why not try out their wildly popular RV and tent campground? You can also go boating in the park's Palisades or take part in other activities such as swimming, birding, hiking, fishing, and visiting the museum.
Green River Lake State Park
If you're looking for a peaceful outdoor escape, look no further than Green River Lake State Park. This 1,331-acre park is located in Campbellsville and offers a variety of activities for the nature lover. With 8,200 acres of lake to explore and 28 miles of hiking trails to wander, there's something for everyone here.
The lake offers plenty of opportunities for fishing and boating. You can rent out a boat at the marina or bring your own along – either way, you'll be sure to find plenty of bass, bluegill, catfish, and crappie in this pristine lake. And if you want to take a break from the water, there's an 18-hole miniature golf course and plenty of picnic areas throughout the park. If you're feeling adventurous, go horseback riding on the trails or take a drive through the park to look at all the wildlife.
There's so much to explore here – why not plan an overnight trip? There are 167 RV sites and 60 primitive sites available – just make sure to book early!
Kincaid Lake State Park
Kincaid Lake State Park is the perfect destination for anyone looking to have an adventure. Located in Falmouth, Kentucky, the lake offers both relaxation and recreation activities.
For boating enthusiasts, you can explore the lake in a motor or pedal boat rental from the marina. And if you're looking to stay overnight, why not try camping in one of its secluded areas? There's also a multi-purpose room with kitchen available for rent – perfect for weddings, family reunions, class reunions, or parties.
If you're looking for some recreational sports activities, there are basketball courts, golf courses, and plenty of trails for hiking and picnicking. Fishing lovers can also enjoy their time at the lake – just make sure to watch out for those who dare to kayak!
Kingdom Come State Park
If you're looking for a stunning natural escape, look no further than Kingdom Come State Park. With an elevation of 2,700 feet, the park is located in the crest of Pine Mountain near Cumberland, Kentucky, and is filled with breathtaking views from its eight overlooks.
Named after Kentucky author John Fox Jr.'s novel "The Little Shepherd of Kingdom Come," this 1,283-acre state park features some of the most extraordinary rock formations in Kentucky. Log Rock is a natural sandstone bridge, while Raven Rock soars 290 feet into the air at a 45-degree angle.
When it comes to activities, there's plenty to do here. Enjoy hiking, biking, fishing, camping, and pedal boating. Don't forget to visit the Cave Amphitheater and see the beautiful view from Creech Overlook and 12 O'clock Overlook!
Natural Bridge State Resort Park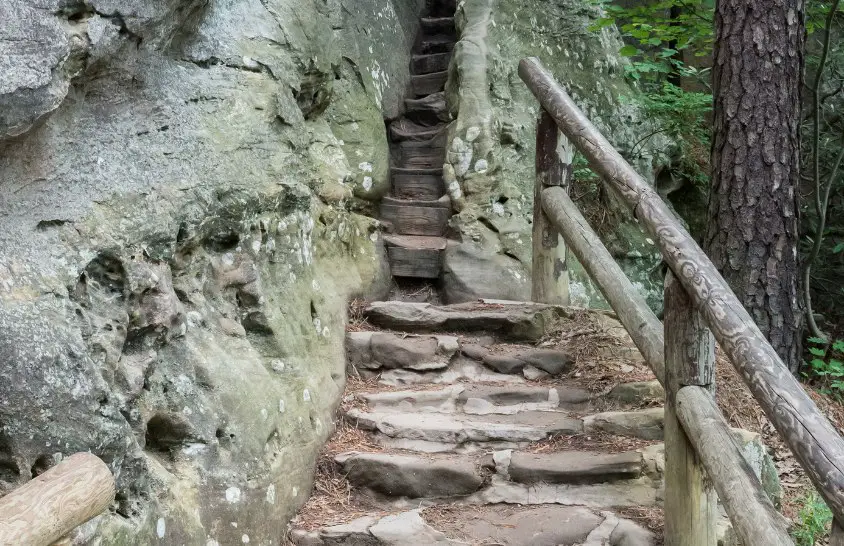 For a stunning state park experience, nothing beats Natural Bridge State Resort Park in Slade. This park offers some of the most beautiful natural scenery in the state – from its hiking trails to its Sandstone Arches Restaurant.
Take advantage of the ten miles of hiking trails, ranging from one-half mile to seven-and-one-half miles. Maps are available at Hemlock Lodge, and due to its Nature Preserve status, dogs are not allowed on the trails except for on the U.S. Forest Service's Whittleton Trail (which is pet friendly). For a truly unique experience, you can ride the skylift and explore the Red River Gorge area or tour Natural Bridge Cave. You can even reserve a private cottage or lodge room to view fall foliage.
Nolin Lake State Park
If you're looking for a beautiful place to camp and fish, Nolin Lake State Park is the perfect spot. Located in Edmonson County near Mammoth Cave National Park, this 5795-acre lake was created from the impoundment of the Nolin River in 1963.
The park offers an array of activities, such as biking, birding, boating, fishing, hiking, and swimming. And with 32 campsites equipped with water and electricity hookups and 27 primitive campsites, it's easy to find your own lakeside spot. If you'd rather not camp out though, there's also a public beach and shower.
For those looking to explore more of the park's trails, hike the Waterfall Loop on Brier Creek Trail or take a spin on the mountain bike trail. Afterward, take a break at the nature center for wildlife displays or participate in recreational programs offered by the park.
Pennyrile Forest State Resort Park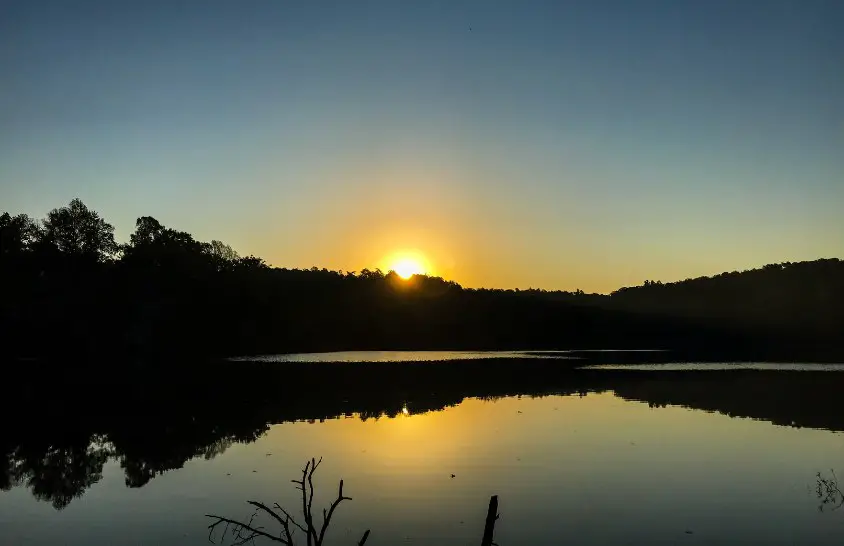 Pennyrile Forest State Resort Park in Dawson Springs offers a variety of activities, from birdwatching and basketball to fishing and horseback riding – all with a stunning backdrop of lake views.
The resort park boasts a 24-room stone lodge and 13 cottages, with a handful on the lake with private docks. For those who prefer camping, the campground is open seasonally mid-March to mid-November and comes equipped with equestrian campsites open year-round.
Take your pick of things to do: explore the lake by canoe or kayak, go fishing at Fisherman's Rock, take the family for a swim at the sandy beach, or stroll across the Dam. For hikers, take on one of three trails: Lake Trail, Clifty Creek Trail, or Indian Bluff Trail.