12 Best Hikes in Big Bend National Park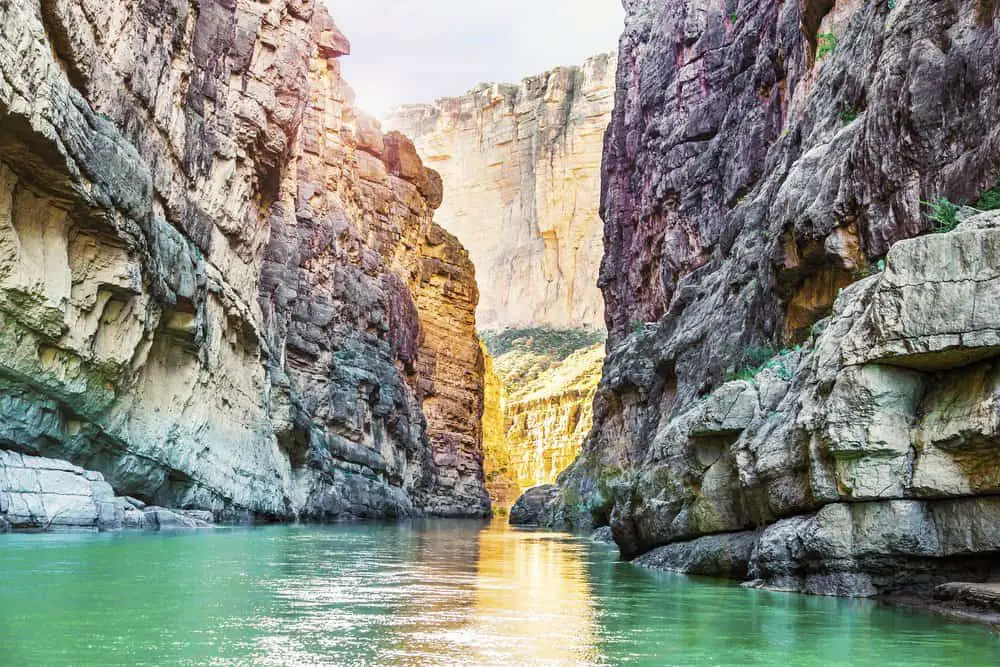 Are you planning a hiking trip to Big Bend National Park? If so, you are going to have an amazing time. It's one of the most remote stretches of the Texas border with Mexico, and there's nothing but desert and fresh air waiting for you. Here is an introduction to the best hiking this national park has to offer.
The park includes five major canyons — Santa Elena Canyon, Boquillas Canyon, Rio Grande Canyon, Mariscal Canyon, and the Sierra del Carmen — that offer hikes ranging from easy to challenging. On the other side of the park, there are several mountain peaks with fantastic views from their summits. We're going to cover some of the best trails in each of these parts of the park.
The 12 Best Hiking Trails In Big Bend National Park
Boquillas Canyon Trail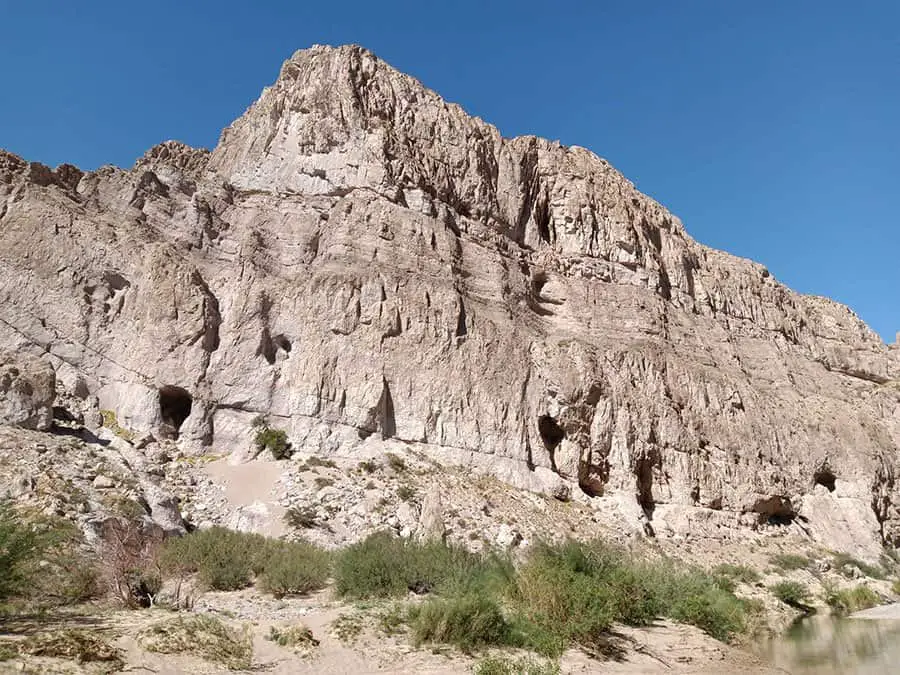 If you're looking for a short but memorable hike in Big Bend National Park, look no further than the Boquillas Canyon Trail. The trail is located just north of Rio Grande Village and is an easy hike. The total length of the trail is 1.2 miles round trip with 220 feet of elevation gain.
This hike will take you along the river to Boquillas Canyon, which is a small side canyon on the south bank of the Rio Grande that was once a traditional crossing point for people traveling between Mexico and Texas. The canyon is named after a Mexican village just across the river, which was abandoned in 1910 when U.S. troops took control of this area during their occupation of northern Mexico during the Mexican Revolution.
The trail begins at an overlook above the Rio Grande River, then descends into the canyon. Once you reach the bottom, there are several places where you can stop and enjoy majestic views of the canyon. Then it's a matter of making your way back up to where you began this hike from.
---
The Outer Mountain Loop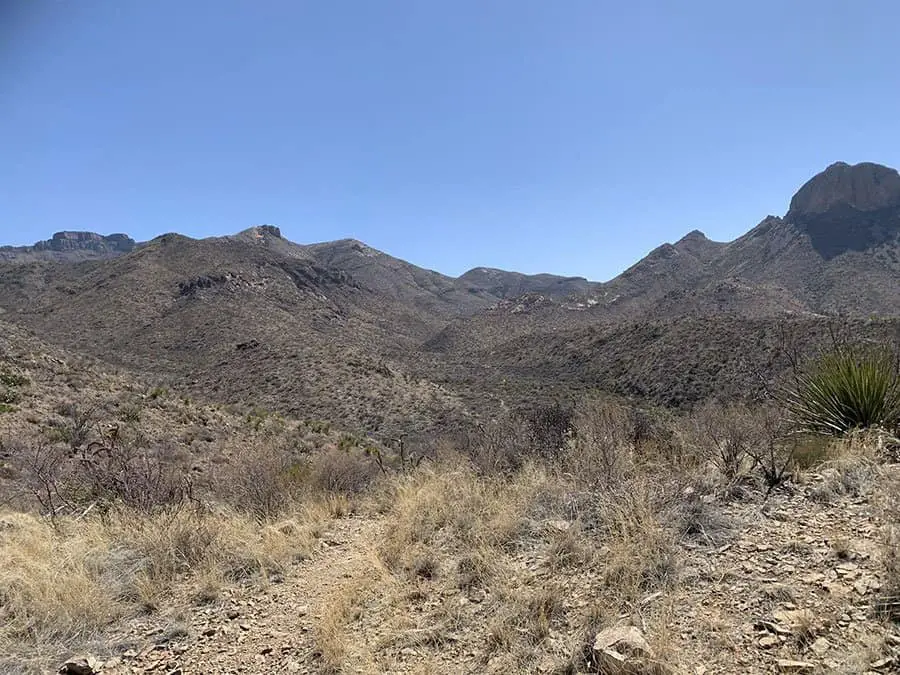 The Outer Mountain Loop is a 24.1-mile loop trail that's part of the Trans-Mountain Road system in Big Bend National Park. It's considered one of the most popular trails in Big Bend, and it's definitely not for beginners. The trail offers incredible views and is regarded as a challenging hike for even experienced hikers.
The Outer Mountain Loop has 5,715 feet of elevation gain over 24 miles, which makes it one of the most strenuous trails in Big Bend National Park. On average it takes between 10 and 12 hours to complete this hike, depending on how fast you move or how often you stop to take pictures or enjoy the views along the way. Although there are a few water sources along the way, things can get pretty dry up in Big Bend. So make sure you bring enough water, at least 2 gallons per person is recommended.
Since this is such a long trek, we also advise bringing along some sturdy trekking poles to alleviate pressure off of your feet and back. Read our guide on the best budget trekking poles for some inspiration.
Although it's possible to hike the loop in one (very long) day, most people hiking the outer mountain loop spread their journey across two to three days. Plus, this way you can take your time to take in all the majestic views and scenery this amazing trail has to offer.
---
South Rim Trail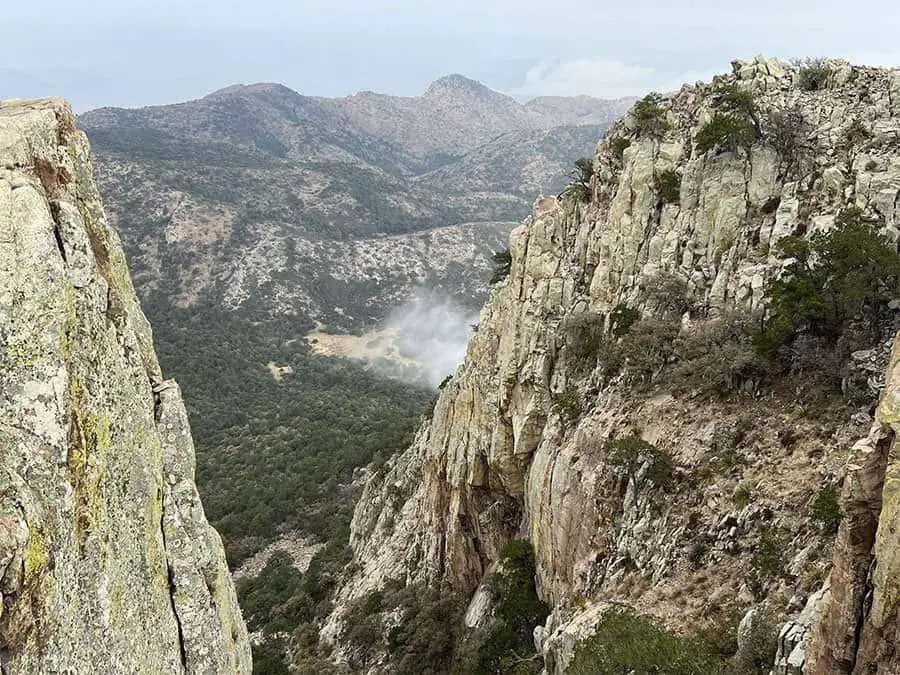 Another popular hike is to the South Rim trailhead at Chisos Basin Campground, where visitors can hike up to Emory Peak (elevation 8793 feet). This 15-mile round trip hike offers stunning views from its summit as well as access to several other peaks including North Peak and Juniper Canyon Trail.
This is also one of the most popular trails in all of Big Bend National Park. The trek itself, while quite long, isn't considered too difficult for experienced hikers. However, the terrain gets a little bit rough and rocky towards the end, near the peak.
If you make it to the top, congratulations! You'll get to witness some of the most incredible views in all of Texas.
---
The Emory Peak Trail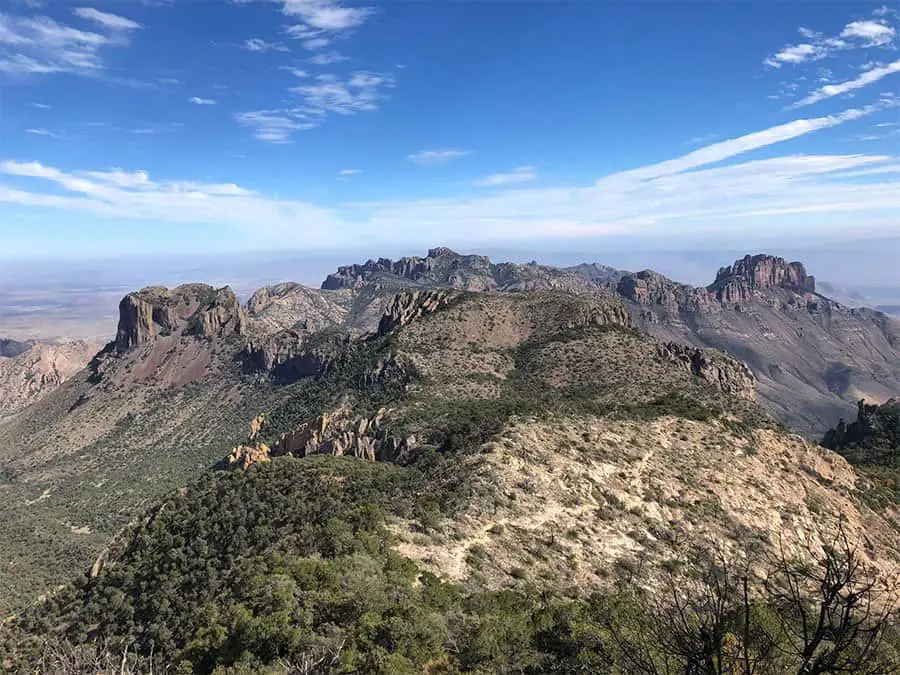 A Big Bend Hiking list wouldn't be complete without Emory Peak. The Emory Peak trail is one of the most popular, and most-visited trails in Big Bend National Park.
The Emory Peak Trail is considered a difficult hike that leads to the highest point in Texas. The trailhead is located along Texas Highway 118, about 15 miles from Panther Junction Visitor Center. The hike takes between 5 to 6 hours round trip and covers about 10 miles.
The first part of the trail climbs gradually through the open desert, providing views of the Chisos Mountains and other peaks in the park. At about 1 mile (1.6 km), you will reach a junction with the Juniper Canyon Trail heading south. The junction is marked by a signpost and cairn, where you will go left to stay on the main trail as it continues northward toward Emory Peak. If you choose to explore Juniper Canyon on your own, be aware that it is not maintained by park staff and has many downed trees across its path.
After passing another junction with Juniper Canyon, you'll begin climbing through increasingly rocky terrain until reaching Emory Peak. Many people choose to head back down from this point – but if you manage to climb to the top, you get to fully enjoy sweeping views over Big Bend Country.
---
Santa Elena Canyon Trail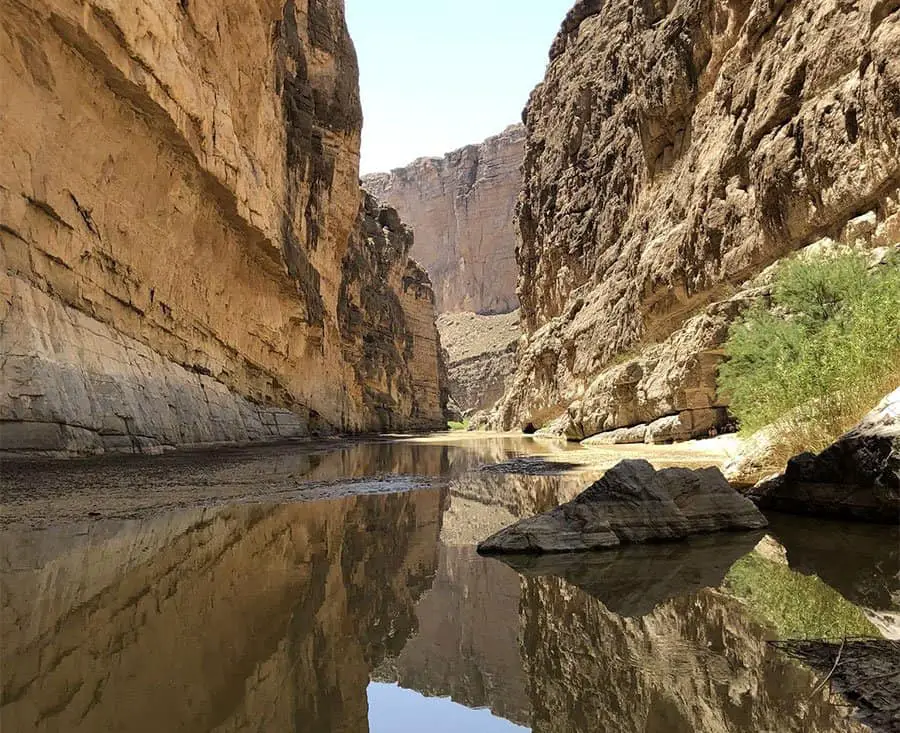 The Santa Elena Canyon Trail is a 1.4-mile out-and-back trail with an elevation change of about 150 feet. It begins at the south end of the park, on the east side of Highway 385, near Panther Junction. The trail ends at the confluence point where the Rio Grande and Rio Grande de la Glorieta merge to form the Conchos River.
The trail is primarily level until you reach the first of two overlooks on your way up to the top of Santa Elena Canyon. The first overlook offers views of a deep gorge carved by flash floods, as well as a canyon that was formed when water eroded away soft limestone layers in the earth over millions of years. A second overlook offers even better views of this area.
You will get to a point where you may be wading through the Rio Grande River up to knee-high levels, so make sure you dress appropriately just in case.
The Santa Elena Canyon Trail is a must-try trail if you're looking to experience what Big Bend National park has to offer. It's easy, relatively short, family-friendly, and offers absolutely stunning views of the Rio Grande.
---
Juniper Canyon Trail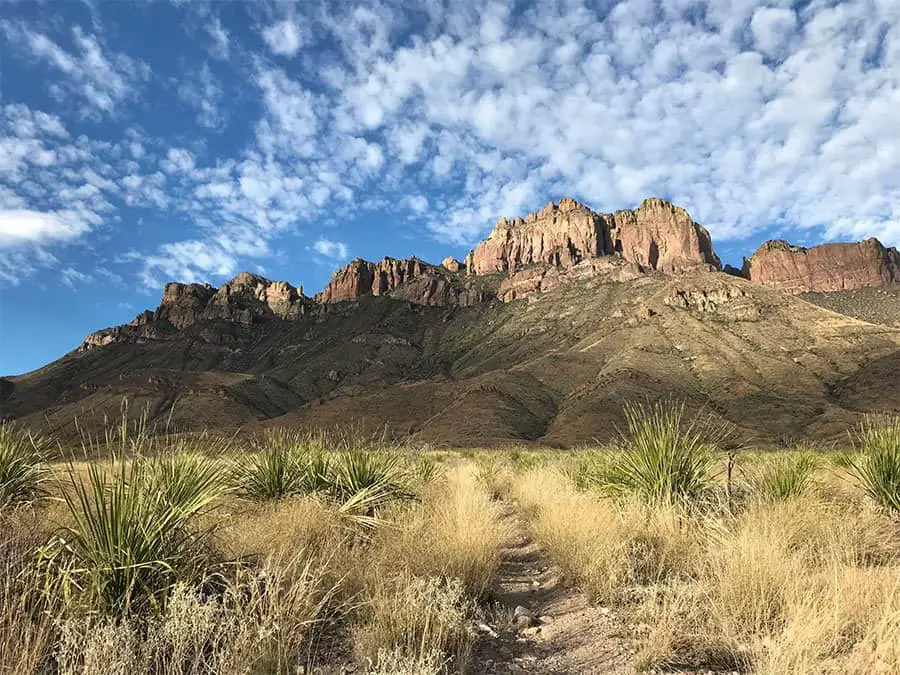 Near the middle of Big Bend National Park lies the Juniper Canyon Trail. It's typically considered a tougher and rugged hike, meant for more experienced hikers. If you're looking for a challenge, the Juniper Canyon Trail has you covered.
You'll traverse nearly 3,700 feet of elevation gain and over 12 miles of wild Texas desert landscape. You'll get to experience it all on the Juniper Canyon Trail, from desert, to mountain, to wildflowers, and plenty of trees. At the end of the trail you'll be rewarded with amazing views of panoramic views of the surrounding mountains.
---
Balanced Rock via Grapevine Hills Trail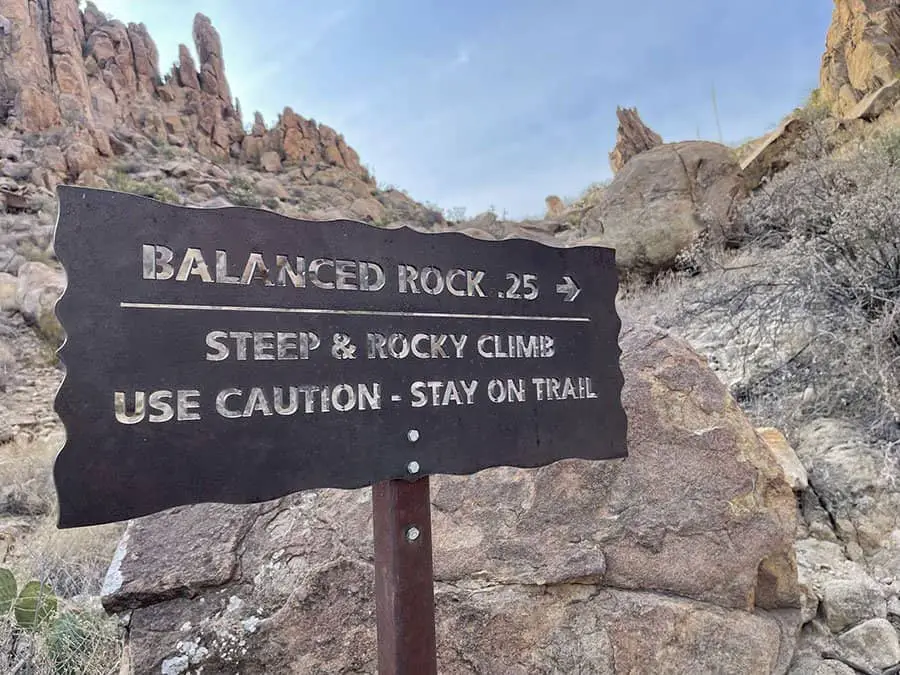 Looking for more adventure? How about some rock climbing? The last part of Balanced Rock is nearly 100% rock-climbing fun. To get to the top of Balanced Rock requires a 1-mile trek through the Grapevine Hills trail.
Although the trail is considered easy due to a majority of the trail being flat, the end of the trail requires a bit of a steep scramble to get to the top.
The Civilian Conservation Corps (CCC) constructed this trail in 1933, as part of a larger project to build trails along the Rio Grande for tourists. The CCC also built many other trails in Big Bend National Park, including the North Rim and South Rim Trails.
---
Mule Ear Spring Trail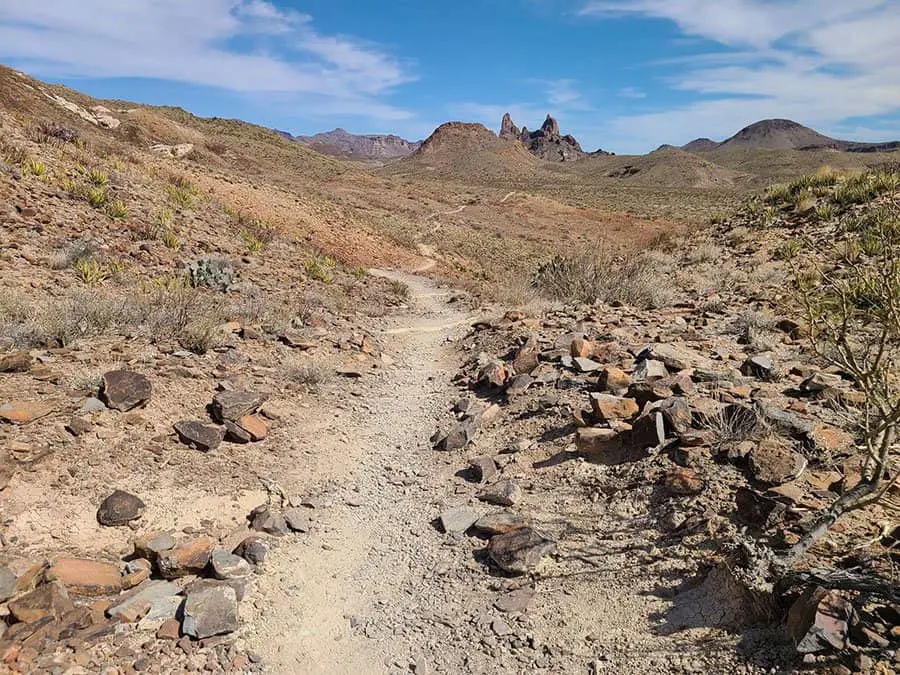 Mule Ear Spring Trail is a beautiful hike in Big Bend National Park that offers stunning views of the open desert landscape, Chisos Mountains, and a great chance to spot wildlife.
Although it's not a difficult trail, you'll be walking 4 miles through open desert heat. There isn't any shade, so you'll need to be prepared with sun protection and lots of water. Along the way you'll encounter a variety of cacti that you won't find elsewhere in the park. And at the end of the trail you're rewarded with springs and bullfrogs.
---
Laguna Meadow Trail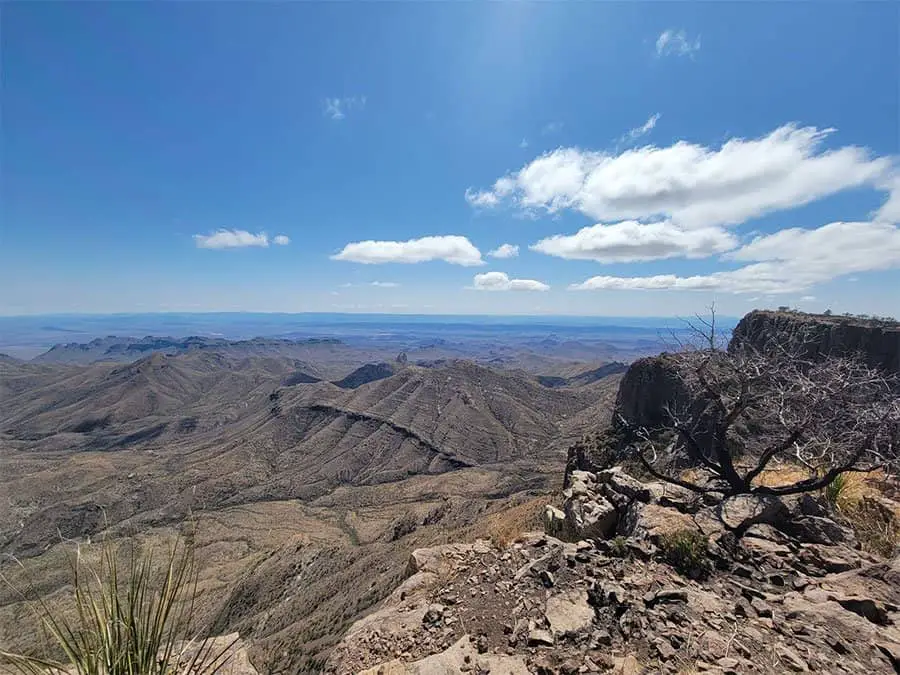 The Laguna Meadow Trail is a great hike for families or anyone looking to get away from the crowds. It's also a great way to get some exercise on your way up to the Chisos Basin Lodge and Campground.
The trailhead is located off of Highway 118 in Basin Road, which is also where you can pick up supplies for your trip into the park. There are bathrooms at the trailhead and water is available year-round at the visitor center near Panther Junction.
The Laguna Meadow Trail starts out flat as it winds through the desert landscape before breaking out into the valley where you'll see plenty of grass and wildflowers in springtime. The trail then climbs up toward Laguna Meadow, with moderate steeps, where you'll find beautiful views of Ward Mountain and surrounding peaks.
This hike is about 8-miles, so plan on taking about four to five hours to complete it if you take your time and enjoy the views along the way.
---
The Window Trail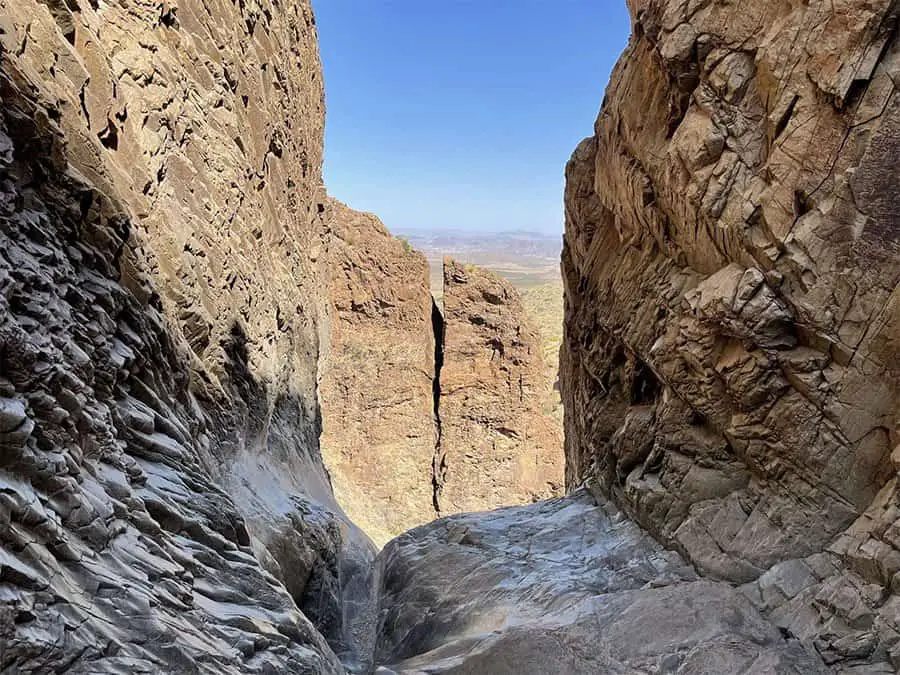 The Window Trail is a beautiful hike through a rocky desert landscape, with the Chisos Mountains as a backdrop.
The trail begins near the Chisos Mountains Lodge and is a 5-mile trek to the famous Window Viewpoint. There is tons of gorgeous scenery and landscape along this way and it's easy to follow and well-marked.
The trail to the Window viewpoint is pretty much all downhill, so be prepared for a tougher hike back to the Chisos Mountains Lodge on your way back.
---
The Lost Mine Trail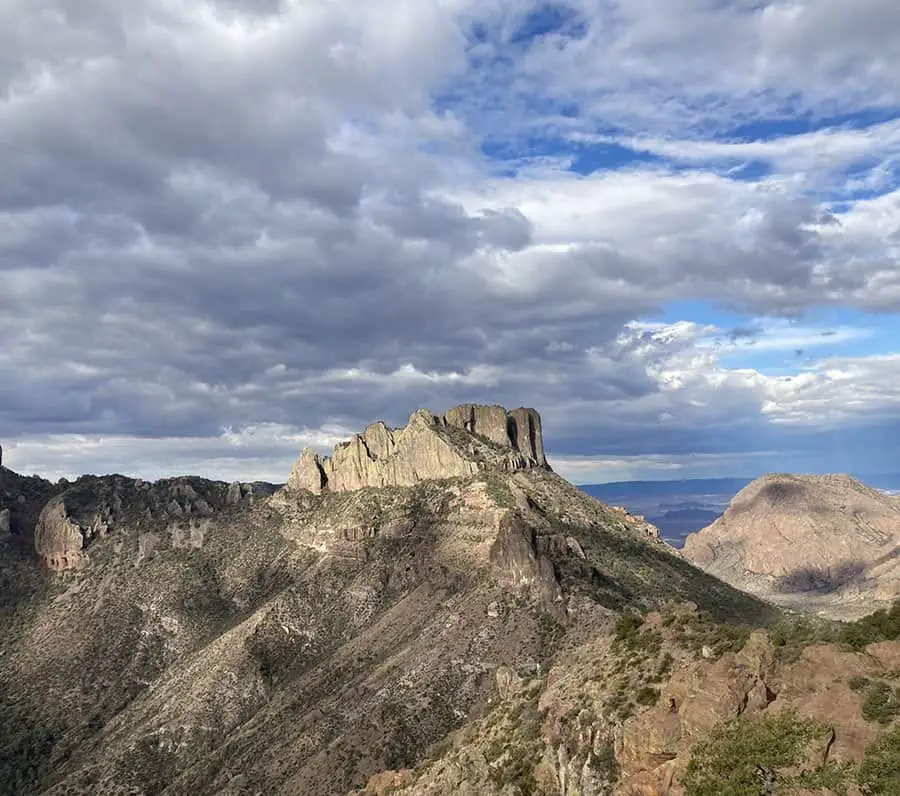 The Lost Mine trail is one of the most popular trails in Big Bend National Park. It's moderately challenging, but with tremendous payoffs. The views before, during, and at the top of the Lost Mine Peak are absolutely beautiful.
As for the hike itself; it's a steady incline up with lots of switchbacks, and typically gets pretty crowded. There's more than enough room for everyone on this trail, though.
The hike is about 5 miles and takes around 3 hours to complete. But because of the gorgeous, panoramic views, expect that number to be a bit longer. You're going to want to stop and take in the scenery every once in a while.
---
Chisos Basin Loop Trail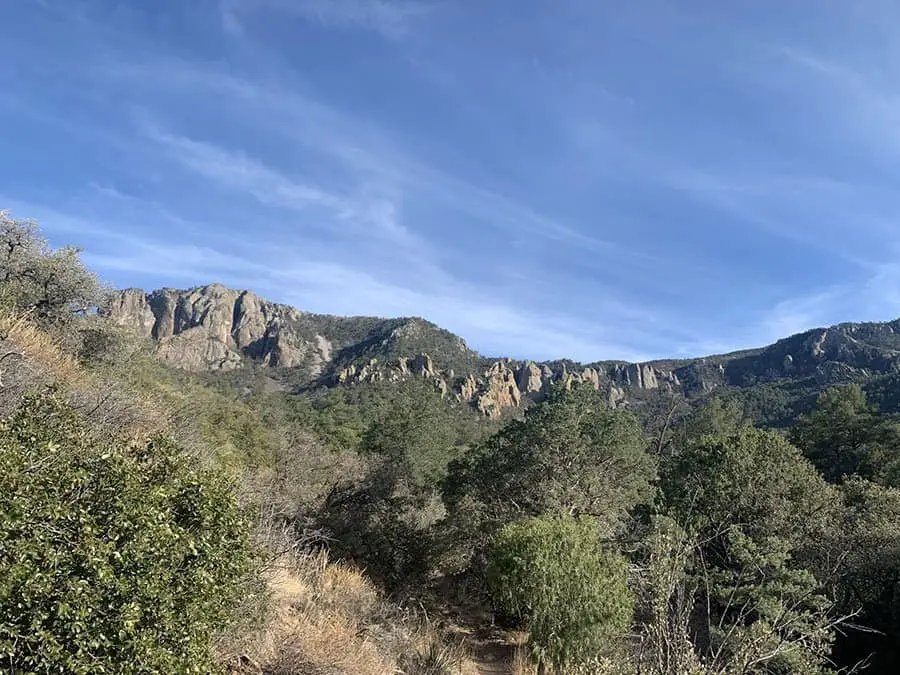 The Chisos Basin Loop Trail is a great beginner hike for those who want to spend a few hours in the Chisos Mountains with stunning views of the surrounding area. The trail climbs gradually as it follows a dirt road through dense forest, until it reaches an intersection at about 1 mile. At this point, you can take the left fork and follow the road back down to the parking area, or turn right and continue along the trail.
The trail continues to climb through pine-filled woodlands before finally reaching the Chisos Basin at around 2 miles. This large alpine meadow surrounded by towering peaks offers spectacular views of both sunrise and sunset over the desert below. The basin makes for an excellent base camp for further exploration of Big Bend National Park.
---
Big Bend National Park Gear List
Big Bend National Park is a unique place, with a unique set of challenges. The terrain is rugged, with plenty of steep climbs and drops. The climate can be unforgiving, with hot days and cold nights in the desert. Essentially, you have to be prepared for any situation.
Trekking Poles
Trekking poles can be a great way to propel yourself up and over the trails in Big Bend National Park. Some of the trails are steep, rocky and uneven, so trekking poles will help you keep your balance and save your knees.
You can also use them for balance when crossing streams on slippery rocks or stepping over fallen trees. If you're planning on hiking some of the more challenging sections of this park, such as the Chisos Mountains or Marathon Basin, they'll come in handy here too.
You don't have to spend a lot of money on trekking poles. I personally recommend the Cascade Mountain Tech Trekking Poles.
Footwear
If you're going to hike in Big Bend National Park, you'll need appropriate footwear. While there are many trails that can be hiked with tennis shoes or even flip-flops, some of the more rugged trails require hiking boots or sandals with traction.
The best choice for most hikers is a lightweight hiking boot with a mid-sole and ankle support. These boots have a roomy toe box, allowing your toes to move naturally without getting caught on rocks or roots. They also offer better impact protection than trail running shoes and other minimalist footwear. I recommend hiking boots by Salomon.
Trail running shoes are popular among many Big Bend hikers because they're lightweight, breathable and comfortable. But they lack ankle support and aren't appropriate for the rougher trails in the park. If you choose to hike in trail runners instead of boots, look for low-cut versions that offer good traction on slippery surfaces like wet rocks or dirt patches near stream crossings
Dress in Layers
The desert is a harsh environment, with high temperatures and low humidity. To be comfortable and stay safe on your hike, you'll want to dress in layers that can be added or removed as needed. That way you can be prepared for a wide range of temperatures.
The most important layer is your base layer, which should be made of synthetic or wool material and help wick moisture away from your body. This layer should also be lightweight, breathable and quick-drying.
Next comes your insulating layer — preferably fleece or wool — which helps regulate body temperature by trapping warm air close to your skin. Finally, there are two outer layers: a water-resistant shell and a windbreaker or rain jacket with a hood.
Hiking Socks
A good pair of hiking socks that are made from synthetic fibers and have a cushioning around the foot and ankle will help protect your feet from blisters and soreness. The socks should also be lightweight and breathable.
What To Pack For Big Bend National Park Hiking
Some of these are must-haves, and some are optional. But these are my recommendations for what to pack on your Big Bend hikes
Conclusion
In the end, Big Bend National Park is filled with vast expanses of desert and mountain terrain. It's safe to say that there's no other place on earth like it. If you're planning a trip to Big Bend, be sure to visit these five trails during your stay. Whether you're planning a short or long hike is up to you, but regardless, they're all well worth your time. That said, it's up to you to explore the rest of the park and discover other gems in this vast wilderness.