The 10 Best Budget Trekking Poles (2023)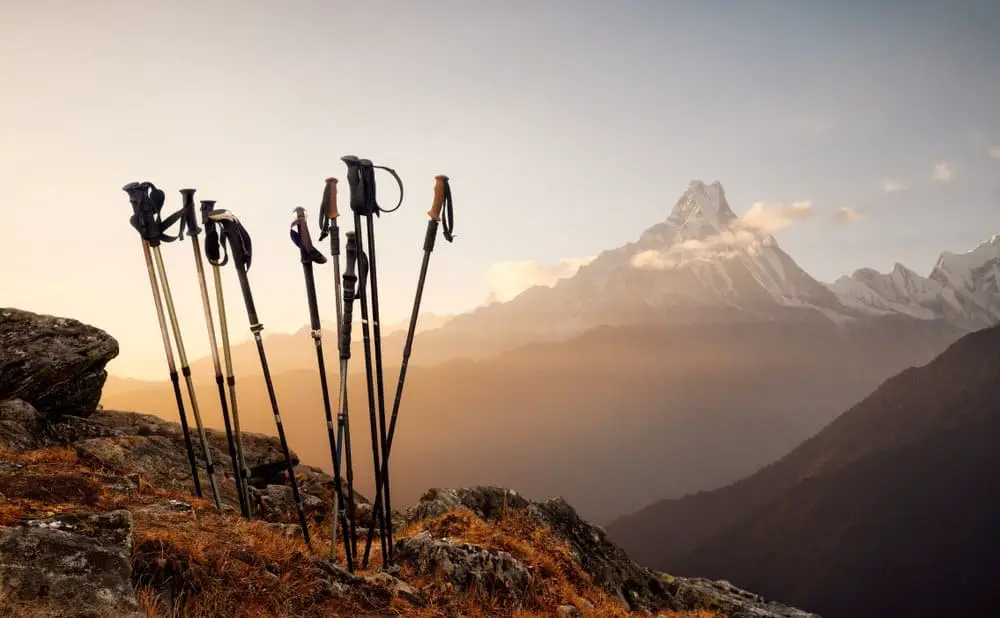 If you're an outdoor enthusiast who loves to hike, then you know that investing in a good set of trekking poles is essential. Not only do they provide extra stability and balance on the trail, but they can also help reduce fatigue. The problem is that quality trekking poles can be pretty expensive, especially if you're on a budget. That's why we've put together a list of the ten best budget trekking poles for 2022.
So whether you're just starting out or are looking for an affordable option, we've got you covered. Enjoy!
1. Cascade Mountain Tech Trekking Poles
The Cascade Mountain trekking poles are lightweight, weighing 7.8 ounces per pole. Their lightweight ensures they do not put any strain on the arm even after hiking long distances.
Made from 2 X 2 twilled carbon fiber, they are extremely strong and durable. These hiking poles have a soft ergonomic handle as they are fitted with a plastic cork and Extra-long EVA foams extension. They also come with straps that ensure you do not lose the trekking poles in fast-moving water. The foams keep the hands less sweaty and more comfortable and help retain heat in cold weather. 
It comes with a quick-lock mechanism for easy extension or collapse of the hiking pole. It also comes with three carbon-fiber shafts, which you can adjust using the quick lock. The locks are also secure and could extend the pole from 26″ to 53″ in the blink of an eye. 
Pros
Easily extendable and collapsible
Sweat-wicking cork grip
Long foams for easy grip
Lightweight
Tungsten carbide tips
Cons
Grips are hard
Wrist straps are not as durable as others
---
2. TheFitLife Nordic Walking Trekking Poles
These poles are lightweight and do not put a strain on the arms ensuring they do not ache even after a long trek. The pair weighs a shocking 14 ounces or 0.88lbs. Made from 6 series aluminum, they are not only lightweight but durable for long-term use. 
This hiking pole has a comfortable grip made from rubber. It also has an EVA foam extension that absorbs moisture and sweat from your palms, ensuring the poles do not slip during hiking. The foams also help retain heat, which comes in handy when hiking in the winter or cold weather. 
That's not all. 
The Locking mechanism on the trekking pole is solid and helps you collapse or extend the pole in seconds. 
Pros
Durable shaft
Collapsible for easy transport and storage
It comes with a full set of rubber accessories
Ultra-light
Comfortable and foamy grip
Cons
Straps have a tendency to come undone
Handle gets slippery when wet
---
3. Covacure Trekking Poles Collapsible Hiking Poles
These sturdy pairs of Covacure trekking poles weigh a total of 20 ounces. Made from 7075 Aluminum alloy, the Covacure trekking poles are durable and do not break. The metal component of these poles allows them to stand firm irrespective of the weight placed on them. 
The grip section of this pole comes with a comfortable EVA foam and wrist strap. This foam is durable and absorbs sweat, giving you a steadier grip on the trekking pole as you walk with them. 
They are also foldable, which makes storage and transport easier. You can extend these trekking poles from 43″ to 51″ without hassles.
Pros
Does not break under pressure
Foldable for easy storage and transport
Ergonomic handle and grip
Adjustable wrist strap
Quick-lock
Cons
Poles may bend under pressure
Not ideal for use in a Muddy environment
---
4. Hiker Hunger Outfitters Carbon Fiber Trekking Poles
The hiker hunger trekking poles are made from 100% carbon fiber, making them very durable. They weigh a total of 14.6 Ounces. The hiker hunger trekking poles come with other components, including snow baskets, rubber feet, mud baskets, and rubber tips. They are one of the strongest poles in the market, ideal for backpacking or an easy urban walk. The tips do not break or bend as they are made from Tungsten carbide.
There are two grips to this trekking pole. A moisture-wicking cork grip with the shape of your hand gives you maximum comfort, and an EVA foam grip under the cork grip is ideal for steep climbs.
They have a flip-lock mechanism secured with metal screws and can extend from 24″ to 54″. Their adjustable length makes them ideal for men, women, and kids.
Pros
Highly Durable
Does not Bend
It comes with a carry bag for easy transport and storage
Dual anti-slip handle for different terrains
3 years warranty
Cons
Rubber tips at the pole's end wear out fast
May break under intense pressure
---
5. High Stream Gear Collapsible Hiking Poles
The High stream collapsible hiking poles are one of the lightest and top trekking poles on the market today. They weigh less than a soda can, with a total weight of 22 ounces, ensuring there is no strain on the arm during a hike. This trekking pole is made from 7075 aircraft-grade aluminum-grade material that makes them durable to withstand the most extreme weather conditions. 
It has an ergonomic handle, which includes a cork and EVA foam extension to help reduce strain on the palm. The High stream collapsible hiking pole also features a flip-lock and pop-out lock mechanism for easy extension and collapse of the pole. This pole collapses to a meager 14.5″ or 37cm in seconds, making it easy to transport and store.
Pros
Lightweight
It comes with 2 rubber tips and Mud baskets
Aircraft standard aluminum shaft
Ergonomic handle 
Belt-mounted carriers 
Cons
Snap-lock has issues from time to time
May deteriorate fast
---
6. Trekology Trek-Z Trekking Hiking Poles
The pair shaft material of the Trekology hiking pole is extremely durable. They are sturdy and built to support heavier weights. The shafts also come with metal caps making them the ideal trekking poles for all terrains. They are one of the best budget hiking poles under 50 and weigh 10.4 ounces each making them ideal for all-day hiking on your favorite trails. You need not fear hiking for long distances with these hiking poles, as it does not strain the arms. 
The Trekology poles have sweat-wicking cork-textured handles that keep the hands drier and comfortable. It also features an EVA foam handle, allowing for a strong grip irrespective of the terrain.
They come with innovative flip-lock technology and a metal stopper, ensuring the locking system remains secure. It is an adjustable trekking pole and collapses to about 15″ thanks to its tri-fold retractable design.
Pros
Adjustable wrist strap
EVA foam for an ergonomic grip
7075 Aluminum made durable shaft
Adjustable height with a flip-lock mechanism
Sweat-wicking cork handle
Cons
The lock mechanism can break down under heavy use
Sometimes the cable inside does not retract
---
7. TrailBuddy Trekking Poles
The TrailBuddy Trekking poles come with a Cork grip molded to fit the shape of your hand. They also feature padded straps, which will help prevent chafing on your hands. They come with foam which helps wick moisture, ensuring your palms remain dry during the hike. The TrailBuddy hiking pole features lever locks that allow you to shorten and lengthen the hiking pole with ease. They are also collapsible, which means you can reduce them from 54″ to 24.5 "in seconds, making them ideal for hikers of all age grades.
These budget-friendly poles weigh 9.7 ounces each, making them ideal for use for all ages, both adults and children. Made from aircraft-grade aluminum, the shaft of this hiking pole has great tensile strength and is very durable.
Pros 
Adjustable using Lever locks
Lightweight
Durable
Padded straps and cork handles for comfortable grip
Ideal for all weather conditions
Cons
The mud cap can be tighter
Cork handle has a tendency to peel off
---
8. Montem Ultra Strong Trekking Poles
With each pole weighing only 9.6 ounces, the Montem Ultra-strong pole is one of the lightest poles on the market today. They are cheap trekking poles perfect for long-distance hikes as holding them up for long does not strain the arms. 
The shaft of the Montem Ultra-strong trekking poles is made from 7075 aluminum used for building military aircraft. While they can bend, they are resistant to breakage irrespective of the weight applied. These poles come fitted with EVA foam handles and an extra padded strap that offers your hands optimal comfort during a hike. 
It comes with a quick-lock mechanism for easy adjustment and a tri-fold pattern for easy storage and transport. You can adjust this trekking pole from 53″ to 24″ depending on which height suits you the most.
Pros
Weighs 9.6 ounces 
The padded strap keeps the pole close to you at all times
Durable aluminum shaft
Lifetime warranty
Ergonomic sweat-wicking handle
Cons
Rubber pole-tip protector wears out easily
Rather unstable lock system
---
9. Foxelli Carbon Fiber Trekking Poles
Foxelli trekking poles are incredibly light, with each pole weighing just 7.6 ounces, giving you the leverage to walk faster during a hike expending little energy. Made from carbon fiber, the hiking pole absorbs shock excellently, reducing the impact of hiking on joints. 
With cork grips that absorb sweat, your hands remain cool and dry even during long-distance hikes. The breathable straps attached to the handle ensure you do not accidentally drop your poles during a hike. The Foxelli carbon fiber trekking poles also have an EVA foam extension, keeping your hands comfortable irrespective of the terrain.
These poles are also collapsible for easy storage and retract from 24″ to 55″, making them perfect for all height ranges, men, women, and kids. 
Pros
Breathable straps
Sweat-wicking cork
One year warranty
Tungsten carbide tips
Lightweight carbon fiber
Cons
Unreliable Lock
Issues with the snow basket
---
10. Black Diamond Distance Z Poles
The Black Diamond Distance Z poles give you optimal comfort during a hike with their ergonomic grip coupled with lightweight EVA foam. The foam component of the handle helps in moisture-wicking, eliminating sweat from your palms and making the pole less slippery. Both poles weigh 9.6 ounces. They are lightweight and excellent for hiking a black diamond trail.
Made from 7078 Aluminum, the shafts of these hiking poles are durable. Hence, they do not break or bend under intense pressure. They feature a slide lock Technology, making them easy to collapse when not in use or during storage.
Pros
Lightweight EVA foam grip for optimal comfort
Joint support for increased durability
SlideLock technology for easy collapse and storage
Durable Aluminum shaft
Moisture-wicking strap
Cons
Fixed length 
Not the most reliable locking system
---
Budget Trekking Poles Comparison Table
How about a handy reference & comparison guide? Click on any of the budget trekking poles in the table below to see more ratings and reviews on Amazon.
What to Look for In Trekking Poles?
When it comes to finding the best budget trekking poles, you should consider a few things. The most crucial factor is the weight of the pole. If you're looking for a lightweight pole that won't cause arm fatigue, opt for a carbon fiber or aluminum model.
The material of the shaft is also essential. If you're looking for a durable pole that can withstand a lot of pressure, opt for an aluminum model. However, carbon fiber is a good option if you're looking for a lightweight pole.
The grip and the strap are also important factors to consider when choosing the best cheap hiking poles. Make sure to choose a model with an ergonomic grip and a breathable strap to keep your hands cool and dry. Additionally, consider whether the pole is adjustable or not. If you're looking for a pole that can be adjusted to fit different heights, then choose a model with an adjustable length.
Lastly, make sure to consider the warranty of the hiking poles. Most models come with a warranty of at least one year. So, if something goes wrong with your hiking poles, you can always count on the manufacturer to repair or replace them.
Are Cheap Hiking Poles Any Good? 
Yes, there are high-quality hiking poles that are budget-friendly. Hiking poles serve three primary functions on a hike:
The trekking poles assist you uphill.
They control your forward momentum on your descent downhill
They help you maintain balance. 
If your trekking pole can do these things, it is a good pole. And many trekking poles fit this description and are affordable (especially those I've listed above). So, don't shy away from cheap hiking poles – they can definitely do the job!
What Is the Difference Between Cheap and Expensive Trekking Poles? 
Both cheap and expensive trekking poles perform the same function. However, they can be quite different from each other. Below are the main differences:
Material Makeup: Most cheap trekking poles are made from aluminum, a cheaper raw material. On the other hand, high-end trekking poles are made mostly from Carbon fiber.
Weight: The major component of expensive poles is carbon fiber, a lightweight material. This makes high-end hiking poles relatively lighter than cheaper ones. Carbon fiber also has incredible strength, which gives it the ability to withstand stress.
Pole tip: While most cheap hiking poles have tips made from steel, the high-end ones have tips made from Tungsten-carbide, the same material used for making studded snow tires. While steel tips wear out in a short period, tungsten-carbide tips do not wear out even after long use.
Are Trekking Poles Worth It for Backpacking? 
There are arguments for and against trekking poles and their use for backpacking. The merits of hiking with a trekking pole include helping you maintain a steady hike pace and balance. This is especially important on descents when you may not have as much control over your footing. Trekking poles can also help reduce wear and tear on your knees, hips, and ankles, which is an added bonus for those carrying heavier loads.
The main argument against using trekking poles for backpacking is that they add weight to your pack. And if you are trying to go ultralight, even a few ounces can make a big difference in your pack weight. Ultimately, whether or not to bring trekking poles along on your backpacking trip is a personal one. Consider your individual needs and abilities, and make the decision that will best help you have a successful and enjoyable hike.
Is It Better to Hike with One Pole or Two?
There are pros and cons to hiking with either one pole or two. With one pole, you have more balance and stability, but you have more power and propulsion with two poles. Ultimately, it is up to the hiker to decide what is best for them. Some hikers prefer one pole while others prefer two. It all comes down to personal preference and what feels most comfortable. There are a number of different factors to consider when making this decision, so take the time to experiment with both options and see which one works best for you.
Conclusion
Trekking poles come at different prices. Some are expensive, while some are cheap. However, cheap trekking poles are not always inferior as some hikers would expect.
At the end of the day, trekking poles are an essential piece of gear for hikers, and with the right one, you can make your hikes more comfortable and safer. We've looked at ten of the best budget trekking poles on the market and shared our findings with you. Now it's time for you to decide which one is best for your needs. Do you need a lightweight pole that will easily fit in your pack? Or do you need a sturdy pole that can handle heavier loads? Whatever your needs, we have ten great recommendations for you to choose from.
So get out there and explore the world on foot – with the help of a trusty trekking pole by your side.