Best State Parks In Louisiana (2023)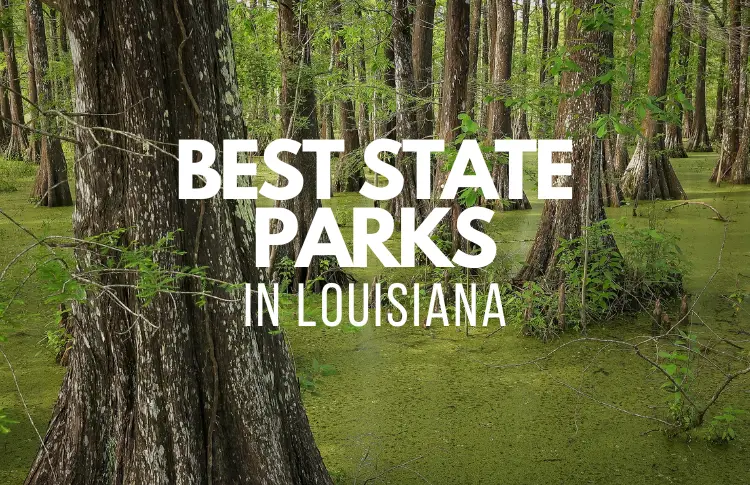 Are you looking to explore the beauty of Louisiana's state parks? Louisiana State Parks offer a truly unique & diverse range of natural landscapes and recreational opportunities for visitors to enjoy. From picturesque bayous, to swamplands, to serene lakeshores, there's much to enjoy here.
In this article, we'll be highlighting some of the top state parks in Louisiana. Whether you're interested in hiking, camping, fishing, or simply immersing yourself in nature, these parks offer a variety of activities and amenities to make your visit unforgettable.
We're going to delve into the details of each park, from the tranquil Bayou Segnette State Park to the wildlife-rich Sam Houston Jones State Park. Whether you're a nature enthusiast, a history buff, or simply seeking a peaceful getaway, there's a Louisiana State Park that's perfect for you.
Bayou Segnette State Park
Are you looking for a thrilling outdoor adventure close to New Orleans? Look no further than Bayou Segnette State Park! Just a 15-minute drive away, this park has tons of recreational activities for everyone – swimming in the wave pool, canoeing down the bayou, hiking peaceful trails, exploring nature, and even fishing.
Whether you're an experienced angler or a beginner, Bayou Segnette is the perfect spot for both saltwater and freshwater fishing. Launch your boat from the boat launch and cast your line for bass, catfish, bream, perch, redfish, and trout.
When you need a break from all the fun activities on land and in water, you can find plenty of places to relax – picnic areas with playgrounds for kids and group shelters for large groups. Don't forget to take some time out to appreciate nature – watch wildlife and explore native plants and trees.
Bogue Chitto State Park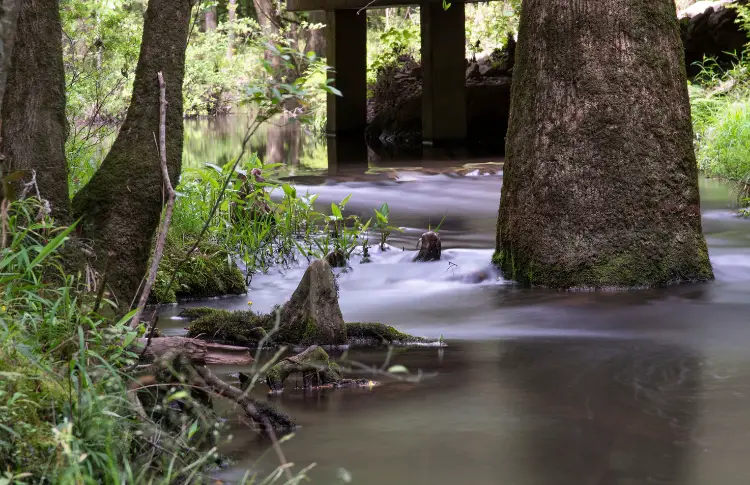 If you're looking for a natural outdoor escape, then Bogue Chitto State Park in Louisiana is your perfect destination. This 1,786-acre park is full of diverse habitats and scenic river systems, with small streams, cypress-tupelo swamps, a hardwood forest, upland forests and a rolling landscape. The park also offers plenty of activities to enjoy during your stay.
Camping enthusiasts will love the range of overnight accommodations available here – from tent camping (complete with glamping sites) to RV camping and cabins overlooking the bluffs. Or if you're visiting with a larger group or family reunion, the park also has a group camp and conference room that you can book in advance.
Biking, horseback riding and hiking enthusiasts will have plenty to explore here. Fricke's Cave features delicate sandstone spires made from water erosion beneath pebbles – a must-see! There are 14 miles of equestrian trails for horseback riding too. Canoeing or kayaking is an option on the river, as well as 11 lakes stocked with freshwater fish for fishing lovers. Plus there's an outdoor classroom and numerous picnic pavilions too!
Chicot State Park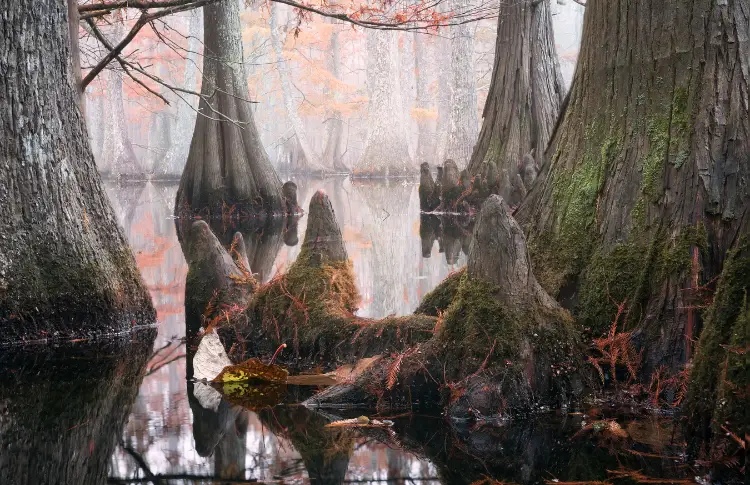 If you're looking for a great outdoor adventure in Louisiana, look no further than Chicot State Park. This 6,400-acre park features rolling hills, cool and clear waters, and a multitude of activities that both nature lovers and thrill seekers can enjoy.
For the avid angler, Lake Chicot is home to record freshwater catches of largemouth bass, crappie, bluegill and red-ear sunfish. Fishermen will appreciate the convenient boathouse, three boat launches and boat rental facilities. And if you're in the mood for a more leisurely pace, take your time exploring the hiking/backpacking trail that completely encircles Lake Chicot. It has several primitive campsites along the way and is also suitable for mountain biking.
The park also offers plenty of other amenities such as camping sites (including glamping), cabins, picnic areas with playgrounds, a water playground and more – all spread throughout its three landings: South Landing, North Landing and East Landing.
Cypremort Point State Park
If you're looking for a coastal escape, Cypremort Point State Park is the place to go. Located between Grand Isle and Cameron, it's one of the few spots near the Gulf of Mexico that can be reached by car.
At Cypremort Point, you can enjoy a half-mile stretch of man-made beach, perfect for relaxing, picnicking, water skiing, windsurfing, and sailing. It's also an ideal spot for fishing or crabbing – whether it's from the shore at the 100-foot fishing pier situated on Vermilion Bay or venturing out to the Gulf of Mexico. Plus, overnight visitors have access to adjacent boat docks and a fish cleaning station.
But what really makes this park stand out is its wildlife – thanks in part to its location in the heart of Louisiana marsh. You may find muskrats, alligators, nutria, and all sorts of birds during your visit. Keep your eyes peeled and you may even spot deer, black bear, rabbits, opossum or red foxes!
Fontainebleau State Park
If you're looking for a perfect combination of outdoor fun and history, look no further than Fontainebleau State Park in Louisiana. Named after the beautiful forest near Paris, this 2,800-acre park offers lots of activities within its scenic setting on the shore of Lake Pontchartrain.
On a clear day, visitors can admire multi-colored sailboats on the lake. For those who prefer to stay on land, there's plenty to do as well. The old railroad track has been converted into the Tammany Trace, which is great for cycling, hiking and in-line skating. And nature lovers won't be disappointed – there's a nature trail with interpretive signs that will help identify trees and shrubs and other wildlife living in the area – over 400 different species!
Amenities include biking, boating (canoe rentals are available), camping, glamping, paddling, fishing, hiking and swimming. After a full day of activities, overnight guests can enjoy the rustic charm of the campground or scenic views from the lakefront cabins.
Jimmie Davis State Park
If you're looking for a great outdoor escape in Louisiana, Jimmie Davis State Park is the place to be. Located on a peninsula on Caney Lake, this park offers plenty of activities for everyone. From freshwater fishing to waterskiing and biking to birdwatching, there's something here for everyone.
This stunning lake was created by damming Caney Creek in 1986 and now serves as a prime spot for both fishing and watersport enthusiasts. For those less keen on getting their feet wet, there's still plenty to do. Nature lovers can appreciate the stunning wooded land and lakefront, while cycling enthusiasts can use the park as a starting point for biking treks through North Louisiana's rolling hills. And of course, kids will enjoy the playground after all their adventures.
Afterwards, why not stay the night? There are cabins for individuals or families, lodges for larger groups, and RV sites with scenic views of nature. Be sure to pack binoculars so you can get even closer looks at the birds living in or passing through the area.
Lake Bistineau State Park
If you're looking for an outdoor escape, then Lake Bistineau State Park in Louisiana should be at the top of your list. Situated on the western shore of the lake, this park offers stunning vistas and plenty of recreational activities. From its upland mixed hardwood forests and open waters to its magical stands of cypress and tupelo trees – there's something for everyone here.
Take a stroll along their 10 miles of woodland trails, or get out on the water with their 11-mile canoe trail. And speaking of water, you can do some excellent fishing here – black crappie, largemouth bass, yellow bass, catfish, bluegill, and red-ear sunfish can all be found in the lake's clear waters. Don't forget to bring a picnic too! The park is equipped with tables, grills and restrooms so you can enjoy a meal overlooking the majestic lake.
Aside from hiking and fishing, they also offer biking trails, boat launches, playgrounds, camping sites, cabins and disc golf courses – making this park a must-visit destination for outdoor lovers everywhere.
Lake Bruin State Park
If you're looking for an outdoor escape that offers something for everyone, head to Lake Bruin State Park in Louisiana. With over 3,000 acres of water surface, visitors can enjoy a range of activities such as swimming, paddling, fishing, biking, and wildlife viewing.
The park is especially great for anyone who loves fishing. It features three large fishing piers and a year-round boat launch, offering easy access to the lake's Largemouth Bass all throughout the year. Crappie (white perch) are also found around the piers and mats during early spring months. Plus, there are plenty of Bluegill in shallow waters at both ends of the lake.
Whether you're into fishing or just looking for a good spot to cool off during the summer months, Lake Bruin is a great destination. There's even a water playground and bathhouse nearby! Plus visitors can take advantage of picnic tables with barbeque grills located near the lake as well as restroom facilities and playgrounds. Most amenities are wheelchair accessible too.
Lake Claiborne State Park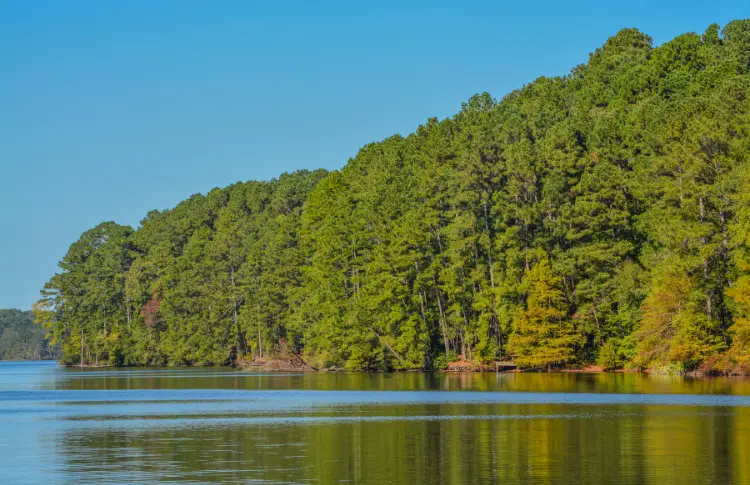 When it comes to outdoor adventures, Lake Claiborne State Park in Louisiana has something for everyone. Whether you're looking for a peaceful and relaxing escape or a fun-filled day of activities, this park is the place to be!
Located on an inlet of the lake, the park's sandy beach provides visitors with a great spot for swimming in its famous clear water. You can also try your luck fishing with largemouth bass, bluegill sunfish, channel catfish, black crappie, striped bass, and more. If you prefer to stay dry, take part in other activities like biking trails, boating, paddling, disc golfing, hiking and wildlife viewing.
When it's time to rest up for the night, you can choose from two-bedroom cabins nestled among the pine trees or head over to the RV campground. There's also a park naturalist available to present nature-based programs and give guided hikes – perfect for curious explorers!
Palmetto Island State Park
If you're looking for a fun getaway that offers plenty of outdoor activities, look no further than Palmetto Island State Park in Abbeville, Louisiana.
This park is ideal for campers of all kinds – from those who like to rough it in RVs to those who prefer the comfort of a cabin. If you opt for one of the 95 campsites, you'll get access to an extra tent camping pad! And if cabins are more your thing, the park has six vacation cabins available that sleep up to 8 people comfortably. Each cabin comes with a full kitchen and bathroom, fireplaces, and a screened-in porch so you can enjoy the sounds of nature in peace.
The park also provides plenty of activities for day-use visitors as well – from biking to boating to fishing and paddling. There's even a water playground and multi-purpose room at the visitor center complex which can be rented out for meetings or family gatherings. And don't forget to keep an eye out for all the palmetto plants scattered around the grounds – they're everywhere!
Sam Houston Jones State Park
Named for Texas folk hero Sam Houston, this 1,087-acre park is a great spot for outdoor activities and wildlife watching. Enjoy the abundant wildlife and tree-filled lagoons as you explore the mixed pine and hardwood forest that make up this unique natural environment.
If you're into birdwatching, Sam Houston Jones State Park is the perfect destination. Over 200 species of birds can be spotted in the area, especially during certain times of year. And if you're looking to get out on the water, two boat launches are conveniently located on the West Fork of the Calcasieu River – providing access to Calcasieu Lake, about 20 miles away.
Outdoor enthusiasts can also take advantage of biking, boating, fishing, paddling, swimming and wildlife viewing opportunities throughout the park. Plus if you plan to stay overnight there are cabins and RV camping sites available too!
Hikers will love exploring three trails winding through this beautiful park – including an old stagecoach road that's perfect for strolling or serious hiking.
Tickfaw State Park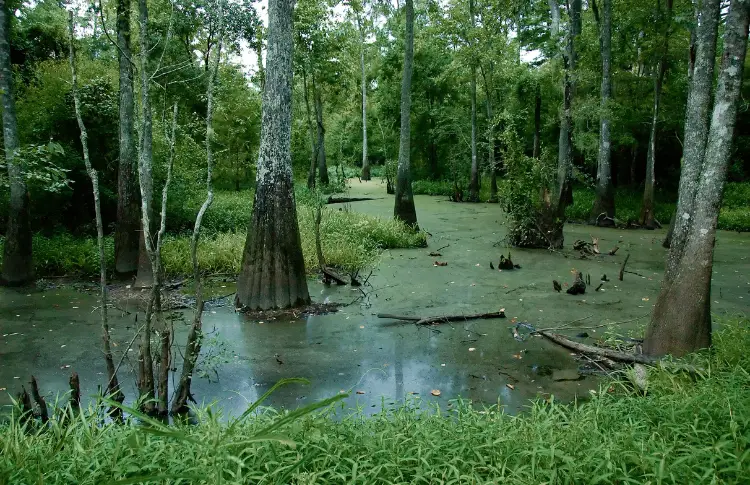 Tickfaw State Park is a true oasis. With a mile of boardwalks, visitors to the park can experience four unique ecosystems – from cypress/tupelo swamps to bottomland hardwood forests and everything in between. Keep an eye out for wildlife, especially during winter and spring when floods occur in the area.
If you'd like to learn more about the area, don't miss out on a visit to the Nature Center. Here, you can view their 800-gallon aquarium with fish found in the Tickfaw River, as well as displays featuring animals, history and culture of Louisiana. Watching their 8-minute introductory video is also highly recommended!
Aside from sightseeing, there's plenty of other activities to enjoy at Tickfaw State Park. Explore by bicycle, rollerblade or skateboard through interconnecting park roads. Or if you're feeling adventurous, bring your canoe or kayak for a fun-filled trip on this unique section of the Tickfaw River. There's also swimming at the Water Playground for those looking for more relaxed activities.
Conclusion
Louisiana state parks offer a diverse range of natural beauty and recreational activities for visitors to enjoy. From picturesque lakes and rivers to scenic trails and wetlands, these parks provide a peaceful retreat for nature lovers and outdoor enthusiasts. Whether you're interested in fishing, boating, hiking, or simply relaxing in the beauty of nature, Louisiana state parks have something to offer for everyone.
Plan a visit to one of these state parks and immerse yourself in the tranquility and serenity of Louisiana's natural landscapes. With opportunities for camping, picnicking, and exploring, you can create lasting memories and experience the beauty of the great outdoors. So pack your bags, grab your fishing rods, and get ready to discover the wonders of Louisiana state parks!