The 14 BEST State Parks in Alabama (2023)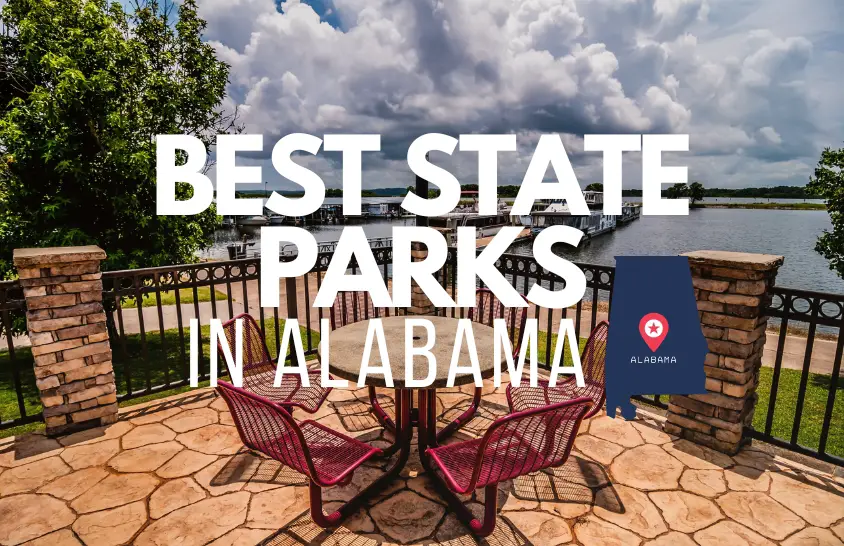 Explore the majestic beauty of Alabama's state parks with our guide to the best outdoor adventures in the state! From fishing, kayaking, and hiking, to camping and wildlife viewing, there's something for everyone in these stunning parks. But with 21 parks spanning the entire state, it can be hard to narrow down your choices.
That's why we've rounded up some of the must-see parks in Alabama — featuring highlights like stunning waterfalls, breathtaking views, unique rock formations, and historic sites. So if you're looking for a memorable outdoor experience in Alabama, read on to discover our top picks for the best state parks.
Bladon Springs State Park
Situated in the rural town of Bladon Springs, Alabama, lies a hidden gem that beckons to be explored. Known for its tranquil atmosphere, Bladon Springs State Park is an ideal spot for those who need an escape from their hectic daily lives.
Once a private spa in 1838, this park was known as "the Saratoga of the South," and visitors from all over would come to benefit from the curing properties of the four mineral wells on site. Now, it remains open seven days a week for visitors to come and enjoy its peaceful surroundings.
From birding and picnicking to playgrounds and park events, there is something here for everyone. Birders will love Bladon Springs too; it's a stop on Alabama's Black Belt Birding Trail, and you can expect to see a wide variety of song birds, woodpeckers, and raptors. And if you're looking for some tranquility, there's nothing like camping or wildlife viewing here surrounded by tranquil forests.
Blue Springs State Park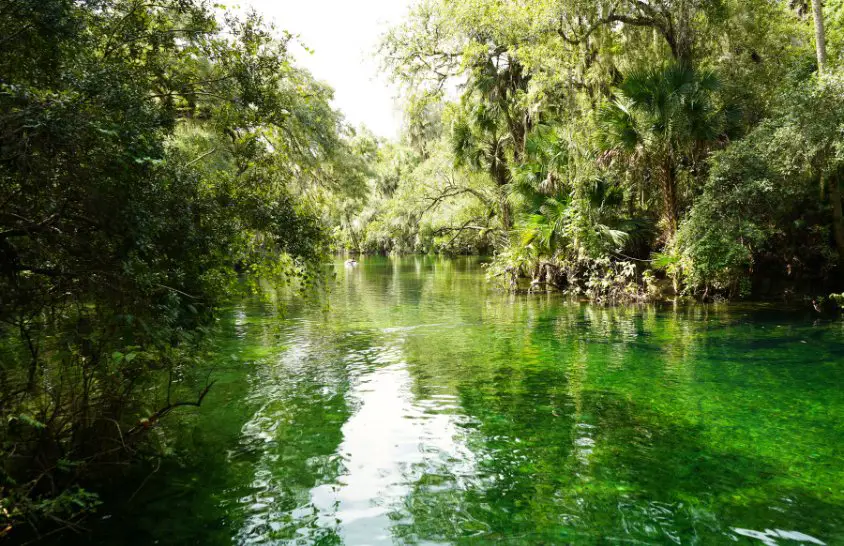 Alabama's Wiregrass Region can get hot, but Blue Springs State Park in Clio offers a cool oasis. This hidden treasure is the perfect spot for swimming, fishing and soaking up some peace and quiet – no matter what time of year you visit.
The park's main attraction is its crystal-clear spring-fed pool. It pumps 3,600 gallons of water per minute into two octagonal pools that remain a cool 68 degrees all year round. The sandy bottoms make it easy to wade in the shallows and search for critters in the rocks before the water spills over into West Fork of the Choctawhatchee River.
Aside from swimming, there are plenty of other activities to enjoy such as birding, fishing, hiking, picnicking and playgrounds. With its picturesque landscape and peaceful atmosphere, it's no surprise why Blue Springs State Park is a must on any list of Alabama's best state parks.
Bucks Pocket State Park
If you're looking for the best outdoor/camping escapes in Alabama, look no further than Bucks Pocket State Park. This park has everything you need for an unforgettable camping trip – from its renovated campground and new ORV trail to its stunning views and peaceful atmosphere.
If you're planning to camp at the park, the campground features 23 sites with water and electricity, picnic tables, fire pits, grills, and 16′ x 60′ concrete camper pads. You also have access to a bathhouse, separate ADA bathhouse, and dump station – perfect for getting cleaned up after a long day of hiking or off-roading.
And speaking of outdoor activities – there's plenty of that too! Enjoy fishing in the pristine waters of the park, or take a stroll along the hiking trails to observe an abundance of wildlife. Experienced birders will get a kick out of this park's incredible bird watching opportunities.
Cheaha State Park
If you're looking for a stunning outdoor escape in Alabama, look no further than Cheaha State Park. This beautiful park is the highest point in the state and is the oldest park in Alabama, having been established in 1933. It's surrounded by 392,567 acres of Talladega National Forest, including 7,245 acres of Cheaha Wilderness.
At 2,407 feet above sea level, you can enjoy amazing views from the granite boulders and wind-warped ancient trees – often above the clouds! The park itself is 2,799 acres and offers plenty of activities such as hiking, driving trails, biking, and more.
And if you're looking for a bit more civilization during your stay, there are several downtowns nearby with plenty of shopping and dining options. Located just 30 minutes away from Oxford Heflin, Anniston, Talladega, Lineville, Munford, and Ashland.
Desoto State Park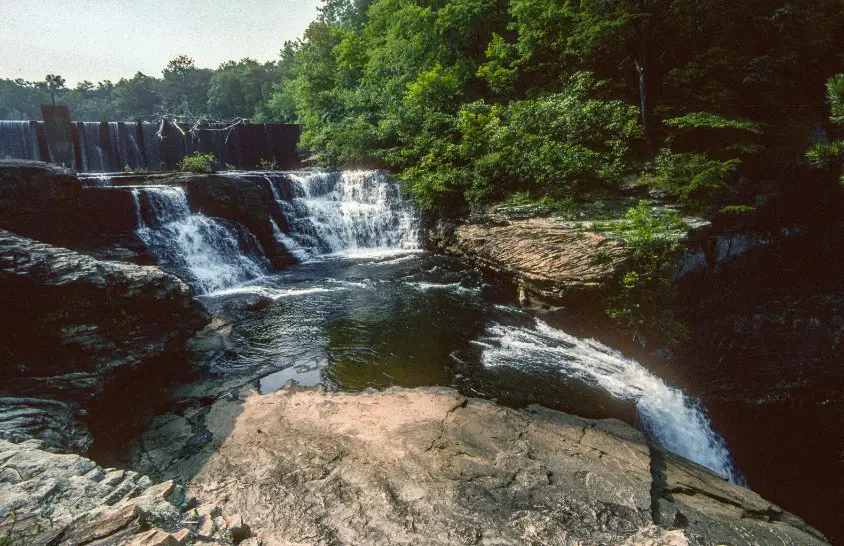 Discover one of the most unique state parks in Alabama – Desoto State Park! Located on beautiful Lookout Mountain in Fort Payne, Desoto State Park offers a truly incredible family-friendly atmosphere with plenty of outdoor wonders.
Developed in the late 1930s by the Civilian Conservation Corps (CCC), this rustic park is made up of rushing waterfalls and fragrant wildflowers that will take your breath away. Hike around Little River Canyon Nature Preserve, discover the 104-foot Desoto Falls, admire the Walls of Jericho Forever Wild Tract, and explore historic Fort Payne and Mentone. Plus, if you're feeling adventurous, there's even horseback riding and zip-lining available.
Desoto State Park also has plenty of amenities for visitors to enjoy such as cabins, camping sites, a historic lodge and wedding venues. You can even go swimming or geocaching while you're here! With so much to do here, it's no surprise why this destination was chosen as one of the best state parks in Alabama.
Gulf State Park
Alabama's Gulf State Park is truly a special place to visit. With two miles of stunning beaches, a spacious campground, and a brand new Lodge, it's easy to see why this iconic destination is one of the best state parks in Alabama.
As soon as you arrive, you'll want to get out and explore. There are miles of biking trails and hiking pathways through wooded areas and along the beach, allowing visitors to take in all the park has to offer. The perfect way to cool off is by swimming or paddling in either the Gulf or Lake Shelby.
The more adventurous can try their hand at fishing from the pier or bird watching at the nearby Nature Center. They even have a butterfly garden for those who just want an afternoon stroll amongst beautiful flowers. Plus, there are plenty of educational programs available for kids and adults alike!
If camping isn't your thing, take advantage of their indoor lodging amenities for a comfortable stay. Boredom won't be an issue here – there are endless activities to keep your motors running all day long!
Lake Guntersville State Park
For an unforgettable vacation, you can't go wrong with a visit to Lake Guntersville State Park in Alabama. This park is one of the state's most popular attractions, offering something for everyone – from resort-style relaxation to outdoor adventures.
This sprawling 6,000-acre park rests along the banks of the Tennessee River and offers a wide variety of activities, such as boat rentals, beach access, horseback riding, ziplining, 36 miles of hiking and biking trails, birding and more. And if you're looking for a day out on the course, don't miss their championship 18-hole golf course and weekly guided hikes. (I have to admit – personally, I can't swing a club to save my life!)
One of the main attractions at the park soars high above all the others: bald eagles! Thanks to conservation efforts in Alabama, their nesting bald eagle population is increasing and Lake Guntersville has become a focal point of Eagle Awareness in the state. Each year on selected weekends in January and February they host Eagle Awareness programs that entertain and educate people about our once endangered national symbol.
It's no wonder why this vibrant destination was chosen as one of the best state parks in Alabama! 
Lake Jackson RV Campground
If you're looking for a tranquil escape in your RVcv, head over to Lake Jackson RV Campground. This 40-acre park is located on the shores of 500-acre Lake Jackson and offers visitors a variety of activities, stunning views and Southern hospitality.
What really makes Lake Jackson stand out is its clean and clear waters. It's considered one of the clearest bodies of water in all of Alabama, inviting visitors to spend an entire day swimming, boating or fishing – perfect for those wanting to avoid the winter months up north. It's also an ideal spot for area day-cationers who want the white sands and crystal clear waters of the Gulf without having to take a long drive.
Aside from its beautiful lake, visitors can also enjoy biking, walking trails and picnicking. And there's also a modern campground with all the amenities you need for a comfortable stay.
Lake Lurleen State Park
If you're looking for a scenic retreat near the cities of Northport and Tuscaloosa, look no further than Lake Lurleen State Park. This 1,625-acre park is set along the banks of Lake Lurleen and offers plenty of ways to relax, unwind, and get outdoors.
The park has all sorts of amenities, including a modern campground, activity building, picnic areas, play areas, pavilions, a beach, bathhouse, fishing piers, RV storage and boat rental. You can even take a boat out on the lake – perfect for fishing or just taking in the views while listening to the tranquil waves lapping against the shore.
And if you're looking to explore the area during your visit, there are plenty of local attractions nearby such as The University of Alabama campus (go Crimson Tide!), Paul "Bear" Bryant Museum and The Alabama Museum of Natural History. Each October you can also check out the Kentuck Art Festival in Northport, which attracts many artists and crafts from across the Southeast.
Lakepoint State Park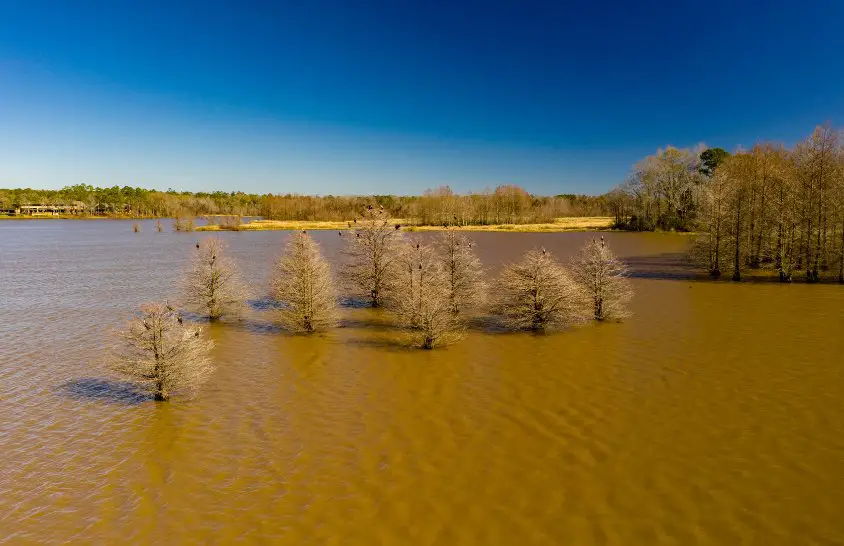 Into fishing? Then look no further than Lakepoint State Park. Located on the banks of the 45,000-acre Lake Eufaula – dubbed as the "Bass Capital of the World" – Lakepoint also offers an array of amenities and activities to enjoy.
Whether it's boating, fishing, bird watching, or simply admiring nature's beauty, there's something for everyone here. Visitors can hop on a boat and explore the lake or take a stroll along one of the hiking trails and see what wildlife they can spot – including American alligators! The park also has a full-service restaurant and lounge, marina, modern campground, swimming complex, tennis courts, and playgrounds. It's no wonder why this picturesque park is seen as one of the best state parks in Alabama!
Monte Sano State Park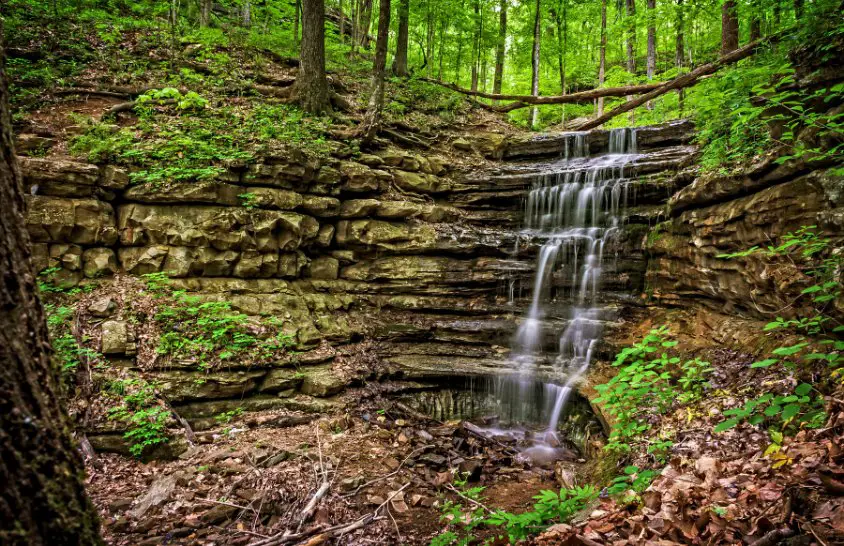 If you're looking for a spectacular place to visit in Alabama, then Monte Sano State Park is the destination for you. Translating from Spanish to mean "Mountain of Health," this park near Huntsville has been a popular spot since the 1800s – and for good reason.
At Monte Sano, you can enjoy the fresh air and take in the stunning views of the surrounding landscape. Hikers can explore 14 rustic cabins perched on the side of the mountain – 11 of which were built by the Civilian Conservation Corp (CCC). 89 improved campsites, a primitive campground, and a camp store are also available for visitors looking to stay longer.
But that's not all this park has to offer. Monte Sano State Park also features plenty of other activities like disc golf, a Japanese garden, a planetarium, and hiking and biking trails.
Oak Mountain State Park
Looking for one of the most adventurous outdoor experiences Alabama has to offer? Look no further than Oak Mountain State Park. As the state's largest park, it offers a huge range of activities and breathtaking natural landscapes, making it a must-visit while passing through Birmingham.
Take your pick from plenty of outdoor activities – from golf and aquapark to fishing, horseback riding, and geocaching – all set against a stunning backdrop of Double Oak Mountain. Whether you're looking for a short trip or an overnight stay, you're sure to find something that suits your taste.
Oak Mountain State Park is also renowned for its miles of trails made for mountain biking and hiking. With over 50 miles to explore, the Red Trail is particularly popular amongst thrill seekers; it's even been included on the International Mountain Biking Association's (IMBA) list of EPIC rides. 
Rickwood Caverns State Park
If you're looking to immerse yourself in natural history and beauty, then Rickwood Caverns State Park in Warrior, Alabama is the perfect place for you. This one-of-a-kind park features an incredible cave with 260 million-year-old formations that were created by water and were once part of an ocean bed.
The star attraction at the park is the guided cave tour, but there are plenty of other things to do too. Check out the gift shop, go gemstone mining, have a picnic with family and friends, do some hiking on the Fossil Mountain Hiking Trail (where you can find leaf and seashell imprints in some of the rocks!), camp under the stars, play on the playground, or cool off in the Olympic-size swimming pool fed by chilly waters from the cave (there's also a kiddie pool, too).
No matter what season it is or what temperature it is outside, Rickwood Caverns State Park will always be a constant 58-62 degrees year round – making it no surprise why this wonderful park is one of the most popular in the state.
Wind Creek State Park
Located south of Alexander City on Highway 128, this park is home to one of the largest state-owned campgrounds in the country and offers access to Lake Martin – one of the most popular lakes in Alabama.
At 1,444 acres, Wind Creek is a fisherman's paradise, with ample opportunities to catch crappie, bluegill, and striped bass. Plus, several fishing tournaments are held at the park each year! It's also a stop on Alabama's Piedmont Plateau Birding Trail, offering a variety of waterfowl, raptors and songbirds that can be seen throughout the year – including bald eagles and ospreys.
Aside from fishing and birding, you can enjoy a variety of other activities, such as camping, hiking, biking, and golfing.