Hiking in A Dress: A Woman's Guide To Outdoor Apparel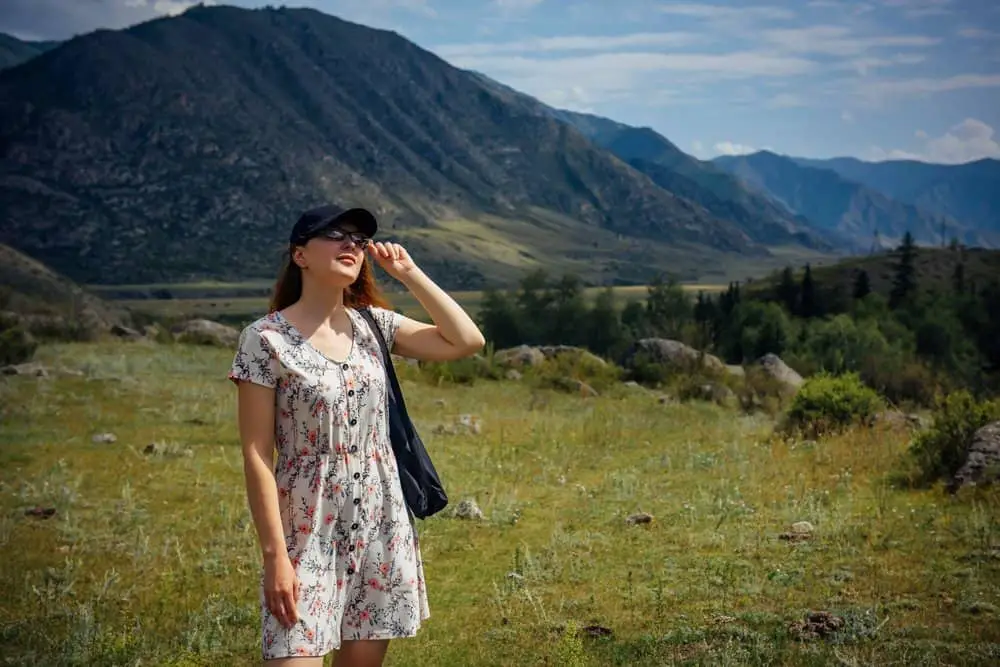 A lot of women think that they can't go hiking because they don't have the right clothes. But that's not true! You can go hiking in a dress, as long as you have the right gear. Here's what you need to know.
Hiking, fortunately, is one outdoor activity without (super) strict clothing rules. All you need in a hiking outfit is something that will keep you comfortable and protected from the elements. And if a dress meets those criteria, then it's perfectly acceptable to wear one on the trail!
Of course, there are a few things to keep in mind when choosing a dress for hiking. I'll provide you with all the pros and cons, the benefits, risks, and some general tips for how to hike in a dress.
Tips For Hiking In A Dress
Okay, so let's get things started. Here are my top tips for hiking in a dress:
Choose the Right Dress
The first and most important step is to choose the right dress. You want something that is comfortable, breathable, and will protect you from the sun and elements. A good rule of thumb is to choose a dress made from natural fabrics like cotton or wool. This will help you stay cool and comfortable on the trail.
Layer up If Necessary
If you're hiking in a dress, you'll want to make sure you layer up. This will help keep you warm in cold weather and protect your skin from the sun in hot weather. I always recommend wearing leggings or tights underneath your dress. This will provide an extra layer of warmth and protection. And if you start to get too warm, you can always take off a layer.
Wear the Right Shoes
Your shoes are arguably the most important part of your hiking outfit. They need to be comfortable, supportive and have good traction. I recommend wearing hiking boots or trail running shoes. If you're going to be hiking in wet or muddy conditions, make sure to wear shoes with good drainage. Personally, I recommend the Moab 2 Waterproof Hiking Boots by Merrell. They are amazingly comfortable and tick all of those boxes.
Accessorize Wisely
When it comes to accessories, less is more. You want to bring only the essentials, like a water bottle, sunscreen, and a first-aid kit. If you're hiking in cold weather, you may also want to pack a pair of gloves and a hat.
Be Prepared for Emergencies
As with any outdoor activity, it's important to be prepared for emergencies. Make sure you have a map of the area and know your route before you head out. And always carry a first-aid kit in case of accidents.
Keep Your Legs Dry
When conditions are hot and sweaty, there is a possibility there will be skin-on-skin friction around the thighs. This often results in chaffing. One way to prevent this is by using an anti-chafing balm or powder. You can also use a diaper rash cream for treatment after the hike. 
Why Would You Hike In A Dress? (Pros)
So, now that you know how to hike in a dress, you may be wondering why you would want to. Here are a few reasons:
Dresses Are Comfortable
Dresses are often more comfortable than pants, especially in hot weather. I mean, have you ever tried hiking in jeans before? They're also great for layering in cold weather.
Also, they don't have any constricting waistbands or shoulder straps, and they often have lots of room to move around in. This can be a big advantage when you're hiking long distances.
Dresses Are Stylish
Okay, let's be real for a second. We all want to look good while we're hiking, right? Wearing a dress is a great way to do that. You can find cute and stylish dresses made specifically for hiking. I'll share some of my best recommendations at the end of this article.
Plus, they can accentuate your best features and make you feel confident on the trail. What girl wouldn't want that?
Dresses Are Easy to Pack
Dresses take up less space in your backpack than pants do. And, they don't require extra gear like belts or suspenders. And you won't need an extra shirt! If you're looking to travel light, a dress is a great option.
Dresses Are Versatile
Dresses can be worn on the trail and in town. So, if you're planning a multi-day hike, a dress is a great choice for your clothing. Just make sure to pack a few different options so you're prepared for all kinds of weather.
Makes Changing Clothes Easier
Wearing a dress makes it easy to switch outfits. This benefit comes in handy when camping and you need to change into camp clothes, or if you're going straight from the hike to a post-hike lunch.
All you have to do is slip off your dress and put on another one. No need for a changing room or the extra step of taking off your shoes!
Dresses Are Cool and Airy
Again, this is important in hot weather. Wearing a dress will help keep you cool and prevent you from overheating on the trail.
The loose fit of most dresses allows air to circulate around your body, which can help you stay cool when the temperatures start to rise.
Dresses Are Easy to Care For
Dresses are typically easy to wash and don't require a lot of care. Just throw them in the washing machine and you're good to go. Unlike a lot of hiking-specific clothing gear, which is usually made from synthetic materials that require special care.
Makes It Easy to Relieve Yourself
After a long hike, you would have to relieve yourself. No other hiking attire affords you the freedom a dress offers you in such times. 
Dresses Make Great Travel Clothes
Dresses are perfect for packing light when you're traveling. They can be dressed up or down, depending on the occasion. And, they don't wrinkle as easily as pants do.
Dresses Are Fun
Hiking in a dress is just plain fun. It's a great way to add some variety to your hiking wardrobe. And, it's a great conversation starter when you're out on the trail.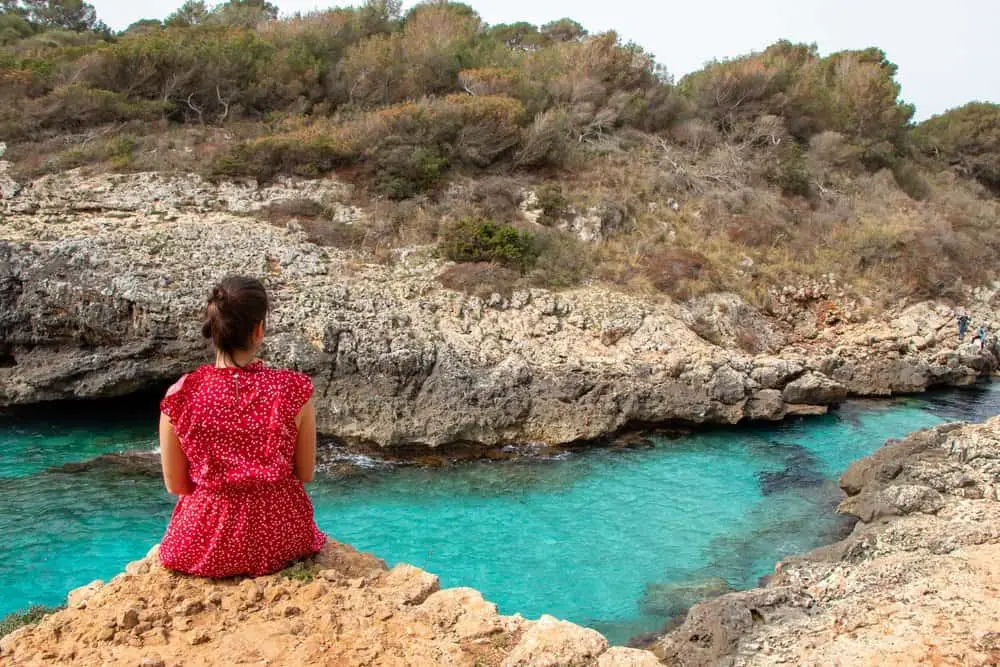 Reasons Against Hiking In A Dress (Cons)
Understandably, not everyone is sold on the idea of hiking in a dress. Here are a few reasons why you might not want to wear one:
Dresses Can Be Impractical
Depending on the style of the dress, they can be impractical for hiking. For example, a flowing maxi dress is probably not the best choice for hiking. It could get caught on branches or bushes, and it would be difficult to move around in.
Skin Chafing
When you start hiking with a dress, you may experience chafing during the initial stages. However, this discomfort goes away in a short time as your body gets used to hiking long distances in a dress.
Dresses Can Be Difficult to Hike In
Depending on the type of dress, they can be difficult to hike in. For example, if the dress is too tight, it could restrict your movement. And, if the skirt is too long, it could get caught on branches and roots.
Dresses can tangle easily on a trail, and if you are not careful, it could lead to tripping or slipping. 
Dresses Can Be Impractical in Cold Weather
While dresses offer many benefits, they can be impractical in cold weather. If you're hiking in the winter, you'll want to wear pants or leggings under your dress to keep your legs warm.
Exposed to Bugs, Ticks, Mosquitoes, and Poisonous Plants
If you are wearing a dress while hiking, your legs and arms will be exposed. This leaves you vulnerable to bug bites, ticks, and mosquito bites.
Also, if you're hiking in an area with poisonous plants, wearing a dress can be dangerous. The skirt of the dress could brush against the plants, and you could end up with a nasty rash.
In all fairness, however, you would face these same dangers if you were wearing shorts or a skirt. So, it's important to be aware of your surroundings and take precautions no matter what you're wearing.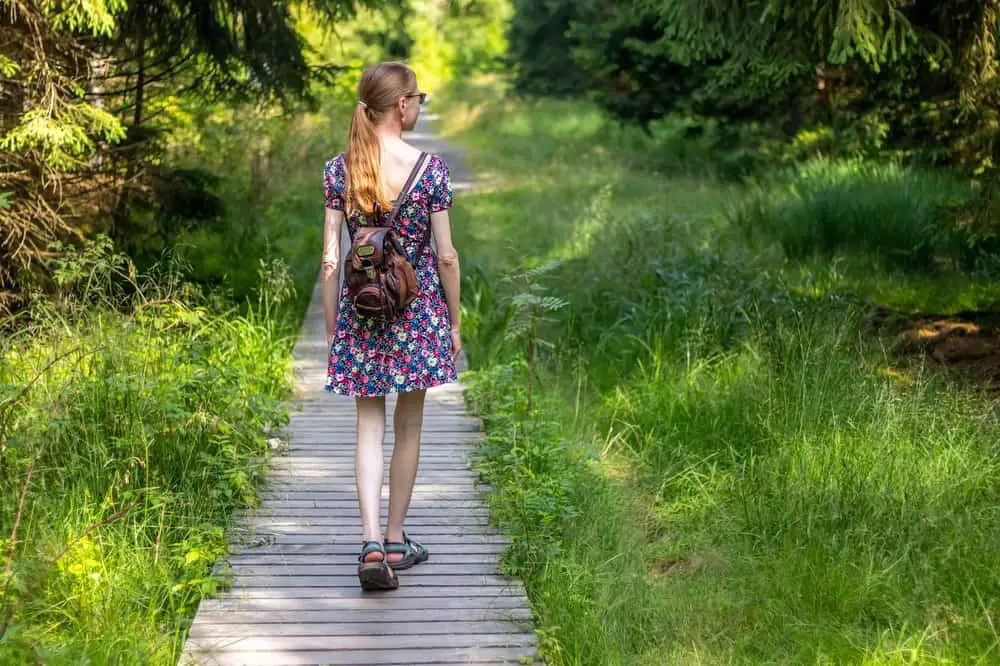 How to Pick the Right Dress for Hiking
Picking the right dress for hiking is the first step toward a beautiful hike on your favorite trail. So, how do you choose the right hiking dress for women? What factors do you need to consider before buying hiking dresses? Here are a few things you should look out for:
Material
The best materials for hiking dresses are the stretchy ones. They include spandex, polyester, and nylon. These materials are ideal for hiking your favorite trails because they are moisture-wicking and breathable. breathability. Most ultralight hiking dresses that offer maximum comfort come in these materials. 
Fit
The question here is, how do you like your dresses? Do you want a hiking dress with sleeves, loose-fitting or form-fitting? Remember that your comfort during a hike is paramount, so always go for the dress fit you feel most comfortable with.
Length
The longer the dress, the more difficult it becomes to climb over rocks and logs of wood. On the other hand, the shorter the dress, the more open your legs are, exposing you to mosquitoes and other bugs present on the trail. In other words, the length of dress you choose depends on the trail you want to hike. Avoid long dresses if you will be climbing over rocks and fallen logs for most of the hike.
Pockets
You should get a Dress with pockets as they are multifunctional. They help free your hands by serving as a mini-storage space for your phone and camera items. Also, you can keep your hands in them if the weather gets too cold!
Bust Size
This is a no-brainer. If you have a large bust, go for a dress with a built-in shelf bra or one that comes with a built-in sports bra. This will offer you the support you need to avoid discomfort during your hike.
On the other hand, if you have a small bust, look for dresses with a lower neckline. This will help you avoid the dreaded "boob sweat."
Hiking Dress Styles & Recommendations
There are different hiking dress styles to choose from. I'll go over a few of the popular styles for hiking, including some of the best recommendations for each:
Midi Dresses
Midi dresses are perfect for hikes that are not too strenuous. They come in different materials, including spandex and nylon. Most of them have pockets for storing your essentials.
Recommendation: Columbia Women's Freezer Mid Dress. This dress is 89% polyester so it's very breathable for summer hikes. It also has great UV blocking and moisture-wicking technologies created by Columbia, called Omni-Wick and Omni-Shade.
Maxi Dresses
Maxi dresses are perfect for long hikes. They offer more coverage than midi dresses, which makes them ideal for trails with poisonous plants. They also have pockets for storing your things.
Recommendation: Toad&Co Sunkissed Maxi Dress – Women's. If you're looking to be a bit more fashionable on your trek, consider this dress. It's also stretchy, breathable, and has moisture-wicking properties as well.
T-Shirt Dresses
T-shirt dresses are perfect for casual hikes. They are comfortable and usually have pockets. They are made of stretchy materials like spandex and nylon, which makes them ideal for hikes.
Recommendation: Toad&Co Windmere II SS Dress – Women's. This dress is ultra-simple and cute. Just like the rest, this has moisture-wicking properties and a comfort stretch. The difference here is that these have handy waist pockets on both sides.
Conclusion
As you can see, there are a few things to consider before buying a hiking dress. But once you find the right one, it will make your hiking experience much more enjoyable. So, what are you waiting for? Get out there and start exploring!