57 Super Catchy Camping Slogans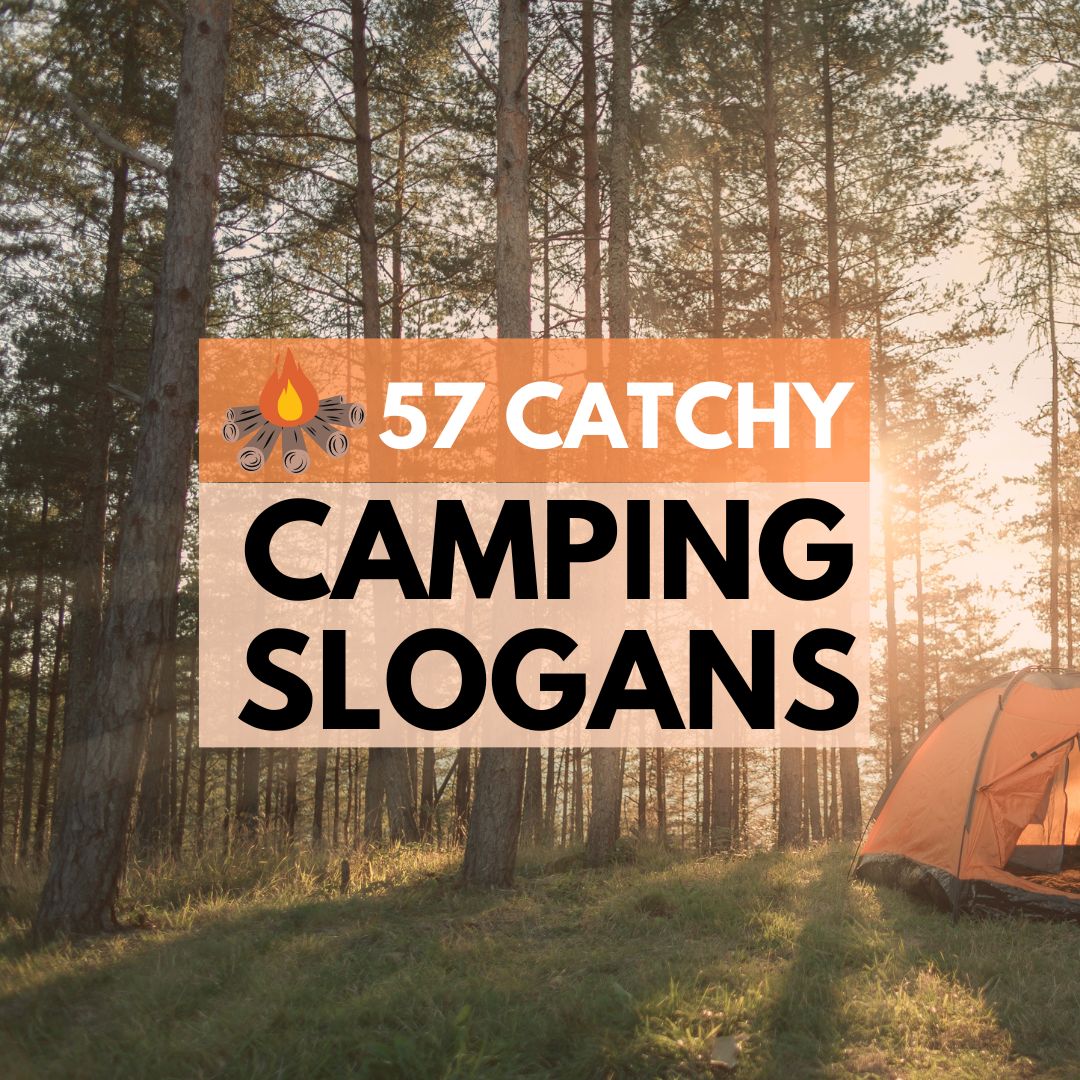 There's something about camping that just feels right – getting back to nature, enjoying the simple things in life, and spending time with family and friends. And what could be more fun than heading out into the great outdoors with a bunch of clever camping slogans to help get you in the spirit? Here are 57 of our favorites to help inspire your next outdoor adventure! (Plus, we've thrown in a few bonus quotes for good measure!)
Catchy Camping Slogans: The Ultimate List
1. A bad day camping is still better than a good day working. 
2. A family that camps together, stays together. 
3. An excuse to get dirty and relax.
4. Back to nature.
5. Camp now, work later. 
6. Camping is in tents! (intense, get it? 😜)
7. Camping is life; everything else is just details. 
8. Camping is nature's way of promoting the motel business. 
10. Get back to nature; it will do you good!
11. Heaven is a place on earth… and it's called camping!
12. An excuse to drink in the middle of the week. 
13. Back to nature… sort of. 
14. Because glamping is too expensive. 
15. Camping: Where you spend a small fortune to live like a homeless person.
16. Camping: Because hotels are too expensive and nature is beautiful.
17. Camping: Because your house wasn't built to be lived in for more than a week at a time. 
18. Camping: How to turn your money into smoke.
20. Camping: Because nature needs humans too.
21. Camping: Because sleeping in a tent beats sleeping in a cubicle any day!
22. Camping: The ultimate social distancing!
23. Camping is cheaper than therapy, and you get fresh air!
24. Camping is expensive… have you priced tents lately?
25. Camping is living in harmony with nature… until the bears come looking for food in your cooler.
26. Camping is nature's way of promoting the motel industry. 
27. An adventure a day keeps the doctor away!
28. Get out there and explore!
29. Go take a hike!
30. Happiness is…a sunny day, a warm fire, and a good book while camping!
31. I heart nature!
32. I'd rather be camping!
33. If you can't take the heat, get out of the tent!
34. It's not about the destination; it's about the journey!
35. Just keep swimming…to the nearest campsite!
36. Keep calm and camp on!
37. Life is better outside!
38. Life is one big adventure…go live it!
39. Nature always wins!
40. No Wi-Fi? No problem!
41. Not all those who wander are lost…they're probably just camping!
42. One more cast, then I'll pack up my gear and head back to camp! 
43. Roughin' it in style!
44. The best things in life are free…and so is camping!
45. The only thing better than a good campfire is a good story around it.
46. There's no such thing as bad weather, only inappropriate clothing.
47. Time to get out of my comfort zone!
48. Unplug and unwind!
49. We don't need Wi-Fi out here; we've got each other!
50. Welcome to my happy place!
51. When in doubt, go camping!
52. You can take the girl out of the city, but you can't take the city out of the girl…unless she goes camping!
53. You want to know where your heart is? Look where your mind wanders when you're free!
54. Your paradise is just a short drive away!
55. No cell service? No problem!
56. Off the grid and loving it!
57. The great outdoors is calling…I must go!
How to Use These Camping Quotes
Now that you've got some great ideas to run with, here are some of our favorite ways to use camping quotes:
Print them out and hang them up in your camping gear shed or garage as motivation to get outside more often!
Use them as captions on your outdoor photos on social media.
Make DIY camping quote signs to put up around your campsite.
Save your favorites to your phone or computer as desktop or screensaver backgrounds.
Send them in a care package to a friend or family member who loves camping (or needs a little encouragement to get outside more!).
Use them as inspiration for your own original camping quotes and sayings.
Keep a list of your favorites handy to read aloud around the campfire.
Incorporate them into your camping journal entries.
Use them as conversation starters on hikes and other outdoor adventures.
Brainstorm a list of your own personal favorite camping quotes to live by!
Favorite Camping Quotes to Live By
1. "The world is a book, and those who do not travel read only one page." -Saint Augustine
2. "Not all those who wander are lost." -J.R.R. Tolkien
3. "Adventure is out there!" -Pixar
4. "We are all here for a spell; get all the good laughs you can." -Will Rogers
5. "What lies behind us and what lies before us are tiny matters compared to what lies within us." -Ralph Waldo Emerson
6. "In every walk with nature one receives far more than he seeks." -John Muir
7. "Keep close to Nature's heart… and break clear away, once in awhile, and climb a mountain or spend a week in the woods. Wash your spirit clean." -John Muir
8. "Climb the mountains and get their good tidings." -John Muir
9. "There is no Wi-Fi in the forest, but I promise you will find a better connection." -Anonymous
10. "Take only memories, leave only footprints." -Chief Seattle
If you want to see a full list of our favorite camping & hiking quotes, check out this blog post: 141 Best Hiking Quotes & Captions.
Conclusion
Camping is a great way to get away from the hustle and bustle of everyday life and connect with nature. And what better way to do that than with some inspiring camping quotes? We hope you enjoyed our list of the 57 best camping slogans and that they inspired you to get outside and explore!