Yeti Rambler 20oz Reviewed (Is It Worth The Hype?)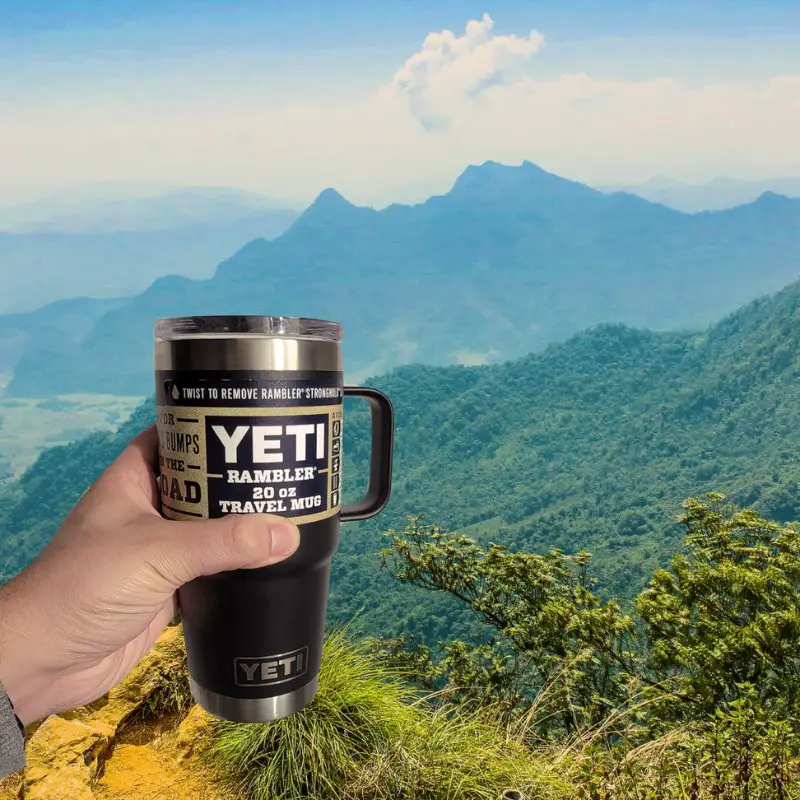 When it comes to stainless steel tumblers, the Yeti Rambler is clearly one of the most popular choices out there. The design is sleek, clean, and modern, it holds temperatures pretty well, and they are also pretty durable. But is it worth the hype? Is there a reason Yeti absolutely dominates the tumbler market?
When it comes to performance, the Yeti Rambler doesn't disappoint. It boasts double-wall vacuum insulation, which means it can keep drinks cold for up to 24 hours and hot for up to 6 hours. The tumbler also comes with a shatterproof, BPA-free lid that seals tight and helps prevent spills. On top of that, the tumbler is made from 18/8 stainless steel, making it both lightweight and durable.
Now for full disclosure, I use my Yeti strictly for homemade iced coffee. I have another bottle I use for my ice water, the TAL water bottle. But without further ado, let's dive a bit deeper into the pros/cons, features, and more.
What Are the Pros and Cons of the Yeti Rambler?
PROS:
Double-wall vacuum insulation to help keep drinks cold for up to 24 hours and hot for up to 6 hours
Shatterproof, BPA-free lid seals tight and helps prevent spills
18/8 stainless steel construction is both lightweight and durable
Available in a variety of sizes and colors
Dishwasher safe for easy cleaning
CONS:
Can be expensive compared to other tumblers (that perform almost exactly the same)
Tumbler base can sometimes be too wide for some cup holders
Lid can be difficult to remove if over-tightened
Really, the biggest downside to the Yeti is the cost. Essentially, you're paying for the name. As I mentioned earlier, you can find very similar bottles at much cheaper price points.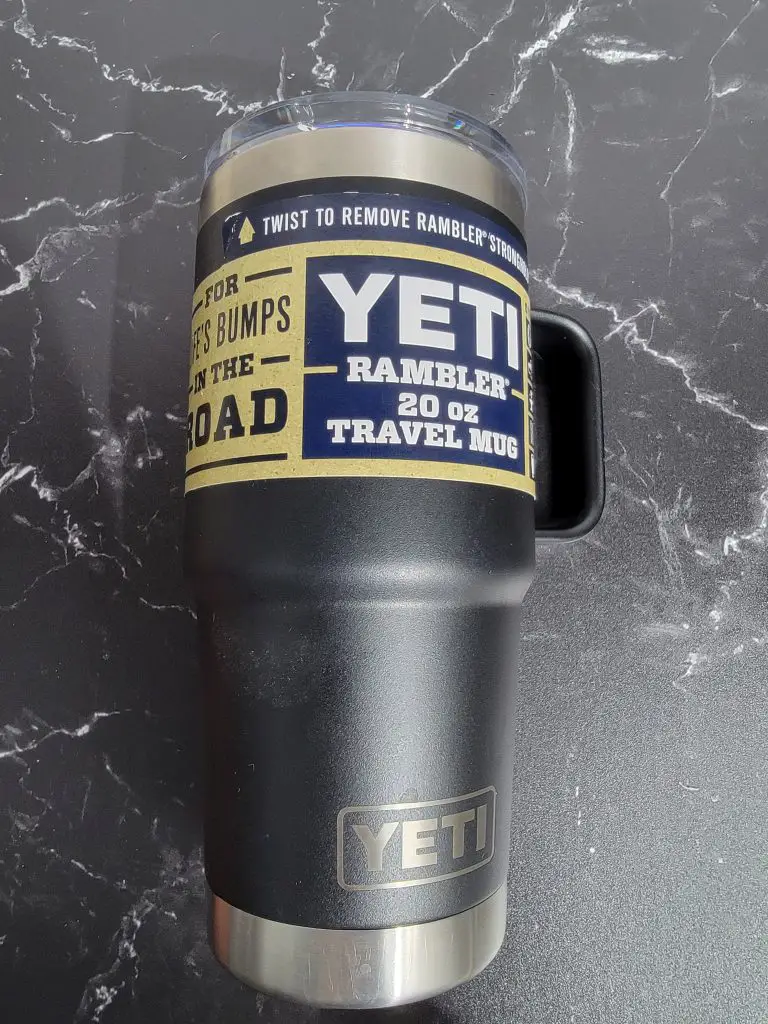 How Does the Yeti Rambler Hold Temperatures?
The Yeti Rambler does a great job of keeping beverages cold or hot for an extended period of time. Now they claim to keep drinks cold for up to 24 hours. However, that hasn't been my experience.
It's important to note that these times may vary depending on what type of beverage is being held, as well as the temperature of the beverage when it is placed in the tumbler.
So before I even used it, I wanted to test out the Yeti's ability to keep drinks cold. So, I filled it with some iced coffee and left it out at room temperature for 24 hours. After 24 hours, the coffee was still quite warm, and all the ice had melted. But it was still pretty cold after 4 to 5 hours. I would say around four to five hours is the sweet spot for keeping cold.
I also tested the Yeti's ability to keep drinks hot. I filled the tumbler with some warm coffee and left it out for 6 hours. After 6 hours, the coffee was lukewarm (but just as delicious as when it was first poured.)
Overall, I'm still pretty happy with the Yeti's ability to keep beverages at the desired temperature for an extended period of time. Plus, who takes 24 hours to drink ice coffee anyway?
Is The Yeti Rambler Leak Proof?
One of the most common questions asked by people considering a Yeti Rambler is whether or not it is leakproof. The answer is it's not fully leakproof. It's "leak-resistant."  So what does that mean?
It means that if the Yeti Rambler is filled with a liquid such as water, and then it is tipped over or shaken, it will not leak as much as a traditional cup or water bottle. The design of the Yeti Rambler is such that it has double-wall vacuum insulation, which helps keep liquids from leaking out. The mouthpiece is also made from a rubber gasket to further prevent any accidental spilling.
That being said, there are still certain considerations to take into account when using a Yeti Rambler. Even though it is leak-resistant, it is still not 100% leakproof. If it is filled to capacity and left on its side for an extended period of time, some liquid may escape.
Additionally, if the Yeti Rambler is filled with carbonated beverages, it is possible for some liquid to leak out due to the increased pressure. Therefore, it is always recommended to keep the Yeti Rambler upright, and not filled to capacity when storing liquids. In conclusion, while the Yeti Rambler is not 100% leakproof, it is still significantly more leak-resistant than traditional cups or water bottles. 
What Is The MagSlider Lid?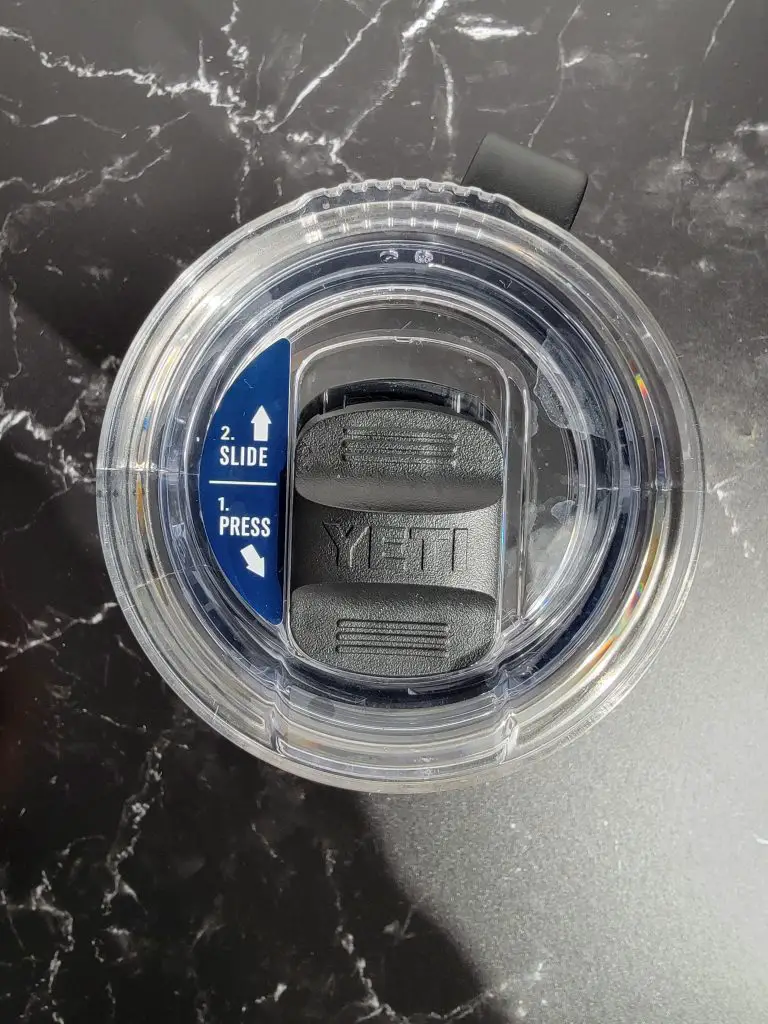 So the Yeti Ramber comes with something called the MagSlider lid. The MagSlider lid is a great addition to the Yeti Rambler. It is a magnetic closure lid that helps keep your drink insulated and secure. This lid is designed to be leak-resistant, airtight, and easy to use. It has a strong, external magnet that slides around the edge of the lid and helps to keep your beverage fresh and seals in the flavor. (Does water have a flavor?)
The lid also features a unique snap-in design that makes it easy to take off and put back on. When it comes to cleaning and maintenance, the MagSlider lid is easy to clean and can be quickly wiped down with a damp cloth. Additionally, it is also dishwasher safe, so you can easily keep it clean and looking like new.
Overall, the MagSlider lid is a pretty cool addition to the Yeti Rambler, providing an additional layer of insulation and security for your beverage. And I have to admit, I wasn't a fan of it at first; I found it pretty annoying. But it grew on me!
What Is the Best Way to Clean a Yeti Rambler?
It's super important to keep your Yeti Rambler often cleaned, especially if you're using it for something acidic and strong like coffee. To clean your Yeti Rambler, start by hand-washing it with a mild dishwashing liquid and warm water.

Rinse it well and dry it with a soft cloth. You can use a non-abrasive scrub brush for tougher stains to gently scrub them away. It's important to use a gentle touch here since the stainless steel can easily become scratched.

If your Yeti Rambler is really dirty and needs a deep cleaning, you can fill it with a mixture of warm water and baking soda. Let the mixture sit for a few hours before rinsing it out with warm water. Vinegar is also a magic cleaner. You can also fill the container with water and white vinegar and let it sit for a few hours to remove any odors or stains.

Be sure to let your Yeti Rambler air dry before using it. Another good option is to put it in the dishwasher, making sure to place it on the top rack. This is a great way to make sure your Yeti Rambler is thoroughly and evenly cleaned. No matter what form of cleaning you use, be sure to rinse your Yeti Rambler out multiple times with fresh, clean water. This will help to ensure that all of the odors and stains are removed and you have a clean-tasting drink every time.
How Durable Is the Yeti Rambler?
I haven't really beaten this thing up yet, but so far, so good. The Yeti Rambler is made of high-grade stainless steel, so it's built to last. It's also designed to be virtually indestructible so it can handle the wear and tear of everyday use.

The Rambler features a wide base that ensures it won't tip over easily, and its heavy-duty construction means it can take a few knocks and drops without being damaged. With proper care and maintenance, I would expect the Yeti Rambler to last for years to come.
What Is 18/8 Stainless Steel?
So I've been mentioning this 18/8 stainless steel quite a bit; let me explain what it actually is.18/8 stainless steel is a popular material used for a wide variety of products and applications. It is a combination of metal alloys that makes it resistant to corrosion, making it an ideal choice for kitchenware and outdoor applications.

The "18/8" name refers to the fact that the alloy is made up of 18% chromium and 8% nickel. The chromium is what gives 18/8 stainless steel its superior corrosion resistance, and the nickel content contributes to its strength and durability. This type of stainless steel is also known as type 304 stainless steel, due to its composition.

18/8 stainless steel is used in a variety of ways, including making cookware, cutlery, and appliances. It is also used in the construction of outdoor tools such as railings, furniture, and even building materials. Essentially, 18/8 stainless steel is an incredibly durable material
Final Verdict
While it hasn't kept my iced coffee as cold as I would have loved, it still does a pretty decent job. So overall, I would say the Yeti Rambler is a pretty good choice for anyone looking for a durable and long-lasting tumbler – if you don't mind the price point.

A few things I forgot to mention, there are plenty of other sizes to suit your needs. There are also a LOT of customizations available, from different colors to laser engravings. And lastly, and probably my favorite feature – it fits absolutely perfectly into my cup car holder! (But your mileage may vary.)