The Different Types Of Hiking Trails (In-Depth Guide)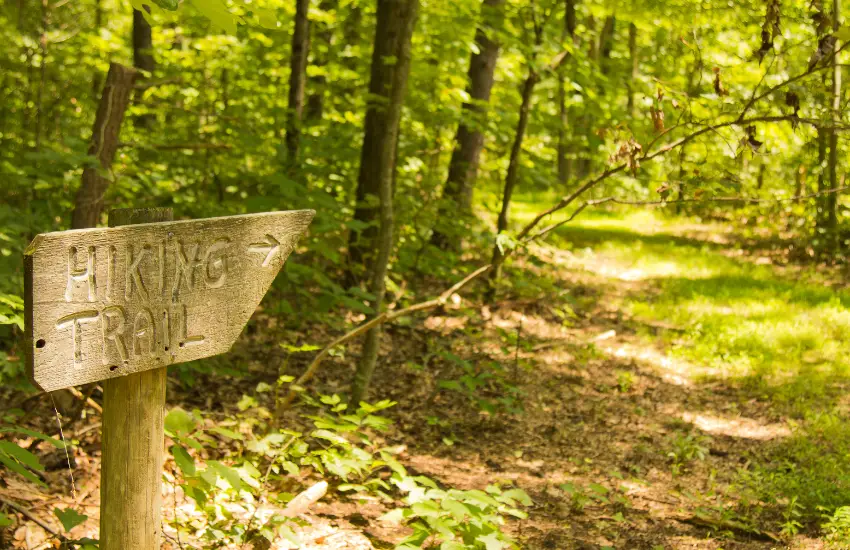 Are you ready to get your hiking boots on and hit the trails? If you are new to hiking, however, it's important to understand the different types of hiking trails out there. Knowing what to expect can make all the difference in ensuring a successful and enjoyable hike. So, let's just dive right into the different types of hiking trails out there and find the perfect one for your next trip.
Understanding The Difficulty Level Of Hiking Trails
To start, I want to break down the difficulty levels on trails that you'll commonly see online, such as on websites like Alltrails.com. These difficulty levels are usually broken down by easy, moderate, or difficult.
Easy Hiking Trails
First up on our list are easy hiking trails. These are the perfect option for beginners who want to dip their toes into the world of hiking. Easy hiking trails are typically less steep and less challenging compared to other trails. They are usually marked by smooth and well-paved paths with gentle inclines that won't leave you gasping for breath.
If you're a beginner or looking for a relaxing hike, opt for easy hiking trails. These trails are perfect for nature walks, allowing you to observe beauty without straining your body. Don't forget to bring a water bottle as you slowly take in nature's beauty.
Moderate Hiking Trails
Now, if you're looking to bump up the challenge level, moderate hiking trails are the perfect option. These trails require a bit more stamina and preparation, but are still accessible to most hikers.
Moderate hiking trails feature well-marked paths with a few steep sections, inclines and declines. The terrain can vary from rocky terrains, bushy trails or muddy paths. It all depends on the terrain you are hiking on. Be sure to wear comfortable hiking shoes or boots, carry a map to not get lost, and bring an extra layer just in case of weather changes.
A word of caution – one of my first ever hiking trails was considered "moderate" and it was challenging as hell. So if you haven't hiked before, don't take "moderate" difficulty lightly.
Difficult Hiking Trails
If you're ready for a real challenge, then difficult hiking trails are where you want to be. These trails require serious physical fitness and mental stamina, but the rewards are typically breathtaking views and the satisfaction of conquering extreme challenges.
Difficult hiking trails often feature difficult terrains like steep inclines and rough trails, fast-flowing streams, uneven terrain, and sometimes even scrambling. When planning a hike on a difficult hiking trail, ensure you're physically fit and in good health, pack your backpack wisely, dress appropriately, and make sure you have sufficient supplies to last you throughout the trail.
A Day on the Trails: Exploring Day Hike Trails
If you're looking for an adventure that can be achieved in a single day, then day hike trails are the perfect option. Day hikes are typically less strenuous than overnight hikes and offer plenty of opportunities for scenic views, fresh air, and exercise.
Let's take a closer look at what you can expect when exploring day hike trails:
Definition of Day Hike Trails
Day hike trails are hiking trails that can be completed in a single day. These trails have starting and ending points that can be hiked in a few hours, making them ideal for those who only have a day to explore. Day hikes can range in difficulty, with some easy trails suitable for beginners to more challenging hikes for advanced hikers.
Difficulty Levels and Length of Day Hike Trails
Day hike trails can range in length and difficulty level, so it's essential to choose a trail that suits your physical fitness and hiking experience. Some trails can be as short as a few miles, while others can be upwards of 10 miles or more. Additionally, difficulty levels can range from easy to strenuous, so it's crucial to take the necessary precautions when choosing which trail to take.
Benefits of Day Hike Trails for Beginners
Day hiking is an excellent way to ease into the world of hiking for beginners. It's an opportunity to explore nature and get some exercise without the need for overnight camping or investing in a lot of gear. Many day hikes have well-marked paths, allowing hikers to navigate the trails easily. Plus, if you're exploring busy trails, you'll likely run into other hikers, offering a sense of community, and adding some extra safety.
Sleep Under The Stars: Overnight Hike Trails
Are you ready to take your hiking adventure to the next level? Overnight hikes offer the chance to immerse yourself in nature and truly connect with the wilderness. While it takes a bit more preparation and equipment than a day hike, the rewards of sleeping under the stars are worth it!
Let's explore what to expect on overnight hike trails:
Definition of Overnight Hike Trails
Overnight hike trails are hiking trails that exceed one day and require an overnight stay in the wilderness. These trails can range in length from a few miles to over 20+ miles long, and are typically more challenging than day hike trails. Overnight hikes require more planning and precautions, including permits and camping equipment, making it essential to research your destination thoroughly before embarking on your journey.
Length and Difficulty Levels of Overnight Hike Trails
Overnight hike trails require more planning and preparation due to their longer lengths and more challenging terrain. The length of an overnight hike trail varies from a one-night trip to two or three nights or to extended trips, lasting for days or weeks. These trails can also range in difficulty level from moderate to extreme, depending on the trail's terrain. However, they can also be pretty easy, as well, just longer and requiring more prep work.
Camping and Safety Tips for Overnight Hike Trails
When embarking on an overnight hike, it's essential to plan your route, ensure you've packed all the necessary camping equipment, and understand basic camping safety. Here are a few tips to consider:
Always check the weather forecast and bring appropriate gear.
Pack plenty of food, snacks, and water for the length of your trip.
Ensure that you have the necessary camping gear, including a tent, sleeping bag, and camping stove for cooking.
Make sure you have a reliable water filtration system to avoid water-borne diseases.
Remember to pack a first aid kit, map, and compass or GPS to help navigate your route.
Leave no trace and respect wildlife and the environment.
Ensure you have enough batteries, a lookout for specific animal behavior or making too much noise.
Overnight hike trails offer hikers the chance to experience truly immersive nature and create lasting memories. While overnight hikes require more planning, preparation, and equipment than a day hike, with suitable precautions like these, you'll have everything you need for a successful trip.
The Top of the World: Mountain Hike Trails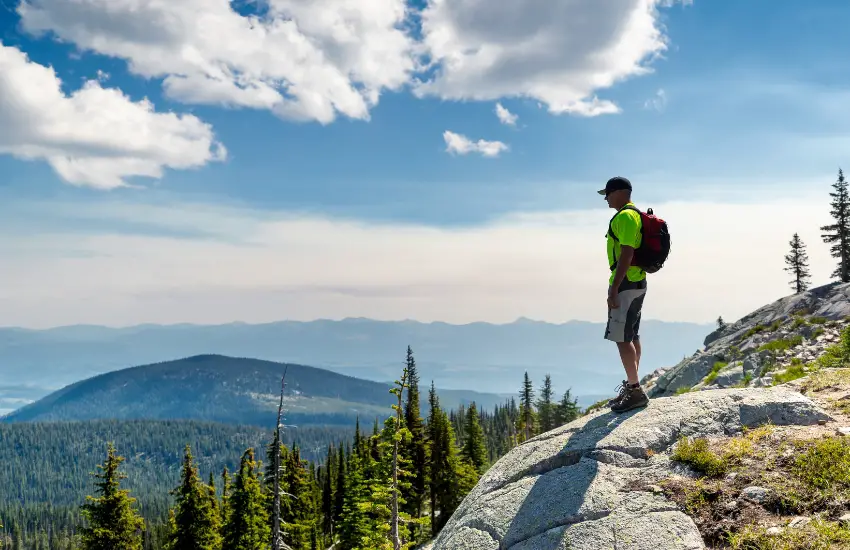 Are you ready for the ultimate challenge? Mountain hike trails offer the perfect adrenaline rush for thrill-seekers and experienced hikers. These trails take you to the highest peaks, offer stunning views, and unforgettable memories. It's time to conquer the mountains!
Let's explore what to expect when embarking on mountain hike trails:
Definition of Mountain Hike Trails
These trails take you to the highest peaks and are well-known for being more challenging than other trails. Mountain hike trails require hikers to pass over steep terrain, rocky paths, and sometimes snow-covered landscapes. They're not for the faint-hearted, but are extremely rewarding for those who venture to the top.
Difficulty Levels and Elevation Gains of Mountain Hike Trails
Mountain hikes can range from moderate to extreme levels of difficulty. These trails can require intense physical activity, such as elevation gains of 1,000ft or more, steep climbs, narrow paths, and scrambling over boulders. Hikers should be prepared for unpredictable weather conditions and sudden changes in temperature as they climb higher in altitude. However, these trails also offer some of the most breathtaking views you can experience while hiking.
Unique Challenges and Rewards of Mountain Hike Trails
The challenge of hiking up a mountain is like no other. It tests both your physical and mental strength and requires careful planning and preparation. Some unique challenges of mountain hike trails include harsh terrain, thinner air, less accessible water points along the way, and longer trails than a day hike or overnight hike. However, hiking up a mountain comes with an extraordinary reward: stunning panoramic views from the summit that take your breath away.
Whether you're a beginner or an experienced hiker, mountain hike trails offer an unforgettable experience that pushes you to your limits but also rewards you with the most stunning views of the world. While these trails can be incredibly challenging, with proper preparation you can make it to the top and take in some of the most breathtaking vistas.
Exploring the Edge: Coastal Hike Trails
If you love both hiking and ocean views, then coastal hike trails are the perfect combination for you. By far my favorite type of trail, these trails offer the opportunity to hike along the shoreline and witness some of the world's most stunning coastal scenery. So, let's dive into what to expect when exploring coastal hike trails:
Definition of Coastal Hike Trails
Coastal hikes are trails located along the coastline, showcasing stunning ocean views and geological features. These hikes are accessible to hikers of varying fitness levels, with some being solely along the beach while others run parallel to the shoreline. Coastal hikes offer the opportunity to explore marine and terrestrial habitats, as well.
Difficulty Levels and Length of Coastal Hike Trails
Hikes along the coast vary in length and difficulty level, ranging from short and easy walks to longer and more strenuous hikes. Coastal hikes typically have a range of terrains, from sandy beaches to rocky shorelines. Depending on the trail, it may also include some elevation changes, making it important to understand your physical abilities and plan your route accordingly.
Scenic Views and Wildlife Encounters on Coastal Hike Trails
A coastal hike boasts some of the most stunning views in the world, offering the chance to experience the beauty of the ocean in all its glory. Along the trail, hikers can witness rock formations, arches, and bluffs that have been carved by the ocean. Wildlife encounters are also common along coastal hike trails, from sea lions lounging on the beach to dolphins playing in the surf (obviously, depending on where you are.)
Coastal hike trails are a unique opportunity to combine spectacular scenery with a great workout. These trails can offer new environments, such as tide pools or kelp beds, that bring an entirely new layer to the experience. Whether you prefer an easy stroll along the shore or a more challenging hike over rugged terrain, the views along the way make this an unforgettable experience. Be sure to pack appropriate clothing, sunscreen, and plenty of water for your coastal adventure!
Into the Woods: Forest Hike Trails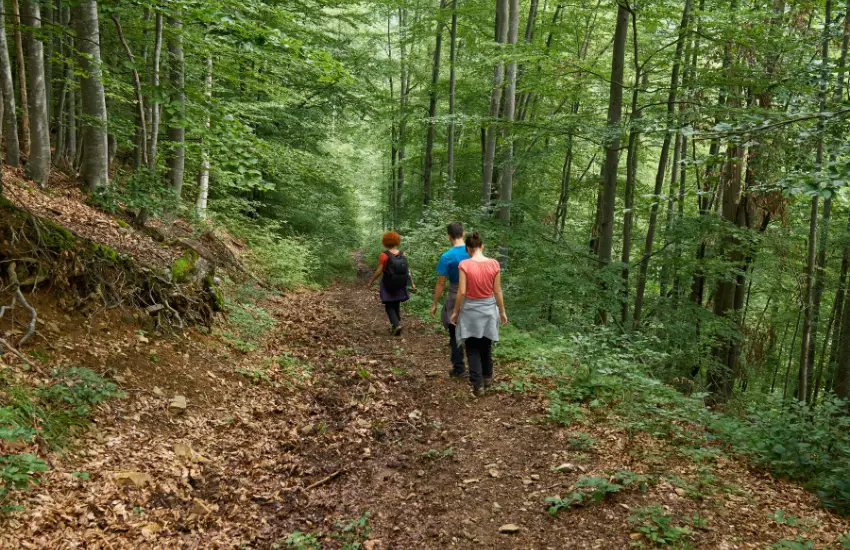 If you're looking to escape your everyday routine and immerse yourself in nature, then forest hike trails offer the perfect retreat. These trails offer a serene and tranquil hiking experience that allows you to forget the hustle and bustle of city life.
Let's explore what to expect when embarking on forest hike trails:
Definition of Forest Hike Trails
Forest hike trails take you deep into the lush and peaceful forests, where you can explore beautiful greenery, diverse wildlife, and stunning views. Hiking through forests can offer a whole new world of discovery, with new flora and fauna to explore in every corner.
Difficulty Levels and Terrain of Forest Hike Trails
Forest hike trails can range in difficulty level from easy to moderate, depending on the terrain. While forest trails may be more flat than the others listed here, trails in the forest could entail hiking through muddy paths, crossing streams and narrow bridges, and maneuvering through fallen trees. While the terrain can be challenging, the rewards are worth it, with beautiful scenery that calms the senses and rekindles your connection with nature.
Benefits of Forest Hike Trails for Mental Health and Relaxation
Hiking in a forest offers a unique opportunity to clear your head, enhance your mood, and reduce stress levels. Walking among trees offers an unparalleled opportunity to get closer to nature and offers a sense of peacefulness and relaxation on the trail. Studies have shown that spending time in nature can help alleviate depression and anxiety symptoms, leading to an overall improvement in emotional and social well-being.
Forest hike trails offer one of the most relaxing and peaceful hiking experiences around. They provide hikers with a serene environment filled with natural beauty, wildlife, and fresh air. Whether you're a seasoned hiker or a beginner, forest trails offer the chance to wander through a different type of wilderness, benefiting you mentally and physically. 
The Concrete Jungle: Urban Hike Trails
If you're looking for an adventure that combines city-life with exploration, then urban hike trails make for the perfect adventure. These trails allow you to discover the hidden parts of a city at a more leisurely pace, walking through neighborhoods, and uncovering some of their unique features.
Let's explore what to expect when embarking on urban hike trails:
Definition of Urban Hike Trails
Urban hike trails take you through the heart of the city, with a blend of urban architecture, public parks, historic landmarks, and cultural sites. Exploring cities on foot is a great way to learn about a place's history and culture while discovering some of the lesser-known parts of the city.
Length and Difficulty Levels of Urban Hike Trails
Urban hike trails range in length and difficulty level, depending on the city being explored. Some cities may have steep hills, whereas others may have flat terrain. But generally, urban hikes are shorter than their nature-based counterparts, and typically easier, which makes them ideal for city boundaries that are limited on time.
Benefits of Urban Hike Trails for City Dwellers
Urban hike trails offer numerous benefits to those who live in cities, including a break from the concrete jungle with an explorative twist. They provide an opportunity to maintain or improve physical fitness, and they make for a great way to escape from mundane routines. Urban hikes also offer a new perspective on the city, with plenty of opportunities to stop and take in great views, food and shopping, and historical sites.
Different Hiking Trail Types
Now, let's get a little more specific on the different sorts of trails you'll find in each.
Loop Trails
First up, we have loop trails. These trails will start and end at the same location, and follow a single trail or multiple trails to form a loop. These types of trails are perfect for beginners or if you're just looking for a leisurely stroll through nature. Loop trails are a great way to get a good view of the area without the fear of getting lost, as you'll always end up right where you started.
Out-and-Back Trails
Next, we have out-and-back trails, which also start and end at the same location. However, these trails will follow a single trail or multiple trails to an endpoint and then return along the same route. Out-and-back trails can be a great way to challenge yourself, as you'll cover more ground than you would on a loop trail. Not to mention, you'll get to see things from a different perspective on the way back!
Point-to-Point Trails
Finally, we have point-to-point trails. These trails start and end in different locations, which means you'll need to plan accordingly. These routes are not for the faint of heart and are often part of a multi-day hiking or backpacking trip. Or, they can be sections of long-distance trails such as the Appalachian Trail or Pacific Crest Trail. Make sure you're well-prepared before venturing into these trails, as they can sometimes present unexpected twists and turns.
Conclusion
Wow, we've covered a lot of ground! I hope that was helpful, and that you're now equipped with the necessary information to explore a wide range of hiking trails. There are so many amazing hikes out there, and each offers something unique in terms of terrain, flora, and fauna. It's up to you to decide which adventure you want to take on next.
So next time you're feeling cooped up indoors, grab your hiking boots and explore the world around you. Happy trails!