12 Best State Parks In Georgia (2023)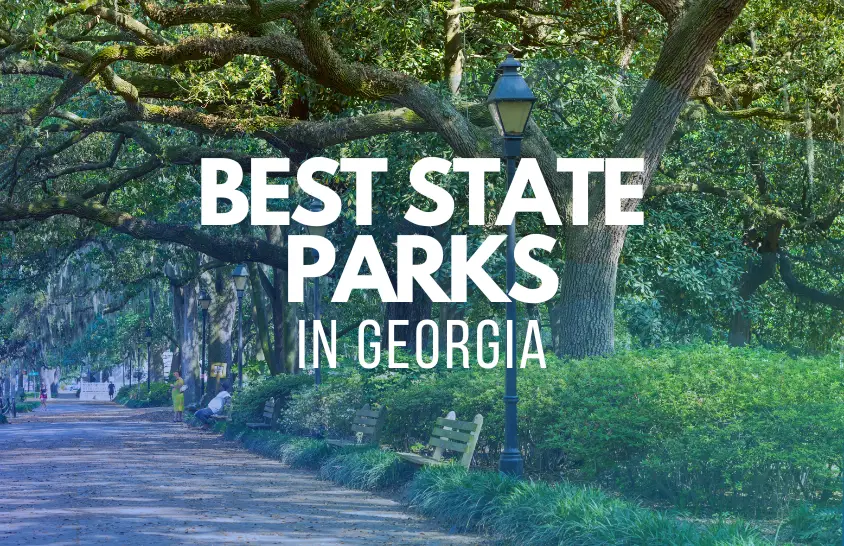 If you're looking for some of the best state parks in Georgia, you've come to the right place! From cascading waterfalls to lush forests, Georgia is home to some of the most beautiful parks in the country. Here are 12 of the top state parks in Georgia that you must explore.

Amicalola Falls is one of the most breathtaking trails in Georgia and features a 729-foot cascading waterfall. Elijah Clark State Park is another popular spot, known for its tranquil lake and network of trails. Hard Labor Creek State Park is an ideal trail for those looking for challenging terrain, with its hilly landscape and winding creeks.

No matter whether you're looking for a peaceful stroll through nature or an epic adventure — these 12 amazing parks have something for everyone! Let's explore further to learn more about each of these incredible natural wonders in Georgia.
Amicalola Falls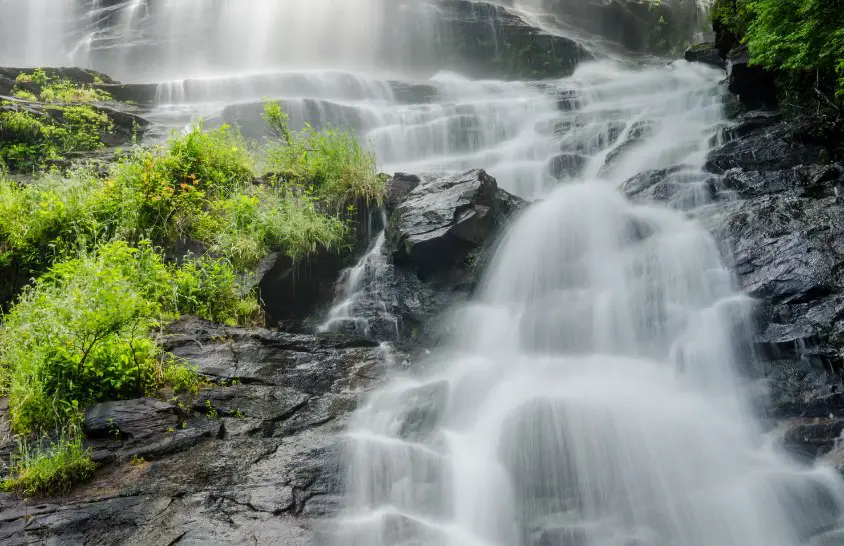 If you're looking for a nature lover's paradise, Amicalola Falls is the place to be. Located in the Chattahoochee National Forest of Georgia, this 829-acre park is home to many diverse trails and the third-highest cascading waterfall east of the Mississippi River.
At 729 feet high, Amicalola Falls is a spectacle to behold. The best way to take it all in? Hike up one of the 10 total trails in the park, with the most popular being the 8.5-mile Approach Trail that runs from Amicalola to Springer Mountain – where you can access the famous Appalachian Trail.
In addition to hiking, enjoy other activities like zip lines, birds of prey, fitness rails, GPS scavenger hunt, 3D Archery, and more. Plus, stay at Amicalola Falls Lodge for a comfortable and rejuvenating stay amidst Georgia's wilderness.
Black Rock Mountain
Situated in the Blue Ridge Mountains of Georgia, Black Rock Mountain offers some of the most stunning views in the area. Take in an unbeatable 80-mile vista from roadside overlooks or explore its four hiking trails – which are filled with wildflowers, streams, small waterfalls, and lush forests – for a truly unforgettable experience.
At an altitude of 3,640 feet, Black Rock Mountain offers plenty of activities for visitors to enjoy year-round. Go boating and paddling at its small lake that's popular with anglers and circled by an easy walking trail. Enjoy picnicking among mountaintop cottages and playgrounds or camp under rhododendron and oaks. Tent campers will appreciate the park's walk-in sites that allow extra privacy too.
For more adventurous individuals, check out the 7.2-mile James E. Edmonds Backcountry Trail – rated as moderate to strenuous – for day hiking or backcountry camping (by permit only). On this trail you'll find laurel-filled coves and cascading streams with small waterfalls; plus, you can climb to Lookoff Mountain for a stunning vista of Wolffork Valley and surrounding mountain ranges.
Cloudland Canyon State Park
Located on the western edge of Lookout Mountain in Georgia, this park is one of the largest and most scenic parks in the state. Home to thousand-foot-deep canyons, sandstone cliffs, wild caves, waterfalls, cascading creeks, and dense woodland, it's no wonder why people come from all over to explore Cloudland Canyon.
If you're an outdoor enthusiast, prepare yourself for a wide array of activities, from biking and horseback riding to geocaching and fishing. There are over 64 miles worth of hiking trails and 30 miles worth of biking trails for you to traverse, with the Overlook Trail being a popular choice for its spectacular views.
For those looking to take things up a notch, there's even wild caving available (for experienced cavers only) during certain times of the year with permits and reservations required. You can also rent bikes or use an All-Terrain Georgia Action Track Chair if needed – whatever helps you get out there and explore!
Elijah Clark State Park
Take a step back in time and explore Elijah Clark State Park, a hidden gem located on Georgia's freshwater coast. Named after a Revolutionary War hero and pioneer, the park is home to a replica of the Clark family home from 1780. Here, visitors can learn more about Georgia's history as well as take part in plenty of recreational activities.
The park offers a variety of options for outdoor fun, including boating, paddling (rentals available), hiking, miniature golf, picnicking, corn hole, swimming, fishing, and geocaching. Plus, there are also archery events if you want to take your game to the next level.
If you're looking for an escape back into Georgia's history and an abundance of recreational activities in a beautiful setting – Elijah Clark State Park is the place for you.
Fort Mountain State Park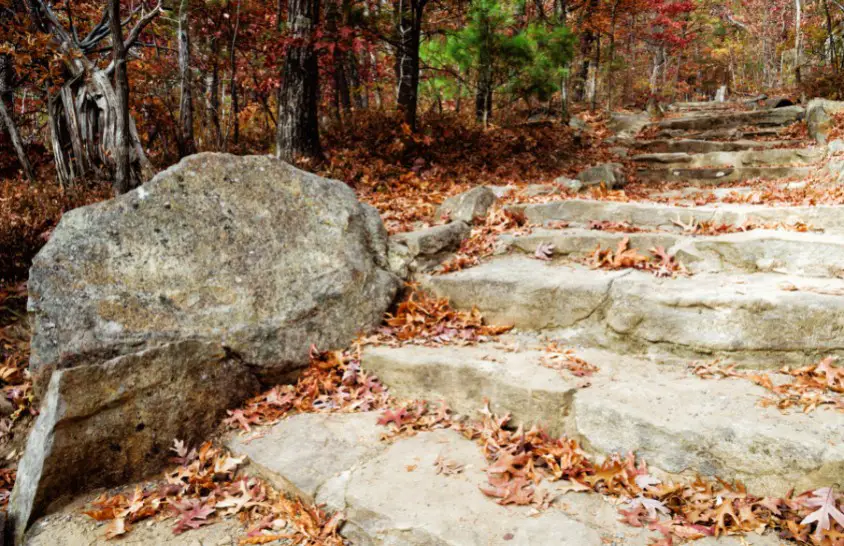 Ready for an incredible outdoor escape? Look no further than Fort Mountain State Park in Chatsworth. Located near the Cohutta Wilderness, this mountain getaway offers some of the most beautiful trails in the state.
Take a scenic drive and hike 60 miles of picturesque trails winding through hardwood forests and blueberry thickets, crossing streams, and circling a pretty lake. Along the way, you'll come across a mysterious 855-foot-long stone wall that's thought to have been built by early Indians as fortification against more hostile invaders or for ancient ceremonies. Other unique sights include a stone fire tower built by the Civilian Conservation Corps and Cool Springs Overlook. Plus, there are plenty of other activities like archery (events only), boating, paddling, miniature golf, picnicking, swimming, fishing, and geocaching to explore.
For a moderately challenging hike with ever-changing views in all seasons, check out Gahuti Trail's 8.7-mile loop – it will take around 5 hours to complete!
Hard Labor Creek State Park
Head to Hard Labor Creek State Park for a fun-filled weekend escape. From its stunning golf course to its extensive trails, this wooded park has a bit of everything. Whether you're an experienced hiker or a beginner looking to explore the outdoors, you'll find plenty of ways to enjoy yourself.
Go paddling and rent a boat at the lake or take a dip on the lake's beach during the summer months. If you're feeling a bit more adventurous, take on one of the 24+ miles of trails available for hikers and horseback riders. Horse owners even have their own private camping areas near stalls.
For those looking for something more relaxed, there are plenty of activities like miniature golf, picnicking, corn hole, fishing, and geocaching! And if you're looking to get your history fix in as well, check out the Brantley Nature Trail which echoes the past with reminders of land-stabilization projects from the 1930s by the Civilian Conservation Corps.
High Falls State Park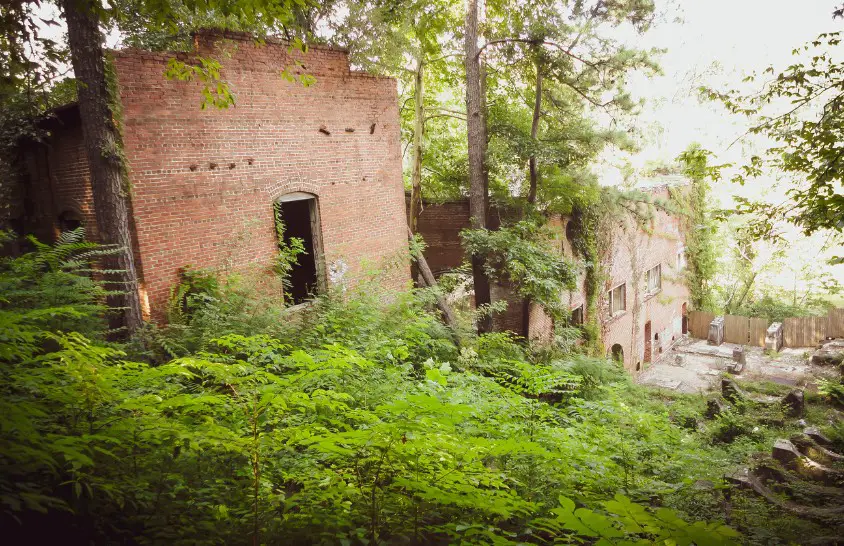 If you're looking for a picturesque spot in Jackson, then High Falls State Park is an ideal destination. Home to the tallest cascading waterfall south of Atlanta, this park will amaze you with its natural beauty and various recreational activities.
You'll find plenty of ways to explore the area. Take a peaceful walk on the 2.5-mile tranquil trail, dip your line into High Falls Lake – known as one of the nation's top family fishing destinations – or rent a boat and paddle your way through. There's also mini-golfing and geocaching. And when summer arrives, be sure to cool down at their pool.
The park also offers overnight stays that include a spacious campground and lakeside yurts (canvas and wood tents). Each yurt comes with furniture, electrical outlets, and a ceiling fan inside, plus a small deck outside with a picnic table and grill.
Kolomoki Mounds State Park
Kolomoki Mounds State Park in Blakely is a great destination for history buffs and nature lovers alike. Not only does the park offer a chance to discover some of the secrets of the Woodland Period mound builders, but it's also home to some of the most stunning scenery and wildlife in Southwest Georgia.
The park's museum is a must-see, where visitors can learn who these people were and how they lived. Inside, there are plenty of artifacts and even a film to watch. And don't forget to explore the 8 Indian mounds that dominate two smaller burial mounds, as well as multiple ceremonial mounds – the oldest and largest is 57 feet tall!
Once you're done exploring, take a stroll along one of Kolomoki Mounds' 5 miles of trails. The Spruce Pine Trail is particularly popular, as part of Georgia's Southern Rivers Birding Trail. This 2.5-mile trail takes you across footbridges and wildlife observation platforms with views of magnolia trees, dogwood, spruce pine, and water oak trees. You may even spot some wild azaleas during the spring months! Or if you're looking for something more active, there's boating (10 HP limit), fishing, geocaching, miniature golf (fee), and swimming with canoe/kayak/pedal boat rental options available too.
Panola Mountain State Park
Just 15 minutes from Atlanta, Panola Mountain State Park offers a peaceful haven for all ages and interests to explore. Home to a rare, pristine monadnock, this park has so much to see and do – from archery and biking rentals to birding and bouldering (with a permit). You can even take part in tree-climbing programs!
The park also boasts plenty of picnic areas and hiking trails, such as the Watershed Trail. This 1.25-mile trail skirts two branches of a small creek draining the Piedmont uplands. With an easy difficulty level and natural surface, it's the perfect spot for a quick outdoor adventure with the family or friends.
No matter what your outdoor preference is, you'll find something special at Panola Mountain to make your visit worth remembering.
Red Top Mountain
If you're looking for a fun-filled getaway, Red Top Mountain is the perfect spot. This popular park on Lake Allatoona is perfect for swimming, water skiing, and fishing – and if you don't have your own boat, you can rent one from nearby marinas. And if that's not enough to keep you busy, there are plenty of other activities such as archery programs, biking trails, educational and interpretive programs, hiking trails, tennis and pickleball courts, and picnicking.
Make sure to take a dip at the park's sand swimming beach during the summer months – it's nestled in a cozy cove surrounded by trees. And speaking of trees, Red Top Mountain is also ideal for hikers looking for some exercise or nature photography. The park has over 15 miles of trails winding through its forested landscape. Make sure to check out the Iron Hill Bike Trail – with its 3.9-mile loop along the banks of the lake through a historic area that was once home to an iron mining community in the mid-1800s.
Skidaway Island State Park
If you're looking for a spectacular outdoor escape, Skidaway Island State Park is the perfect spot. Located near historic Savannah and bordering Georgia's Intracoastal Waterway, this park is filled with breathtaking views and wildlife.
Hop on the Sandpiper Trail Loop, a one-mile loop that's the park's most popular trail. Take your time while strolling over salt flats and tidal creeks, and through maritime forests on island hammocks. The boardwalks and level trail are ADA-accessible and leashed pets are allowed (just make sure to clean up after them!). You can also follow along the alphabetized posts and signs to learn about the resources around you.
Aside from hiking trails, visitors can also enjoy birding with Colonial Coast Birding Trail, geocaching, interpretive programs, weddings – with park approval required – and bicycle rentals for $6 per hour. There's also a scenic campground nestled under live oaks and Spanish moss where visitors can stay overnight. For a quick getaway beach trip during the summer months, Tybee Island's beaches are less than an hour away!
Sweetwater Creek State Park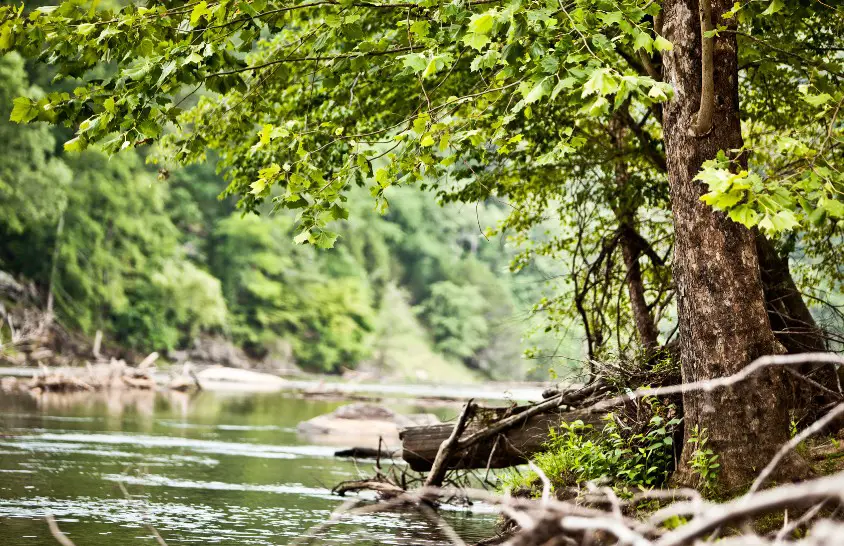 If you're looking for a peaceful outdoor escape, then Sweetwater Creek State Park in Lithia Springs is the perfect destination. Located only minutes away from downtown Atlanta, this tranquil wilderness offers stunning views of rugged hills, rocky outcrops, and rolling rapids – perfect for reconnecting with nature.
From wooded trails that follow the stream to ruins of an old textile mill burned during the Civil War, to fields and forests showcasing ferns, magnolias, wild azaleas, and hardwoods – there's something to explore here for everyone. The park rangers lead informative hikes throughout the year so you can get the best experience possible.
When it comes to activities offered at Sweetwater Creek State Park, you have plenty of options. Try your hand at birding or go fishing. If you're feeling adventurous, take a hike on the park's 15-mile trail system or take a boat out for some paddling – kayaks, canoes, and paddleboards are also available for rental during seasonal periods.
Frequently Asked Questions
What activities can I do in Georgia State Parks?
Georgia State Parks offer a wide range of recreational activities and experiences for all ages. Some of the most popular activities include camping, bird watching, fishing, hiking, biking, picnicking, swimming, boating, and more! There are also many opportunities to explore the parks' natural beauty, cultural heritage, and historic sites.
Are there any fees associated with visiting a Georgia State Park?
Yes. Most Georgia State Parks charge an entrance fee. There are also fees associated with camping, as well as boat rentals, guided tours, and other activities. Fees can vary depending on the location and time of year. It is best to check the individual park's website for up-to-date information.
Are pets allowed in Georgia State Parks?
Yes, pets are welcome in most Georgia State Parks. However, there are some restrictions and regulations in place. Pets must be kept on a leash at all times, and are not permitted in certain areas, such as beaches and swimming pools. It is best to check the individual park's website for further information.
Are there any special events or programs offered in Georgia State Parks?
Yes! Georgia State Parks offer a variety of special events and programs throughout the year. Many parks host outdoor concerts, guided nature hikes, interpretive talks, hands-on activities, and more. Additionally, some parks offer educational programs, such as history or nature-based classes. To view a calendar of upcoming events, please visit the Georgia State Parks website.
What kind of wildlife can I expect to see in Georgia State Parks?
Georgia State Parks are home to a wide variety of wildlife. Some common species include deer, turkey, coyote, quail, and beaver. Additionally, many parks have bird-watching opportunities, with a variety of songbirds, waterfowl, and raptors. Of course, all visitors should take care to observe wildlife from a safe distance and respect their natural habitat.