Exploring The 6 Best Caves In Georgia (2023)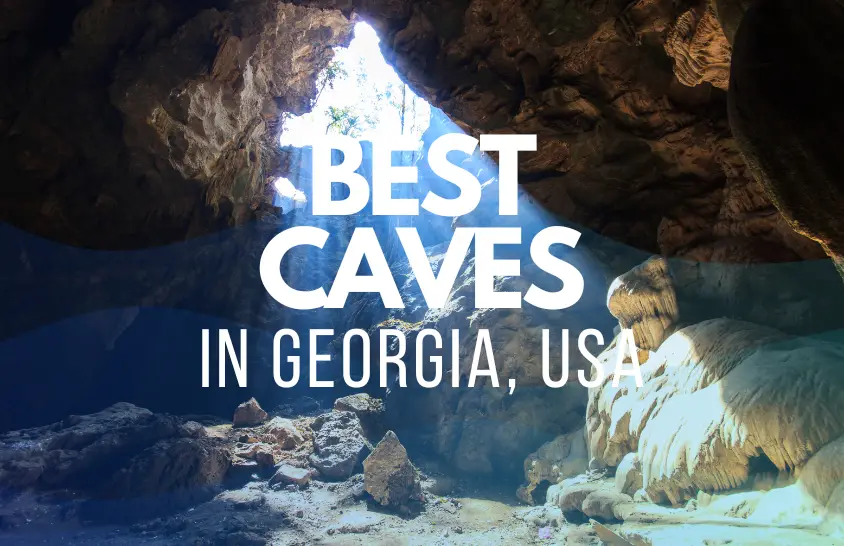 Believe it or not, Georgia is home to some of the most stunning caves in the United States, and they provide breathtaking views of the hidden natural wonders of the earth. From underground rivers to wondrous rock formations, these caves will definitely leave you in awe.
Let's dive deeper (no pun intended) into the unique geological wonders that Georgia has to offer, and discover the best caves that this state has to offer.
Ruby Falls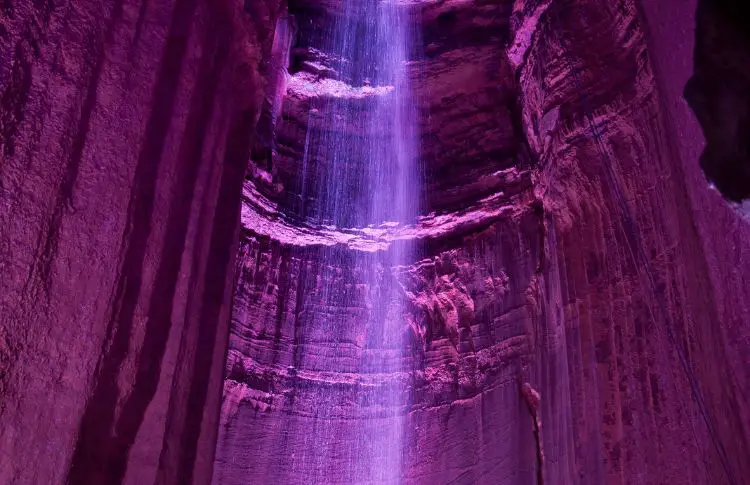 Technically, Ruby Falls is in Tenneesee, but since it's a part of Lookup Mountain, which is also a part of Georgia – I wanted to inlude it here. Deep within Lookout Mountain in Chattanooga, this iconic attraction is home to the tallest and deepest underground waterfall open to the public in all of the United States.
You can explore 260 feet down into the cave by taking a glass-front elevator to admire ancient cave formations along the cavern trail and experience the thundering waterfall up close. For those looking for a more intimate experience, try their Lantern Tour or Gentle Walking Tour.
Aside from its spectacular views of the Cumberland Plateau, Ruby Falls also offers zip-lining adventures that take you soaring across the mountain. 
Again, I know it's technically not all in Georgia – but it's truly a remarkable place and reminder of the mystery and magic of mother nature – it was worth putting on this list.
Sitton's Cave (Pigeon Mountain)
This breathtaking park, located atop Lookout Mountain on the Cumberland Plateau, offers spectacular views no matter where you explore. Visitors can take a leisurely stroll on the Overlook Trail or West Rim Loop Trail, or go on a strenuous adventure with the Waterfalls Trail. But that's not why you're here, is it?
Let's get to the caves! One of the most exciting features of Cloudland Canyon State Park is its massive cave, called Sitton's Cave. You'll need to don waterproof and warm clothes before you enter – the ceiling gradually gets lower and lower until you have to crawl in mud for a considerable distance. Inside, you'll be able to spot different rock formations, such as the usual stalagmite and stalactite – and if you're lucky enough, you might also see some bats!
Though experienced spelunkers can explore this wet cave without any assistance, it's always best to have a professional guide for those without any technical knowledge or experience. Unlike Ruby Falls, this cave is definitely less touristy, and may not be suitable for young children.
Pettyjohn's Cave (Pigeon Mountain)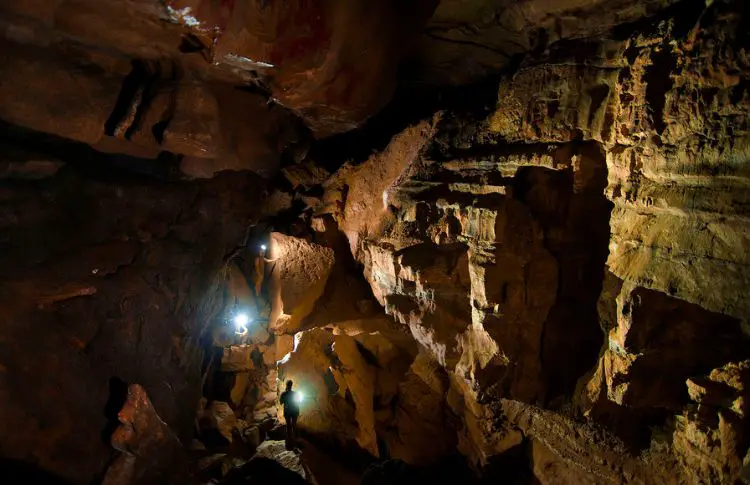 Adventure seekers, listen up! Pettyjohn's Cave in Georgia is one of the most thrilling outdoor destinations around. This 6.5-mile underground trail within Pigeon Mountain reaches a depth of 235 feet and features some of the most stunning views in Walker County.
The Echo Room is definitely worth a visit, but be prepared to crawl through the worm tube – a 150-foot passageway that forces cavers to crawl on their hands and knees. This is one of the cave's most popular features. And if you're feeling daring, head over to the Bridge Room, where you can hang your feet over an edge and listen to the stream below 80 feet away.
Pettyjohn's Cave offers an incredible cavernous experience, so don't miss out on this unique experience. Whether it's exploring its hidden depths or admiring its stunning beauty, Pettyjohn's Cave should be at the top of your list when planning your Georgia cave excursion.
Ellison's Cave (Walker County)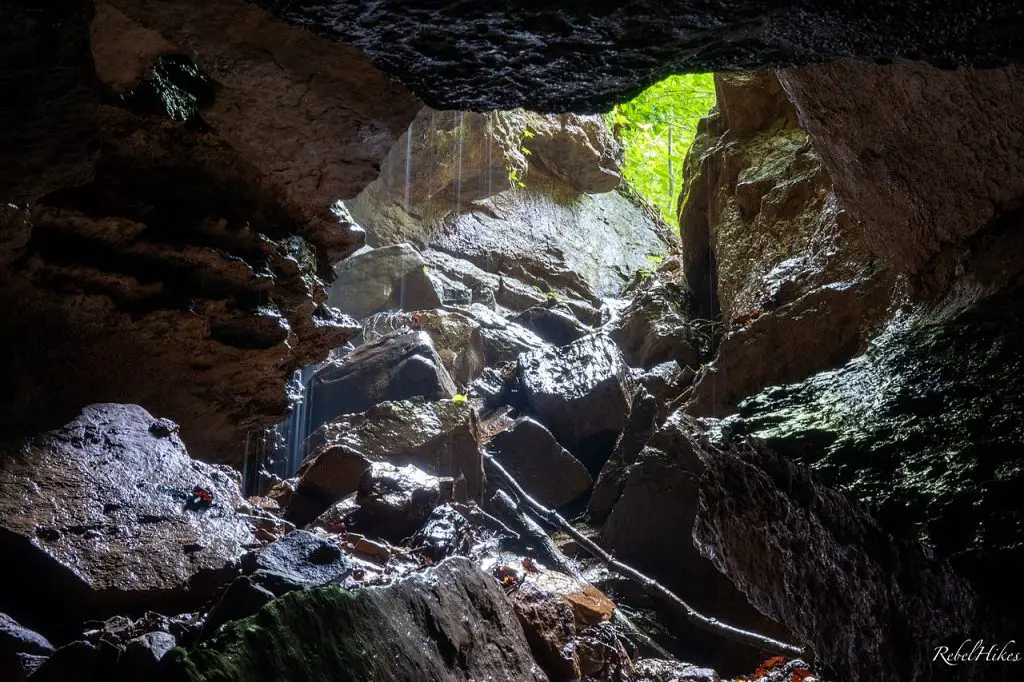 If you're looking for an adventure like no other, then Ellison's Cave in Georgia is the perfect destination. Located in the Appalachian Plateaus of Northwest Georgia, this cave takes hikers to depths they won't find anywhere else in the continental US.
The cave – which is over 12 miles long and extends 1063 feet vertically – features America's deepest unobstructed pit named the "Fantastic Pit" – pretty fitting, right? It has a pretty fascinating history as well – it was formed from the dissolution of limestone bedrock by acidic groundwater and dates back to the Paleozoic Age.
Frick's Cave (Walker County)
Also located in Walker County near Lookout Mountain, this 33.8 acre preserve is home to an endangered species of Gray Bats and the rare Tennessee Cave Salamander.
The general public is generally discouraged from visiting due to the fragile environment, however there is an appreciation day open to members and their guests that allows visitors to tour the cave once a year. This occurs during the winter months when there should be no bats in residence so as to protect the species – a truly remarkable effort!
Obviously not as popular as the others due to the lockdown of the cave for most of the year, but it's truly a one-of-a-kind experience to say you had a chance to go.
Howards Waterfall Cave
This impressive cave is the first acquisition of SCCi (which, by the way, stands for Southeastern Cave Conservancy, Inc.) and extends for three miles with five entrances. It's a great spot for both novice and experienced cavers to explore. But definitely not for beginners.
The cave is home to one of the few examples of preliterate culture intentionally creating an original and effective writing system – the Cherokee Syllabary. Inside, visitors may have the opportunity to find panels of wall inscriptions written in the Syllabary, which are some of the few examples still around today.
It's well worth visiting if you're looking for more of a challenging cave adventure.
Frequently Asked Questions
How many caves are there in Georgia?
Hard to pinpoint an exact number, but it's estimated that Georgia has over 9,000 caves, and they range from small, shallow ones to deep, long-reaching ones. With the exception of Frick's Cave and Howards Waterfall Cave, the majority of the caves in Georgia are generally open to the public and provide a great opportunity for exploration and adventure. 
What is the biggest cave in Georgia?
Ellison's Cave is not only the deepest cave in Georgia, but it also holds the distinction of being the deepest cave in the eastern United States. Located in Walker County, it boasts a number of unique features, including two pits that go over 600 feet deep and a number of miles of passageways. For those looking for a more relaxed experience, there are plenty of smaller, shallow caves to explore, such as Cloudland Canyon, and Sitton's Cave.