13 Best State Parks In Arizona (2023)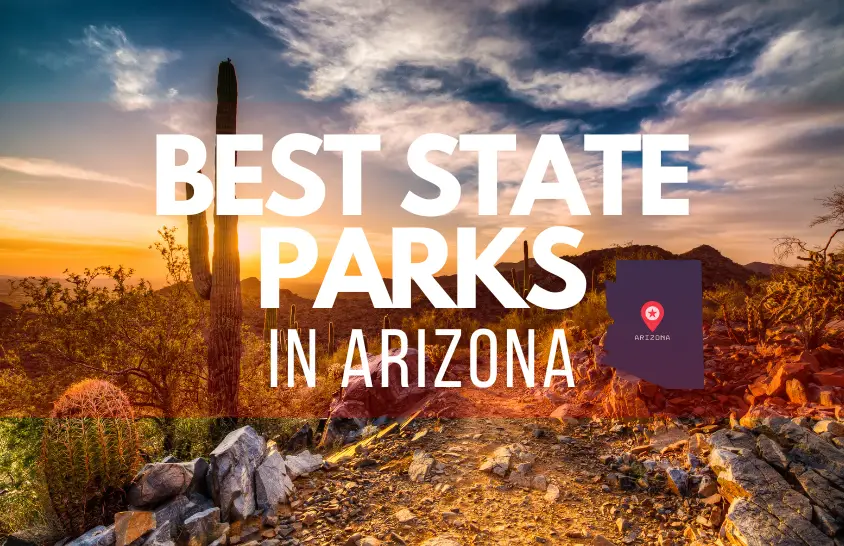 Arizona is home to some of the most beautiful and diverse state parks in the United States. From spectacular desert views to incredible forests to some of the best hiking in America, there are a variety of outdoor activities to explore at these parks, no matter the season. So if you're looking for the perfect park to explore in Arizona, you've come to the right place.
So without further ado, let's jump right into it!
Alamo Lake State Park
For anyone looking for a peaceful outdoor escape, head to Alamo Lake State Park in Arizona. This crystal clear lake is surrounded by stunning mountainous terrain covered in brush, wildflowers, and cacti – making it one of the most beautiful places to visit in the state.
It's also the perfect spot for nature lovers, wildlife viewers, and stargazers alike. Spring rains bring an abundance of wildflowers and the lake environment attracts a variety of wildlife year-round, including waterfowl, foxes, coyotes, mule deer, and wild burros. Plus, with no city lights for miles around, you can enjoy an incredible night sky view.
Anglers will love this spot too as Alamo Lake is one of the best places to fish for bass in Arizona. But if fishing isn't your thing, there are other activities available such as boating or staying in a cabin overnight.
Buckskin Mountain State Park
If you're looking for a fun-filled outdoor escape in Arizona, then Buckskin Mountain State Park is the place to go! Located along the Parker strip – an 18-mile stretch between Parker Dam and Headgate Dam – this picturesque park offers breathtaking views of the Colorado River and surrounding mountains.
At Buckskin Mountain State Park, you'll find plenty of activities for everyone. From camping and boating to hiking and even basketball, there's something for everyone here. And if you're visiting during the winter months, you'll be pleased to know that many people come here to escape the cold weather of the north.
The park also has a campground, waterfront camping, beach, boat ramp, picnic area and park store. And don't forget about the hiking trails; enjoy the serenity of nature with gorgeous mountain views as you traverse through them.
Catalina State Park
Who says you have to travel far to find an outdoor oasis? Arizona's Catalina State Park, located in Tuscon, is the perfect spot for anyone looking for a quick getaway that offers plenty of activities and stunning scenery.
The park is home to 5,500 acres of breathtaking foothills, canyons, streams and desert plants and wildlife, including nearly 5,000 saguaros. Not only is it great for bird watchers – more than 150 species of birds live here – but there are also miles of trails perfect for hiking, biking and horseback riding. And if you really want to take in the views, head to the Romero Ruins Interpretive Trail which climbs up 80 steps to a hilltop with archaeological features dating back 500 A.D.
Catalina State Park also has plenty of amenities like camping grounds for RVs and tents, picnic areas and even an equestrian center with trailer parking.
Dead Horse Ranch State Park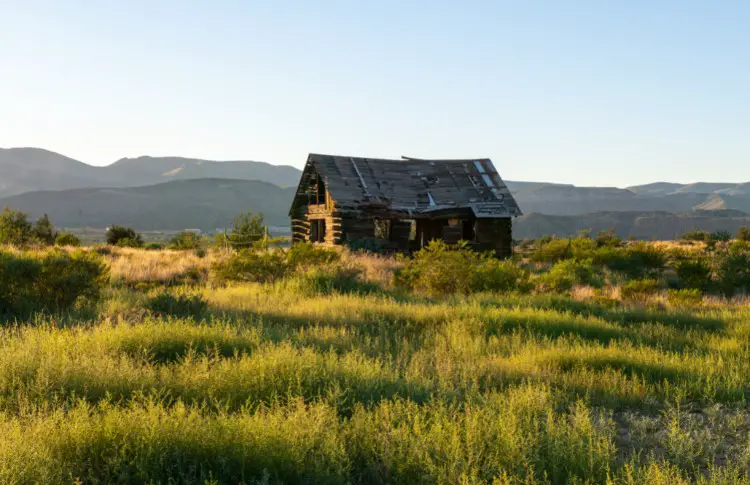 If you're looking for a getaway that blends history and outdoor beauty, Dead Horse Ranch State Park in Arizona is the perfect spot. This park got its name from the Ireys family, who came to Arizona from Minnesota in the late 1940s, and upon visiting one of the ranches, discovered a large dead horse lying by the road. When asked which ranch they liked best, the kids said, "the one with the dead horse, dad!" (Seriously!)
Today, this park still bears its unique name and offers plenty of activities for all types of visitors. Enjoy camping, hiking trails, biking, and horse riding – all with stunning views of Mingus Mountain, Verde Valley and more. Don't forget to check out the 1-mile interpretive loop trail that circles the top of a hill west of the Red-Tail Hawk Campground.
Dead Horse Ranch State Park is no doubt one of Arizona's most unique destinations – Definitely worth the trip to Cottonwood to check it out, at least once.
Fool Hollow Lake Recreation Area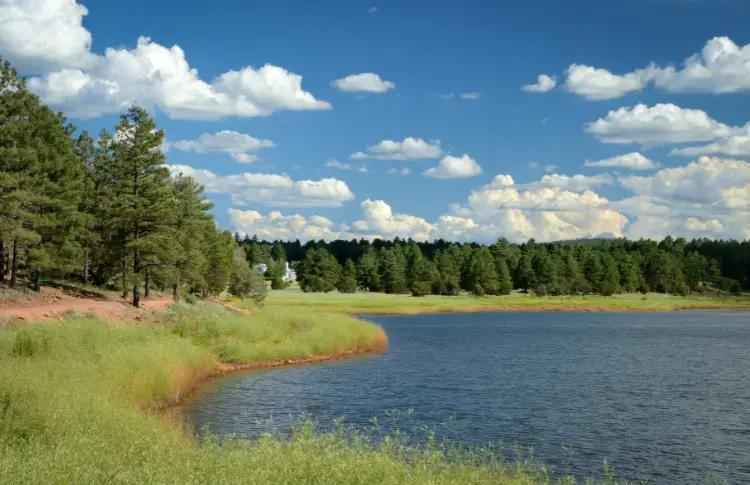 Located in Show Low, Fool Hollow Lake Recreation offers visitors an opportunity to go camping among tall pines and hiking along the lake at 6,300 feet elevation.
This unique park opened back in 1994 as a result of cooperation between the U.S. Forest Service, Arizona State Parks, Arizona Game and Fish and the city of Show Low. Year-round camping, fishing, picnicking, boating and wildlife viewing opportunities make Fool Hollow Lake Recreation Area a popular place for all outdoor enthusiasts.
Please note if you're bringing your boat – You are welcome to enjoy all types of watercrafts on the lake – just make sure your watercraft meets all state regulations for motorized and non-motorized vessels (maximum 10 H.P. gasoline engine).
Kartchner Caverns State Park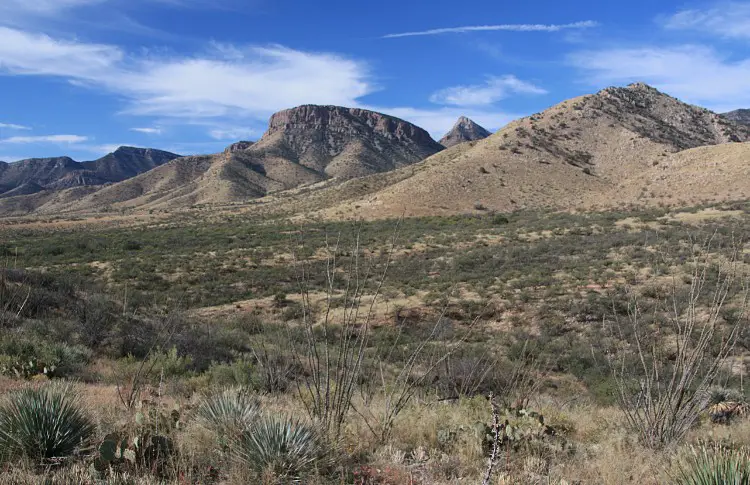 Looking for an unforgettable Arizona adventure? Look no further than Kartchner Caverns State Park. Located at the eastern base of the Whetstone Mountains, this one-of-a-kind destination is home to some of the most captivating cave formations in the U.S.
Discovered in 1974 by Gary Tenen and Randy Tufts, this awe-inspiring underground world was kept a secret until 1978, when they approached the Kartchner family with the idea of protecting it. The family then sought out Arizona State Parks to acquire this remarkable resource and make it available to visitors.
Today, you can explore these caves on one of their guided tours or test your skills on their trails. Plus, you can even stay overnight in one of their cozy cabins. But don't forget your camera – Kartchner Caverns is home to some incredible geological features such as stalactites, stalagmites, draperies, natural bridges and much more!
And if you're lucky enough to visit during the summertime, you may even spot a small colony of cave bats – If that's your thing. 🙂
Lake Havasu State Park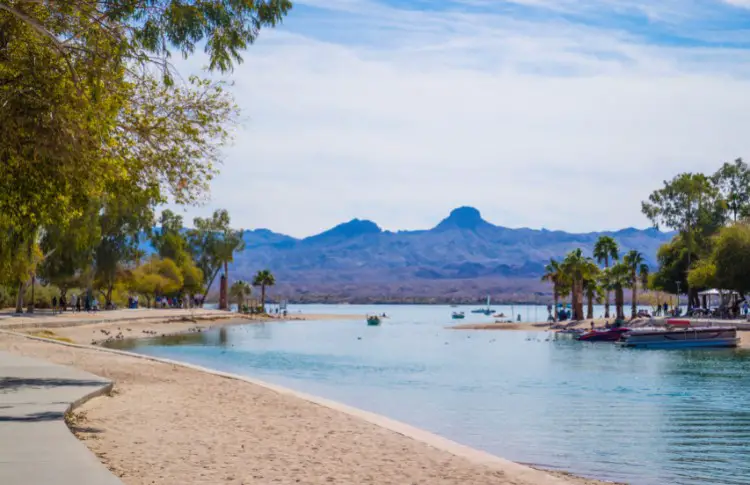 Located in the stunning Lake Havasu City, Arizona, is the picturesque Lake Havasu State Park. This spot is a watersport haven, offering beautiful beaches, nature trails, boat ramps, and convenient campsites. Plus, it's located near the famous London Bridge!
Take your pick from their three boat ramps or 54 campsites for your ideal stay. Or if you're looking for something unique, check out their 13 beachside cabins which offer a great view of the lake and nearby desert. Don't forget to pack some food so you can enjoy picnicking at the park's picnic area as well.
For an even closer look at the park's diverse life, explore the Mohave Sunset Trail (1.75 miles) and Arroyo-Camino Interpretive Garden – both boasting birds, lizards, and cottontails around every corner. Lastly, if you're planning on boating here, make sure that your watercraft meets all regulations for both Arizona and California!
Lyman Lake State Park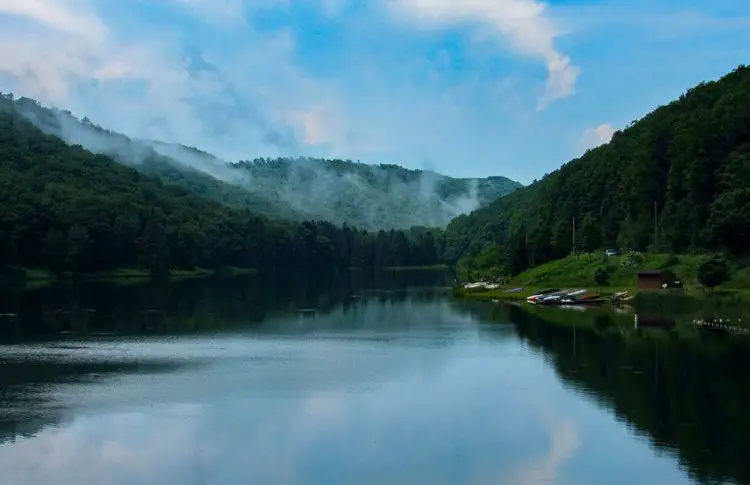 If you're looking for a little slice of paradise in the heart of Arizona, Lyman Lake State Park is the place for you. Created as an irrigation reservoir by damming the Little Colorado River, this 1,200-acre park offers up a 1,500-acre lake surrounded by breathtaking views of Mount Baldy and Escudilla Mountain – the second and third-highest mountains in Arizona.
Come during the summer months to enjoy activities like fishing, swimming, water skiing, boating or simply just relaxing on its peaceful shoreline. The lake's west end is buoyed off and restricted as a no wake area – giving anglers a chance to catch walleye, channel catfish and largemouth bass without speedboats getting in the way. The remaining part of the lake is open for all types of water sports.
Afterwards, take on one of the park's hiking trails for some more stunning views or explore one of its parks many other amenities such as picnicking areas or wildlife observation points.
Red Rock State Park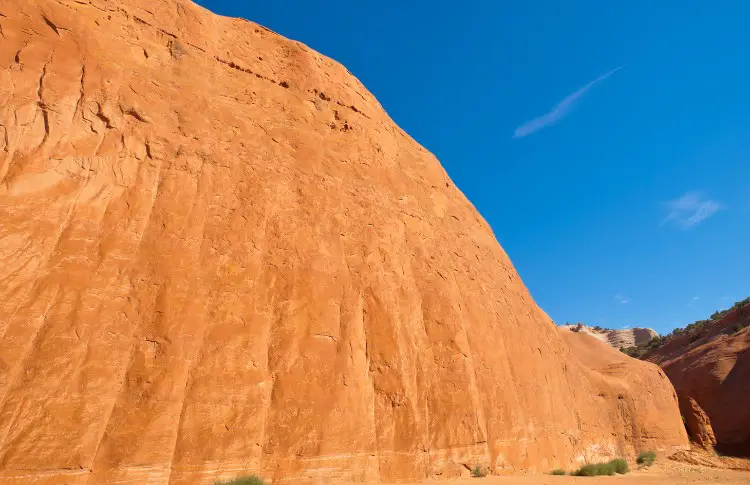 When it comes to beautiful, picturesque scenery, Red Rock State Park in Sedona, Arizona, is right up there. This 286-acre nature preserve is a must-see with its stunning scenery, lush greenery of Oak Creek, and the famed red rocks of Sedona.
Hike through the 5-mile network of trails that consists of interconnecting loops and clearly marked paths for your safety and pleasure. You'll be treated to spectacular views from the highest point in the park, Eagle's Nest Loop, which has an elevation gain of 300 feet.
Aside from hiking, Red Rock State Park also offers plenty of other activities such as exploring and birdwatching. Visitors can also take advantage of the environmental education center onsite.
River Island State Park
Looking for a desert escape or an action-packed getaway? Look no further than River Island State Park in Arizona. This one-of-a-kind destination offers something for everyone – from swimming and boating to hiking and camping.
The park's 37 campsites can provide a scenic respite and perfect backdrop of beautiful mountains. Whether you're looking to tent camp or bring your RV, River Island has you covered – eight beachfront campsites on the grass overlooking the Colorado River with 20-amp service and water are ideal for tents and small campers up to 24 feet, while the other 29 sites accommodate larger RVs (up to 65 feet deep) with 50, 30, and 20-amp service, all with water.
In the summer months, visitors flock to River Island for its boating, fishing, jet skiing, swimming and more. And in the wintertime, take advantage of its mild climate by camping and fishing – year-round fun guaranteed! For those looking to discover a variety of recreational and cultural resources in Arizona, head over to River Island State Park.
Roper Lake State Park
Located in Safford, Graham County, this stunning park offers a serene getaway, with plenty of activities to suit everyone.
This park is home to a diverse array of bird species, so don't forget your binoculars! And if you're into fishing or boating, you'll be pleased to know the lake offers seasonal fishing and plenty of water activities to enjoy. You can also explore the area's breathtaking "Sky Island" mountain range located nearby.
At Roper Lake State Park, there are three different campgrounds for lakeside camping – all equipped with fire rings and picnic tables. There are also cabins dotted along the shoreline and neighbor Dankworth Pond State Park, which offers even more hiking trails and water access.
Slide Rock State Park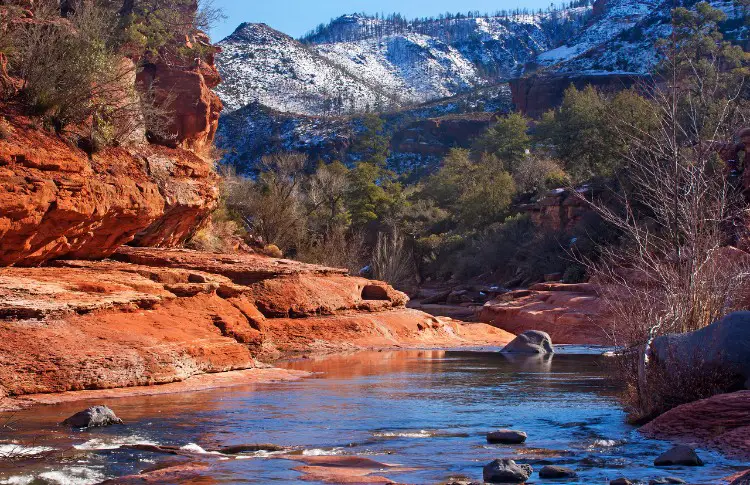 Located in the stunning Oak Creek Canyon, Slide Rock State Park is one of Arizona's gems. Formerly a homestead, this 43-acre site is a fine example of early agricultural development in Central Arizona and is home to a unique irrigation system still in use by the park today.
t's no surprise that this park is one of the most popular sites in all of Arizona state parks. Follow the Pendley Homestead Trail, a 0.25-mile paved path that passes through some of the original apple orchards and features various farming implements used historically. You'll also get to see spectacular views of the canyon walls and a new orchard of semi-dwarf apple trees.
Aside from hiking, other activities you can enjoy at Slide Rock State Park include swimming, fishing, and historical/archaeological exploration.
Tonto Natural Bridge State Park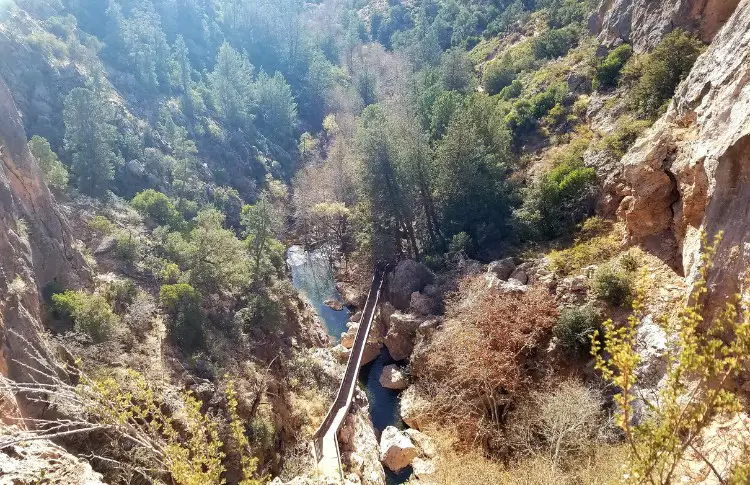 If you're looking for a one-of-a-kind outdoor escape, head to Tonto Natural Bridge State Park in Arizona. This park is said to be home to the world's largest natural travertine bridge, standing an impressive 183 feet high and 400 feet long.
The park provides plenty of options for those who want to explore the area – with three hiking trails, a picnic area, and a group use area. And with interpretive exhibits, including artifacts on the history of Tonto Natural Bridge, plus information about travertine, prehistoric inhabitants, and Goodfellow Lodge, you can get a better understanding of the area's rich cultural heritage.
For those who're up for it, take on the very steep and strenuous trails – where visitors will encounter four great viewpoints that'll help show off the scale of this incredible bridge. And if you're lucky enough, you might even catch some wildlife and birds living in the habitat. Unfortunately, because of the nature/difficulty of these hikes, no pets are allowed!
Frequently Asked Questions About Arizona State Parks
How many state parks does Arizona have?
Arizona has a total of 31 state parks; I only mentioned a fraction of the total parks here.
What is the oldest state park in Arizona?
Established in 1969, Alamo Lake State Park (Which was mentioned first in this list!) is the oldest state park in Arizona.