The 10 Best State Parks In Alaska (2023)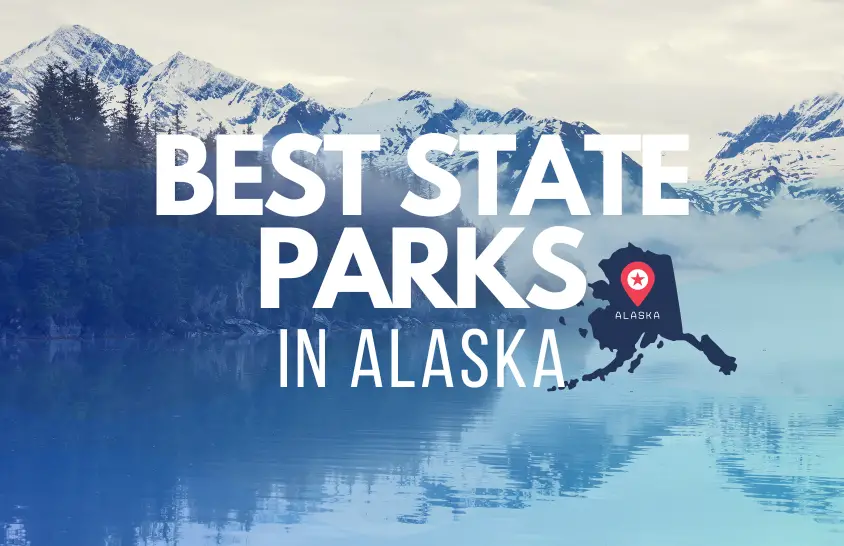 Alaska is home to some of the most incredible and expansive state parks in the country – that you've probably never heard of. From snow-capped mountains to crystal-clear rivers and stunning glaciers, these parks offer spectacular views and plenty of outdoor activities for everyone. Whether you're looking for a peaceful hike or a thrilling adventure, there's something for everyone in Alaska's state parks.
Some of the most popular state parks in Alaska include Denali State Park and Chugach State Park. Denali State Park is home to Mount McKinley, the highest peak in North America, as well as expansive forests, alpine meadows, and glacial lakes. Chugach State Park offers stunning views of snow-capped mountains, glaciated valleys, and breathtaking wildlife. 
There are COUNTLESS state parks, national parks, and national monuments in Alaska, but in this article, we'll focus on a few of the best state parks that you may, and may not have heard of. So let's take a closer look at some of the amazing state parks that Alaska has to offer and discover the best spots for your next Alaskan adventure.
Chugach State Park
Let's start with Chugach. If you're looking for the ultimate outdoor escape, Chugach State Park in Alaska is a must-visit destination. This incredible park is one of the four largest state parks in the United States and boasts an array of diverse landscapes, from rugged topography to ocean shoreline, as well as massive glaciers and ice fields.
The park lies seven miles to the east of downtown Anchorage and its western boundary lies in the western foothills of the Chugach Mountain Range. With 495,000 acres to explore, there are plenty of activities to choose from – think off-roading, snowmobiling, hiking, horseback riding, biking, and boating.
No matter what season you visit, you'll be mesmerized by its stunning views. It's no surprise why this spectacular destination is one of the best state parks in Alaska!
Denali State Park
Nestled between the Talkeetna Mountains and the Alaska Range, Denali State Park is an outdoor paradise. This incredible 325,000 acre wildland is a must-visit for anyone looking for a unique adventure in Alaska.
Located about 100 miles away from Anchorage, Denali State Park offers a wide range of activities – from hiking, rafting tours and backcountry exploring to parks and winter activities. And if you're planning a visit during the summer months, you'll get to experience some of the most stunning views of Denali from the ridgeline or from Byers Lake. It's also the fourth largest state park in all of ALaska.
You may have heard of Denali National Park, and you may be surprised to know that the state park is a completely seperate entity and location. Both are absolutely stunning, though.
Chena River State Recreation Area
Chena River State Recreation Area is the perfect destination for anyone looking for an unforgettable outdoor adventure. With a massive 397 square mile area of forests, rivers and alpine tundra, this recreation park has something for everyone – from day hikers to snow machiners – no matter what season it is.
The variety of activities available in this area also make it an incredibly popular choice. Over 150,000 people visit every year to take advantage of the camping, fishing, hiking and more. Plus, the wildlife here is abundant; keep your eyes peeled for grazing moose in beaver ponds, black and grizzly bears in alpine areas, and more.
The park also follows the crystal clear Chena River which is ideal for kayaking, canoeing or fishing for its abundant arctic graylings. And for those looking for something a bit more leisurely, Chena Hot Springs Road will provide ample points of entry and exit to explore its beauty.
Kachemak Bay State Park
Boasting 400,000 acres and two parks – Kachemak Bay State Park and Kachemak Bay State Wilderness Park – this park is home to a diverse range of wildlife and terrain.
From rocky and sandy beaches to glaciers and icefields, visitors can explore the park's coastal beauty by hiking, snow machining, fishing or camping. For those up for a challenge, the 10-mile Grace Ridge Trail is not to be missed. The hike takes around 5-6 hours with an elevation gain of 3,500 feet – just make sure to arrange for a pick-up at your destination as it's a point-to-point trail.
No matter what time of year you visit, you'll want to be prepared for sudden wind, rain or snowstorms as the conditions near the coast can be unpredictable. With all that in mind, there's no denying why Kachemak Bay State Park is one of the most unique (and most wild!) state parks in Alaska.
Wood-Tikchik State Park
If you're looking for a truly unforgettable Alaska trip, Wood-Tikchik State Park should be at the top of your list. Not only is it the largest state park in the nation, but it's also one of the most spectacular with its 12 beautiful lakes, rivers up to 60 miles in length, and mountains towering over 5,000 feet in elevation.
It's no wonder why this incredible destination is usually at the top of everyone's Alaskan bucket list. Whether you plan to spend a day or a week, there's something here for everyone. You can try your luck at fishing or kayaking on one of the 12 lakes or take a hike and admire the lovely views. There are also plenty of opportunities for wildlife viewing, so don't forget to keep your eyes peeled!
Wood-Tikchik State Park has long been used by locals as traditional grounds for subsistence activities such as fishing, hunting and gathering – this is an integral part of the culture in this region and provides not only food but a cultural tie to the land.
Eagle River Nature Center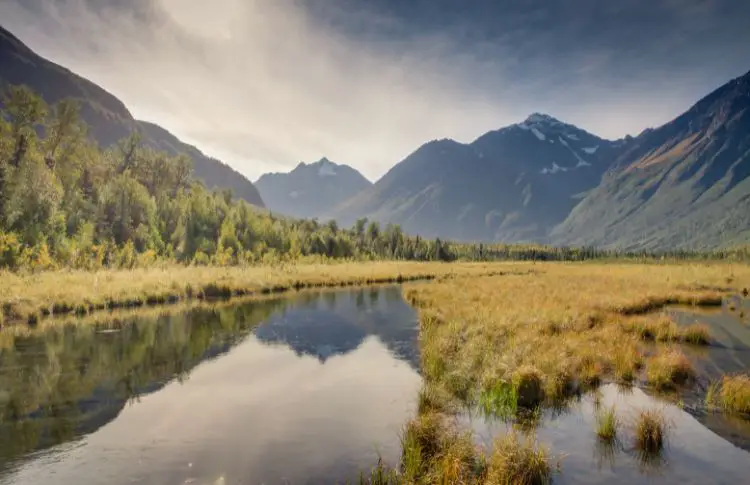 If you're looking for a unique outdoor escape in Alaska, then Eagle River Nature Center is the place for you. Located just an hour's drive from Anchorage, this nature center offers visitors stunning views of glacially-carved mountains and abundant Alaskan wildlife.
The Nature Center is operated by a small, grassroots non-profit organization and offers a variety of trails for both beginner and advanced hikers – all of which will take your breath away with their pristine mountain views, glacier rivers, and streams. It's no wonder why 19th-century explorer Walter Mendenhall called the Eagle River Valley "a miniature Yosemite."
This is the perfect place to spend an afternoon exploring the outdoors and immersing yourself in Alaskan nature. And if you're lucky, you might even catch sight of some wildlife! Whether it's fishing, hiking or simply taking in the breathtaking views, Eagle River Nature Center has become the place to be.
Worthington Glacier State Recreation Site
Alaska is known for its stunning natural beauty, and the Worthington Glacier State Recreation site is no exception. Located along the Richardson Highway, this section of Worthington Glacier boasts an incredible four-mile long glacier that you can actually get close to on foot.
You can also explore 113 acres of parkland surrounding the glacier, where you'll find plenty of activities to keep you occupied – from the paved wheel-chair accessible trail with viewing platform and scopes, to fishing in nearby Worthington Lake and berry picking in season. There's even a covered pavilion with a model of the glacier and interpretive signs, all close to a small lake.
Chilkat State Park
If you're looking for a one-of-a-kind outdoor experience, then a trip to Chilkat State Park in Alaska is a must. Located seven miles south of Haines in the northern part of the Alaska Panhandle, this 6,056-acre park offers stunning views, lush forests, and plenty of activities to keep you busy.
Fishing, boating, sea kayaking and sightseeing are just some of the activities offered at Chilkat State Park. The park is home to three trails for hikers of various skill levels – Seduction Point Trail (7 miles), Battery Point Trail (2 miles) and Mount Riley Trail (offers steep vertical rises but also breathtaking views).
For those who want to stay overnight, there are campsites with minimal amenities available. It's not the most popular state park – but it's still filled with beauty and wilderness that'll leave you awe-inspired.
Point Bridget State Park
Located just forty miles north of Juneau, this gorgeous 2,850-acre park offers spectacular views, rocky beaches, salmon spawning streams, and so much more.
At Point Bridget State Park, you can enjoy a variety of outdoor activities all year round. In the winter months, explore the meadows and open forests with your cross-country skis or snowshoes. And in the summer months, take advantage of the fishing and boating opportunities on Berners Bay. Don't forget to check out three public-use cabins available for rent – Blue Mussel Beach Cabin is especially breathtaking!
No matter when you go, Point Bridget State Park will not disappoint, it's no wonder why it made this list as one of the top state parks in Alaska.
Totem Bight State Historical Park
A trip to Totem Bight State Historical Park in Ketchikan, Alaska, will truly impress. With its stunning art exhibits, pristine nature trails, and remarkable history, you won't find an experience quite like this anywhere else.
The park is the result of a program led by the U.S. Forest Service in 1938 aimed at salvaging and reconstructing these large cedar monuments that had been left to rot in the woods due to the decline of a barter economy. As part of the program, skilled carvers were hired from among older Natives so that young artisans could learn the art of carving totem poles; many of these hand-carved poles remain today!
Visitors can also explore Alaskan architect Linn Forrest's model Native village for this site; every effort was made to copy traditionally carved poles as closely as possible. Every detail was accounted for – even traditional tools used before Europeans arrived were recreated and natural colors were duplicated with modern paints!
In addition to totem-pole viewing, visitors can enjoy nature trails filled with beauty and tranquility throughout their visit. It's definitely one of the most unique state park visits in Alaska
Conclusion
No matter what your interests are, there are plenty of activities that can be enjoyed in Alaska's state parks – without having to go to packed national parks. From whale watching and kayaking to fishing and mountain biking, Alaska has it all (if you don't mind the cold!)
If you're looking for an outdoor adventure, you can take part in guided tours and educational programs to learn more about Alaska's ecology and diverse wildlife. For those who prefer a more relaxed atmosphere, Alaska's state parks offer plenty of opportunities just to sit back and soak in the natural beauty.