5 Beautiful Dog-Friendly Hiking Trails In The Woodlands, Texas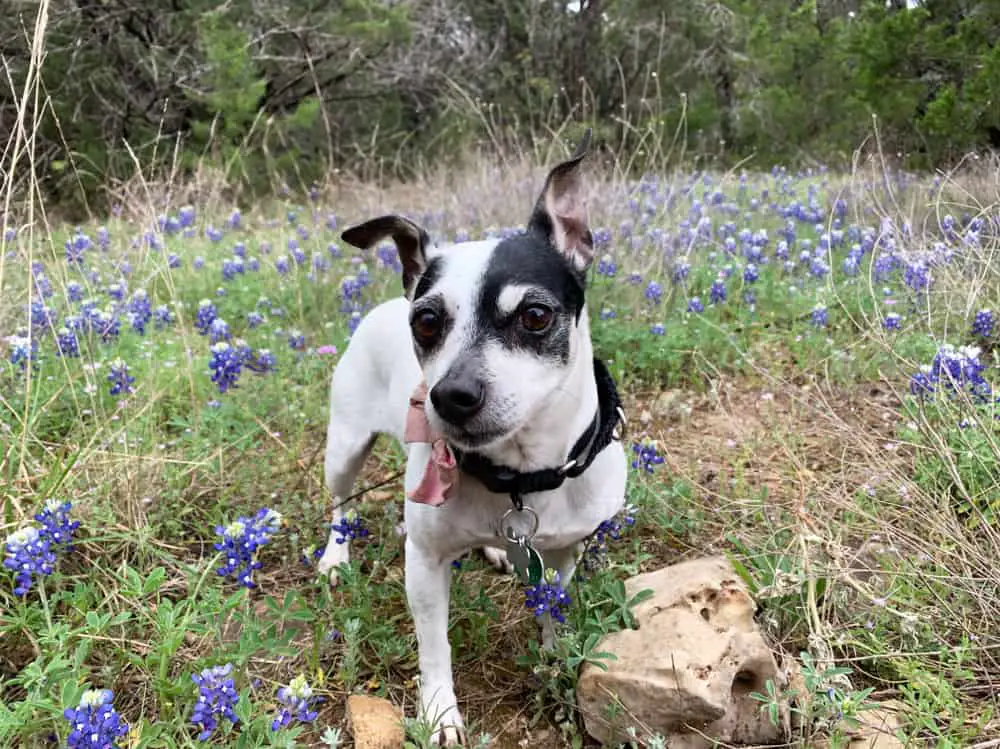 Looking for some great places in The Woodlands, Texas to take your four-legged friend hiking? Since moving to The Woodlands over a year ago, one of our favorite things to do has been exploring all of the amazing dog-friendly hiking trails. We've ventured out and found some awesome trails in the Greater Houston area, but for this article, I wanted to focus on something a little closer to home.
Our little one, Gooby, loves getting out and going on adventures with us, and we've found some great spots that are perfect for hiking with dogs in the area. Here are my top five dog-friendly hiking trails in The Woodlands.
1. Lake Woodlands Trail (Northshore Park)
This is number one on my list, simply because it's the trail that we used the most often since it was so close to our home. The Lake Woodlands Trail is a 4.5-mile paved trail that encircles both The Woodlands Waterway and Lake Woodlands. There are several access points along the way, which makes it easy to hop on and off as needed.
The views are also absolutely gorgeous, especially during sunset. Across the lake from the east side, you'll get views of the homes on East Shore, which are always a nice sight. It's a popular spot for runners, walkers, and cyclists, so definitely be aware of your surroundings (and your dog's) at all times.
Since it's in such a popular spot, the trail is always very well maintained, and also very well-lit, so it's perfect for early morning or evening walks. And since the trail is constantly busy with joggers, strollers, and cyclists, Gooby always has plenty of people to say hello to.
2. Woodlands Waterway Trail (Town Green Park)
The Waterway Trail is another great option for those looking for a paved trail to walk or run on with their dog. This trail is 3 miles long and runs parallel to the Woodlands Waterway, from Creekside Park all the way down to Town Green Park.
Like the Lake Woodlands Trail, it's also very well-lit and well-maintained. And since it's right next to the water, it's a great place to take your dog to cool off on a hot day. There are also several fountains along the trail that are perfect for filling up your dog's water bowl.
At the end of the trail, there are pet-friendly kayak and boat rentals available, so you can even take your dog out on the water if you'd like. Or, if you're looking for a place to grab a bite to eat after your walk, there are tons of great restaurants just a hop, skip, and a jump away from the trail on the north side.
3. Middle Lake Trail Loop (W G Jones State Forest)
The Middle Lake Trail Loop is a very popular, easy-going trail in W G Jones State Forest. Altogether, it's a 7.2-mile loop, but there are a few different cutoff points that make it possible to shorten the hike if needed.
In terms of views, I'll be honest – it's nothing to write home about. The majority of the hike is through the forest, so there's not much in terms of scenic views. However, if you're looking for a nice, easy hike with your dog that isn't too challenging, this is a great option.
Most of the trail is gonna be on dirt, with some areas that are a bit rockier. And since it is located in the forest, there will be plenty of trees for your dog to sniff around and explore.
4. George Mitchell Preserve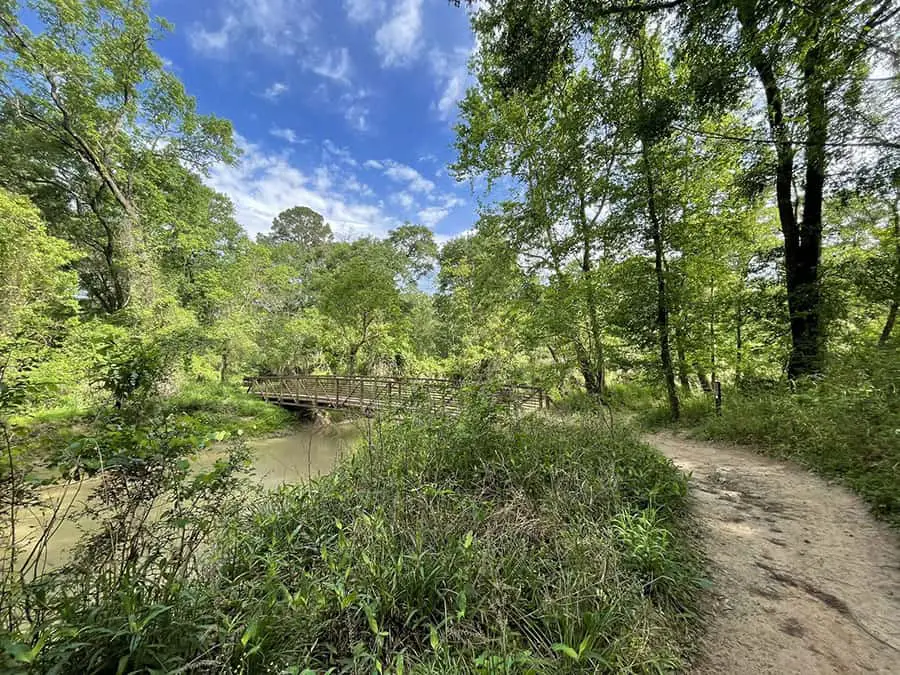 The George Mitchell Preserve is a nature lover's paradise, with over 1,700 acres of forest to explore. There are over 5 miles of trails throughout the Preserve, so there's definitely something for everyone.
The George Mitchell Preserve is located in Panther Creek, and features several different lakes, creeks, and wetlands. It's a great place to take your dog for a hike, because they'll never get bored with all of the different smells and sounds.
One thing to keep in mind is that you may occasionally see alligators in the lakes and wetlands. So definitely keep your dog on a leash, and be aware of your surroundings at all times. Most of the time the alligators will be deep in the lakes and far away from the trails, but it's still something to be aware of.
I didn't want to put a specific trail here, because there are just so many to choose from. But definitely check out the George Mitchell Preserve if you're looking for a great place to take your dog hiking.
5. Grogan's Mill Nature Trail
The Grogan's Mill Nature Trail is a great option for those looking for a shorter hike with their dog. The trail is only 2.2 miles long and runs through a thick forest area.
The great thing about the Grogan's Mill Nature Trail, unlike the trail in W G Jones State Forest, is that the main path is paved. So if you're looking for a paved trail, surrounded by large trees and forests to walk or run on with your dog, this is a great option.
Just like with all the other trails on this list, you'll pass by some small lakes filled with turtles, ducks, and other wildlife. But since the trail is shorter, you probably won't see as much wildlife as you would on some of the other trails.
5 Best Dog-Friendly Trails In The Woodland (Mapped)
Conclusion
So there you have it! All the trails I listed in this article are in The Woodlands, and offer a great place to take your dog for a hike. If you're feeling adventurous, you could probably visit them all on the same day!
I hope you enjoyed this article, and if you think I left some dog-friendly hiking trails out, please let me know in the comments below.