Best Hiking Trails In Santa Fe National Forest (2023)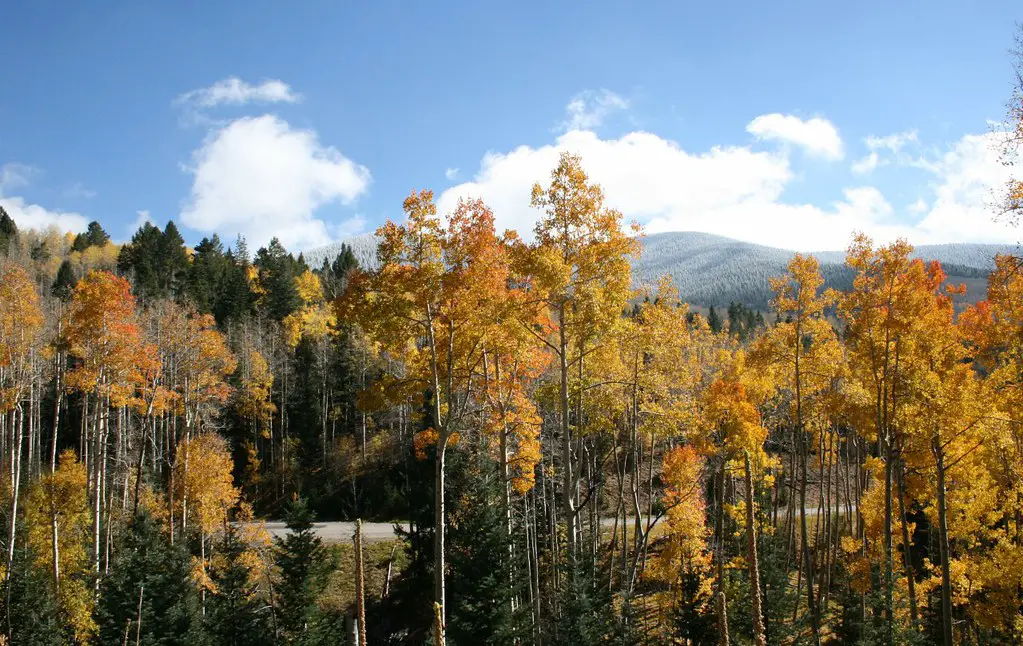 It's no exaggeration to say that Santa Fe is one of the finest hiking spots in the Southwest. Hikers swarm there to strap on their hiking boots and explore the unique landscapes of this stunning region. If you are one of these visitors, you're lucky to explore the best hiking trails in Santa Fe National Forest.
From the Sangre de Cristo Mountains to the forest hills of Santa Fe National Forest, there is an unending list of Santa Fe hiking trails that offers a range of options to experience the magnificent terrains. Each one is fascinating in its way. 
Are you a beginner hiker looking for a simple and exciting outdoor activity or an experienced hiker looking for a new challenge? Here are six trails to experience the best hiking in Santa Fe National Forest.
6 Best Trails for Hiking In Santa Fe National Forest
1. Atalaya Mountain Trail
The Atalaya Mountain Trail in Santa Fe is a 6-mile out and back trek of about 6.4 miles that winds through beautiful aspen forests. The trip ends on a mountaintop with a magnificent view and 1,794 feet.
Hiking, jogging, mountain biking, and other activities are standard on the trails. The trail is open all year, and dogs on leashes are allowed.
This is a good day hike kicking off from the St. John's College Trail on Santa Fe's east side. Even in the dead of winter, weekends can be particularly crowded, so visit during the week if possible.
Difficulty: Moderate
Length: 6.4 miles
Elevation Gain: 1,794 feet
2. Nambe Lake Trail
The Nambe Lake Trail is a mildly traveled out and back trail leading to a small, shallow pool of water with stunning views of Mount Baldy surrounding it. The hike initiates from the Santa Fe Ski Area parking lot and takes you through lovely aspen and pine forests.
Nambe Lake is a popular hike that is best enjoyed between May and October. It has an elevation gain of about 2,089 feet. Snowshoeing in the winter, hiking, birdwatching, running, and viewing the beautiful wildflowers in the spring and summer are just a few popular pastimes in this area.
Difficulty: Hard
Length: 6.7 miles
Elevation Gain: 2,080 feet
3. Picacho Peak Trail
Picacho Peak Trail is one of Santa Fe's most popular hikes, and it's located in the Santa Fe National Forest. It has a moderate difficulty level and is best explored from June to October, but it is functional throughout the year. Pets are allowed on this trail but should be on a leash. 
If you're going on a winter trip, crampons are a good option if you have problems with your walking or shoe grip. Since the shaded areas of the Pico de Orizaba trail become icy, be extra careful. 
The spectacular views of Santa Fe are one of the most compelling reasons to visit this trail. According to reports, the trail's elevation is around 1,227 feet with a round trip of 8 miles.
Difficulty: Moderate
Length: 3.8 miles
Elevation Gain: 1,230 feet
4. Chamisa Trails
The Chamisa Trail leads you through the Sangre de Cristo Mountains east of town. This four-mile trail is one of the top Santa Fe hiking trails in New Mexico. Although the first section of this Santa Fe hiking trail is slippery, most hikers would complete the loop without trouble. It's essential to keep an eye out for blooming trees and wildflowers.
The Chamisa Trails have an elevation gain of 1,148 feet. It is considered kid-friendly, and dogs are allowed with leashes. April to October are ideal for hiking this trail since the weather is usually warm and pleasant. Mountain bikers can also get their fix on the trail, despite it being primarily a hiking destination.
Difficulty: Moderate
Length: 4.5 miles
Elevation Gain: 1,148 feet
5. Dale Balls Trail
Do you and your loved ones wish to devote a significant amount of the day hiking? The Dale Ball Trails got your back squared. You'll embark on a spellbinding trek and mountain biking through some of Santa Fe's most breathtaking regions for about 23 miles.
Probably not the best choice for beginners, but if you're up for the challenge, we believe this moderately leveled trail is ideal for hiking through the Sangre de Cristo Mountains.
The Dale Balls trails have exciting activities that would intrigue you if you're looking for a scenic and straightforward retreat from the city. Birdwatching, trekking, jogging, mountain biking, and more are possible.
Difficulty: Moderate
Length: 4.2 miles
Elevation Gain: 1,118 feet
6. Santa Fe Baldy via Windsor Trail
Not quite far from Santa Fe, New Mexico, lies this 13.5 miles out-and-back trail. The Santa Fe Baldy is a strenuous route that takes 7 hours to wrap up. This trail is pretty consistent until the last mile, which can be a bit of a challenge. Fortunately, you will be treated to spectacular views of the New Mexican scenery once you hit the summit; it has quite an elevation gain of 3,517 feet.
Although this is a popular hiking and running trail, you can always enjoy privacy during the quiet hours of the day. The months of April to November are ideal for hiking this trail. Dogs are permitted off-leash in certain areas.
Difficulty: Moderate
Length: 13.5 miles
Elevation Gain: 3,517 feet
Tips For Hiking In Santa Fe National Forest
Preparing adequately for your hiking trip is the most effective way to avoid screw-ups. Before embarking on a hike, you should understand the terrain, the weather, and fitness limitations. The following are some helpful clues for hiking in Santa Fe.
Be Physically Fit
Make sure you're in good physical shape before going on a hiking trip in Santa Fe. The trip should be designed around the weakest member if you're hiking with a group. Set a comfortable pace for yourself at all times.
If you have a pre-existing medical condition, talk to your doctor about your hiking plans and get their consent before hiking. Get the hiking and camping skill sets you'll need ahead of time and practice them before heading out.
Be Informed of The Weather
Because the weather in Santa Fe can change quickly, you should keep an eye on both current conditions and forecasts. Understand how to interpret environmental and atmospheric signs that indicate a change in weather.
Stay away from exposed areas, lone trees, and bare ridge tops during lightning storms. If you're at a lower elevation, seek refuge in a densely forested area.
Have Knowledge of Basic First Aid
Basic first aid knowledge could save your life on a hike because you'll be able to recognize and treat minor injuries and illnesses. Bring a first-aid kit on your hikes and learn how to recognize common hiking symptoms like heat stroke, exhaustion, dehydration, heat, and hypothermia. It's also crucial to understand how to treat these ailments.
Make Camp Before It's Dark
Hiking in low light can lead to falls and other mishaps, so it's best to go during the day. Set up camp far away from cliff edges, learn topography during the day, and only visit those areas at night. After dark, the importance of a good flashlight cannot be mitigated.
Keep Yourself Well Hydrated
Also, bring enough drinking water with you. The importance of adequate hydration can not be overemphasized.
Avoid Alcohol Consumption
When you drink alcohol before going on a hike, your agility, assessment, and balance are affected, which can be dangerous when hiking near a cliff. Plus, hiking with a hangover is never fun.
What To Bring On A Hike In The Santa Fe National Forest
Like any other activity, hiking demands meticulous planning for it to work. So, what do you take with you when you go hiking in Santa Fe? The following is a list of what you'll need:
Hiking Boots: A pair of tough boots will be ideal if you wish to hike long distances. It protects your legs from tough terrains, icy edges, and snowy surfaces. I like the Salomon Ultra 3 Mid GTX Hiking boots.
Reusable Water Jug: You'll need plenty of water to stay hydrated if you're hiking on one of Santa Fe's hiking trails. My new favorite water bottle is from a brand called TAL. Check out the TAL 64 oz water bottle here.
Light-colored clothing with long pants: Make sure you wear something light-colored and long enough to cover your entire body. In the southwest desert, although it is hot, you must protect yourself from the sun and insects in the southwest desert.
Sunscreen and bug spray: This should go without saying, but sweatproof sunscreen and Insect repellent bug spray can help you avoid sunburn and insect bites, two of the most irritating side effects of hiking.
A brimmed hat or cap: The sun can be scorching during open hikes in the desert heat, so bring a wide-brimmed hat or cap.
Emergency blanket and first aid kit: We strongly advise bringing a first-aid kit and a lightweight emergency blanket on every hike. To curtail the unexpected, it's always better to be safe than sorry.
Conclusion
There are so many wonderful hiking trails in Santa Fe to explore to your satisfaction, with various terrains and difficulty levels. There are countless reasons to go hiking in these areas, ranging from stunning views to enjoyable hikes with the six best hiking trails in Santa Fe listed above. So go out there and enjoy Santa Fe's incredible hiking trails!