The 12 Best Kansas State Parks (2023)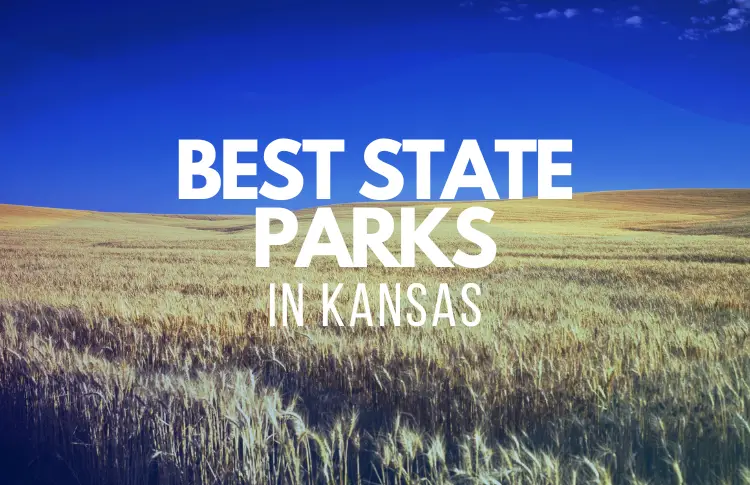 Visiting state parks is not only a great way to escape the hustle and bustle of city life but is also a chance to connect with the great outdoors and take in all the unique qualities of what the state has to offer. Whether you're hiking, camping, picnicking, or simply enjoying the scenery, exploring a state park is an excellent way to spend time with family and friends.
Kansas state parks are unique, and each offers something special. Some of the state parks feature rugged terrain and rocky formations, while others have calm and serene waterways. There are state parks with ancient ruins and historic sites, as well as vibrant wildflower displays in the spring and various wildlife throughout the year. The parks offer something for everyone, from the most avid hiker to the family looking for a picnic spot.
So gear up, pack a picnic, and grab your friends and family – let's explore what the Kansas state parks have to offer!
Clinton State Park
Take a break and explore the natural beauty of Clinton State Park in Lawrence. This 1500-acre park sits on the North Shore of the Clinton Reservoir and offers spectacular views of prairie grasses and woodlands. No matter what time of year you visit, there's always plenty to do here – from fishing and wildlife viewing to cabin camping and hiking.
Speaking of hiking, one of the must-do trails is Prairieview Nature Trail. It's a relatively easy 0.75-mile trail that takes visitors through the park's diverse range of terrain – from deep woods to meadows with blooming wildflowers. You'll have plenty of chances to spot some native wildlife along the way, such as whitetail deer, turkey, waterfowl, and songbirds.
If you're looking for an overnight trip – there's camping available near the trails as well!
Crawford State Park
If you're looking for a unique outdoor experience, then Crawford State Park is the perfect place to be. Tucked away in southeast Kansas and located 9 miles north of Girard, this 500-acre park offers spectacular views, lush foliage, and plenty of recreational opportunities.
First off, it's worth noting that the 150-acre lake was created by the Civilian Conservation Corps (CCC) in the 1930s. To honor their work, Crawford State Park dedicated a CCC Memorial Trail in 2005.
As for activities, you won't be short on options here. Explore four hiking and biking trails, take a dip at the swimming beach, camp at one of six campgrounds (with 28 primitive sites, 38 electric-only sites, and more), or go fishing or boating. And if you'd like to take advantage of the park's beautiful landscape, observe the redbud trees during springtime when wildflowers are in full bloom – a naturalist's paradise!
Glen Elder State Park
If you're looking for a peaceful getaway, look no further than Glen Elder State Park in Kansas. Located on the north shores of the 12,500-acre Glen Elder Reservoir (Waconda Lake), this park is perfect for relaxation and offers a wealth of recreational activities.
Glen Elder Wildlife Area encompasses almost 13,200 land acres surrounding the lake and is an ideal spot for wildlife viewing. You can see and photograph a variety of species such as bald and golden eagles, deer, pheasant, geese, and more.
At Waconda Heritage Village, visitors can explore a living museum which pays tribute to the area's Native American history and the former home of a sanitarium. And if you're looking to stay overnight, there are plenty of cabins available – all located nearby fishing spots!

Kanopolis State Park
Located in the Smoky Hills region of Kansas, this park is home to rolling hills, bluffs, and woods that are sure to take your breath away. From the tower Dakota sandstone bluffs to the crevices of Horsethief Canyon, the scenery is absolutely stunning.
Kanopolis State Park offers plenty of activities for visitors. Enjoy more than 30 miles of trails perfect for hiking, mountain biking, and horseback riding. The 3,500-acre lake provides plenty of opportunities for anglers and hunters alike. And if you're a wildlife enthusiast, be sure to check out Faris Caves near the Smoky Hill River for some interesting sights. This area is also home to bald eagles and ospreys during the winter months – so keep your eyes peeled!
Little Jerusalem Badlands State Park
It's not every day you get to visit a place like Little Jerusalem Badlands State Park in Kansas. As its name suggests, this 332-acre park is a geological wonder, home to a mile-long stretch of 100-foot-tall spires and cliffs of eroded Niobrara Chalk – all formed by sediment that settled at the bottom of an inland ocean called the Western Interior Seaway some 85 million years ago.
The park is not just beautiful to look at; it's also teeming with life. Animals such as ferruginous hawks and rock wrens call this unique habitat home, while sharp-eyed visitors may spot mammals, bats, lizards, snakes, toads, and a variety of insects. Great Plains wild buckwheat also grows here, making Little Jerusalem one of its largest habitats in the state.
There are plenty of activities to enjoy at Little Jerusalem – from trails and guided tours to rock climbing and exploring. It's the perfect destination for anyone who loves nature and wants to escape into the great outdoors.
Milford State Park
Located close to Junction City and overlooking Milford Reservoir – the largest reservoir in the state – Milford State Park is perfect for all nature lovers, adventurers, and anglers alike.
From hiking, bird watching, and hunting to wildlife viewing, fishing for walleye, crappie, largemouth bass, and more – this park has it all. Plus, the Steve Lloyd refuge contains an additional 1100 acres of diverse habitats that support many species of non-game birds, mammals, reptiles, and aquatic life.
If you're looking to learn more about the area's wildlife and ecosystem, head on over to the Milford Nature Center or Milford Fish Hatchery located below the dam. The lake also hosts a large influx of bald eagles during wintertime.
Mushroom Rock State Park
Searching for a unique outdoor experience? Look no further than Mushroom Rock State Park in Brookville, Kansas. This 5-acre park is one of the most peculiar places in all of Kansas, and it's listed among the 8 Wonders of Kansas Geography.
As soon as you lay eyes on Mushroom Rock, you'll understand why it's so special. The rocks – which resemble giant mushrooms – have been around since the Cretaceous Period (144 to 66 million years ago!) and are held together by natural cement. The largest rock measures 27 feet in diameter!
The park has a storied past too, as it was used by Native Americans and early pioneers such as John C. Fremont and Kit Carson as meeting places and landmarks.
Viewing the rock formations is the main activity here, but no matter what you do at Mushroom Rock State Park, you're guaranteed to be amazed by its beauty and uniqueness!
Perry State Park
Tucked away in the wooded region of northeast Kansas is Perry State Park, an outdoor getaway perfect for both campers and adventurers alike. Located between Topeka and Lawrence on the southwest shore of Perry Reservoir, this park offers plenty of great activities and scenery.
If you love being outdoors, there are plenty of ways to explore the area. Whether you're hiking along the lakeshore or through the forests, horseback riding on 25 miles of trails, or biking and/or hiking on 20 miles of trails – Perry State Park has something for everyone. It's also a wildlife-lovers dream come true; with 1,000 acres of marshes and 11,000 acres of wildlife area, visitors can enjoy watching and hunting for waterfowl or quail.
For anglers, Perry Reservoir is well-known for its excellent crappie and channel catfish fishing. With 160 miles of shoreline, you won't run out of places to explore! And if you're looking to stay a while, Perry Lake offers shaded camping sites as well as cabins.
Pomona State Park
If you're looking for a great escape in northeast Kansas, look no further than Pomona State Park. Located just 30 miles south of Topeka and nestled in an area with historical connections to the Santa Fe Trail, the park is home to an abundance of wildlife, 4,000 acre Pomona Reservoir, and plenty of activities for the whole family.
Take a stroll through the park's 490 acres and enjoy the transition zone from prairie to eastern woodlands. Perfect your swing on one of the nearby golf courses or take a boat out on the lake – which is popular with water skiers and anglers – and try your hand at some fishing. Or if you're more of a landlubber, explore any one of the hiking trails or go wildlife viewing around the park.
But that's not all that Pomona State Park has to offer – the park also features camping, cabins, skiing, and so much more.
Lake Scott State Park
Hidden in a canyon in the western prairie, this stunning oasis is the perfect place to explore the beauty of Kansas.
The park encompasses 1,020 acres and surrounds the 100-acre spring-fed fishing lake. There are plenty of amenities to enjoy, such as camping, boating, swimming, hunting, and of course, fishing. Make sure to take some time to explore the nature trails spread throughout the park. Not only will you get to appreciate its unrivaled beauty – it's also an excellent spot for wildlife observation. Wild turkeys, deer, bobcats, and beavers are all frequent visitors!
On top of that, Lake Scott State Park is rich in history and culture. There are 26+ archaeological sites nearby and remains of Native American pueblo El Cuartelejo – a National Historic Landmark – can be found within the park grounds. You can also check out Battle Canyon – where the last Native American battle in Kansas took place.
Tuttle Creek State Park
Looking for a truly expansive park experience in Kansas? Look no further than Tuttle Creek State Park in northeast Kansas. This incredible park offers 1,200 acres of fun activities and scenic views.
If you love the water, you'll love the 12,500 acres of Tuttle Creek Reservoir with its 100 miles of wooded shoreline. Enjoy excellent fishing for channel cat, flathead, and bass near standing timber and brush piles, or take a leisurely swim at the River Pond Area's swimming beach.
The park also has plenty of land activities to explore. Hikers, bikers, and equestrians will love the numerous nature trails, mountain biking trails, and scenic equestrian trails that traverse the Flint Hills landscape. The park also houses an 18-hole disc golf course, volleyball courts, horseshoe pits, convenient restrooms, and shower facilities, plus a state-of-the-art shooting range that is open on the first and third full weekends of each month.
Wilson State Park
Located in the beautiful Smoky Hills of Kansas, Wilson State Park is an outdoor paradise that has something for everyone. Whether you're looking to explore nature and take in stunning views or take part in some of the many recreational activities, this park has it all.
The reservoir at Wilson State Park is a sight to behold – its rugged shoreline peppered with breathtaking cliffs and rocky outcrops is not to be missed. Not to mention the wildlife viewing opportunities! Keep your eyes peeled for deer, pheasant, waterfowl, songbirds, and furbearers.
If you're looking for something a bit more active, there's plenty to do here as well. The Cedar Trail is great for leisurely walks with its one-mile loop and concrete surface. Those looking for a challenge can tackle the 24.5-mile-long Switchgrass Bike Trail or head over to the 8,069-acre Wilson Wildlife Area for some all-day exploring.