141 Of The Best Hiking Quotes (And Instagram Captions)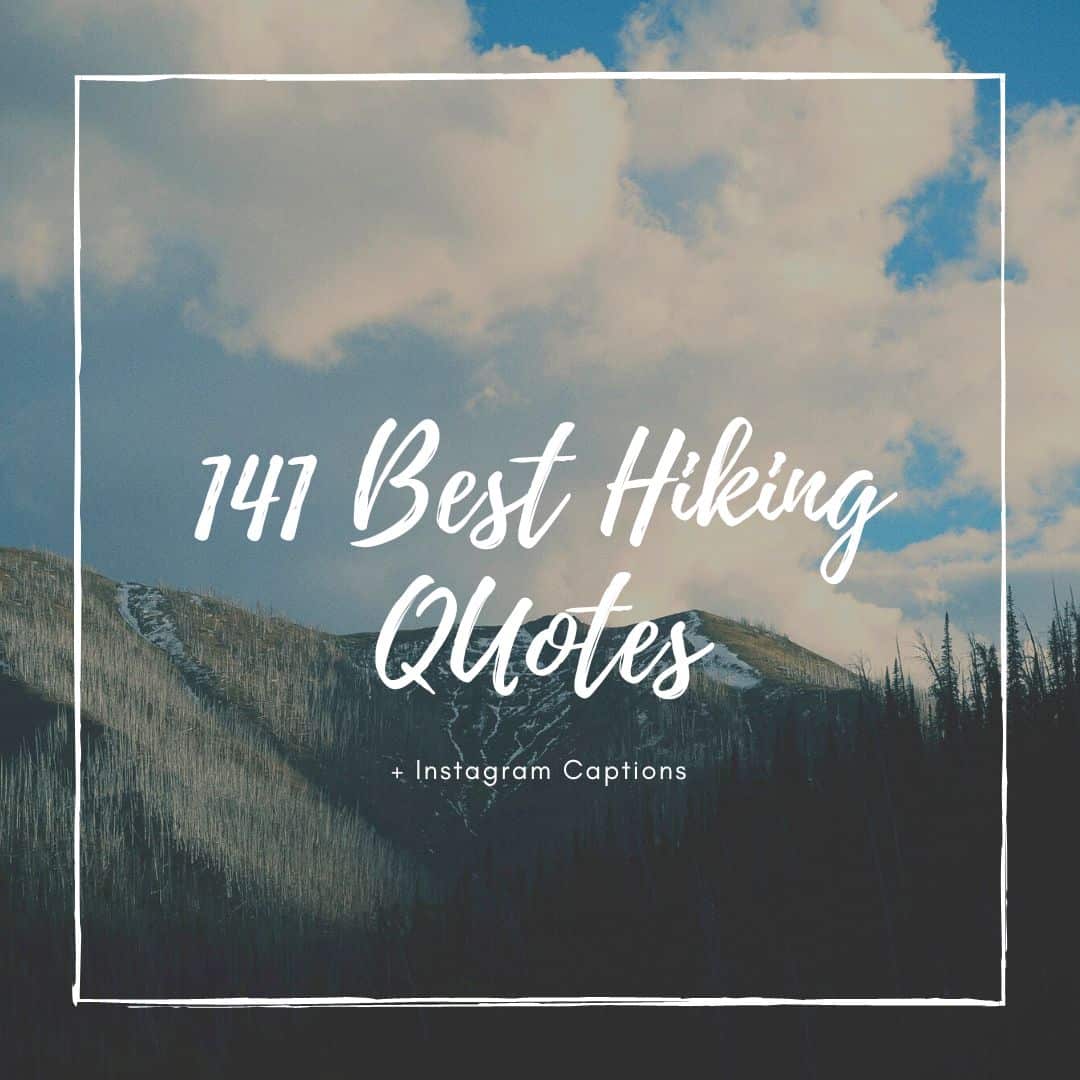 Looking for a great caption for your next beautiful IG picture while hiking? Whether you need something funny, something snappy, or something inspirational, we've got you covered! Our list features 141 of the best hiking quotes and captions you can pull and start using right now.
Funny & Witty Hiking Quotes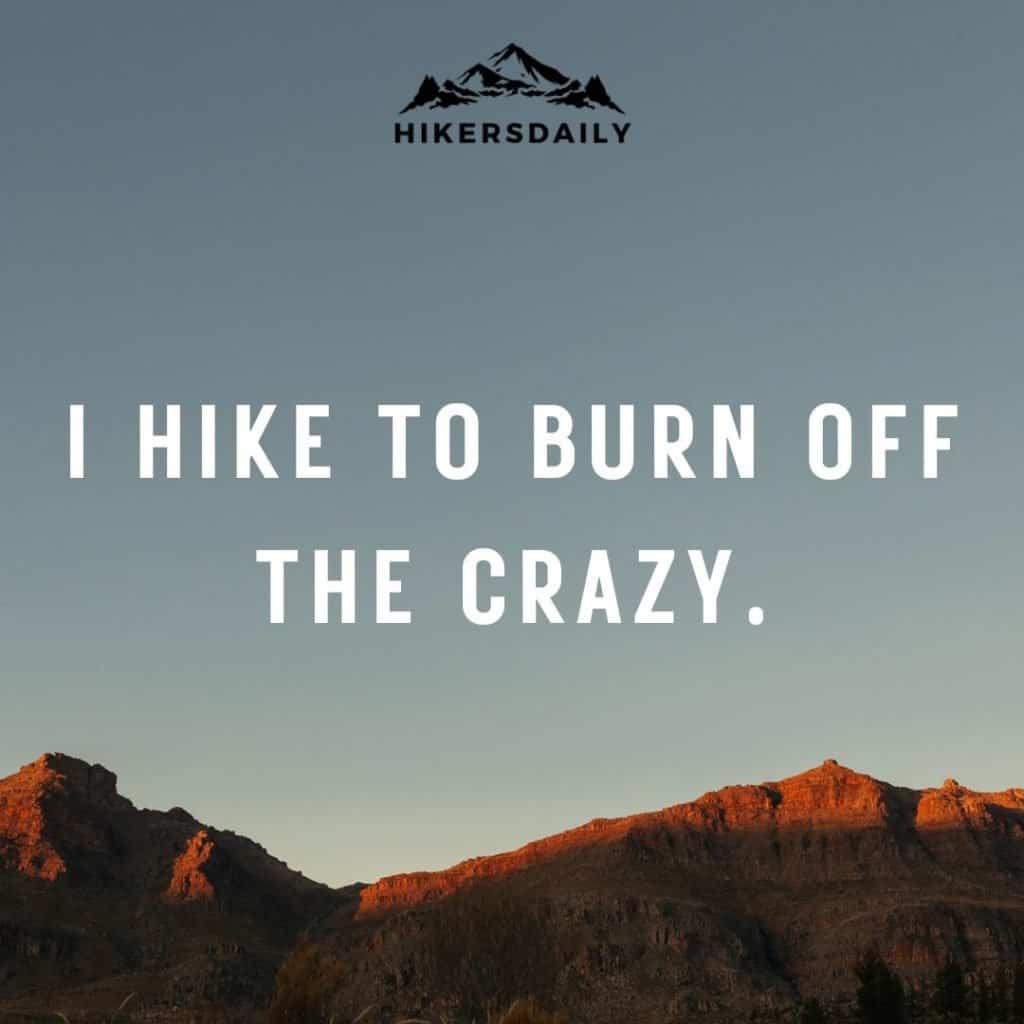 These funny and witty hiking quotes are perfect for your next silly Instagram caption. Let everyone know that you don't take yourself too seriously with one of these hilarious captions.
1. "Never follow someone else's path unless you're in the woods and you're lost, and you see a path. By all means, you should follow that." — Ellen DeGeneres
2. "Hiking is just walking where it's okay to pee." — Demetri Martin
3. "There's no such thing as bad weather, only inappropriate clothing." — Sir Ranulph Fiennes
4. "Of course I'm mad. You would be too if you had to walk everywhere!" — Unknown
5. "I hike to burn off the crazy." — Unknown
6. "Of all the paths you take in life, make sure a few of them are dirt." — John Muir
7. "There's no wifi in the forest, but I promise you'll find a better connection."
8. "Hiking: The ultimate social distancing." — Unknown
9. "I get my cardio by chasing squirrels up trees." — Unknown
10. "I'm outdoorsy in the same way that I'm bookish. I like to be close to home." — Unknown
11. "I need some time with nature and myself." — Unknown
12. "I like long walks, especially when they are taken by people who annoy me." — Unknown
13. "Hiking is walking with a purpose." — Unknown
14. "I hike to forget I have obligations." — Unknown
15. "Everywhere is within walking distance if you have the time." — Steven Wright
16. "If in doubt, go higher." — Unknown
17. "I was walking on a trail and dropped my trail mix. I started wondering if it was a trail remix now." — Unknown
18. "The hill looked a bit hard in the beginning, but I got over it." — Unknown
Encouraging & Motivational Hiking Captions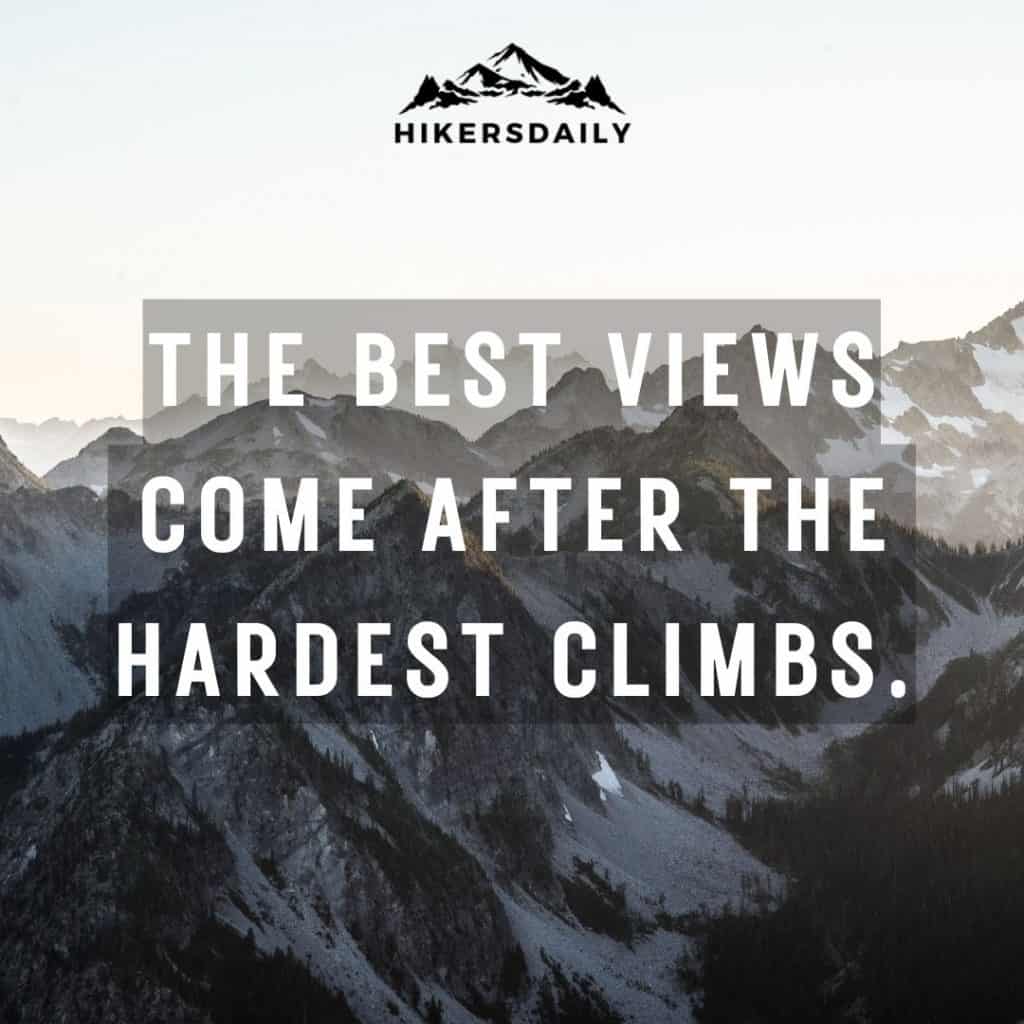 Looking to motivate your followers with your next post? Use one of these encouraging and motivational hiking captions to inspire your followers to get outside and live their best life.
19. "The best views come after the hardest climbs." — Unknown
20. "It's not about the destination, it's about the journey." — Ralph Waldo Emerson
21. "Every step you take, no matter where you go, leaves a trail." — Unknown
22. "Hiking is the best workout!… An hourly exercise that gets you to see things, hear things, and breathe things that you might not otherwise." — Unknown
23. "The higher you climb, the better the view." — Unknown
24. "Every mountain top is within reach if you just keep climbing." — Barry Finlay
25. "If you're going through hell, keep going." — Winston Churchill
26. "The only way is forward." — Unknown
27. "When you're tired, focus on the sights." — Unknown
28. "There are no shortcuts to any place worth going." — Beverly Sills
29. "Do not follow where the path may lead. Go instead where there is no path and leave a trail." — Ralph Waldo Emerson
30. "A journey of a thousand miles begins with a single step." — Chinese Proverb
31. "Don't be afraid to give up the good to go for the best." — John D. Rockefeller
32. "I can't change the direction of the wind, but I can adjust my sails to always reach my destination." — Jimmy Dean
33. "Believe you can and you're halfway there." — Theodore Roosevelt
34. "Press Foward. Do not stop, do not linger in your journey, but strive for the mark set before you." — George Whitefield
35. "Clouds come floating into my life, no longer to carry rain or usher storm, but to add color to my sunset sky." — Rabindranath Tagore
36. "The trail will always provide what you need if you listen." — Unknown
37. "I am not afraid of storms, for I am learning how to sail my ship." — Louisa May Alcott
Hiking Captions with Friends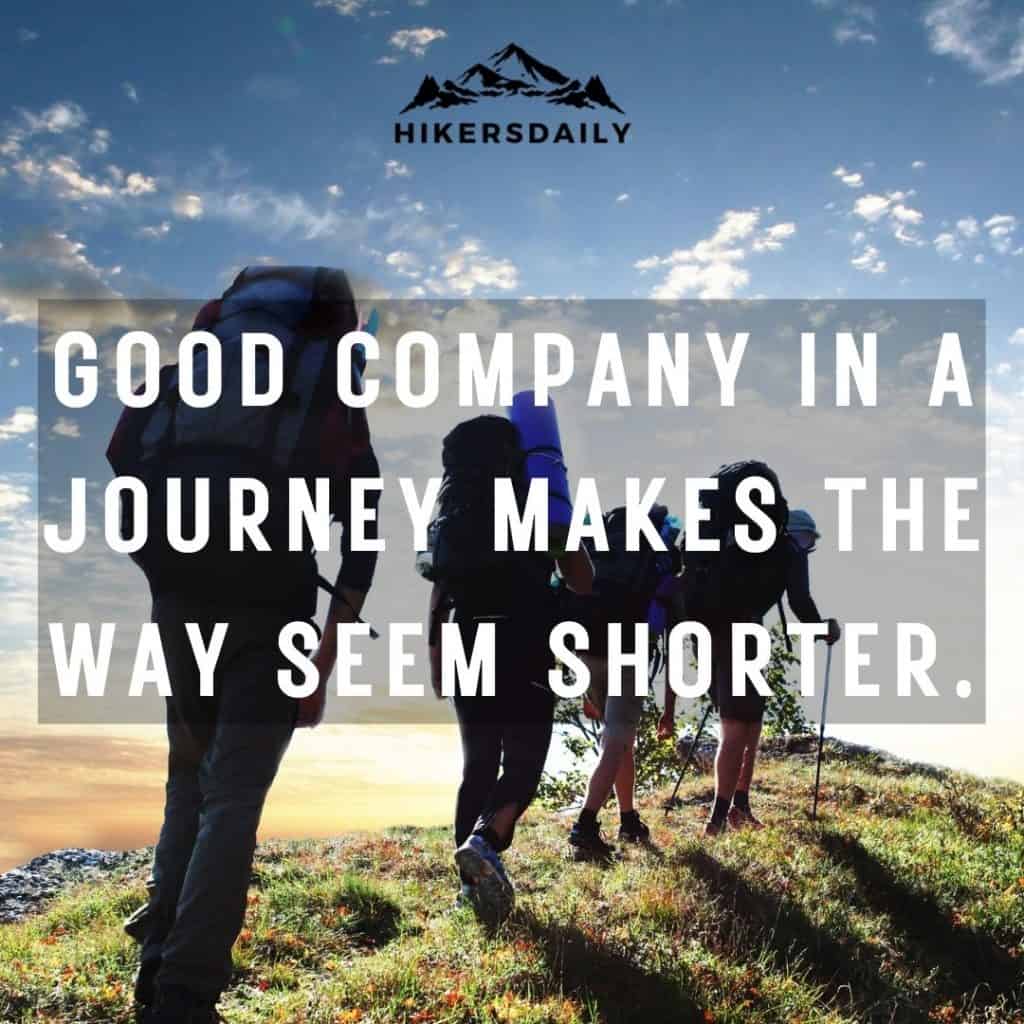 Wanting to share a perfect hiking moment with a friend? Use one of these hiking captions with friends to show off your perfect day in nature.
38. "A true friend is one who walks in when the rest of the world walks out." — Walter Winchell
39. "A single rose can be my garden… a single friend, my world." — Leo Buscaglia
40. "Good company in a journey makes the way seem shorter." — Izaak Walton
41. "Friends are the family we choose for ourselves." — Unknown
42. "Walking with a friend in the dark is better than walking alone in the light" — Hellen Keller
43. "There is nothing on this earth more to be prized than true friendship" — Thomas Aquinas
44. "Things are never quite as scary when you've got a best friend." — Bill Watterson
45. "A true friend is one who walks in when the rest of the world walks out." — Unknown
46. "Friendship is a sheltering tree." — Samuel Taylor Coleridge
47. "Friends are the family we choose for ourselves." — Unknown
48. "We are all travelers in the wilderness of this world, and the best we can find in our travels is an honest friend." — Robert Louis Stevenson
Cute Hiking Captions For Instagram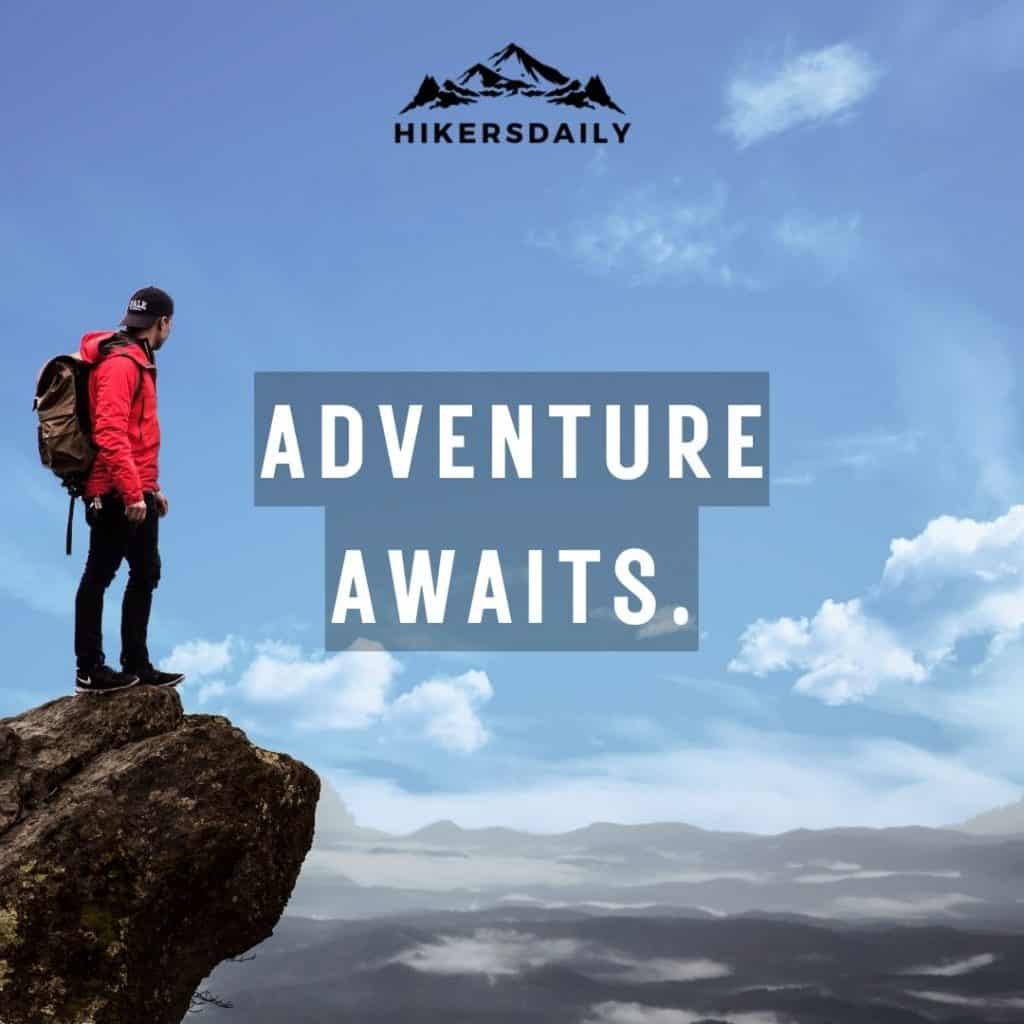 Short and sweet is the name of the game with these cute hiking captions for Instagram.
49. The tans will fade but the memories will last forever.
50. Hike more, worry less.
51. Take only memories, leave only footprints.
52. Take only pictures, leave only footprints.
53. Leave the road, take the trails.
54. Not all those who wander are lost.
55. Every flower is a soul blossoming in nature.
56. The earth laughs in flowers.
57. Adventure awaits.
55. Hiking Boots > Heels.
59. Roam Free.
60. Amongst the trees.
61. It's all downhill from here.
62. Keep calm and hike on.
63. The mountains are my happy place.
64. Nature makes me smile.
65. Take a hike.
67. Always take the scenic route.
68. Nomad life.
69. Dirt is my perfume.
70. Mountain lover.
71. I follow my own trail.
72. Views for days.
73. The best therapy is time in nature.
74. Hiking is my cardio.
75. I need vitamin N(nature).
76. One with nature.
77. Hello, beautiful world!
78. Stay wild, moon child.
79. It's a beautiful day for a hike.
80. I can't hear you, I'm on a nature walk.
81. Life is better in hiking boots.
82. Wanderlust.
83. The call of the wild.
84. All good things are wild and free.
85. We don't stop hiking because we grow old, we grow old because we stop hiking.
Romantic Hiking Quotes For Couples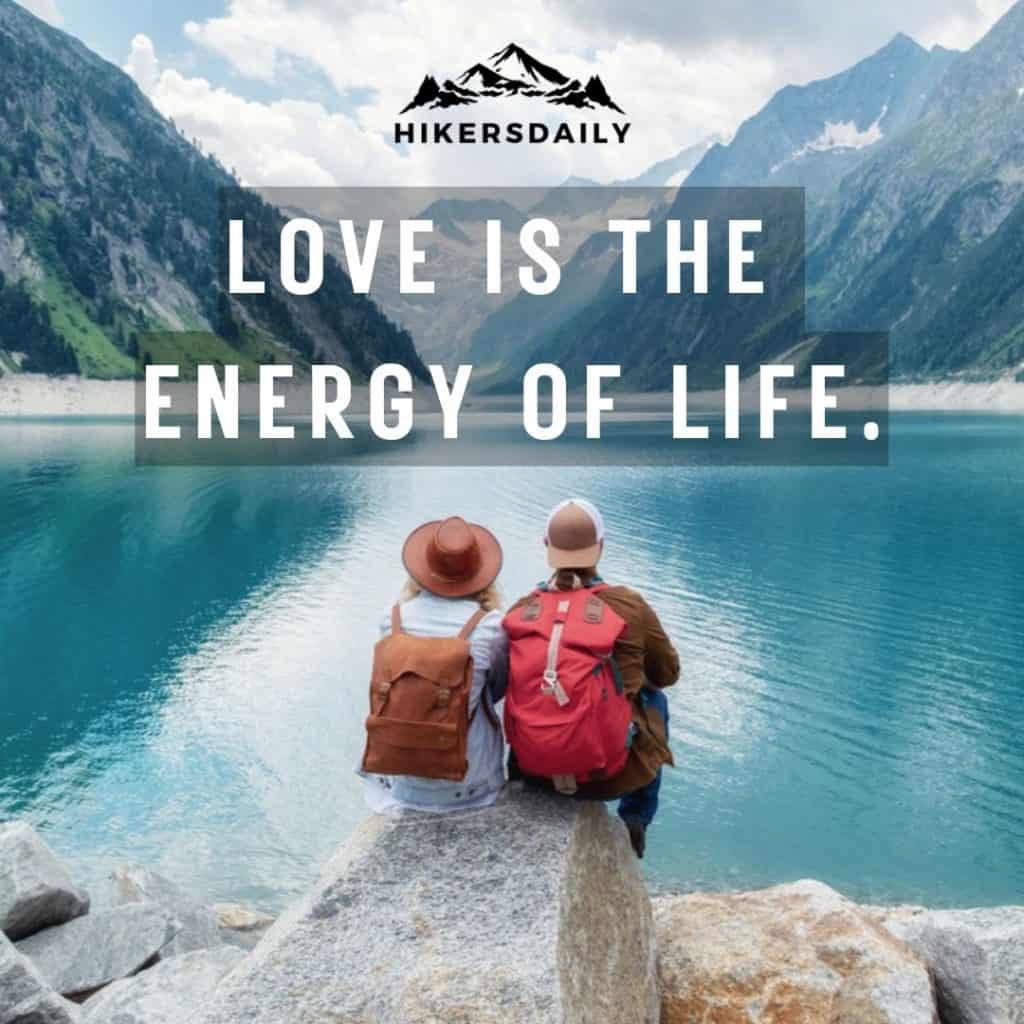 Is there anything more romantic than being out in nature with your partner? Use one of these hiking quotes for couples to capture your special moment.
86. "If you want to go fast, go alone. If you want to go far, go together." — African Proverb
87. "True love stories never have endings." — Richard Bach
88. "Love is composed of a single soul inhabiting two bodies" — Aristotle
89. "Life is the flower for which love is the honey." — Victor Hugo
90. "Love is the energy of life." — Robert Browning
91. "Love isn't something you find. Love is something that finds you." — Loretta Young
92. "The best thing to hold onto in life is each other." — Audrey Hepburn
93. "Love is the flower you've got to let grow." — John Lennon
94. "When there is love there is life." — Mahatma Gandhi
95. "The most powerful weapon on Earth is the human soul on fire." — Ferdinand Foch
96. "Love is a canvas furnished by nature and embroidered by imagination." — Voltaire
97. "Life without love is like a tree without blossoms or fruit." — Khalil Gibran
Mountains Quotes For Hiking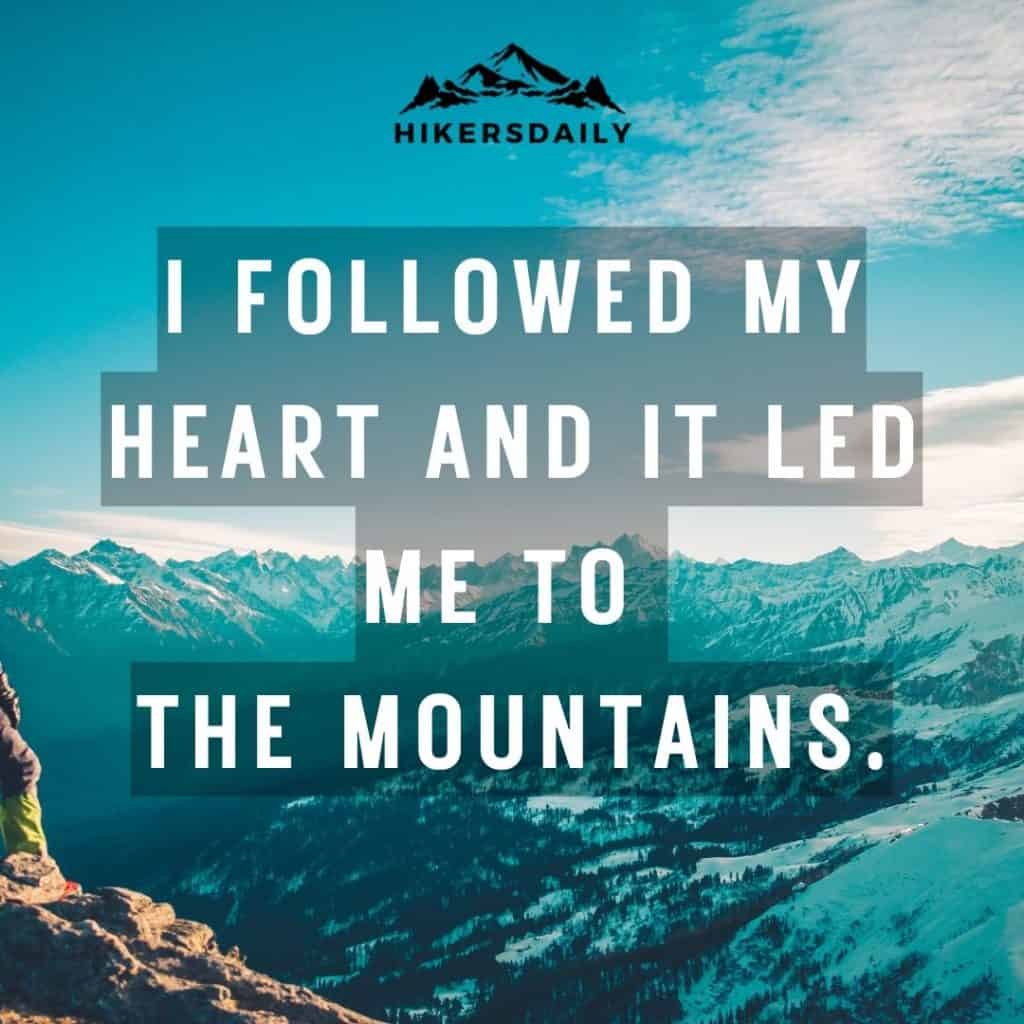 Need an awesome quote for your mountain backdrop? Here are some of the best mountain quotes for hiking out there.
98. "Over every mountain there is a path, although it may not be seen from the valley." — Theodore Roethke
99. "I followed my heart and it led me to the mountains." — Unknown
100. "The mountains are calling and I must go." — John Muir
101. "May your trails be crooked, winding, lonesome, dangerous, leading to the most amazing view. May your mountains rise into and above the clouds." — Edward Abbey
102. "Mountains are the beginning and the end of all natural scenery." — John Ruskin
103. "The only Zen you can find on the tops of mountains is the Zen you bring up there." — Robert M. Pirsig
104. "Life is about daring to carry out your ideas. And for me, it always comes back to the wilderness, nature, and mountains." — Unknown
105. "Men stumble over pebbles, never over mountains." — Marilyn French
106. "There are two kinds of climbers: those who climb because their heart sings when they're in the mountains, and all the rest." — Alex Lowe
107. "Mountains are Earth's undecaying monuments." — Nathaniel Hawthorne
108. "Mountains are freedom. Treat them respectfully." — Conrad Anker
109. "I would rather be in the mountains thinking about God than in church thinking about the mountains." — Unknown
110. "Climb the mountains and get their good tidings." — Unknown
Nature Hiking Quotes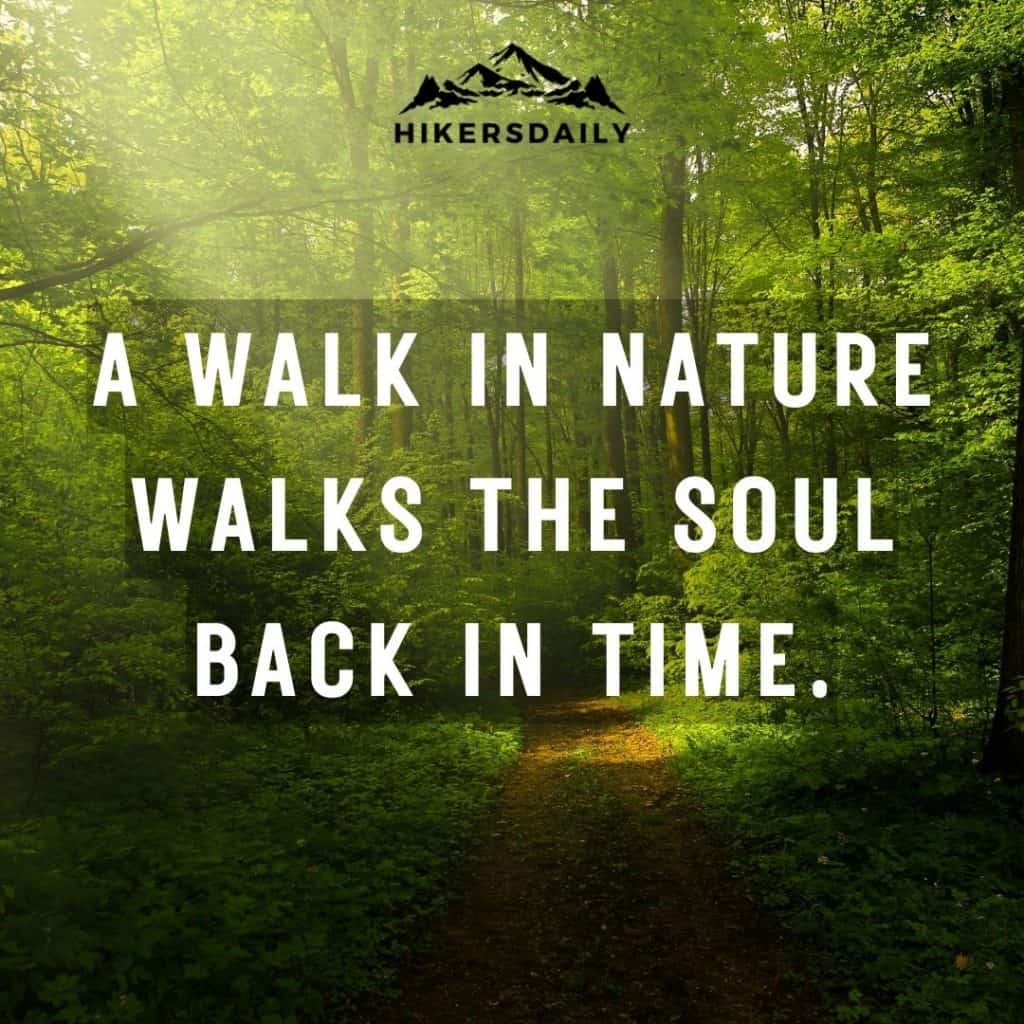 Try one of these beautiful nature hiking quotes next time you're out on a hike and want to show your love for nature.
111. "Look deep into nature, and then you will understand everything better." — Albert Einstein
112. "I go to nature to be soothed and healed, and to have my senses put in order." — John Burroughs
113. "Nature is not a place to visit. It is home." — Unknown
114. "There is pleasure in the pathless woods, there is rapture in the lonely shore, there is society where none intrudes, by the deep sea, and music in its roar; I love not Man the less, but Nature more." — Lord Byron
115. "In all things of nature, there is something of the marvelous." — Aristotle
116. "A walk in nature walks the soul back home." — Mary Davis
117. "The clearest way into the universe is through a forest wilderness." — John Muir
118. "I go to nature to be soothed and healed, and to have my senses put in order." — Unknown
119. "Nature, to be commanded, must be obeyed." — Francis Bacon
120. "Land really is the best art." — Andy Warhol
121. "Come forth into the light of things, let nature be your teacher." — William Wordsworth
122. "The woods are lovely, dark and deep. But I have promises to keep, and miles to go before I sleep." — Robert Frost
123. "Nature does not hurry, yet everything is accomplished." — Lao Tzu
124. "Nature is the art of God." — Dante Alighieri
125. "My soul can find no staircase to Heaven unless it be through Earth's loveliness." — Michelangelo
126. "One touch of nature makes the whole world kin." — William Shakespeare
127. "The poetry of the Earth is never dead." — John Keats
128. "Simplicity is natures first step, and the last of art." — Philip James Bailey
129. "What is the good of your stars and trees, your sunrise and the wind, if they do not enter into our daily lives?" — E.M. Forster
130. "Wilderness is not a luxury but a necessity of the human spirit." — Edward Abbey
131. "In the wilderness, I sense the miracle of life, and behind it, our scientific accomplishments fade to trivia." — Charles Lindbergh
132. "The wilderness is healing, a therapy for the soul." — Nicholas Kristof
Mindful Hiking Quotes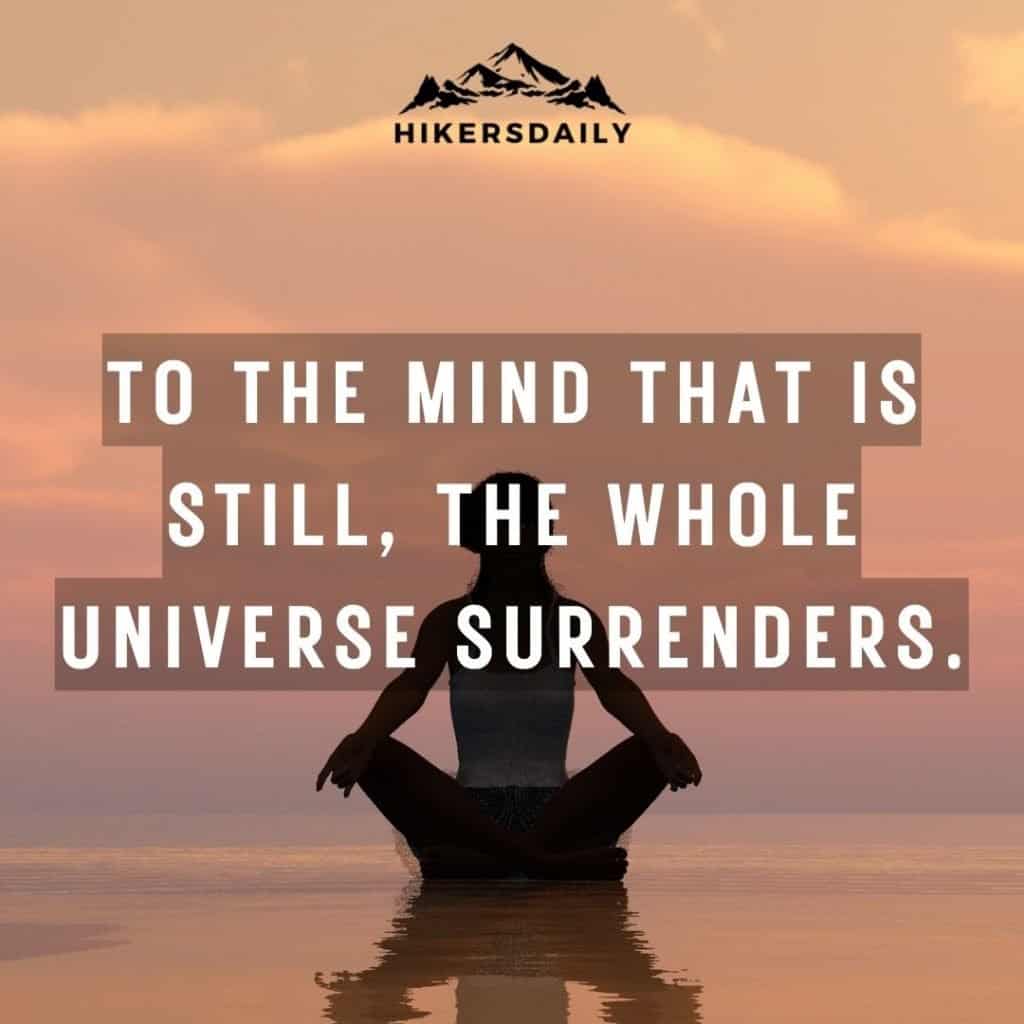 Does hiking put you in a place of zen? If so, you're not alone! These mindful hiking quotes will speak to your heart.
133. "You can find peace amidst the chaos. Just breathe." — Unknown
134. "Take time to do what makes your soul happy." — Unknown
135. "Hiking is living life one step at a time." — Unknown
136. "On earth, there is no heaven, but there are pieces of it." — Jules Renard
137. "To the mind that is still, the whole universe surrenders." — Lao Tzu
138. "Hope is like the sun, which, as we journey toward it, casts the shadow of our burden behind us." — Samuel Smiles
139. "Focus on the journey, not the destination. Joy is found not in finishing an activity but in doing it." — Greg Anderson
140. "To travel is to take a journey into yourself." — Danny Kaye
141. "Nature's music is never over; her silences are pauses, not conclusions." — Mary Webb
Conclusion
We hope you enjoyed reading these hiking quotes as much as we enjoyed putting them together! No matter what your hiking goals are, remember to enjoy the journey and take time to marvel at the world around you. And don't forget to document your hikes with a few Instagram captions. 😉