10 Best State Parks In Delaware (2023)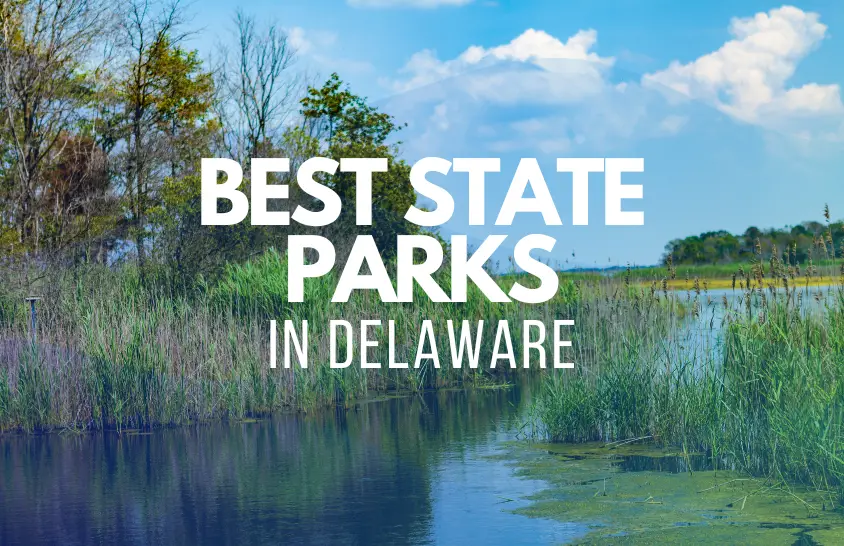 Delaware is home to some of the most breathtaking natural landscapes in the United States, and one of the best ways to explore them is by visiting one of its many state parks. From stunning hiking trails to stunning views, Delaware is truly an underrated state for nature. Here we'll take a look at ten of the best state parks in Delaware that you won't want to miss.
Alapocas Run State Park
If you're looking for a beautiful outdoor escape near Wilmington, Delaware, Alapocas Run State Park is the perfect spot. Here, natural resources like mature woodlands and the Brandywine River meet a rich industrial and cultural history. The Blue Ball Barn – named after the Blue Ball Tavern that once served travelers in the area – was built in the 1900s as a dairy barn that supported A.I. DuPont's Nemours estate. It now houses the Delaware Folk Art Collection and tells the park's story in story form.
For those seeking adventure, head to the state's only natural rock-climbing wall or explore Alapocas Woods on a 0.7-mile-long hike through mature woodlands in the middle of the city. Look for native pawpaw trees and take in all nature has to offer here. Then observe Blue Granite Cliffs made of blue rock gneiss that offers a glimpse into the park's quarrying past and was used to help build Wilmington! You can also enjoy activities like rappelling, hiking, athletic fields, playgrounds, and more at Alapocas Run State Park.
Brandywine Creek State Park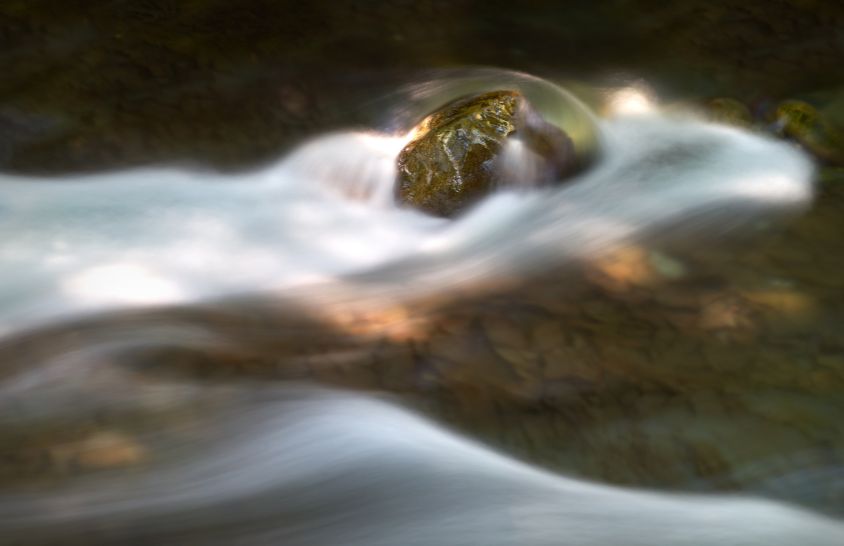 Also located in Wilmington is the Brandywine Creek State Park. Set within the piedmont region of northern Delaware, this park boasts more than 14 miles of trails and a remnant old-growth forest. The stunning blue gneiss stone walls built in the late 1800s and early 1900s are a sight to behold as chipmunks scurry around them.
The park also maintains trails such as Rocky Run Trail and Brandywine Trail that run alongside the creek. If you're looking to get some fresh air, then why not fly a kite or have a picnic in one of the sweeping meadows? Or if it's wintertime, try some sledding or cross-country skiing! Birders will have plenty to observe, with American Kestrels, Blue Birds, and Eastern Meadowlark frequently spotted flying around.
One of the highlights of this park is its Tulip Tree Woods Nature Preserve, surrounded by an iconic three-foot stone wall. Its forest canopy includes American Beech, Red Oak, Black Oak, and White Oak with wildflowers such as Nodding Trillium and Blood Root on the forest floor. If you're looking for some beautiful scenery, Bradywine Creek State Park should be your go-to in Delaware.
Fort Delaware State Park
If you're looking for an adventure unlike any other, Fort Delaware State Park is the place to be. Situated on Pea Patch Island in the middle of the Delaware River, this historical park was originally constructed in the mid-1800s to protect Philadelphia and Wilmington from foreign attacks.
Today, visitors can explore a state-of-the-art fort, learn about its history through living history programs, investigate paranormal activity, and enjoy birdwatching and other outdoor activities. In addition to breathtaking views of the island from the top of the fort, visitors can also see Battery Torbert and the entrance to a mine casemate that controlled mines deployed in the river in the late 1800s and early 1900s. The park is also home to one of America's largest mixed species nest colonies for herons, egrets, and ibis.
Experience life during the Civil War with first-person interpreters dressed in period clothing or watch a Columbiad cannon firing demonstration. Fort Delaware is a truly unique state park experience you won't want to miss out on. 
Fox Point State Park
Experience nature and commerce melding together at Fox Point State Park. This waterfront recreational park was named after S. Marston Fox, who helped convert the land from a waste dumping site into a place filled with beauty.
As you take in the views of Delaware, New Jersey and Pennsylvania, you'll also have the perfect opportunity to spot bald eagles flying overhead and ships passing by on the Delaware River. The Commodore Barry Bridge is visible to the north and the Delaware Memorial Bridge can be seen from the south – it's an incredible sight!
The park features plenty of recreational activities for visitors too. Take a stroll or bike ride along the Riverview Trail and marvel at the size, speed, and power of modern transportation. Enjoy picnicking, kite flying, horseshoes, volleyball or simply relax in one of their pavilions while taking in all that nature has to offer.
First State Heritage Park
Are you looking for a more unique outdoor experience? Step back in time and explore the stories of remarkable Delawareans at First State Heritage Park! This urban park is located on Dover Green, a half-acre that has seen revolutions, freedom seekers, and crusading suffragists.
Take a guided tour with historical interpreters dressed head-to-toe in Revolutionary garb. Visit other sites in walking distance, such as the Old State House, Legislative Hall, The Biggs Museum of American Art, Delaware Public Archives and Johnson Victrola Museum. You can also join in on art programs, cultural and historical programs, school group programs, volunteering and walking tours.
In addition to all these educational activities available at this historic site, visitors can also take some time to relax in the soft grass beneath the towering trees that have shaded guests for 150 years! While there isn't much in the way of hiking trails, you'll have ample opportunity to learn about Delaware's past and simply take a much-needed break outdoors.
Cape Henlopen State Park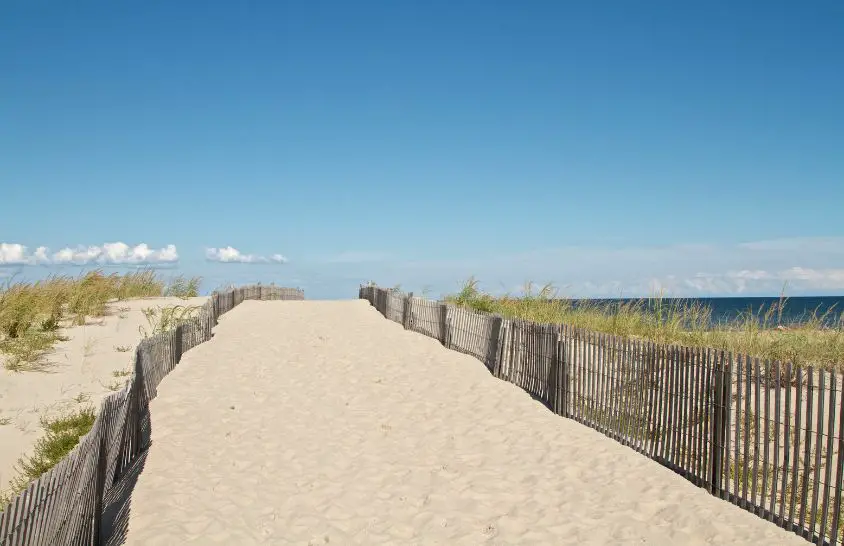 With 6 miles of beaches, Cape Henlopen State Park is the perfect place to explore the coastal beauty of Delaware. Located at the mouth of the Delaware Bay, this beautiful park shaped its history for millennia, from native people living off the land's abundant resources to Fort Miles during WWII.
A diverse collection of habitats makes up the coastal ecosystem here, including barrier dune, coastal beaches, and maritime forests – all teeming with wildlife. Visitors can enjoy activities such as biking, camping, canoeing/kayaking, cross-country skiing, disc golfing, fishing, geocaching, hiking, nature/cultural/historical programs and more.
For those looking to take in some stunning views and wildlife sightings (birds, dolphins, seals), make sure to visit The Point Overlook, where the Delaware Bay meets the Atlantic Ocean. In winter months, you can also hike around The Point on both bay and ocean beaches.
Fenwick Island State Park
For a day of relaxation and fun, look no further than Fenwick Island State Park! Located in Delaware's southernmost beach, this tranquil park offers three miles of ocean beaches and access to the Little Assawoman Bay.
Pack your bag for a day full of activities. Whether you're looking for a peaceful stroll along the shoreline, some sunbathing, or an exciting kayaking adventure, this park has it all. Plus, you can enjoy lifeguard service from Memorial Day to Labor Day or go horseback riding (November 1 – April 30).
Don't forget to take in the history of the park while you're here. The Fenwick Island Life-Saving Station from the late 1800s is gone now but still remembered; plus, you can still visit the World War II-era fire control tower that helped protect the coastline. Ghost crabs are also popular sites along the water; join programs offered at the park to learn more about them and other natural resources.
Holts Landing State Park
Looking for a tranquil escape by the water? Holts Landing State Park in Delaware is the perfect spot. Named after the family that previously owned the land, this park includes a shoreline, intertidal zone, salt marsh, and maritime forest – all in one place.
Take a stroll along the Seahawk Trail – which is completely ADA accessible – and admire the diverse ecosystems at Holts Landing. As you make your way through the trail, keep an eye out for various wildlife like hawks, herons, osprey and songbirds. Whether you're here to fish from the pier or boat ramp, or paddle around in a kayak, Holts Landing has something for everyone.
Don't miss out on their summer concerts, either! You can also use 'The Grove' area for outdoor celebrations or take advantage of their primitive campsite that's available for groups. Other amenities include clamming and crabbing, as well as horseshoes and hunting nearby.
White Clay Creek State Park
If you're looking for a peaceful outdoor escape, look no further than White Clay Creek State Park in Newark. This lush forest spanning piedmont ridges and stream valleys are filled with natural beauty and plenty of activities.
The 37+ miles of trails are popular amongst hikers, bikers, runners, and mountain bikers alike. Whether you're a beginner or an experienced hiker, there's something for everyone here – from paved trails to historical monuments that tell the story of White Clay Creek and the state of Delaware. And if you're a fan of fishing, you'll be glad to know that the creek is stocked with fish – perfect for an afternoon angling session!
Aside from its trails, White Clay Creek also offers other amenities such as cultural/recreational/nature programs (perfect for families!), day camps, disc golf, geocaching, horseshoes, hunting, homeschool programs, mountain biking, organized youth camping, picnicking and summer concerts.
Killens Pond State Park
Named for its 66-acre centerpiece, Killens Pond State Park offers plenty of activities and stunning views of the pond and surrounding habitats.
For those who enjoy water recreational activities, there's a new state-of-the-art elevated boardwalk along Killens Pond Road that allows pedestrians and bikers to safely pass by, as well as benches and bump outs for wildlife watching and fishing. You can also launch kayaks or boats from the boat launch at the far end of the walkway. Plus, there's a waterpark with four tall slides, main pool and baby pool, and even a tot lot.
If you'd rather stay dry on land, there's still plenty to do here. The campground provides a reprieve in the woods – perfect for stargazing or just taking in nature – while baseball fields, biking trails, disc golf course, and horseshoe pits are all available. There's also a Nature Center where you can see live animal exhibits of native reptiles and amphibians. Lastly, don't miss out on hiking the 2.6-mile Pondside Trail either; you may even be able to spot some Pileated Woodpeckers or Barred Owls!
Frequently Asked Questions
What activities can I do in Delaware State Parks?
Delaware State Parks offer a variety of outdoor activities for visitors of all ages. Popular activities include camping, fishing, swimming, boating, hiking, bird watching, and nature photography. You can also enjoy a variety of educational programming, including guided tours, ranger-led hikes, and interpretive programs.
Are bicycles allowed in Delaware State Parks?
Yes, bicycles are allowed in most Delaware State Parks, except for the areas designated for walking and hiking only. Bicycles must be ridden responsibly and follow all park rules. Visitors should watch for pedestrians and be sure to obey all signs posted in the park.
Are pets allowed in Delaware State Parks?
Yes, pets are allowed in most Delaware State Parks. However, pets must be kept on a leash at all times and are not allowed in swimming areas, visitor centers, or buildings. Double-check with the park website before bring your furry friend!
Are Delaware State Parks open year-round?
Most Delaware State Parks are open year-round, but hours may vary depending on the season.
How many state parks does Delaware have?
Delaware has only 17 state parks. In addition, there are three state forest areas and one state wildlife area that is open to the public.
Do I need to pay a fee to enter Delaware State Parks?
Yes, most Delaware State Parks require a daily entrance fee or an annual pass, which can be purchased at any of the park offices. However, in-state residents get a discount compared to out-of-state visitors.