10 Best State Parks In Colorado (2023)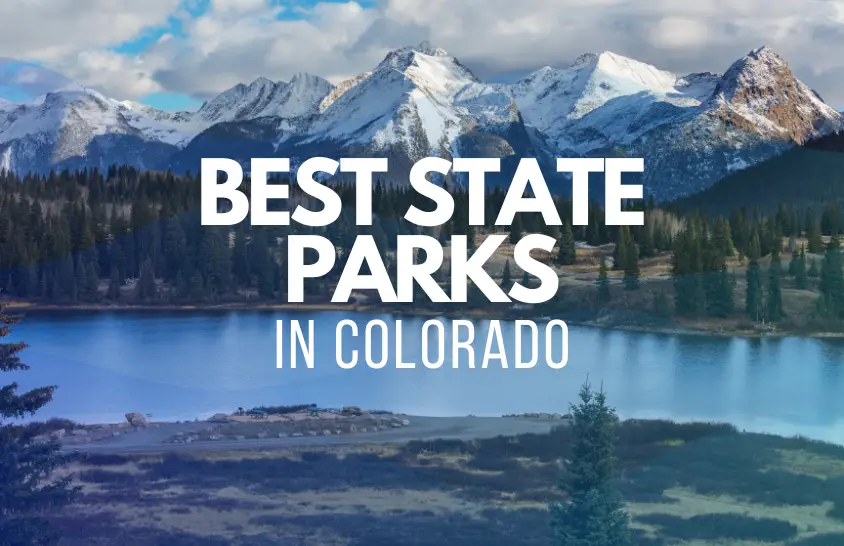 Colorado is known for its stunning natural beauty and has some of the best hiking in the United States, and one of the best ways to experience it is by visiting its parks. Colorado State Parks offer a wide variety of activities, from hiking and camping to fishing and boating. They also provide beautiful scenery and a great escape from the hustle and bustle of city life.
But with so many parks to choose from – not even including its famous National Parks, it can be difficult to decide which ones to visit. Sooo to make it easier, we'll be looking at the ten best state parks in Colorado, and also explore what makes these parks so special, from their history and wildlife to the activities they host.
Barr Lake State Park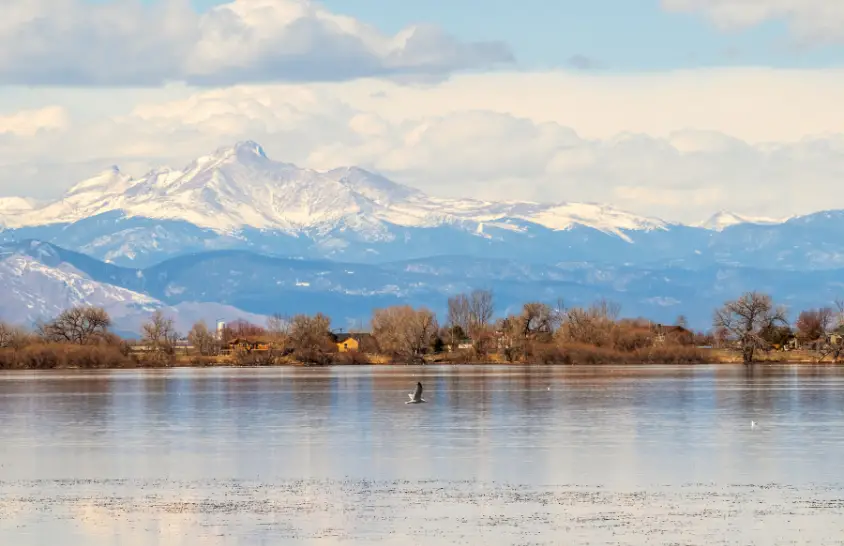 If you're looking for a short getaway from the Denver area, Barr Lake State Park is the perfect spot. Whether you're an avid outdoor enthusiast, boater or naturalist, you'll find something to love here.
Barr Lake has plenty of activities to keep you entertained, such as archery, biking, birding, camping, boating, skiing, fishing, hiking, and horseback riding. The park's 8.8-mile multi-use trail circles the lake and is a great place to get your workout in while admiring the stunning landscape at the same time. Keep an eye out for some of the 350 species of birds that have been spotted here – including bald eagles who nest and raise their young in this area every year!
For those interested in learning more about the park's wildlife, head over to Barr Lake's Nature Center, where there are displays on various creatures and a naturalist who can answer any questions you might have. There's also a new trail called Prairie Welcome Trail which circles east from the Nature Center into the prairie for about one mile with several trailheads. Don't forget to bring binoculars or a spotting scope to get an even closer look at the wildlife!
Cherry Creek State Park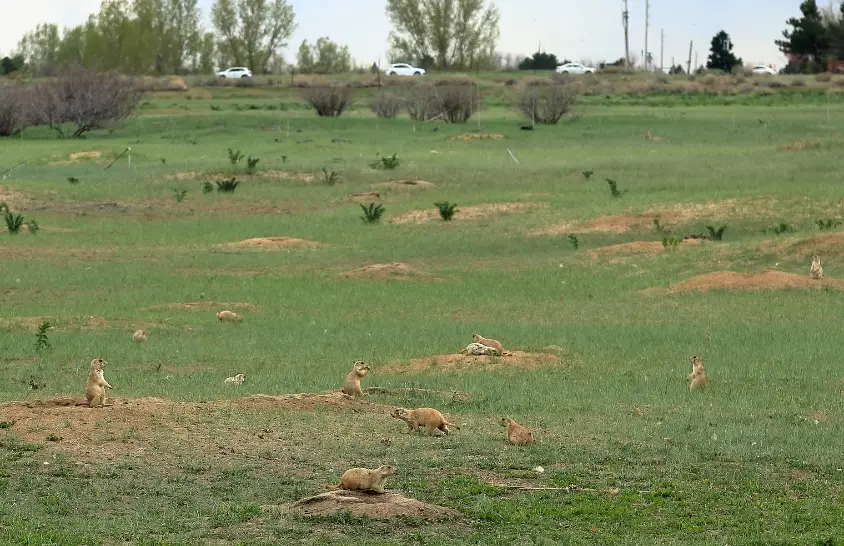 If you're in the Aurora area and looking to get outside and explore, then Cherry Creek State Park is the place for you! With 880 acres of natural prairie land, gentle rolling hills, and all sorts of outdoor recreation facilities, there's something here for everyone.
The park offers all kinds of activities, from biking and birding to boating and skiing. You can also go fishing, camping, hiking, ice skating, horseback riding, sailing, sledding, or snowtubing. Or if you just want to take it easy and relax outdoors with a picnic or some group events – this is the perfect spot for that too.
For hikers or wildlife watchers, walk through the park's grasslands, cottonwood trees, and marshes on the 4.75-mile paved Cherry Creek Trail. This trail is part of a regional trail system from Denver to Castlewood Canyon and is accessible for foot, horse & bike. You'll be able to see mule deer and great horned owls year-round!
Eldorado Canyon State Park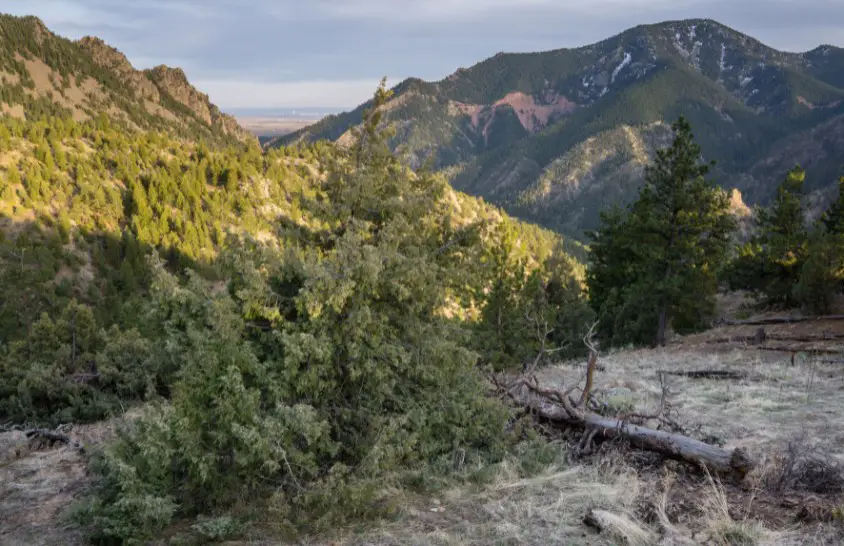 If you're looking for an outdoor escape that's just a stone's throw away from Boulder, you won't want to miss Eldorado Canyon State Park. This hidden gem is the perfect spot for hikers, mountain bikers, rock climbers, and anglers alike.
From easy to difficult trails, there are plenty of options for those looking for a leisurely stroll through picturesque terrain. Don't forget your camera! As you explore the park's towering sandstone cliffs, you'll be sure to capture some incredible shots. In the winter months, there's cross-country skiing and snowshoeing available as well.
And if you wanna' get real physical – the park also offers over 500 technical rock climbing routes that attract climbers from all around the world. With sheer golden walls surrounding you, it'll be hard not to take home some truly unforgettable memories!
Eleven Mile State Park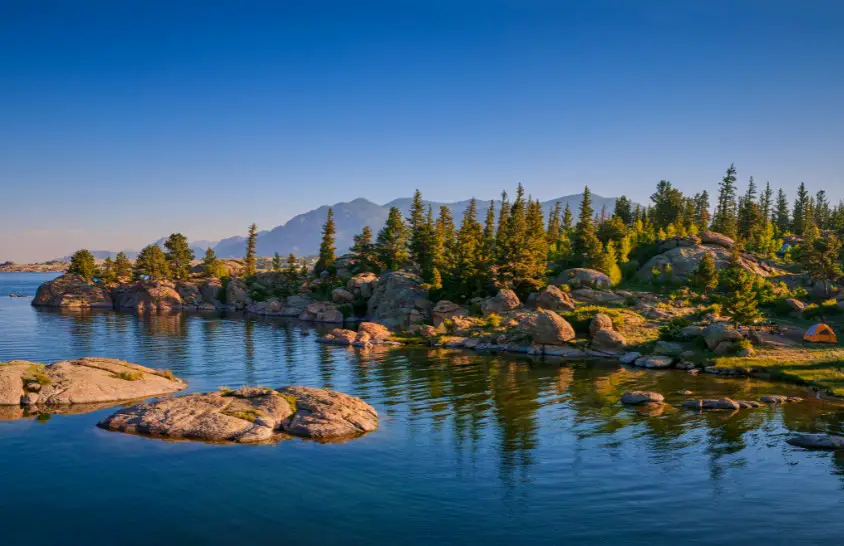 This large reservoir, known as Eleven Mile State Park, is well-known for its top-notch fishing and abundance of activities. Whether you want to reel in a trophy rainbow, brown, cutthroat, kokanee or pike; explore the five miles of scenic hiking and biking trails; or simply take in the breathtaking views from shore, there's something here for everyone.
Boaters will also love Eleven Mile – considered to have just right wind conditions that make it a great spot for sailing, windsurfing, and winter ice boating on this wide-open reservoir. Motorboaters and kayakers will also find plenty of room to play during the summer months.
The park also offers backcountry camping, birding, skiing, hunting, ice fishing and ice skating opportunities. So why not plan your next trip to Eleven Mile State Park?
Lake Pueblo State Park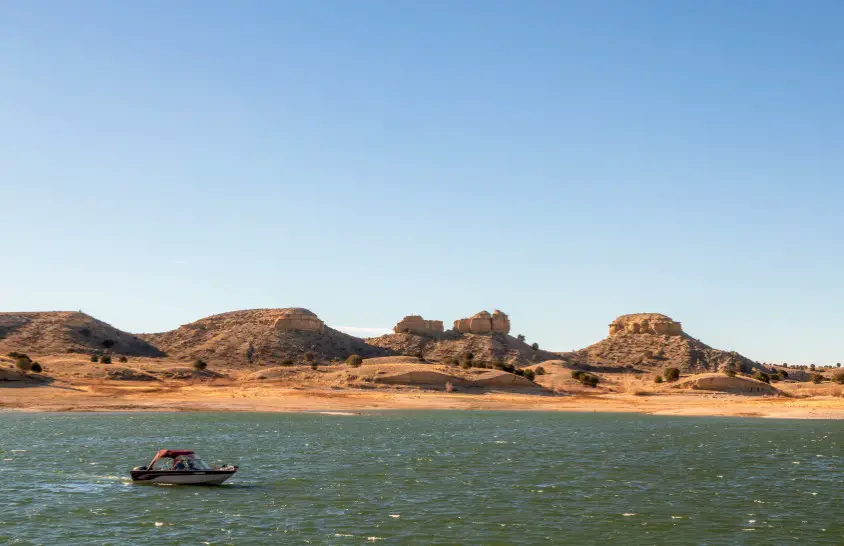 Prepare to be dazzled at Lake Pueblo State Park. With 4,600 acres of water and 60 miles of shoreline to explore, you're sure never to run out of things to do. Boaters will love the two full-service marinas and boat ramps, while those looking for more land-based activities can enjoy a variety of trails for hiking and biking, plus picnicking and nature exploration.
Fishing is another big draw here – many people call it a "hot spot" – plus there's waterskiing, river tubing, sailing, and more. Don't forget to take in the gorgeous views while you're here! Whether it's admiring the Greenhorn and Wet mountain ranges to the southwest or the magnificent Pikes Peak to the north, you'll be mesmerized.
Make sure you don't miss out on a camping experience – it's a great way to turn your day trip into a mini vacation. All in all, Lake Pueblo is an unbeatable destination for outdoor enthusiasts.
Lory State Park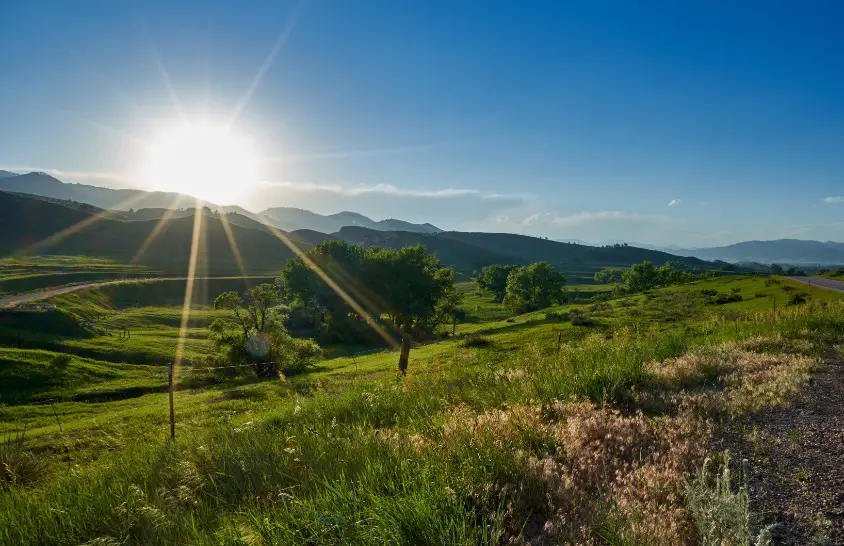 Looking for an absolutely scenic outdoor getaway near Fort Collins? Then look no further than Lory State Park. With 26 miles of trails and rolling valleys to mountainous hillsides, the park offers something for everyone – from short or long hikes to mountain bike rides, horseback rides, trail runs and more.
Not only that, but you can also enjoy activities such as camping, fishing, boating, geocaching, hunting, picnicking, and rock climbing. Nearby Horsetooth Reservoir provides access to bays and coves for canoeists and kayakers looking to explore the area. Power boaters can launch their boats at the Horsetooth Dam boat ramp a few miles away in Horsetooth Reservoir or Boyd Lake State Park.
So whether you're seeking an active escape or a quiet retreat just minutes from suburban Fort Collins, Lory State Park is a great option!
Mueller State Park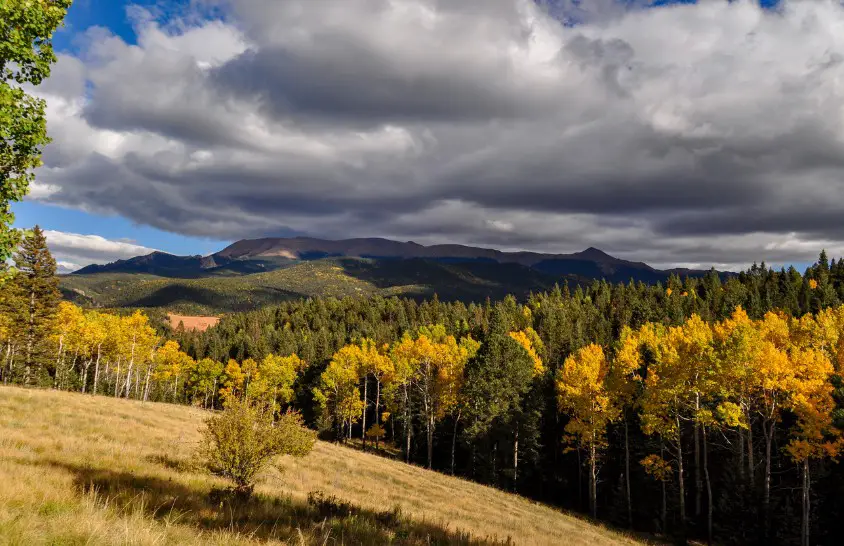 Mueller State Park is the perfect getaway for anyone wanting to explore Colorado's unique wildlife and stunning landscape. Located in Divide, this 5,000-acre park is home to abundant wildlife, including elk, black bear, hawks, and mule deer – all of which can be observed from its wide array of trails and watchable wildlife area.
In addition to its diverse wildlife population, Mueller State Park also boasts a variety of plant-life ranging from native grasses and wildflowers to stands of spruce, fir, pine, and aspen. Its geology is equally impressive; the land is made up of Pikes Peak Granite with several ponds dotting the landscape.
Visitors can enjoy a range of recreational activities throughout the year, including camping, picnicking, fishing, nature studies, and winter activities such as sledding and snowshoeing. With over 50 miles of trails to explore – ranging from short leisurely walks to challenging full-day hikes – there's something for everyone of all skill levels. The family-friendly Dragonfly Children's Nature Trail is wheelchair accessible and offers interactive stations guaranteed to pique the interest of both children and adults alike.
Roxborough State Park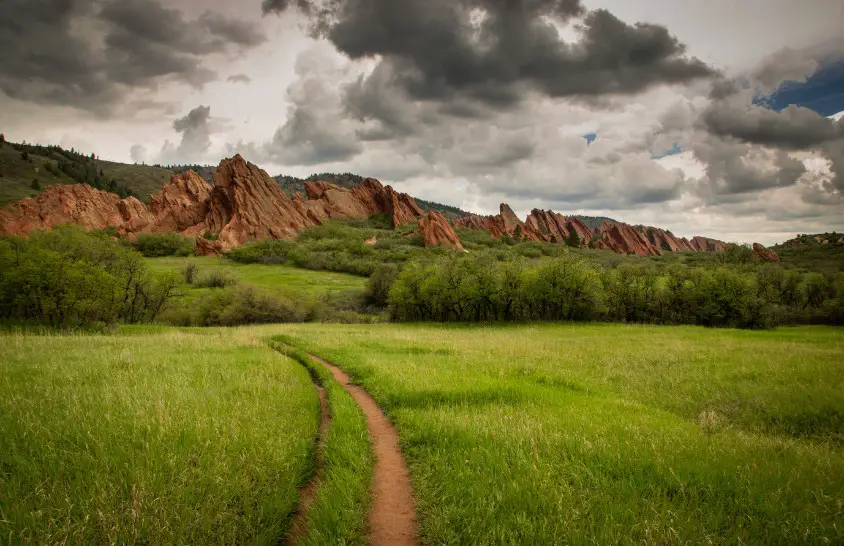 If you're looking for a short, scenic escape from Denver, Roxborough State Park is the perfect spot. Just a short drive southwest of the city, this 4,000-acre park is filled with dramatic red-rock formations and unique plant communities that attract a variety of wildlife ranging from black bears to mule deer.
Hit the trails for an outdoor adventure – you can choose from 9 trails totaling 14 miles that connect to Douglas County Open Space Trails, Pike National Forest Trails, Waterton Canyon, and the Colorado Trail. For a great view of several beautiful rock formations, including the Fountain Formation and Lyons Formation, head to Fountain Valley Overlook Trail – it's only 100 yards from the Visitor Center and features a viewing platform with two benches.
From trail running and biking to bird watching and rock climbing – there's something for everyone at Roxborough State Park. And if you want to make it an overnight trip, backcountry camping is also available.
Spinney Mountain
If you're looking for a relaxed and scenic retreat, Spinney Mountain State Park in Lake George should be your go-to. This beautiful park offers world-class gold medal trout fishing, stunning views of the Collegiate Mountain Range, and 2,500 acres of prime boating space.
At Spinney Mountain, visitors can try out fly fishing or belly boating for some of the best trout in the area. There are plenty of spots to picnic and birders have plenty to observe and discover. Boating enthusiasts aren't left out either – you can enjoy a lazy morning pontoon boat cruise or challenge the afternoon high winds with a windsurf board.
No matter what your outdoor activity preferences are, there's something at Spinney Mountain State Park that'll make you want to stay and explore all day long.
State Forest State Park
Immerse yourself in the great outdoors at Colorado's State Forest State Park. Stretching across 71,000 acres of forests, jagged peaks, alpine lakes, and miles of trails, this park is the perfect destination for any outdoor enthusiast. Whether it's camping, hiking, four-wheeling, snowmobiling, skiing or more – you name it – there's something for everyone here.
North Park is considered the moose-viewing capital of Colorado – with over 600 moose here to observe year-round. But that's not all. You can also go birding, wildlife viewing, and geocaching. And when it comes to trails – there are over 90 miles of hiking trails and 130 miles of mountain biking trails for your exploring pleasure.
This stunning outdoor paradise is waiting for you to discover its beauty – so why wait?
Frequently Asked Questions About Colorado State Parks​​​​​
What types of activities are allowed in Colorado State Parks?
Colorado State Parks offer a wide variety of recreational activities, including camping, fishing, boating, hiking, biking, horseback riding, wildlife watching, and more. Depending on the park, visitors may also find amenities such as swimming pools, playgrounds, picnic shelters, and interpretive centers. Additionally, some parks offer activities such as kayaking, rafting, canoeing, and rock climbing.
Are there restrictions on the number of people that can visit a Colorado State Park?
Yes, each park has its own capacity limits, which are in place to ensure the safety and enjoyment of all visitors. For more information on specific park capacities, please contact the park directly or check the website(s) listed above.
Are there any age restrictions for visitors to Colorado State Parks?
Generally, no. However, some parks may have age restrictions for certain activities and amenities. Please contact the park directly for more information on specific age requirements.
Are pets allowed in Colorado State Parks?
Yes, pets are welcome in most Colorado State Parks. Please contact the park directly for information on specific regulations for pet owners.