The 12 Best Iowa State Parks (2023)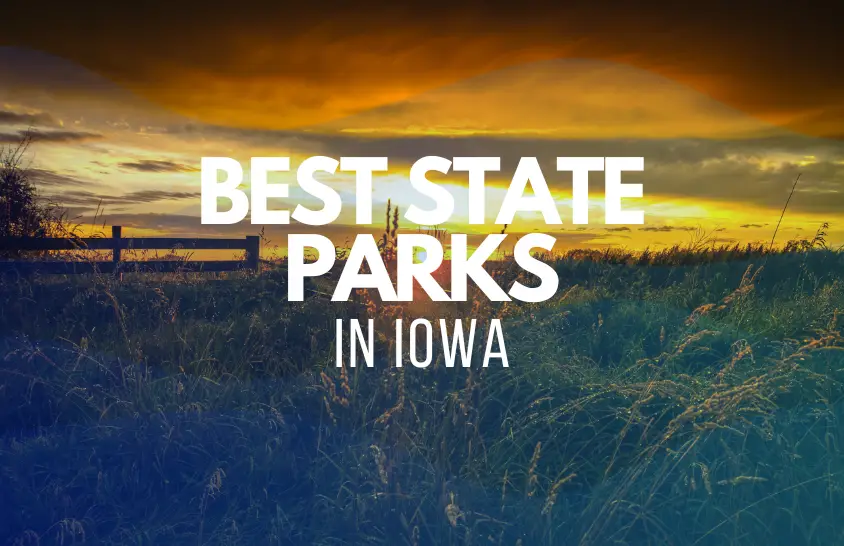 Iowa is a state known for its rich agricultural heritage, but it also boasts a surprising number of natural wonders and outdoor recreational opportunities. The state is home to a diverse range of ecosystems, including towering bluffs, tranquil lakes, and rolling prairies, all of which can be found within its impressive network of state parks.
Whether you're a nature enthusiast, a history buff, or simply looking to escape the hustle and bustle of everyday life, Iowa's state parks have something for everyone. In this article, we'll explore some of the best state parks in Iowa, highlighting their unique features and why they're worth a visit.
Backbone State Park
If you're looking for a unique outdoor escape, look no further than Backbone State Park. This park was Iowa's first-ever state park and has something for everyone – from adrenaline seekers to nature lovers. It's known for its famous Devil's Backbone, a steep and narrow ridge of bedrock from the Maquoketa River that forms the highest point in northeast Iowa.
The park features a 21-mile multi-use trail system, perfect for hiking or rock climbing. If you're an angler, there are plenty of opportunities to fish in some of Iowa's best trout streams. You can also take your boat out and explore the waters around the area. There are even camping grounds available to stay overnight if you wish.
The trails at Backbone State Park provide breathtaking views and enough of a challenge to get a good workout in. Plus, the night sky here is spectacular and is a great excuse to be unplugged from connectivity.
Big Creek State Park
Looking for a fun family getaway? Look no further than Big Creek State Park in Polk City, Iowa. Only 20 miles from Des Moines, this state park is the perfect spot for picnicking and outdoor recreation.
The centerpiece of it all is none other than Big Creek Lake – home to the largest beach in the state park system. Here, you can take a dip in the lake, soak up some sun on the sand, or even go fishing. Boating is also popular here, with kayaks, paddle boards, pontoon boats, and bikes available to rent at the beach concessionaire.
Take a day trip to Big Creek State Park and explore nature on foot or bike along the 27-mile Neil Smith Trail – which leads all the way from the beach through the Saylorville Lake area to Des Moines. In wintertime, cross-country skiers can enjoy a 3.5-mile trail on the disk golf course.
Clear Lake State Park
Make your way to the stunning Clear Lake State Park in Iowa for a weekend of fun in the sun. With 3,000 acres of crystal clear lake water, this park offers plenty of activities for the whole family, such as boating, fishing, windsurfing and more. Plus, it's a prime spot for summer tourist destinations with its nearby town full of stores and restaurants.
If you're looking to make a day trip out of it, don't miss out on the 900-foot sandy beach area and 50 acres of open spaces and mature oak trees. Visitors can also take their pick from canoeing, kayaking, jet skiing, windsurfing, sailing or sightseeing at the lake. Plus, year-round fishing brings anglers from all over to test their luck catching walleye, muskie, northern pike and more.
Lake Macbride State Park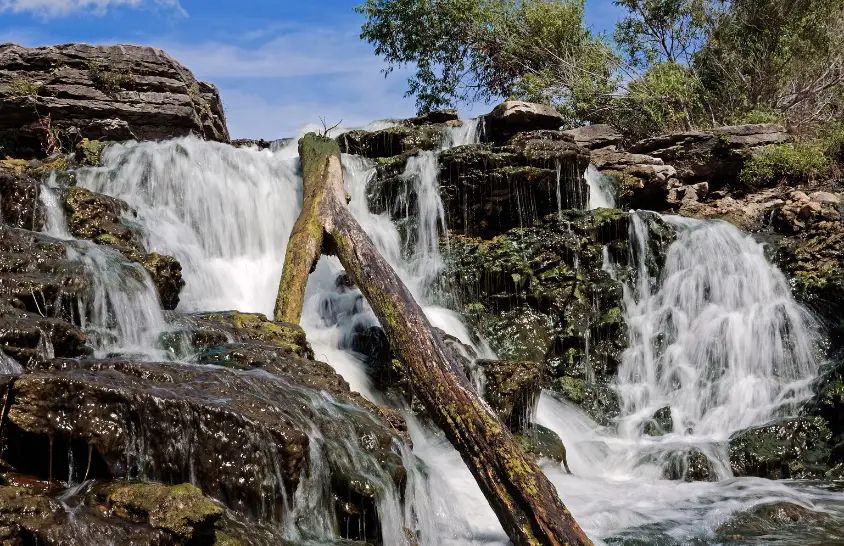 Looking for a great outdoor escape with some awesome waterfalls in Iowa? Look no further than Lake Macbride State Park. Named after Thomas Macbride, the "father" of Iowa conservation, this park is the perfect spot to soak up the sun and get in touch with nature.
At Lake Macbride, there's something for everyone to enjoy. If you're looking to explore, take one of the many multi-use trails around the lake and admire the sights and sounds of native birds. Take a kayak or paddle boat out on the lake – or if you're feeling brave, go for a swim! And don't forget your camping gear; Lake Macbride has plenty of camping spots available throughout the year.
In winter months, cross-country skiing and snowmobiling are popular activities to try on your visit. So the next time you're in Iowa, definitely check out Lake Macbride – and make sure you bring your camera!
Ledges State Park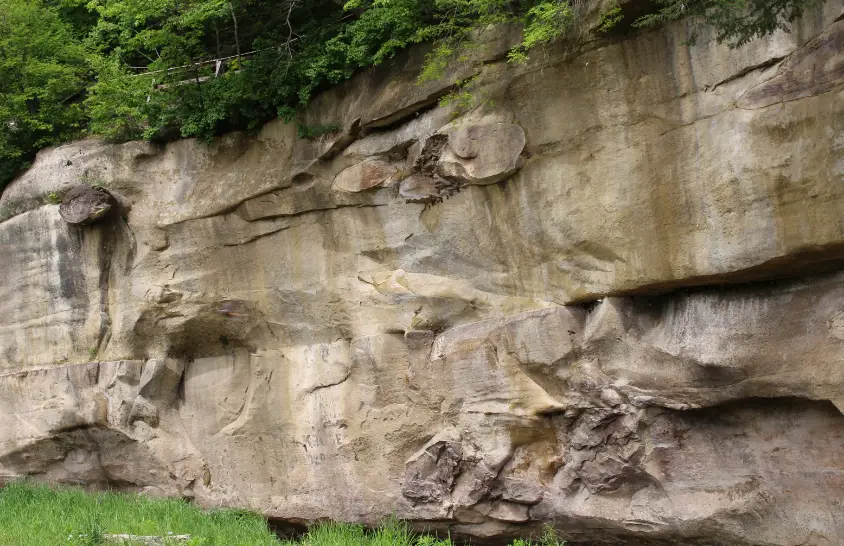 Pack your bags and get ready for a breathtaking outdoor adventure at Ledges State Park in Iowa. This historic park is one of the top destinations for hikers and outdoor enthusiasts, with a four-mile trail system that winds through steep slopes, sandstone ledges, and stunning views of the Des Moines River. Along the way, you'll also find structures from the 1930s, plus an iconic stone bridge spanning Peas Creek.
One of the highlights of the park is the hike to Lost Lake, which features a fully accessible interpretive trail. You can also explore an interpretive lichen trail near Oak Woods shelter – perfect for those who want to get up close with small plant-like creatures growing on trees and rocks – don't forget your magnifying glass!
For campers, Ledges State Park offers newly renovated campsites – some even have primitive hike-in options if you're feeling adventurous. Modern restrooms, showers, and playgrounds are available in the campground too. Plus, advance reservations can be made online if you plan to stay overnight or longer.
Lewis and Clark State Park
Take a trip to Lewis and Clark State Park in Onawa, Iowa for a memorable outdoor adventure. Not only is this park incredibly picturesque, it's also an important area along the Lewis and Clark expedition route from 1804.
At the Visitors Center, you can learn all about the history of the park and its role in the expedition. Or, you can go out on a working keelboat and experience what it was like to cross the lake during that era. The Annual Lewis and Clark festival each June is also a great way to get involved in this historic site.
If you're looking for outdoor activities, there's plenty to choose from. Whether you want to hike on one of their trails (including an accessible paved lakeshore path), boat or fish on Blue Lake, camp under the stars, or just relax at their sandy beach area – there's something for everyone here.
Maquoketa Caves State Park
Maquoketa Caves State Park is the perfect spot for adventurers, explorers, and outdoor lovers alike. This unique park has more caves than any other state park in Iowa, plus towering bluffs, geologic formations, and forests full of natural beauty – all accessible through a six-mile trail system.
History buffs will also appreciate Maquoketa Caves State Park – it's been a popular spot for picnickers and hikers since the 1860s. Put on your hiking shoes and grab a flashlight to explore the 1,100-foot "Dancehall Cave" or any of the other 13 caves throughout the park. Some can be explored on foot while others require some serious spelunking! There are also plenty of scenic views to take in along the way, including the 50-foot tall "Natural Bridge" standing above Raccoon Creek and the 17-ton "Balanced Rock."
Camping is also available for those who want to stay longer and explore even more – and with all these caves to explore, you might as well!
Palisades-Kepler State Park
If you're looking for the perfect outdoor escape just outside Cedar Rapids, head to Palisades-Kepler State Park. This beautiful and historical site features dramatic river bluffs, deep ravines, majestic trees, and a wealth of wildlife – truly a sight to behold. The park was established in 1922 and even expanded in 1928 when Louis H. Kepler donated his estate to the park. Much of its rustic character can also be attributed to the Civilian Conservation Corps who built structures in the 1930s.
The park offers plenty of activities for all types of visitors. Hike five miles of trails through diverse wildlife and forest habitats, or fish in the nearby Cedar River for channel catfish, bass, and walleye. Overnight guests can stay at one of four cabins or at the campground with electrical hookups and modern shower facilities. There are also two open picnic shelters available for rentals through their online reservation system.
Whether you're looking for a weekend getaway or a day trip out of Cedar Rapids, Palisades-Kepler State Park is an excellent destination that won't disappoint.
Pikes Peak State Park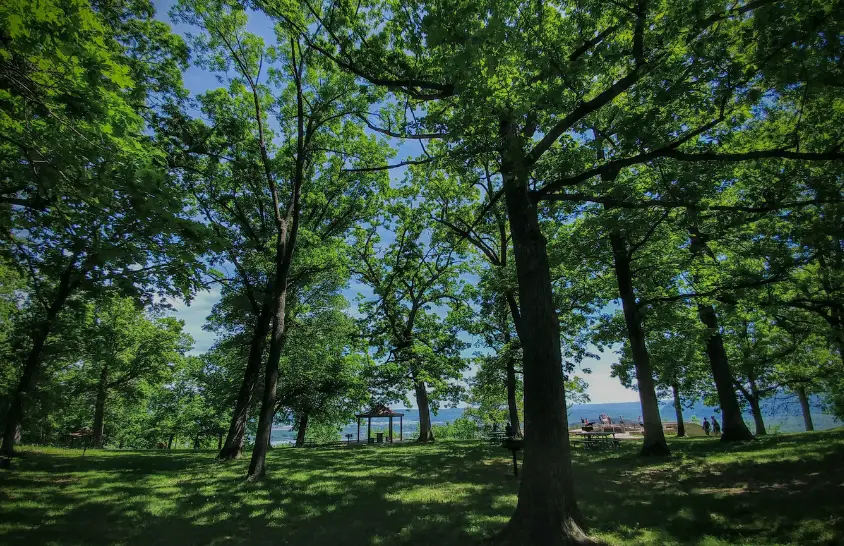 Experience Iowa's stunning nature scenery at Pikes Peak State Park. Located on a national scenic byway, the park offers 11 miles of trails teeming with majestic bluffs and valleys, perfect for anyone looking to explore the great outdoors. Hike the half-mile boardwalk to Bridal Veil Falls or take the four-mile trail to Point Ann and admire the breathtaking views of McGregor and the Mississippi River.
As you explore, keep your eyes peeled for fossil remains – brachiopods, gastropods, and cephalopods – that can be found along the trails. For those wanting an even more unique experience, visit Effigy Mounds National Monument seven miles north of the park. This monument preserves more than 200 mounds built by Native Americans from the Woodland culture, including Bear Mound – an effigy built by Native Americans from the Woodland era. Mountain bikers are also welcome; bikes are allowed on the trail from Homestead Park to McGregor parking lots.
Apart from hiking and biking, Pikes Peak State Park also offers other activities such as camping and shelter rentals.
Rock Creek State Park
Escape to the great outdoors at Rock Creek State Park, an idyllic destination for those seeking a weekend getaway in Iowa. Nestled amidst stunning natural scenery, this premier camping spot offers a plethora of year-round outdoor activities for visitors to enjoy, including horseback riding, year-round fishing, and boating and paddling.
The park's nearly 200 campsites are located in picturesque locations, ranging from waterfront sites to those surrounded by lush wooded areas. While at the park, you can boat on the crystal-clear waters of Rock Creek Lake, one of central Iowa's most popular lakes, with motor boats being operated at a maximum speed of 5 mph. The park concessionaire offers boat and paddle sport rentals along with snacks and fishing bait.
Fishing enthusiasts will be delighted to discover that Rock Creek Lake is brimming with crappie, bluegill, largemouth bass, walleye, and channel catfish. The lake also boasts a healthy population of big carp, allowing for bow fishing. Visitors can also explore the park's more than eight miles of non-paved trails on foot or take advantage of the five-mile bike trail near the east side of the park. 
Union Grove State Park
If you're looking for a peaceful and picturesque outdoor escape, Union Grove State Park in Iowa is the place to be. The 110-acre Union Grove Lake is the park's centerpiece, and its often-photographed waterfall and dam are nestled in the woods nearby.
It's also a great spot to get your dose of nature. Hike three miles of scenic trails that take you through diverse plant and wildlife habitats. You might even run into some deer, turkey, songbirds or waterfowl along the way. There's also an impressively re-established prairie and pine plantation in the northeast corner of the park.
For those who prefer to stay on land, there are plenty of activities offered too. Enjoy the outdoors by going boating, camping, picnicking, or swimming at Union Grove State Park. Winter visitors can even go snowmobiling along designated trails.
Wildcat Den State Park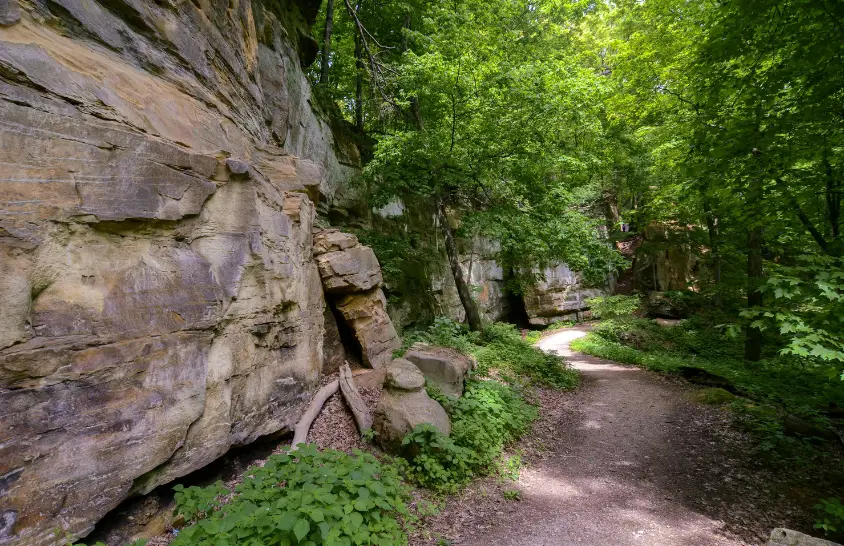 If you're looking for a place to explore both history and the great outdoors, Wildcat Den State Park in Muscatine is the perfect destination. This incredible park is home to some of the most beautiful views in Iowa, and a variety of trails that wind through its sandstone bluffs. And for a glimpse into Iowa's past, visit the Pine Creek Grist Mill – one of the oldest working grist mills between the Mississippi River and the Rocky Mountains.
When you're done exploring, reserve one of two open shelters in the park – one of them being ADA accessible – or camp at one of their primitive sites with access to water and vault toilets (no electrical service or showers).
For some stunning views and fascinating natural formations, take on the trails at Wildcat Den. Highlights include "Steamboat Rock" and "Devil's Punch Bowl", which are best observed during summer and fall when colors illuminate their surroundings.