Hiking In Dallas: 15 Stunning Hikes Near Dallas, Texas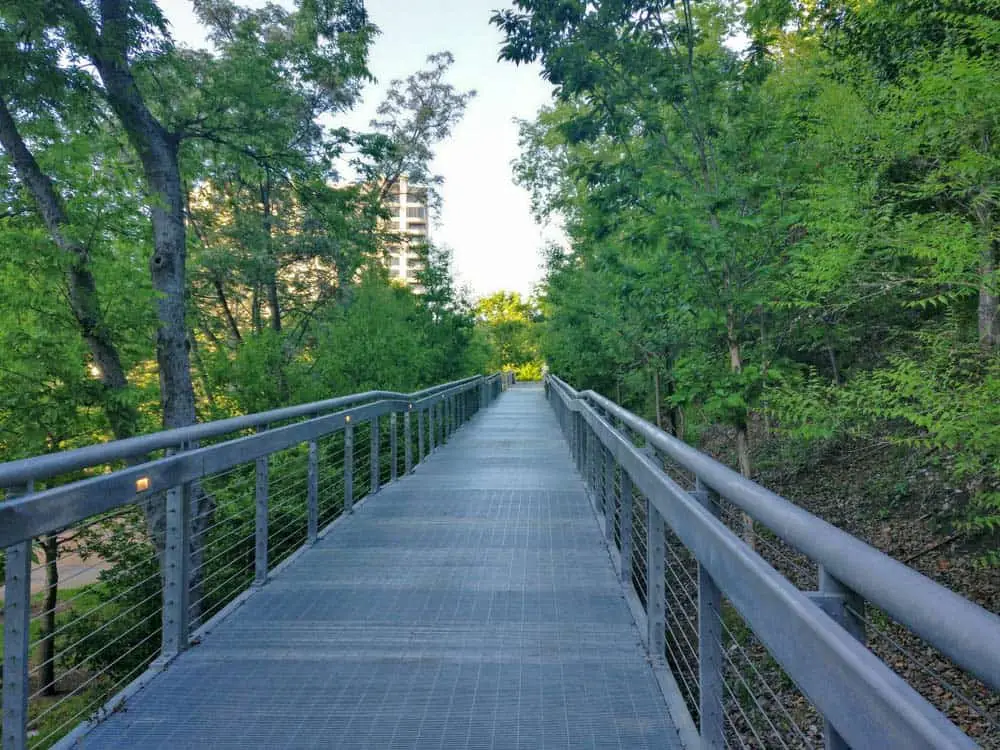 Dallas is a hidden treasure trove of hiking trails! The city may not be known for its lush green scenery and vast natural beauty, but that doesn't mean there aren't any surprises waiting on your next adventure. You'll find some challenging terrain with steep scrambles or leisurely strolls depending upon what you're looking to do – all within reach from one location: Dallas.
With 15 scenic and unique trails, there's sure to be something for everyone. So lace up your boots because it's time that we take you on a hike through our cityscape – complete with sweeping views, lush green landscapes, local wildlife, and, of course, wildflowers! If you're looking outside of Dallas, check out the best state parks in Texas to choose your next adventure.
Before we dive into the trails though, here are some hiking tips to ensure that you have the best hike possible. 
Tips For Hiking In Dallas, Texas
Insects and mosquitos can be pesky in Dallas, but you'll never need to worry about them when wearing some of the best repellents on earth. I recommend DEET-based products.
Dallas is much less humid than Houston, but historically, reaches even hotter climates. Be careful of heat stroke while hiking during the summertime.
Be mindful, but not scared of wildlife. You will most likely encounter wildlife while hiking in Dallas, but please don't disturb them as they are protected by law.
While you're on the trail, give yourself at least an hour to get back from each mile. This will help prevent dehydration and muscle cramps by giving your body time for recovery after intense activity.
This isn't Dallas-specific, but hike in a single-file when others are nearby and make room for the other hikers on your trail. Be courteous to everyone you meet while hiking so that they feel safe around you as well.
And most importantly, always remember to take plenty of water! You're gonna need to stay hydrated, especially on long trails!
The 15 Best Hiking Trails In Dallas
White Rock Lake Trail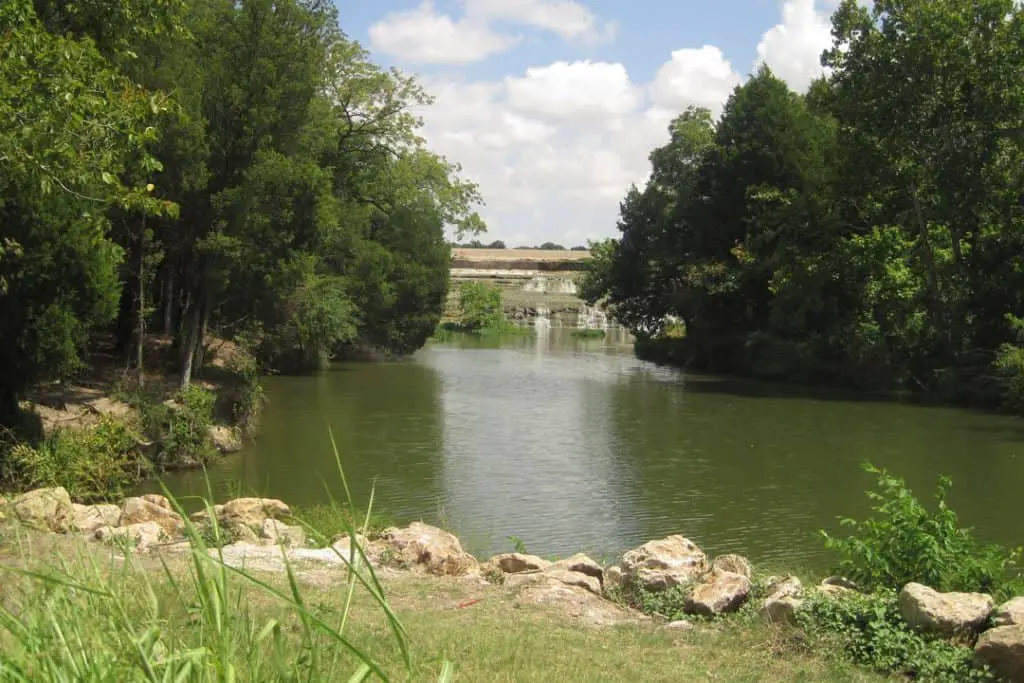 This 9-mile trail loops around the beautiful White Rock Lake, providing an excellent view from any angle during your hike. 
White Rock Lake is a 1,015-acre city lake located in northeast Dallas. The lake was constructed in 1911 as a water source for the city of Dallas. White Rock Lake is fed by White Rock Creek, which flows into the lake from the northwest.
This hike is easy, and excellent for hikers of all skill levels. On average, if you want to take the full loop, it will take you around 3 ½ hours to finish. The surrounding area is a very popular area for hiking, in addition to fishing, bird watching, and paddle sports. so you'll likely encounter other people while exploring. The trail is open year-round.
Length in Miles: 9.0
Elevation Gain: 180 ft
Difficulty:

Easy

Official Website: White Rock Lake
---
Cedar Ridge Loop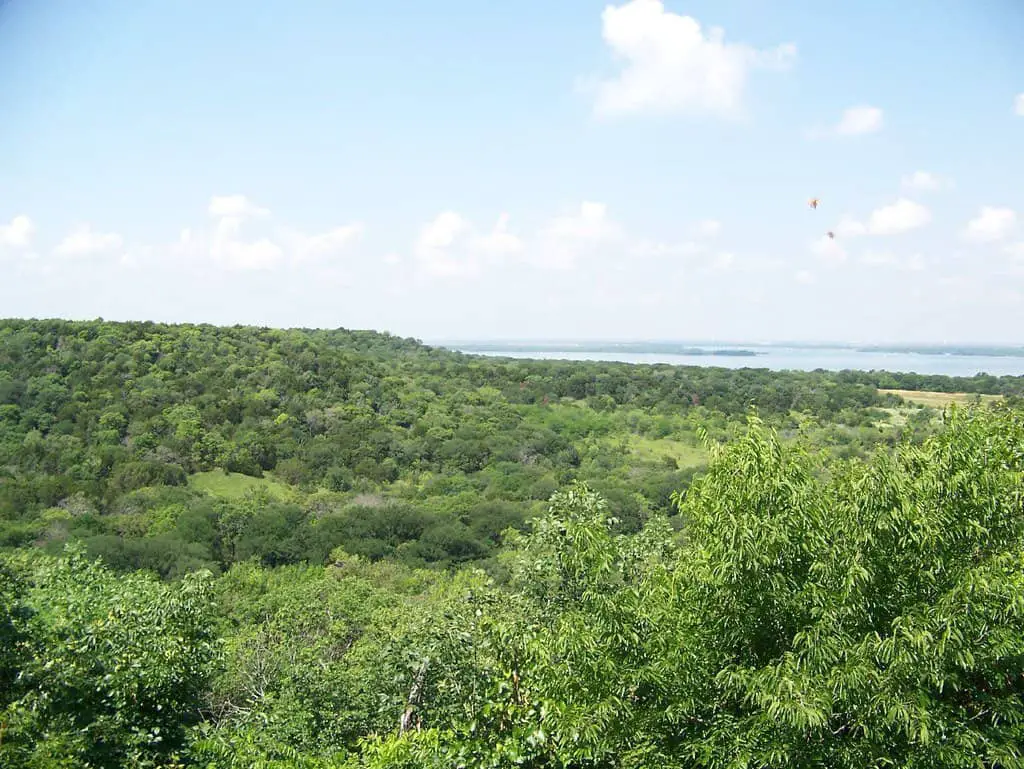 At an elevation of 755 feet, Cedar Ridge Preserve is a haven for nature lovers just 20 minutes from downtown Dallas. The 600-acre preserve features about 15 miles of trails, native trees, and wildflowers as well as butterfly gardens with limited picnic areas that offer scenic views to enjoy your meal on! You may even catch sight of wildlife such as birds or insects while out exploring this natural habitat – it's certainly not uncommon at all in these parts.
This hike would be a bit more challenging for a beginner hiker, so hike with caution. This 5 ½ mile hike would on average take you about 2 hours to complete. This is a very popular area for hiking and trail running, so you'll likely encounter other people while exploring. Dogs are welcome and may be off-leash in some areas.
Length in Miles: 5.5
Elevation Gain: 682 ft
Difficulty:

Moderate

Official Website: Cedar Ridge Preserve
---
Boulder Park Trail
This hike is a moderately challenging one, but relatively short compared to other trails of this difficulty level. With a span of about 4 miles, this hike will only take you 1 ½ hour to complete. Because this is a more difficult trail, markers are present throughout your hike to help keep you safe and on track.
Following the Red trail will lead you to the entire Boulder experience which includes all the hills, rocky descents, dips, and wet creek crossings. Make sure you have the proper equipment necessary for this hike, most importantly a good pair of hiking shoes. Following the Blue trail will lead you past all the harder stuff, and give you a more friendly hike that is good enough to take the whole family.
This trail is a very popular area for hiking, mountain biking, and trail running, so be sure to say hello to all the people you're sure to encounter while exploring. The best time of year to take this hiking trail is from March through October. You can take your dog along with you, but it must be on a leash the entire time.
Length in Miles: 4.0
Elevation Gain: 259
Difficulty:

Moderate

Official Website: Boulder Park
---
Arbor Hills Nature Preserve Trail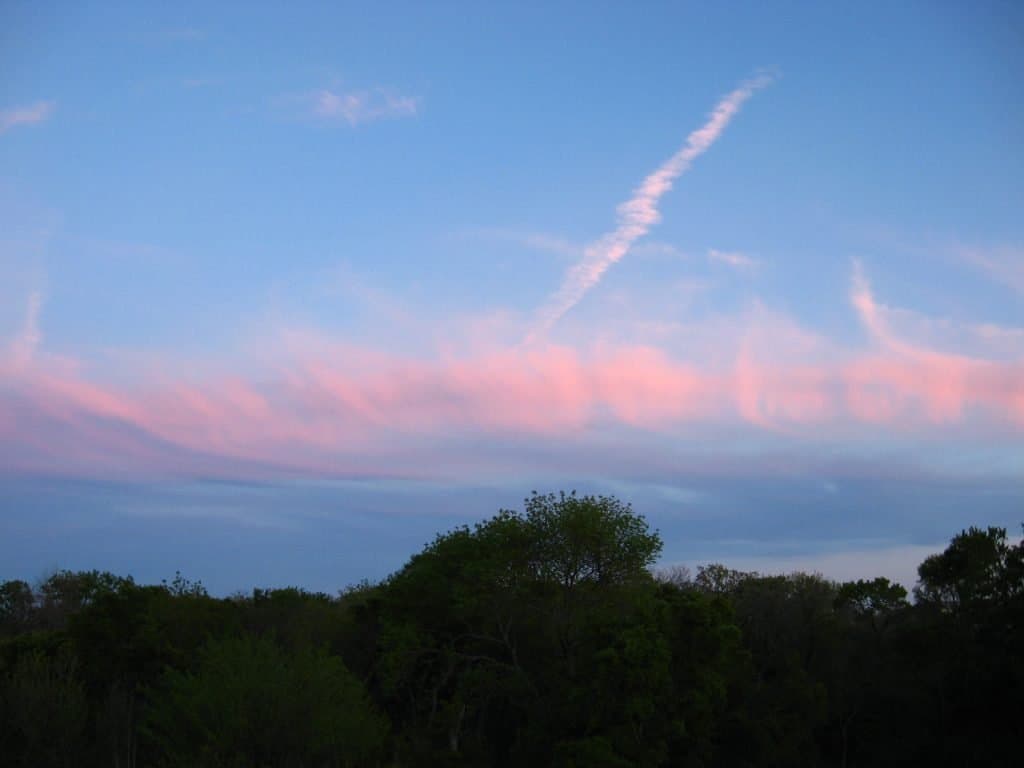 The Arbor Hills Nature Preserve is a 200-acre park located about 25 minutes north of Downtown Dallas. The park features vast trails of natural beauty perfect for casual strolling, jogging, hiking, and other outdoor activities. The trail will only take you about an hour to finish, and you might spot some horses along the way, as the area is very popular for horseback riding.
The preserve has a natural biofilter for cleaning surface run-off from the parking lot before it re-enters the groundwater tables. When you're on your hike, you can take a moment at the park's observation tower to take in a spectacular view of the city.
---
Katy Trail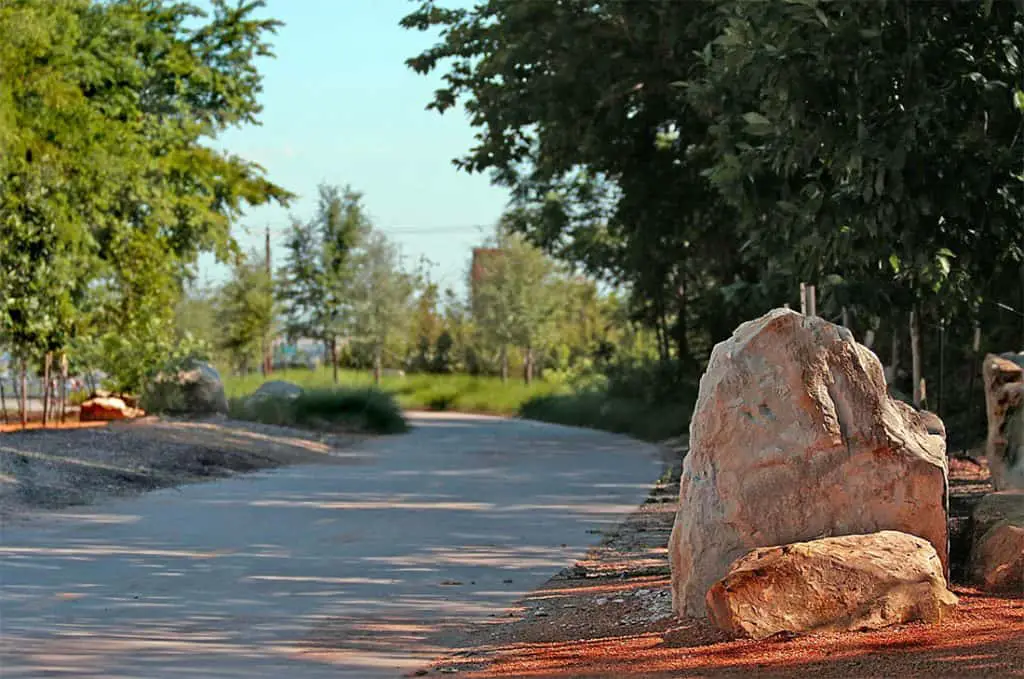 When it comes to hiking in Dallas, the Katy Trail is one of the most popular hiking spots there is. Katy Trail is a 7.7 mile out & back style hiking trail located right in the heart of Dallas Texas. The area is a popular, shaded, and paved trail in the downtown area that is great for walking, cycling, rollerblading, and cruising. There are designated trails specifically for those on wheels, so pedestrians can stroll peacefully. 
Katy Trail is one of the most iconic destinations in all of Dallas. Once an abandoned railway line, it's now become a scenic path that leads you through some gorgeous scenery while giving your legs an unforgettable experience with its many turns and bumps! The trail is so popular that it attracts over 1.5 million visitors every year who want to take in the beautiful scenery on this well-maintained path.
Mile markers on the Katy Trail show you how far away your next landmark is. Every quarter mile, there's an indicator that tells what direction it will be in and whether or not this section of trail has been completed already for those who like to hike at their own pace. This will also help you keep on your track and not find yourself lost.
Length in Miles: 7.7
Elevation Gain: 187
Difficulty:

Easy

Official Website: Katy Trail
---
Kiest Park Trail
Kiest Park Trail is a 3-mile loop trail located in Southwest Dallas that offers beautiful scenic views for hikers of all skill levels. Located in the Oak Cliff area of southwest The Kiest Park Loop Trail meanders through the 264-acre Kiest Park, connecting several playgrounds, athletic fields, formal gardens, natural areas, a recreation center, and a cozy picnic area.
With all this and more to explore, the best times to take a hike on the trail are from April until September. Dogs can also come on the trail and use it as they please. 
Length in Miles: 3.0
Elevation Gain: 50
Difficulty:

Easy

Official Website: Kiest Park Trail
---
Spring Creek Forest Trails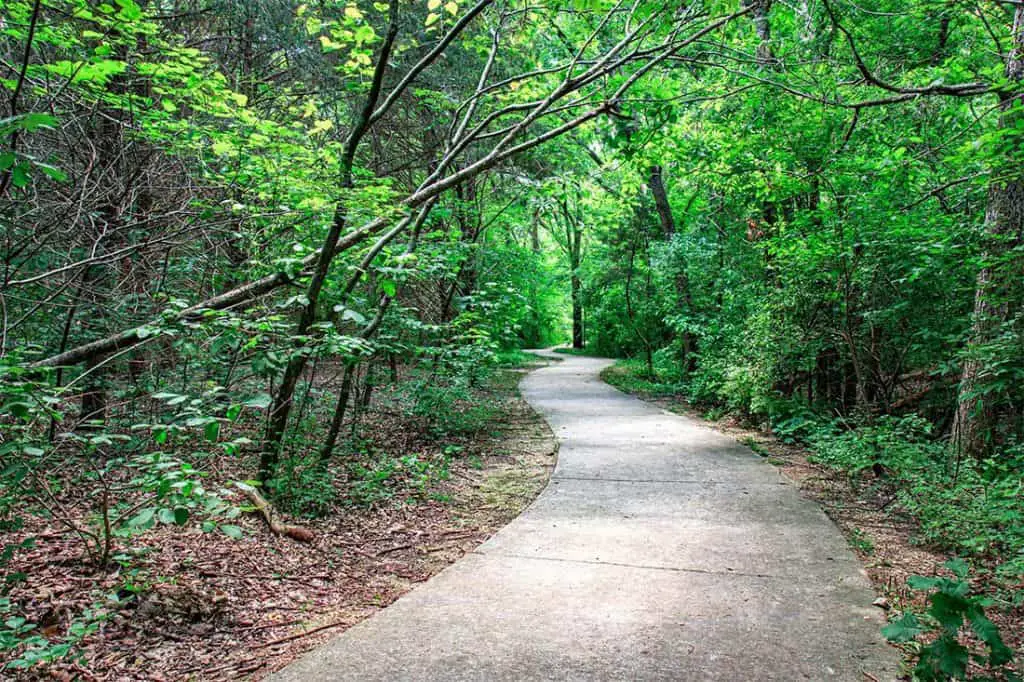 25 minutes northeast of downtown Dallas lies the Spring Creek Forest. The Spring Creek Forest Trail is a super family-friendly loop trail clocking in at just under a mile that passes through the surrounding woods and alongside a creek. The loop to the west of the trail is unpaved and will sometimes appear to be a bit overgrown, depending on the time of year.
Make sure that if you do decide to go to the western parts, you are wearing appropriate clothing to protect yourself from the growing foliage. 
The trail is just one of several other trains that Spring Creek Forest has to offer, but is the one that has the most immersive nature experience to offer. Generally, this loop should only take you about 20 minutes to complete and is a perfect starting trail for your little hikers in training.
---
Texas Buckeye Trail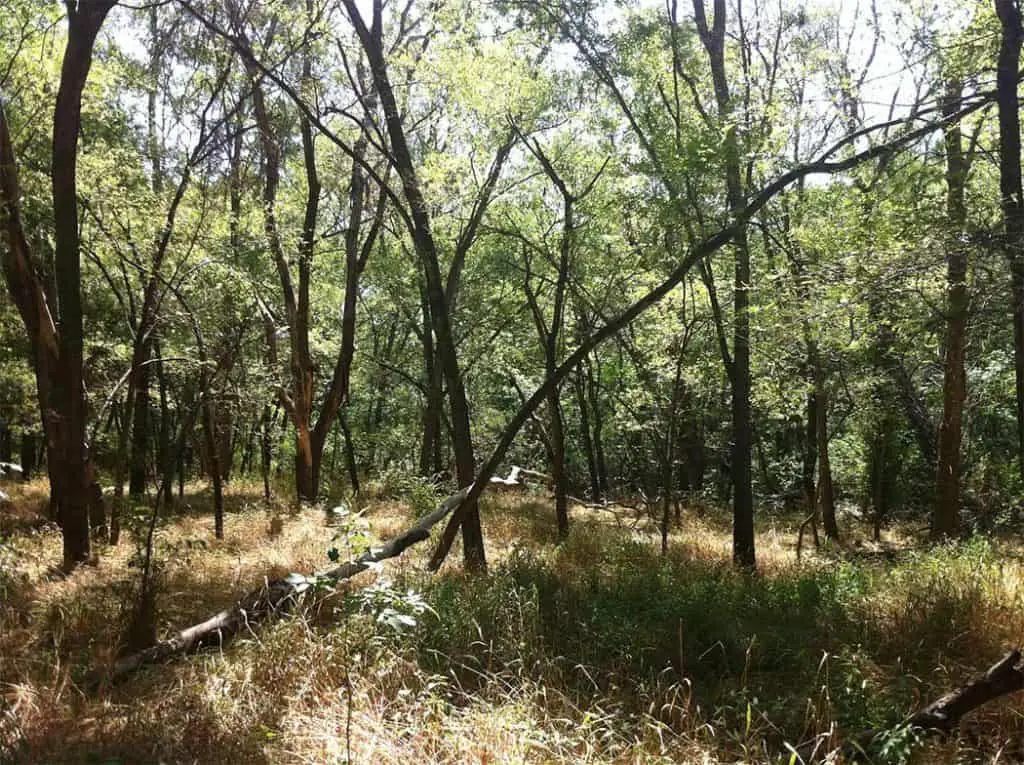 This 2-mile trail located in Southeast Dallas is named for the large crowd of native Texas Buckeye Trees located near the end of the trail. The trail is exceptionally beautiful during the springtime when you can observe the trees come into full bloom. 
Make sure to check the weather before heading out on this trail, because when it rains, the area can become very muddy and slippery. The trails have been impacted by major floods in the past and are usually marked with red flagging tape during the spring downpours. 
Besides seeing the beautiful blooming buckeyes in the spring, you can walk in the shade of the grand bur oaks, cedar elm, and pecan trees throughout the year. A fan favorite hiking experience is walking through the fields of Virginia wild rye in the springtime. The grass is native to texas and shines a very lovely shade of green. The trail also features bushes of swamp privet that can be found covered with yellow blooms. 
---
Goat Island Preserve Trail
This 5 mile out and back trail is located in Southeast Dallas. This trail, known as Goat Island, is named for one of two islands located in the Trinity River where the trail happens to run alongside.
This trail is very easy and is perfect for hiking, bird watching, and fishing. It can get pretty quiet around these parts of Southeast Dallas, so don't expect to come across too many people on your adventures. 
Goat Island is home to over 500 acres of land, making the area the second-largest nature preserve in the County's open space system. The nature reserve is also a part of the surrounding county's goal to create a continuous public open space along the unincorporated Trinity River. 
---
The Dogwood Canyon Audubon Center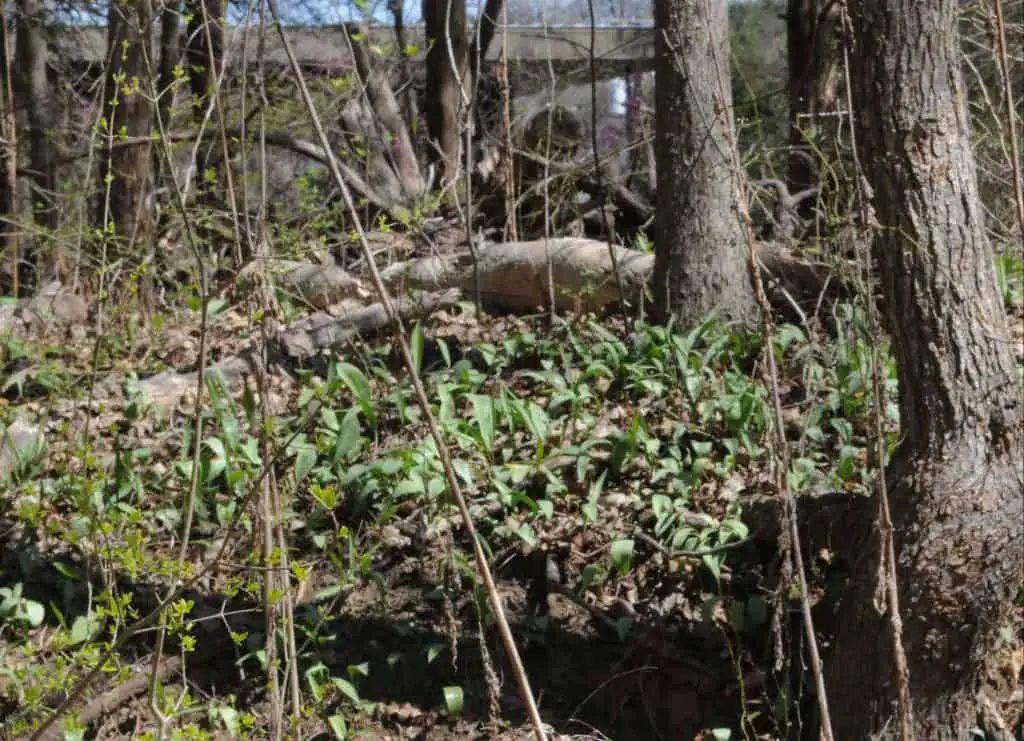 If you're looking for an immersive nature experience in Dallas, Texas, look no further than the three following trails of Dogwood Canyon Audubon Center. Located 16 miles south of Downtown Dallas, this beautiful scenic nature center has a variety of wildlife that you just can't find anywhere else in the North Texas area. The center is home to 3 different trails that altogether span about 3 miles. 
Official Website: Dogwood Canyon Audubon Center
---
Canyon Floor Trail
This trail is the easiest one of the three that Dogwood Canyon offers. Not only is this trail stroller-friendly, but the trail enables you to get up close and personal with some of the natural wonders that the land has to offer. This trail is under just ½ a mile and will take you only 10 minutes to complete. 
While you stroll on this very quick hike, be sure to keep an eye out for rootlet-covered Poison Ivy and the palmate-leaved Virginia Creeper. Although they may be dangerous to us humans, this foliage provides crucial protection for the surrounding wildlife. You can also take a moment to listen for songbirds that are plentiful in the area. The best thing about shorter trails is that they force you to slow down and really just allow the heartbeat of the forest to present itself to you. 
Length in Miles: 0.5
Elevation Gain: 10
Difficulty:

Easy
---
Dogwood Trail
This trail is fairly new, being officially completed in early 2020. This trail is just one mile around and can be moderately challenging to the hikers that decide to tackle it. You might find yourself a bit lost in these parts, so the great people from Dogwood Canyon center have provided you with signs that offer directions and help to keep you on the trail.  
This trail will take you pretty deep into the canyon, transporting you into a natural paradise that offers creekside views, and beautiful meadows of late winter Trout Lilies. Eventually, this trail will lead off to an overlook point that the reserve has planned to construct in the future. This hike is perfect for those beginners who are ready to take it up a notch and get those hiking boots properly broken in. 
Length in Miles: 1.0
Elevation Gain: 100
Difficulty:

Easy
---
West Loop Trail
The final trail of Dogwood is one that is short but challenging! The trail sports an elevation change of over 150 feet in the first half mile alone. If you're brave enough to push through the difficulties, you'll be rewarded with spectacular panoramic views of Dallas and an opportunity to go even deeper into the beautiful Dogwood reserve. While making your way through the hike, you'll likely be able to spot predator birds such as hawks and vultures from the trail's high points. 
If you see A large, black soaring bird, that is likely to be a Turkey Vulture looking for its prey. If you see a bird with a white belly and a rusty tail, then you've just come across a Red-tailed Hawk looking for dinner. That being said, don't be surprised if you come across a variety of land-bound animals such as deers, rodents, reptiles, and more. Because many creatures call Dogwood Canyon home, you might want to stay aware of any animal dropping around the land. This hike is perfect for the experienced hiker who loves a challenge! 
Length in Miles: 2.1
Elevation Gain: 196
Difficulty:

Easy
---
Trinity River Audubon Center Trail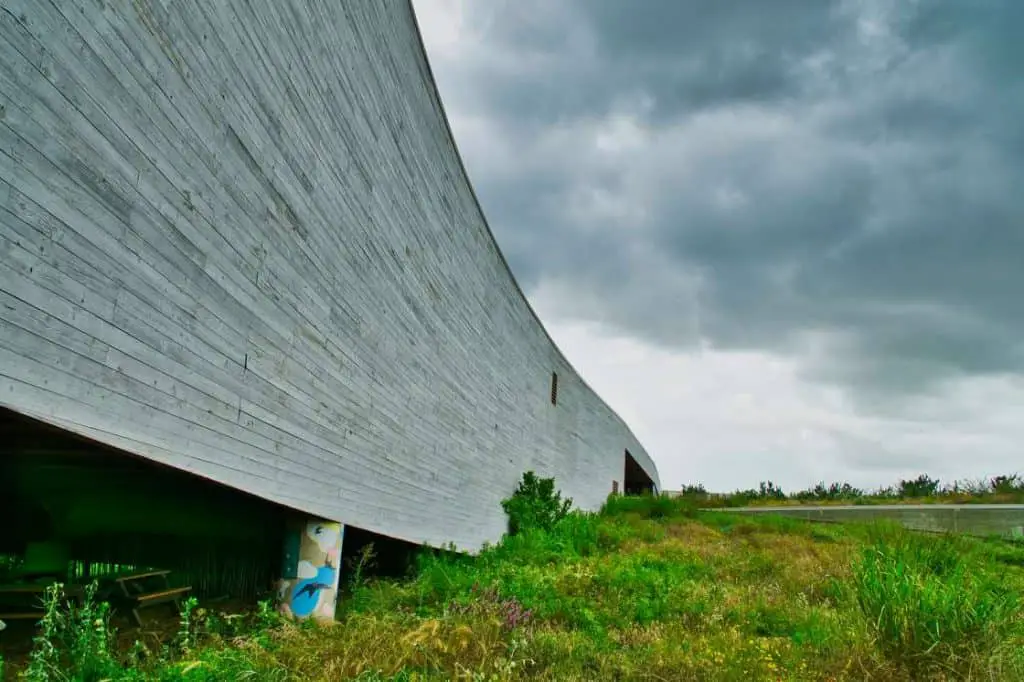 The Trinity River Audubon Center Trail lies in the heart of the Great Trinity Forest, just a few minutes southeast of downtown Dallas. This park will likely appeal to those who are looking for an easier trail while still in a unique habitat. 
Not only does the park offer several miles of trails, but it also contains a large educational center. If you ever find yourself around this area not wanting to hike, the state-of-the-art education center is worth a visit by itself. None of the trails available here are outlandishly challenging, you could probably take your grandmother on most of the trails. However, if you are looking to leave grandma behind and find something a bit more challenging, you can always make your way to the nearby AT&T and Trinity Forest trails for an additional 8+ miles of walking. 
This is probably the perfect park for summertime strolls as there is an abundance of shaded paths and quiet woods, and, if the Texas heat becomes too much for you, you can always take a trip to the spectacularly air-conditioned education center in the middle of the park. 
Trinity River Center is also an excellent destination for people who enjoy bird watching and wildlife enthusiasts in general. Hiking at Trinity center, you're sure to come across ponds, rivers, broad-leaf forests, and open prairie.
---
Northaven Trail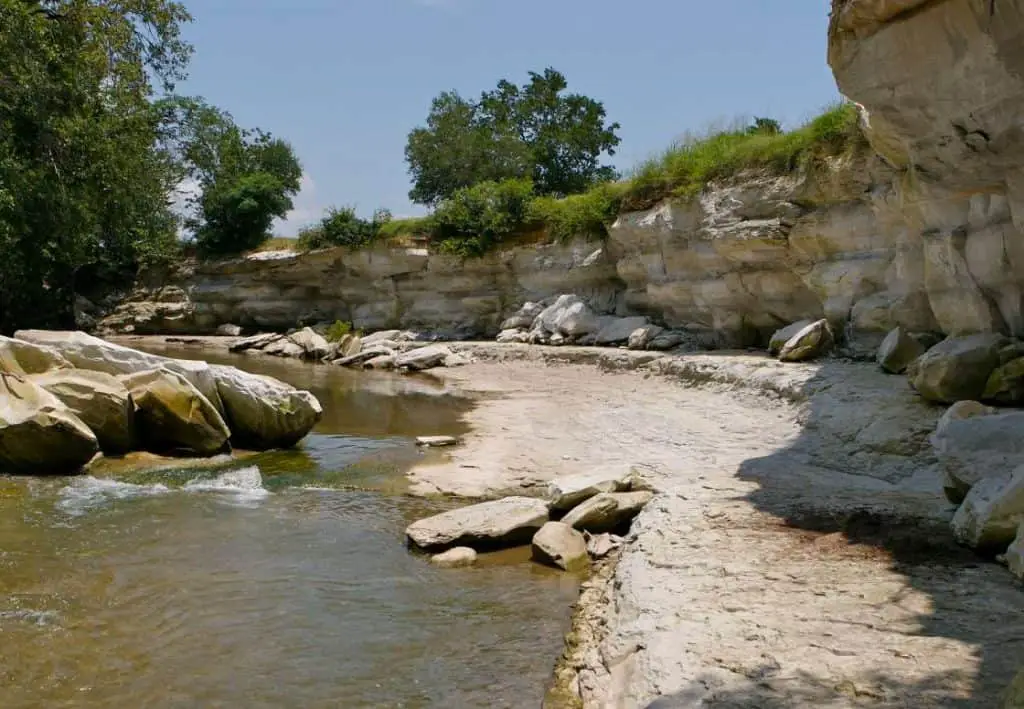 If you're looking for a trail that has nature, but still has that urban edge, then this is the trail for you. Built on a powerline easement, The Northaven trail is a trail that spans approximately 8 miles and consists of a 12-foot wide multi-use paved trail that will eventually become a 10-mile long trail that connects to a larger web of trains in North Dallas. 
Because this trail runs through a power line easement, the Northaven trail is relatively flat and straight, perfect for those who just want to take a stroll in an urban setting. While the route does not offer a lot of shady trees due to power line maintenance requirements, the trail is still beautifully planted with many native kinds of grass, flowers, and turf to observe. Those who helped design the trail made sure to provide its hikers with a broad array of amenities, such as water fountains, rest areas, bicycle repair stations, and benches to cool off on. 
Length in Miles: 7.9
Elevation Gain: 226
Difficulty:

Easy

Official Website: Northaven Trail
---
Rawhide Park Trail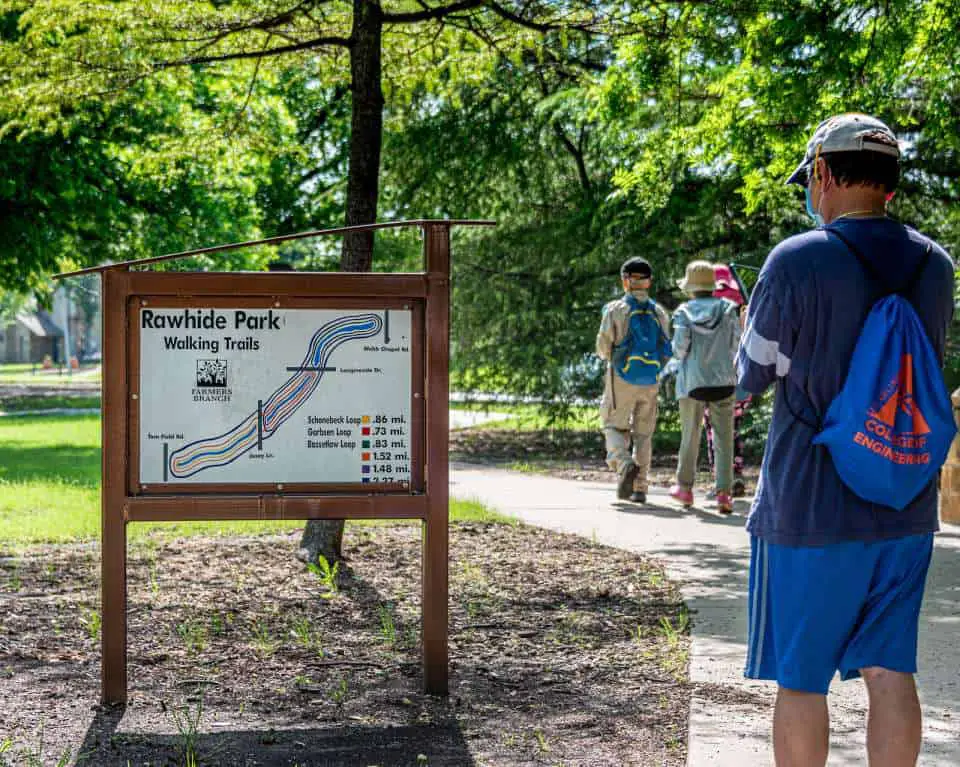 Located in far north Dallas, Rawhide Park Trail is a 5-mile loop trail that is perfect for hikers of all skill levels. On average, it should take you about 1 ½ hours to complete this easygoing trail. In addition to hiking trails, the Rawhide trail is a great environment to scope out the local wildlife like, doing some road biking, and trail running. 
There are several road crossings that you must pass to fully navigate this trail, so please use the utmost caution. If you really enjoy doing your hikes in peace, this trail stays fairly quiet, so it's unlikely that you'll encounter many other people on your hike. Rawhide is open 365 days a year and is beautiful to visit all throughout. Furry friends are welcome to partake in the trail, but they must be on a leash.
Remember to wear comfortable shoes and pack plenty of water and snacks! Once you have that, you're ready to take on all the Dallas nature trails have to offer!
Length in Miles: 4.9
Elevation Gain: 90
Difficulty:

Easy

Official Website: Rawhide Park Trail
---
Frequently Asked Questions About Hiking In Dallas
What are the best times of year to go hiking in Dallas?
The best times of year to hike in Dallas are typically during the spring and fall. The temperature is cooler and there is less chance for rain. Hiking in Texas during the summer months is only recommended for the brave!
What should I wear while hiking in Dallas?
It is important to wear comfortable shoes and clothes that you can move around in. It is also a good idea to wear layers in case the weather changes. I would suggest wearing polyester in cooler temperatures, and a cotton-polyester mix in the summer.
What should I bring with me while hiking in Dallas?
What are the best hikes in Dallas?
This is a subjective question – but my personal favorite from this list is the Katy Trail, Cedar Hill State Park, and White Rock Lake.
What are the most common wildlife you can see while hiking in Dallas?
The most common wildlife in Dallas are deer, coyotes, foxes, and rabbits. You may also see some snakes and lizards.
Are there mountains in Dallas?
No, there are no mountains in Dallas. However, there are plenty of hills and trails to explore.