15 Best State Parks In Florida (2023)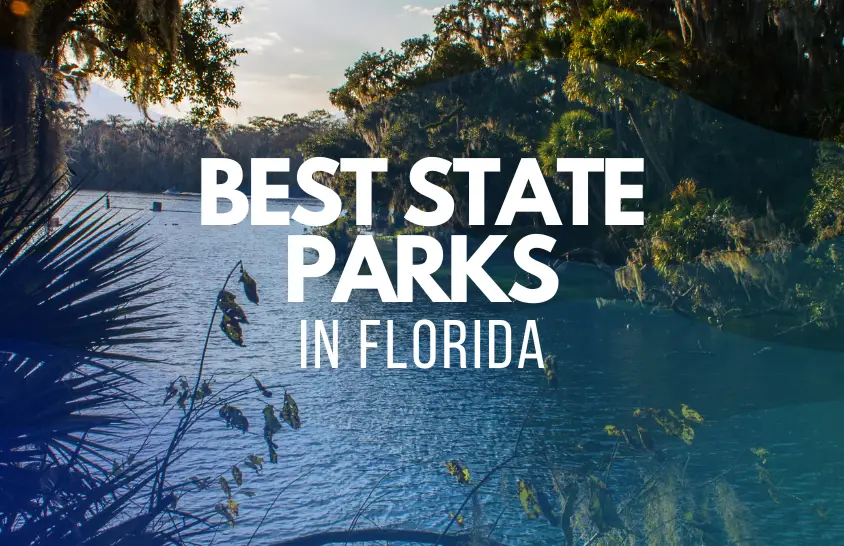 Are you planning an outdoor adventure in Florida and looking for the best state parks to explore? From sandy beaches to lush forests, there are a variety of stunning and unique state parks in Florida that offer something for everyone. Let's take a look at some of the top 15 state parks in Florida that you won't want to miss on your next trip!
From the beautiful and beachy Anastasia State Park, to the majestic Wakulla Springs State Park, there's no shortage of amazing state parks to explore in Florida – And these are just a few of the many incredible state parks Florida has to offer.
Whether you're searching for pristine beaches, lush forests, or crystal clear springs, these 15 best state parks in Florida have something for every nature lover. So let's dive further into this list and explore all the amazing outdoor activities each park has to offer.
Anastasia State Park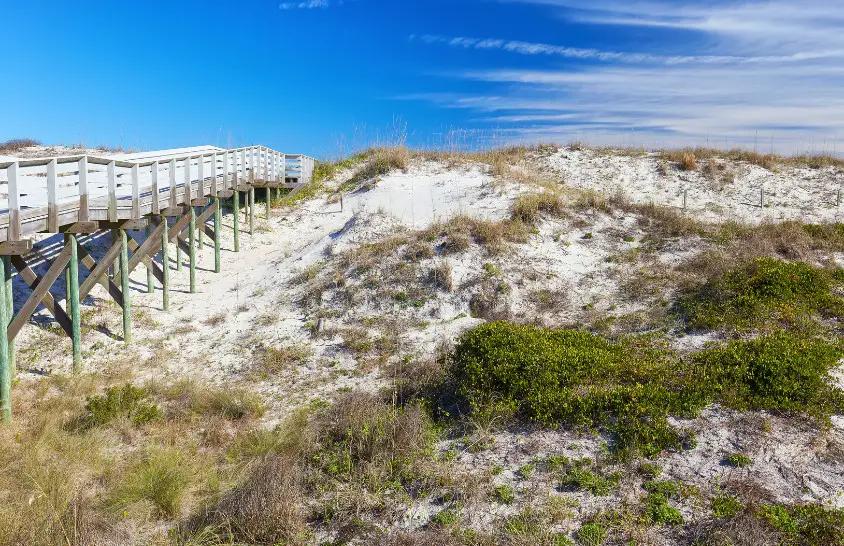 Fancy a beach getaway? Then look no further than Anastasia State Park in St. Augustine. This stunning park is a paradise for wildlife and visitors alike, with abundant wading birds hunting for food along Salt Run and ospreys and eagles dominating the skies. Plus, its campsites are just a stone's throw away from the beach.
Visitors can observe wildlife along the beach by canoe or kayak, or take a leisurely stroll on the Ancient Dunes Nature Trail. Those who go here will be in for a treat – the untouched dunes provide an amazing backdrop for some stunning photos of dolphins and shorebirds enjoying the rich coast.
Aside from that, this park has plenty of activities to enjoy, like bicycling, birding, boating, fishing, geo-seeking, hiking, paddling, picnicking, reunions and gatherings, shelling, surfing, swimming, walking/running – there's something for everyone!
Big Lagoon State Park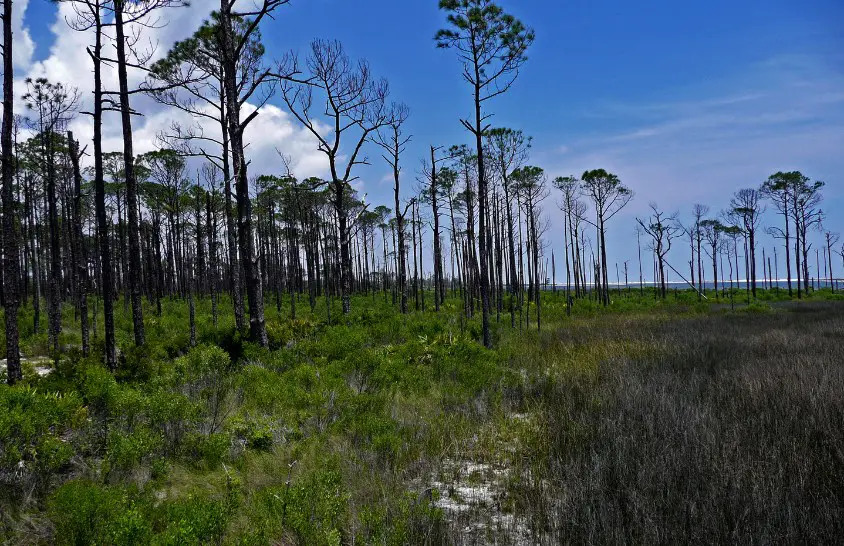 For an unforgettable outdoor adventure, Big Lagoon State Park in Pensacola is your best bet. Not only can you enjoy activities like swimming, boating, fishing, camping, and hiking here, but it's also the perfect place to kickstart or end a 1,515-mile sea kayaking journey on the Florida Circumnavigational Saltwater Paddling Trail.
The park is also a gateway for the Great Florida Birding and Wildlife Trail. It's a stopover for more than 23 species of wood-warbler and other birds such as ducks, sandpipers, and black-bellied plovers. Bring binoculars or borrow from the ranger station to spot these majestic creatures from atop the three-story observation tower.
When night falls, come back again to experience an amazing evening of stargazing! Big Lagoon State Park has partnered with the Escambia Amateur Astronomer's Association to host awesome nights of stargazing for the community. With just enough natural light from the moon at three-quarters full, you'll be able to explore nebulae and galaxies – plus rings of Saturn – that surround our planet.
Honeymoon Island State Park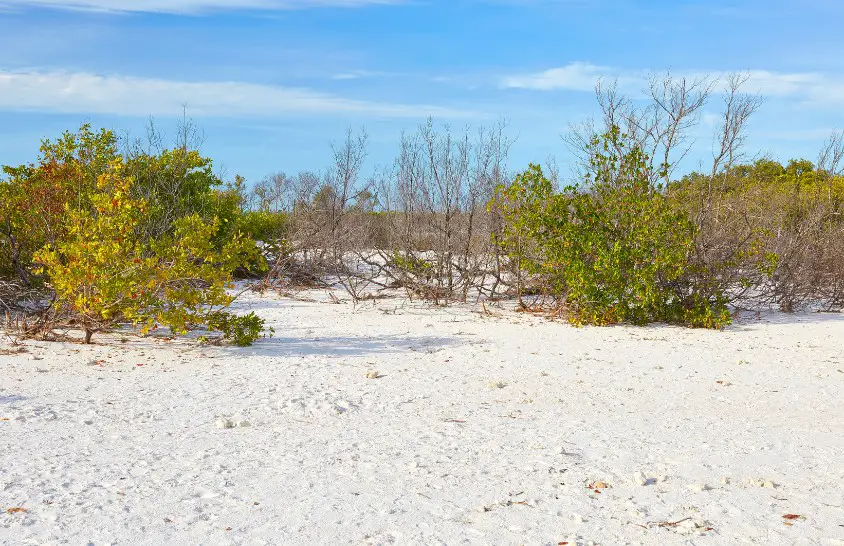 If you're looking for a getaway that's close to home, Honeymoon Island State Park is your perfect destination. Located in Dunedin, this park has more than four miles of beach to explore and a three-mile trail through one of the last remaining virgin slash pine forests.
At the South Beach Pavilion, you can rent bikes by the hour or day, and kayaks are available at Café Honeymoon. If you're looking just to relax and take in the views, they also offer beach chair and umbrella rentals. Plus, there's plenty of space along the beach to soak up some sun.
As far as wildlife goes, you'll likely spot ospreys and great horned owls if you look skyward – or gopher tortoises, raccoons, and armadillos on land. So make sure to keep an eye out while exploring!
Long Key State Park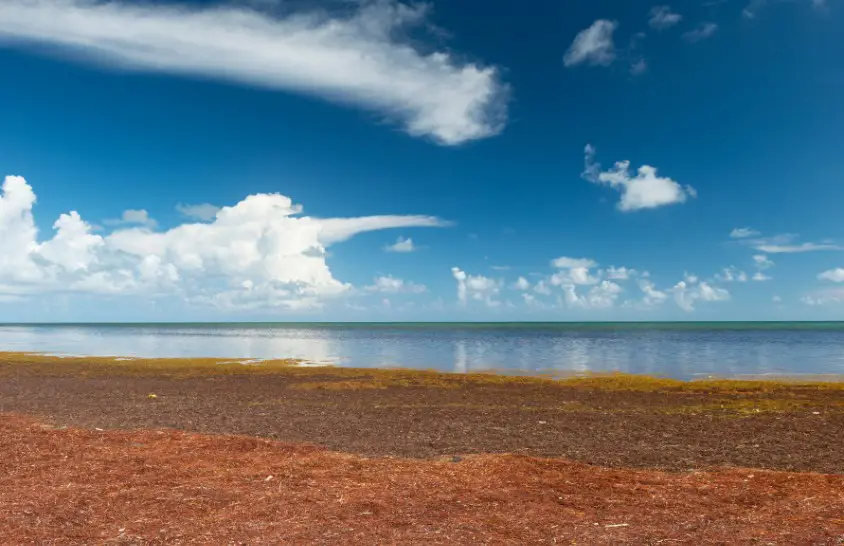 Calling all nature lovers – Long Key State Park in Florida is the ultimate outdoor escape. Historically a favorite spot for wealthy, this tranquil park now invites visitors to come and enjoy its stunning shoreline views of the Atlantic Ocean, as well as its many recreational activities.
You can spend your day kayaking, bird watching, fishing, snorkeling, picnicking, or simply relaxing on the shoreline. If you're looking for an activity that takes you deep into nature's beauty, explore one of the two great hiking trails at Long Key State Park – Golden Orb Nature Trail and Turtle Beach Trail. The Golden Orb Nature Trail is 1.5 miles long and will take you through hardwood hammocks where you can observe white-crowned pigeons (a state-listed threatened species) and a variety of tropical trees such as gumbo limbo and poisonwood.
Oleta River State Park
A natural oasis just 30 minutes from downtown Miami – Oleta River State Park spans over a thousand acres and is actually Florida's largest urban park. This picturesque park is the perfect place to escape the hustle and bustle of Miami city life.
Whether you're up for an adventure or looking to relax and unwind, there's something here for everyone. Enjoy mountain biking on the 15 miles of off-road trails, go paddling on Biscayne Bay or kayaking along lush mangrove forests, or simply spend some time fishing and swimming at the beach. If you need equipment, there's an outdoor center where you can rent bicycles, kayaks, canoes, and stand-up paddleboards.
Picnic areas are also available for rent, so you can enjoy your meal with a stunning backdrop of scenic Biscayne Bay. If you're looking for something special, Oleta River State Park is also a great venue for weddings!
Big Shoals State Park
If you're looking for a nature escape that's both spectacular and thrilling, Big Shoals State Park in White Springs is the place to go. Limestone bluffs tower 80 feet above the banks of the Suwannee River, offering views that can't be found anywhere else in Florida.
The park is also home to Class III whitewater rapids on the Suwannee River – perfect for experienced kayakers and canoeists. There's even an area available for portaging around the rapids. But if you're not up for some white water rafting, there are still plenty of activities available, such as 28 miles of trails perfect for hiking, biking, and horseback riding.
In addition to its natural beauty, Big Shoals State Park is also part of the Great Florida Birding Trail – so make sure to bring your binoculars! Late afternoon is a great time to be near the bat house at the entrance of the park – you can watch hundreds of Mexican free-tailed bats fly out at sunset.
Devil's Millhopper Geological State Park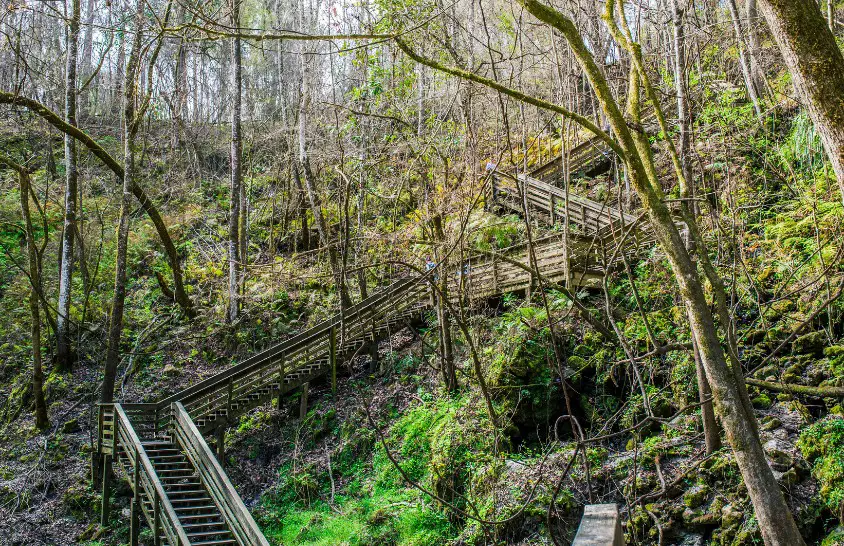 If you're in search of an unusual ad unique outdoor adventure in the Sunshine State, consider visiting Devil's Millhopper Geological State Park in Gainesville. This park boasts a distinctive sinkhole that's 120 feet deep and shaped like a bowl.
As you venture down the steep limestone walls, you'll be transported to a miniature rainforest, surrounded by tranquil streams and lush greenery. Despite the dry, sandy conditions and pine forests of North Florida, this park is a peaceful haven where nature flourishes.
When you arrive at Devil's Millhopper Geological State Park, be sure to delve into the sinkhole and discover the stark temperature difference caused by its dense tree canopy. Soak in the cooler air and immerse yourself in a piece of Florida that harks back to a pre-industrial era. Surrounded by the sounds of chirping birds, rustling leaves, and babbling brooks, you'll feel as if you've stepped into a world untouched by human development. As you hike back up the boardwalk, take a moment to appreciate the tranquil surroundings and the sense of serenity that pervades this isolated landmark.
Edward Ball Wakulla Springs State Park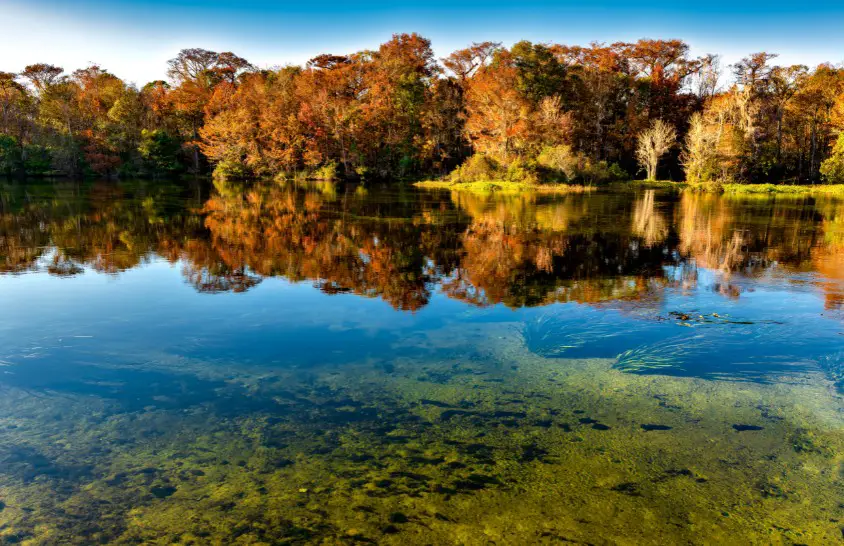 Are you seeking an idyllic getaway? Look no further than Edward Ball Wakulla Springs State Park in Florida. Home to one of the world's largest and deepest freshwater springs, this park is sure to be an unforgettable experience.
The sapphire-blue water of Wakulla Springs boasts manatees, alligators, and a host of diverse wildlife – perfect for nature lovers. You can also enjoy a plethora of activities such as bicycling, birding, boat tours, geo-seeking, hiking, horseback riding, picnicking, reunions and gatherings, scuba diving, snorkeling, swimming, walking/running, and wildlife viewing. Plan your visit during the summer months to refresh yourself with the park's invigorating 70-degree waters.
Wakulla Springs is also an area filled with a rich history. From its early Native American inhabitants who lived in shoreline villages to filmmakers who recognized its primeval beauty when they decided to shoot movies here in 1941 and 1954 – this park is full of stories waiting to be heard and explored. Plus, underneath the park lies an incredible 32-mile cave system that supplies more than 250 million gallons of water each day!
Fakahatchee Strand Preserve State Park
If you're looking for grand experience, Fakahatchee Strand Preserve State Park is the place to go. This pristine park in Copeland, Florida is home to some of the most breathtaking scenery around. As the largest state park in Florida, this park is actually made up of four main areas: The Big Cypress Bend Boarwalk, the East River, the Jones Grade Lakes and the Janes Memorial Scenic Drive.
The Big Cypress Bend Boardwalk is a great place to get your introduction to the preserve, and it's only 2,500 feet long. The winding boardwalk takes you through a lush forest of bald cypress trees and ends at an alligator pond and observation deck – keep an eye out for Green Herons, Barred Owls, or Red Rat snakes!
For fishing, canoeing, or kayaking, head to Jones Grade Lakes – though no swimming is allowed. East River is a perfect spot for paddling – it's tucked away off U.S. 41 and flows into Fakahatchee Bay and the Ten Thousand Islands. And don't forget Janes Memorial Scenic Drive, which is the main access point to hiking trails throughout the park.
Falling Waters State Park
Take a break from the mundane and head to Falling Waters State Park in Chipley, Florida. This park is surrounded by giant trees and fern-covered sinkholes and has the highest waterfall in the state, with water cascading 73 feet down into a 100-foot-deep, 20-foot-wide cylindrical pit.
For those who love nature, this park offers plenty of other activities besides its beautiful waterfall. Take a hike on its diverse footpaths and trails while taking in expansive views over the waving blue-green blades of wiregrass. Or why not try out some birding or fishing? If you're up for camping, there are campsites available too. And if swimming is more your thing, then you'll be glad to know that it's also an option here!
You'll also get to learn about the park's rich history as you explore – this is actually the first state park that used prescribed fire as a land management tool.
Florida Caverns State Park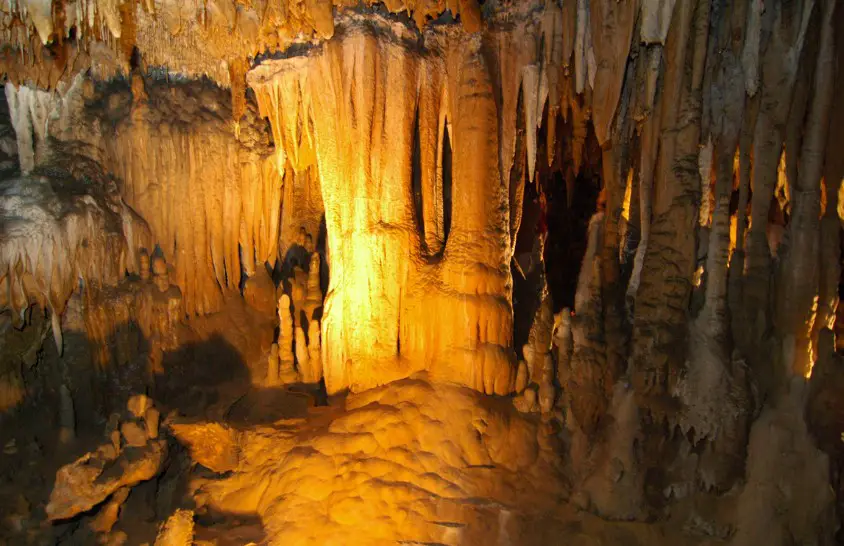 Descend into the depths of Florida Caverns State Park and take a journey to another world. This stunning park offers visitors an opportunity to explore eye-catching caves with eerie limestone walls, captivating stalactites, and enchanting stalagmites.
The tour takes visitors through 12 underground rooms, giving them a chance to observe the many chisel marks made by 1930s-era Civilian Conservation Corps workers. As you walk 350 feet to the cave entrance, you'll be blown away by the year-round 65-degree temperature and dimly lit environment.
Aside from cave tours, there are plenty of other activities such as boating, camping, horseback riding, paddling, picnicking, swimming, and geo-seeking – all with an incredible backdrop of forests and ridges.
Letchworth-Love Mounds Archaeological State Park
There's something truly special about Letchworth-Love Mounds Archaeological State Park. This archaeological site in Tallahassee houses the state's tallest Native American ceremonial mound, believed to have been built between 1,100 and 1,800 years ago.
The park offers a ton of activities and amenities to visitors, from birding and picnicking to star gazing and reunions. And if you're looking for something more educational, the park pavilion has interpretive displays as well as a bronze sculpture of the mound. There's also an interpretive trail around the mounds that provides valuable insight into the site's history.
If you're into wildlife spotting, this is definitely the place for you – there are dozens of bird species to be found here! So make sure to bring your binoculars and camera along for your visit.
O'Leno State Park
Welcome to your tranquil escape in Florida – O'Leno State Park. This one-of-a-kind park is one of the first state parks in the Sunshine State, built by the Civilian Conservation Corps in the 1930s.
Nestled along the banks of the scenic Santa Fe River and tucked away in hardwood hammocks, sandhills, and river swamps, this park is overflowing with natural beauty. You'll find breathtaking views while canoeing or fishing on the river and plenty of shaded trails for biking and hiking. Plus, you can explore some of Florida's best geo-seeking sites here!
And if you're looking for a longer stay, don't worry – there's plenty to do to fill weeks at O'Leno State Park. From swimming to picnicking to birding, this park has it all. Don't forget to take a stroll down the suspension bridge built by the CCC for even more stunning views!
Rainbow Springs State Park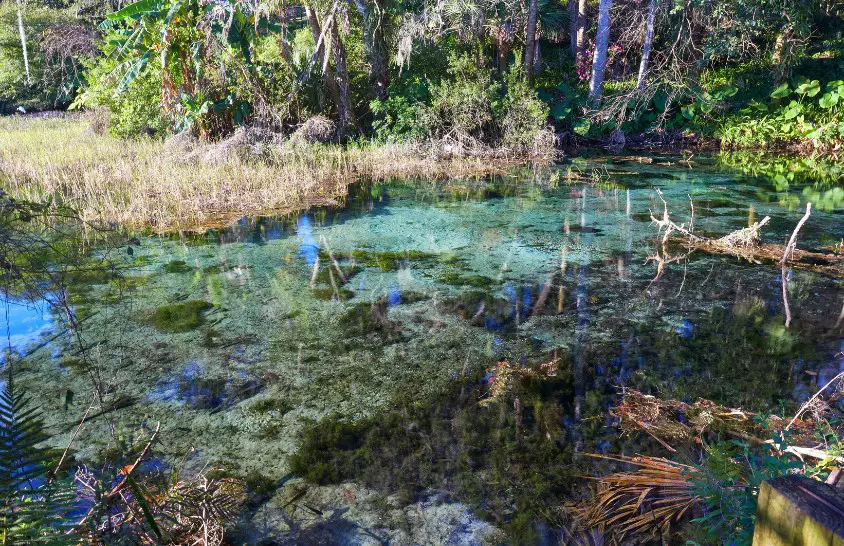 Ready to experience a piece of history? Make a pilgrimage to Rainbow Springs State Park in High Springs, Florida, and you'll feel like you've stepped back in time. This stunningly serene park dates back centuries and has been visited by humans for over 10,000 years.
Take a dip in the beautiful sapphire-blue waters of Rainbow Springs and cool off on those hot summer days. The water is 72 degrees year-round, so no matter when you visit, you can take advantage of the perfect swimming temperature. The spring pool varies from 5 to 18 feet deep – perfect for spotting turtles, fish, and other aquatic wildlife.
The park is also popular with hikers and picnickers who come to explore its lush trails and enjoy its natural beauty. Other activities include birding, fishing, geo-seeking, paddling, snorkeling, tubing and walking/hiking.
St. Marks River Preserve State Park
If you're looking for an outdoor escape, St. Marks River Preserve State Park in High Springs is the perfect spot. Nestled along the banks of the St. Marks River headwaters, this park offers a stunning natural landscape with plenty of activities to enjoy.
Explore a variety of trails for hiking, horseback riding, and off-road bicycling – all through upland pine forests, hardwood thickets, and natural plant communities. As you wander the trails, keep an eye out for local wildlife, such as black bear, turkey, and deer tracks crisscrossing the park roads foxes, raccoons and opossums roaming the woods. The sound of birds filling the air with their melodic calls will complete your nature experience.
Whether you're an experienced outdoorsman or just looking for a peaceful escape from everyday life, St. Marks River Preserve State Park is your perfect destination.
Frequently Asked Questions
How can I find out more about camping in Florida State Parks?
The Florida State Parks website has comprehensive information about camping at state parks. You can find information about reservation requirements, the type of camping sites available, and other details about camping in Florida State Parks. Additionally, you can contact the park directly for more information about camping opportunities.
How can I make reservations for camping in Florida State Parks?
You can make reservations for camping in Florida State Parks online or by calling the park directly. Reservation fees vary by park and may be subject to change. To make your reservation online, visit the Florida State Parks website and click the "Make A Reservation" button. Follow the instructions to complete your reservation.
What activities are available in Florida State Parks?
Florida State Parks offer a ton of recreational opportunities for visitors, including camping, hiking, biking, fishing, swimming, picnicking, and more. Some parks may offer additional activities like guided tours, educational programs, and much more. You can check the website of each Florida State Park above to learn more about the activities offered.
Are dogs allowed in Florida State Parks?
Yes, pets are allowed in most Florida State Parks as long as they are kept on a leash and under physical control at all times. However, do note that dogs are not permitted on beaches or in swimming areas. Additionally, camping with pets is limited to certain designated camping sites. Make sure to check the policy of each Florida State Park before bringing your pet.
Is there a fee for Florida State Parks?
Yes, there is a fee for most activities and services offered in Florida State Parks. Fees vary by park and activity, so be sure to check with the park before planning your visit. For the most part, each park listed above has a small fee of around $5. Some parks also offer discounts for seniors and active military personnel. Additionally, some parks may offer special events or rental fees.