7 Fun Things To Do In Yellowstone National Park (Besides Hiking)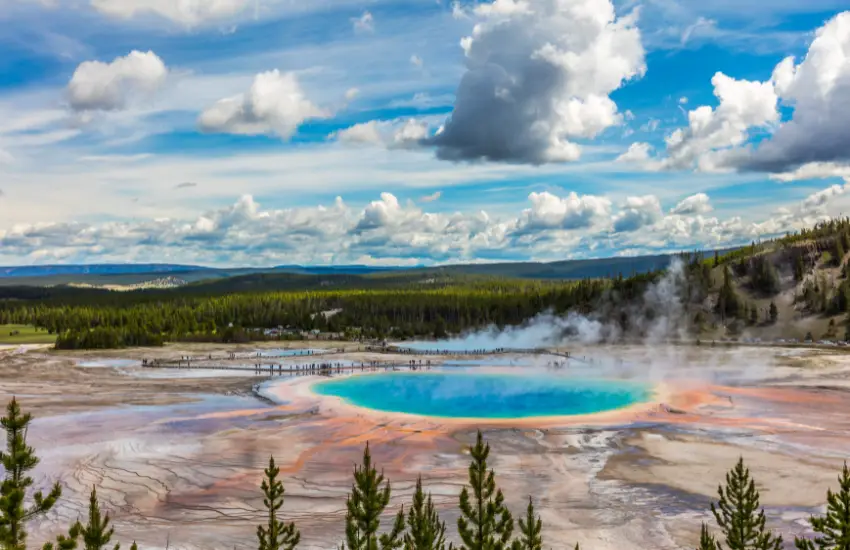 Yellowstone National Park is a must-see destination for any outdoor enthusiast. With its stunning natural beauty and diverse wildlife, it's no wonder that Yellowstone attracts millions of visitors every year. While hiking is undoubtedly one of the best ways to explore the park, there are plenty of other activities to enjoy as well.
In this article, I'll share some of my favorite fun things to do in Yellowstone, besides hiking. Whether you're traveling with family, friends, or solo, there's plenty to do here, for all.
Explore the Grand Canyon of the Yellowstone
Located in Canyon Village, the Grand Canyon of the Yellowstone is one of the most iconic and breathtaking sights in Yellowstone National Park. The canyon's colorful walls, towering waterfalls, and winding river create a truly awe-inspiring landscape that is not to be missed.
Visitors can take in the beauty of the canyon from several different viewpoints, including Artist Point, Lookout Point, and Brink of the Lower Falls. Each viewpoint offers a unique perspective on the canyon and its features, providing plenty of opportunities for stunning photos and memories that will last a lifetime.
In addition to admiring the views, visitors can also enjoy a variety of activities in the canyon area, including hiking, fishing, and wildlife watching. So, don't miss out on one of the most unforgettable sights in Yellowstone National Park and make sure to add the Grand Canyon of the Yellowstone to your itinerary.
Ride a Snowmobile or Snowcoach in Yellowstone
Experience the winter wonderland of Yellowstone National Park by riding a snowmobile or snowcoach through the snowy landscape. Both options offer unique perspectives on the park and allow visitors to see some of Yellowstone's most iconic sites in a whole new way.
Snowmobiles are a thrilling way to explore the park's snowy terrain, allowing riders to cover more ground and access areas that are otherwise off-limits. Guided tours are available for those who are new to snowmobiling or want to ensure they see all of the park's highlights.
If you're looking for a more relaxed and comfortable way to explore Yellowstone in the winter, a snowcoach might be the perfect choice. These heated vehicles provide a cozy ride through the snowy landscape, and many tour companies offer guided tours with knowledgeable guides who can provide insight into the park's history, geology, and wildlife.
No matter which option you choose, riding a snowmobile or snowcoach in Yellowstone is an unforgettable experience that will leave you with memories to last a lifetime. So, bundle up and get ready to explore the beauty of Yellowstone in the winter.
Abandoned Railroad Bed Bike Trail
Looking for a unique way to explore Yellowstone National Park? Head to the north entrance and check out the Abandoned Railroad Bed Bike Trail, a beautiful dirt trail that follows the old railway bed between Gardiner and the park's northern boundary at Reese Creek.
This mostly level trail offers stunning views of the Yellowstone River and Electric Peak, and is a great way to spot wildlife such as pronghorn, elk, and bison. Keep in mind that the area is a high desert, so be sure to bring plenty of water and watch out for cactus along the roadbed.
To access the trailhead, park at the pullout on the old Yellowstone Road near the Heritage and Research Center in Gardiner. Keep in mind that parking is limited, so arrive early if possible. The trail down to the abandoned railroad bed is not well-marked, so be prepared to walk your bike until you reach the old railway bed.
As with any outdoor adventure in Yellowstone, it's important to be aware of potential hazards. Be on the lookout for bears (both black and grizzly), as well as bison, elk, and pronghorn. Bring bear spray and know how to use it. And remember to always stay at least 100 yards away from bears and wolves, and at least 25 yards away from all other wild animals.
Overall, the Abandoned Railroad Bed Bike Trail is a must-do for any biking enthusiast visiting Yellowstone National Park. So, grab your mountain bike and get ready to enjoy the beauty of the park from a unique perspective.
Experience the Beauty of Fairy Falls Ski Trail in Yellowstone National Park
Looking for a thrilling skiing adventure in Yellowstone National Park? Then look no further than the Fairy Falls Ski Trail. This 10-mile skier-tracked round-trip trail is perfect for both beginners and advanced skiers, and offers some of the most breathtaking views in the park.
To access the trailhead, start at the Fountain Flats Drive and ski 1.3 miles before turning left onto the Fairy Falls Trail. Most of the trail is level, but there are some hills and bends near the falls. Make sure to take in the icy views of the popular Fairy Falls before heading back the same way.
For a more challenging experience, take the Powerline Trail or the snow vehicle road back to Old Faithful. To access the Powerline Trail, ski south (right) along the snow vehicle road for about 0.25 miles until you reach the Mallard Creek trailhead on the left. From there, follow the Mallard Creek Trail and turn right onto the Powerline Trail, which features rolling hills and leads to the Upper Geyser Basin Trail and Morning Glory Pool.
Keep in mind that bison and elk frequent this trail, so be sure to stay at least 25 yards away from all wild animals. And, when crossing thermal areas, be aware of the unstable ground and remove your skis if necessary.
Watch Wildlife in Yellowstone
Yellowstone National Park is home to some of the most amazing wildlife in the world. From grizzly bears to wolves, elk, and bison, there is no shortage of amazing animals to see. However, it's important to remember that these animals are wild and can be dangerous. To make the most of your wildlife watching experience while staying safe, here are some tips to keep in mind.
First, always keep a safe distance from the animals. It may be tempting to get closer for a better view or photo, but this can be incredibly dangerous for both you and the animal. The National Park Service recommends staying at least 100 yards (91 meters) away from bears and wolves, and at least 25 yards (23 meters) away from all other wildlife. If you see an animal that seems agitated or aggressive, give it even more space.
Another way to safely watch wildlife in Yellowstone is to join a guided tour. There are several companies that offer wildlife watching tours in the park, and these experienced guides can help you spot animals from a safe distance while sharing their knowledge and expertise about the park's wildlife.
Finally, remember that the safety of both you and the animals is a top priority in Yellowstone. If visitors violate the rules and get too close to the animals, rangers may need to close roadside pullouts to protect both humans and wildlife. So, keep a safe distance, be patient, and enjoy the amazing wildlife that makes Yellowstone such a special place.
Spend Some Time in Yellowstone's Backcountry
Yellowstone National Park's backcountry is a wonderland of rugged terrain, stunning vistas, and abundant wildlife. But before you lace up your hiking boots and hit the trail, it's important to plan ahead and be prepared for the challenges that await. Here's what you need to know before heading into Yellowstone's backcountry.
First and foremost, you'll need a backcountry permit. These permits are required year-round for all overnight stays in Yellowstone's backcountry. During the peak season (May 15 – October 31), backcountry permits are available online in advance or in person during the walk-up period. The non-peak season (November 1- May 14) permits can be obtained online or in-person no more than two days prior to your trip. Reservations are encouraged but not required.
Yellowstone maintains 293 designated backcountry campsites, each with its own maximum limit for the number of people and stock allowed per night. The maximum stay per campsite varies from 1 to 3 nights per trip, and group size limits range from 4 to 12 people. With the exception of four campsites, only one group is allowed at each campsite. Food storage poles or boxes are provided at every campsite so that food and attractants may be secured from bears.
Go Fishing in Yellowstone
Did you know that fishing is an activity that can help support the preservation of native species in Yellowstone National Park? With an estimated 50,000 visitors fishing in the park each year, it's no wonder that fishing has been a popular recreation activity for over 100 years.
However, fishing regulations in Yellowstone are structured to strongly support native fish conservation goals. The park's native fish, including the cutthroat trout, Arctic grayling, and mountain whitefish, are important to the ecology of Yellowstone. Unfortunately, the abundance of these native fish has been reduced due to the impacts of introduced non-native fish species. These non-native species, such as brook, brown, lake, and rainbow trout, compete for food and habitat, prey on native fish, and degrade the genetic integrity of native fish through hybridization.
To support the preservation of native species, fishing regulations in Yellowstone are carefully designed to help reduce the impact of non-native fish species. Cutthroat trout are the sole, native trout of the park and were the dominant fish species prior to Euroamerican settlement. Anglers are encouraged to catch and release non-native fish species, while also cleaning their gear to prevent the spread of invasive species.
So, if you're an avid angler or just looking for a unique way to support the preservation of native species, consider adding fishing to your Yellowstone itinerary. With the right equipment, a bit of patience, and an appreciation for the park's natural environment, fishing in Yellowstone can be a rewarding experience for all.
Conclusion
While hiking is undoubtedly the most popular activity in Yellowstone National Park, as you can see – there are plenty of other fun and unique things to do that can help you fully experience the park's natural wonders. From wildlife watching to hot spring soaking, you'll have plenty to do here.
Safe travels & happy adventures!