How Many Steps Are In The Mist Trail?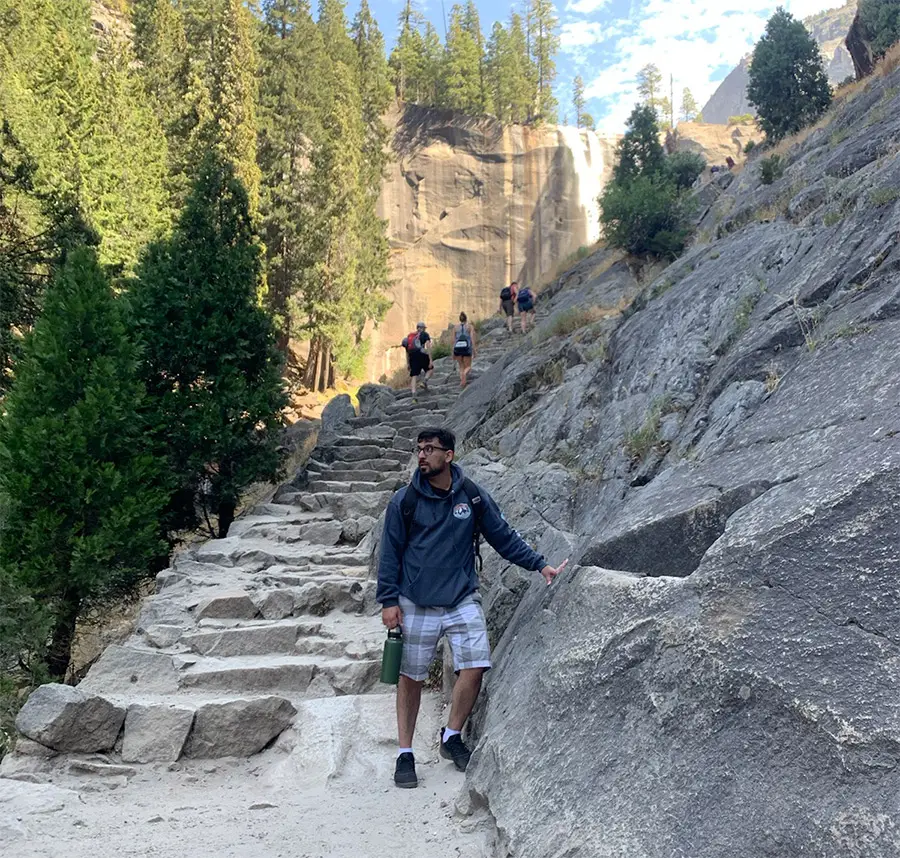 Before I hiked the mist trail a few years ago, I was curious about how many steps would be involved in the hike. After all – the mist trail is well-known for its unforgiving granite staircase that seemingly lasts a lifetime.
Well, according to the NPS, the infamous granite staircase has over 600 steps. But to be honest, it feels like a heck of a lot more than that.
Since the staircase at the mist trail is the main topic of conversation regarding the hike, I wanted to break down a few more specifics in this article.
What Is The Mist Trail?
The mist trail is a popular day hike in Yosemite National Park that typically takes 3 to 4 hours to complete. It's a beautiful, strenuous trail that starts at Happy Isles and ends at Vernal Fall (Although you can break off and head back down by taking the John Muir trail at certain points).
Along the way, hikers travel along the banks of the Merced River and get up close views of two iconic Yosemite waterfalls – Vernal Fall and Nevada Fall.
How Difficult Is The Mist Trail?
The mist trail has a total elevation gain of 1,000 feet – quite an accomplishment for such a short hike. The highest point on the trail is at Nevada Falls, which comes in at 5,974 feet above sea level.
However, when it comes to the staircase, it ends at the Vernal Falls Bridge. At this point, you've already climbed over 600 steps and ascended 500 feet in just under a mile.
I know these numbers seem quite small – but take it from me; the trail is not to be taken lightly. Because of the nearby waterfall, the narrow granite steps can become slick and dangerous when wet. It's also important to note that this trail is quite popular and may be crowded at times – so plan accordingly! When I went, it was 10 AM in September, and it was packed.
If you are an experienced hiker, the staircase won't be much of a challenge to you, but if you've never hiked before, it may be a very hard climb. So make sure to bring plenty of water and snacks, and wear appropriate boots for the hike. And remember – take your time and enjoy the beautiful views! Whether you are new or not to hiking, I would recommend bringing a pair of trekking poles to explore all of Yosemite.
Conclusion
The mist trail is an amazing feat, and it's definitely worth the challenge. If you're looking to tackle the mist trail in Yosemite National Park, expect 600+ steps of unforgiving granite staircase and an elevation gain of 1,000 feet. And while you're at it, don't forget to take in the stunning views of Vernal Falls and Nevada Falls. Just make sure to watch your step when snapping some photos!