Closest Airports To Biscayne National Park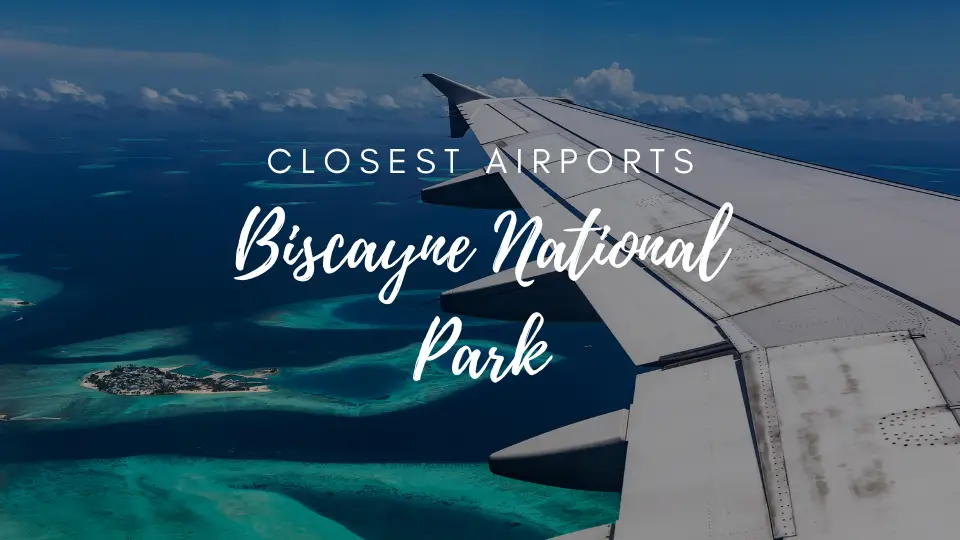 Biscayne National Park is a stunningly beautiful place to visit, with its crystal clear waters and lush mangrove forests. But if you're looking to take a trip to the park, you may be wondering which airports are closest.
The two closest airports to Biscayne National Park are Miami International Airport (MIA) and Fort Lauderdale-Hollywood International Airport (FLL). Both of these airports are just over an hour away from the park, making them ideal for those looking to get to Biscayne quickly.
In addition, there are several smaller airports in the area that can also be used to get to the park, such as Opa-locka Executive Airport (OPF), Kendall-Tamiami Executive Airport (TMB), and Homestead General Aviation Airport (X51), all of which are less than 30 miles away.
So, no matter where you're coming from, you can find an airport close by that will get you to Biscayne National Park quickly and easily. Let's explore further to learn more about the closest airports and what they have to offer.
What Is The Closest Airport To Biscayne National Park?
The closest airport to Biscayne National Park is Miami International Airport, located just 30 miles away. This major hub is served by most major airlines around the world. From MIA, travelers can rent a car or take public transportation to the park. You're looking at a 40-minute drive to Biscayne from Miami Airport.
Distance from Biscayne National Park: 33 Miles
Driving Time:  40 minutes
Airlines Served: Pretty much all the major airlines (Alaska Airlines, American Airlines, Delta Air Lines, Emirates, Frontier Airlines, JetBlue, Southwest, United Airlines, Virgin Atlantic)
The next closest airport is Fort Lauderdale-Hollywood International Airport, located about 60 miles away. This airport is also served by major domestic and international airlines, and like MIA, offers rental car services as well as public transportation options. However, with this airport, you're looking at close to a 1-hour drive (if not more.)
Distance from Biscayne National Park: 63 Miles
Driving Time:  1 Hour
Airlines Served: Pretty much all the major airlines (Allegiant Air, Southwest Airlines, JetBlue, Spirit Airlines, Delta Airlines, United Airlines)
Lastly, while FLL serves mainly domestic airlines, Miami International Airport serves many other international flights. So if you're coming from out of the country, Miami International Airport will be the best option for you.
Are There Any Private Airports Near Biscayne National Park?
Looking for something a little less busy? There are tons of private airports near Biscayne National Park for those looking for something a little closer, and something a bit different. However, these flights will generally be a bit more costly, and not run as often as a regularly scheduled flight like the major airlines.
Ocean Reef Club offers a private airport right just a few short miles away from Biscayne National Park. It's not served by any large airports, so you'll have to make extra accommodations to take this flight.
Homestead General Aviation Airport as mentioned before, is also nearby, located in the town of Homestead. The airport itself is around a 25-minute drive to Biscayne National Park.
How Do You Get from The Airport to Biscayne National Park?
Once you've arrived at the airport, the next step is getting to the park. The easiest option is to rent a car, since Biscayne National Park is quite far from the airport (as far as walking is concerned).
You'll be able to find rental cars at almost all of the major airports in the area. If you're coming from Miami International Airport or Fort Lauderdale Airport, it'll be a roughly 1-hour drive, depending on traffic. However, if you'd rather not drive yourself, there are a few other options.
here are public transportation buses and shuttles that run from the airport to the park. The Miami-Dade Transit, for example, has buses that run from Miami International Airport to Homestead Station. From there, you can take a taxi or shuttle from Homestead Station to Biscayne National Park.
Another option is to take a taxi or ride-sharing service, like Uber, to the park from the airport. This tends to be the easiest and most convenient way to get to the park, but it is also the most expensive. Depending on the distance, it could cost anywhere from $50 – $100 for a one-way trip.
Once You Arrive At Biscayne National Park
Once you arrive at Biscayne National Park, you'll be able to explore the various attractions and activities the park has to offer. There are a variety of boat tours, kayaking, and snorkeling experiences available, as well as a wide range of nature walks and hikes.
You can also explore the park's many beaches and experience the local marine life. If you're looking for something a little more adventurous, there are a few trails that wind through the mangroves and tropical hardwood hammocks of the park. These trails can be a challenging hike, so make sure you are prepared with the right clothing, water, and snacks.
And if you're interested in a history lesson, be sure to check out the Boca Chita Key Historic District, which includes a lighthouse and several historic buildings. This is a great way to learn about the early settlers who inhabited the park and the various activities they participated in.
What About The Closest Cities To Biscayne National Park?
Looking to stay close to the park? The closest cities to Biscayne National Park are Homestead and Florida City. Homestead is about 11 miles away, and Florida City is about 13 miles away.
These three cities offer a variety of accommodations, from budget to luxury hotels, vacation rentals, and campgrounds. If you're looking for great restaurants, shopping, and entertainment, Homestead and Florida City are the closest, with a wide range of options.
For those who are looking to immerse themselves in nature and explore the park, Key Biscayne is an ideal choice, as it offers the best access to the island's beaches and wildlife preserves. There are a number of activities available in the area, including guided tours, kayaking, snorkeling, fishing, hiking, biking, and more. Keep in mind; however, Key Biscayne is nearly an hour's drive away from the park.
Conclusion
Regardless of where you are coming from, there are plenty of airport options when it comes to getting to Biscayne National Park. Whether you decide to fly commercially or privately, there is an airport nearby that can get you to the park quickly and efficiently. And with all of the scenic views the park has to offer, it's sure to be worth the trip.