Can You Hike in Blundstones? (The Truth)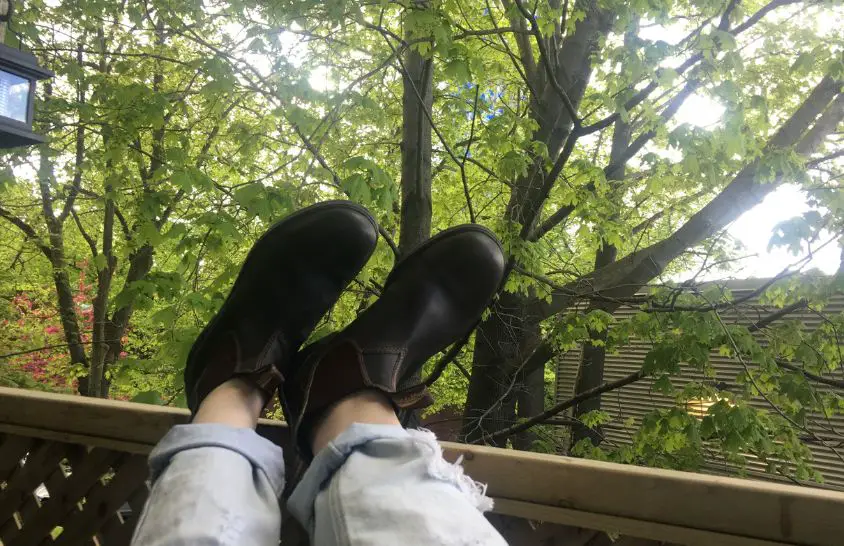 When it comes to finding the right footwear for your next outdoor adventure, there always seem to be unlimited choices, whether traditional hiking boots, tennis shoes, basketball shoes, and even crocs!
If you've been thinking about taking your Blundstone boots for a hike, you may find them more than adequate for your trekking adventure. Not only are they comfortable and stylish, but they are also made for the outdoors (including hiking), making them a fantastic choice for hikes of all lengths and terrains.
Blundstone boots feature a slip-resistant sole that provides excellent grip on slick surfaces and a shock-absorbent footbed that cushions your feet from the hard ground. They also have a waterproof leather upper, so you can stay dry even if you encounter wet terrain. And with their lightweight design, you won't feel weighed down or uncomfortable during your hike.
So if you're looking for reliable and comfortable boots to wear on your next outdoor adventure, Blundstone boots are an ideal choice. Let's explore further to learn more about why these boots are the perfect companion for your next hike.
What Are Blundstones?
For those of you who are unfamiliar – Blundstone boots are an Australian-made boot company that has been producing pretty high-quality footwear since 1870, (that's right, 150 years!) The company was founded by a fellow name John Blundstone.
They offer a wide variety of boots, from ankle-height hiking boots to full-length boots. They also offer several styles and colors so you can find the perfect pair to match your outdoor look. Not only do Blundstone boots look great, but they are also designed for comfort and durability.
How Can I Optimize My Blundstone Hiking Experience?
Having the right pair of shoes for your hike is essential for a safe and enjoyable experience, and Blundstone boots are a great option to consider. But in order to get the most out of your boots and optimize your hiking experience, you should be aware of a few tips and tricks. And honestly – this applies for most boots as well.
Breaking In Your Blundstones
First off, make sure to break in your boots before you hit the trail. Walking around your house or neighborhood a few times before your hike will help ensure your boots are comfortable and ready for your adventure.
In addition, if you're going on a longer hike, you should consider bringing a spare pair of socks to switch out during your trek. This will help keep your feet dry and comfortable and can prevent blisters and discomfort. Some people opt for two pairs of socks on a hike – which may be able to help stretch out your Blundstones if they are a bit too tight.
If you're having difficulty breaking in your boots, consider using a boot stretcher or applying a leather conditioner to soften them up. This will help them become more flexible and less stiff, making them much more comfortable.
Finally, make sure to clean and condition your boots after each hike. This will help keep them in good condition, ensuring they last longer and continue to provide you with comfort and performance.
Is It Safe to Hike in Blundstone Shoes?
Yes, it is safe to hike in Blundstone shoes. As I mentioned, these boots are meant for the outdoors. So they are designed with comfort and safety in mind, which is why they are a popular choice among outdoor adventurers.
The boots feature an anatomically-designed footbed that provides cushioning and support, while the sole is slip-resistant to ensure you don't slip on wet terrain. Plus, the leather upper is waterproof, so your feet won't get wet if you encounter any puddles. With these features, you can feel confident that your Blundstone boots will keep your feet protected and comfortable during your hike.
But that's not all; Blundstone boots also offer a quite superior traction on a variety of terrain. The tread on the outsole is designed for maximum grip, so you can easily make it through slippery rocks, muddy paths, and other rough surfaces. With the added traction, you can feel secure knowing that you won't slip or lose your footing while you're hiking. But as always – if you still don't feel like the boots are doing a great job, you can always count on some trekking poles for extra support.
Lastly, Blundstone boots are crafted with lightweight materials, so you won't feel weighed down while you're hiking. This makes them perfect for those who want to go on extended hikes without feeling weighed down by bulky shoes.
How Do I Choose the Right Size Blundstone Hiking Shoes?
Choosing the right size of Blundstone hiking shoes is essential for both comfort and safety. To make sure you get the right size, it's important to measure your feet for length and width.
To do this, stand with your feet flat on the floor and measure from your heel to the tip of your longest toe. Then, measure the circumference of the widest part of your foot. Once you have these measurements, you can reference the Blundstone sizing chart to find the best fit for you.
Additionally, if you're in between two sizes, it's recommended to size up. This will ensure that your toes have enough wiggle room, and you won't experience any discomfort while you're walking or hiking.
Lastly, it's always a good idea to buy your Blundstone shoes in-store so you can try them on and make sure they fit correctly before purchasing. There are a few things that I always purchase in store – and one of them are shoes.
Are Blundstones good for winter walking?
Yes! Blundstone hiking shoes are great for winter walking. The waterproof leather and cushioned footbed make them an ideal option for trudging through snow and icy terrain. Plus, the rubber sole provides excellent traction, so you won't slip and slide as much on icy surfaces.
Additionally, certain Blundstone hiking shoes come with a thermal insulation layer, which helps keep your feet warm during cold winter temperatures. All of these features make them a great choice for winter walking.
However, if you're planning on doing any serious hiking in the snow, it's always a good idea to bring a pair of insulated boots or actual snow boots to keep your feet extra warm and toasty.
What Should I Look for When Buying Blundstone Hiking Shoes?
When buying Blundstone hiking shoes, look for features that will provide comfort and support while you're out on the trails. The most important elements to consider are cushioning, waterproofing, and traction.
Cushioning is key for reducing the impact on your feet and helping you maintain your balance on rugged terrain. As for waterproofing, you want to make sure your shoes are made from waterproof leather or other waterproof material to ensure your feet stay dry in wet and rainy conditions.
Finally, make sure your Blundstone shoes have an outsole that provides good grip and traction to keep you from slipping and sliding on the trail. Additionally, if you plan on wearing your shoes for extended periods of time, look for a breathable material to keep your feet cool and comfortable.
Like I said, most Blundstones are gonna have all these features already, but just double-check before you make your purchase
Are Blundstones Waterproof?
A majority of Blundstone shoes & boots are waterproof. Those that are water proof are made from a combination of waterproof leather and other waterproof material to ensure your feet stay dry in wet and rainy conditions. The leather is also treated with an additional waterproofing layer, which helps to provide extra protection against water.
However, there are shoes & boots that they offer that are only WATER-RESISTANT. I always mention this, there is a big distinction between water-resistant and waterproof. Heavy rain and heavy water (such as suberging your shoes in a lake for an extended period) WILL ruin the shoes. Water resistant does not mean water proof.
Conclusion
​​​​​​​In conclusion, Blundstone hiking shoes are a great choice for anyone looking for a durable, comfortable, and waterproof shoe – all the necessary components for a great hiking shoe or boot. They provide excellent cushioning and support, as well as good traction and grip on wet, slippery surfaces.
Additionally, some models are insulated to keep your feet warm and dry in cold weather. When purchasing Blundstone hiking shoes, be sure to look for features that best suit your needs and activities so you get the most out of your shoes. Finally, don't forget to pair your Blundstone hiking shoes with a pair of nice merino wool socks to keep your feet extra warm and toasty.