Can You Hike El Capitan? (2023)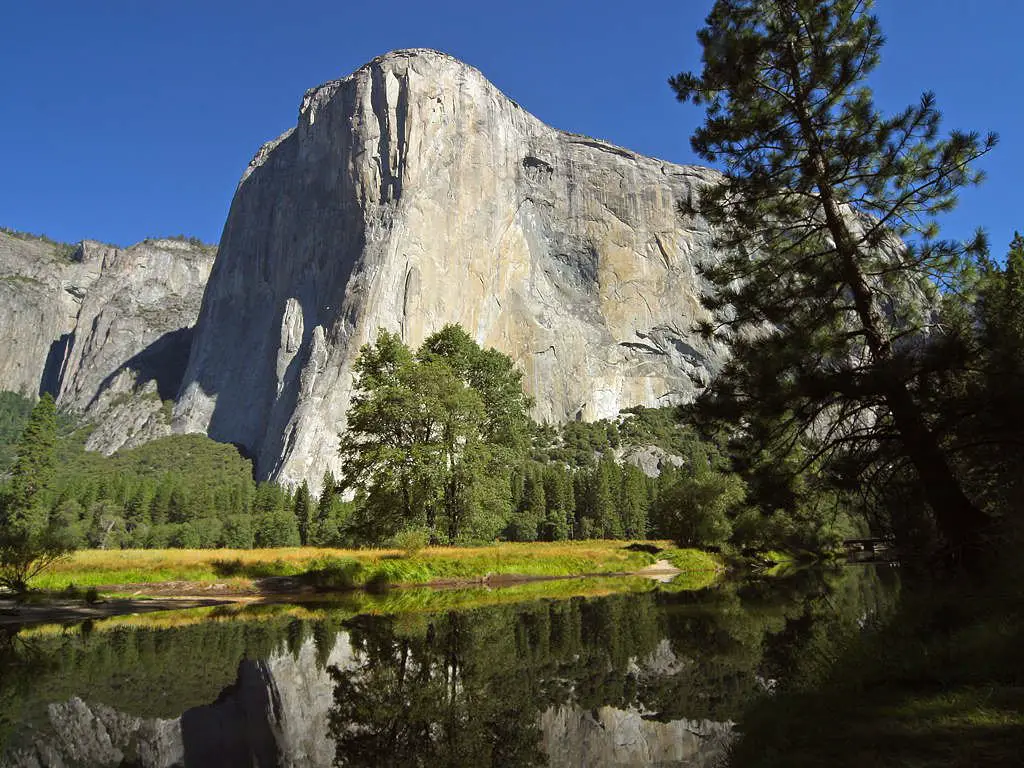 In the deep backwoods of Yosemite National Park exists a mountain so enormous that it takes the average hiker over 12 hours to climb. The El Capitan rock formation has lived in the ranges of Yosemite for over 100 million years. The Nose of El Capitan is a vertical monolith rock that is incredibly intimidating and an incredibly difficult 3000 feet straight to the top. 
That being said, taking on The Nose of El Capitan is a challenge even for the most experienced of hikers and climbers.
El Capitan, or as some call it El Cap, is the test of all tests to see what a rock climber is really made of. Thousands of outdoor rock climbers are drawn to this demanding mountain each year. Most people who dare to take on this adventure will take an average of about four to six days to reach the summit. But a few elite climbers have been able to make it to the top of El Capitan in less than 24 hours.
Are you thinking of taking on this climbing challenge of all climbing challenges? If you are, we're here to provide you with more information about the challenge and how to properly prepare to ensure your climb is as successful as possible. 
Who Was the First Person to Climb El Capitan?
The first time somebody dared to take on El Capitan was November 12th, 1958. Warren Harden was the very first climber to successfully ascend The Nose of El Capitan all the way to the summit. This hike would put Warden's name down in history as one of modern history's prolific and influential rock climbers. Until this trailblazing ascension in 1958, nobody had ever thought it would be possible to climb such a mammoth mountain, let alone successfully get up to the top of an almost vertical rock fixture.
Along a series of partners, Harden took on El Cap in increments over 18 months, far longer than the average hiker can make today. Harden and his hiking partners used hundreds of homemade pitons and ropes to ascend El Cap, which paved the way for any hikers who would come up after them to do the same. 
What is Free Climbing?
When you decide to free climb a mountain, it means that you're traveling up a mountain with very little rope for protection. You're otherwise almost exclusively relying on your own hands and feet to get you up the hike. As of 2021, a few dozen people have attempted to free climb El Capitan, with only a select elite finishing the hike to completion. 
The most recent person to successfully finish the hike was 34-year-old Emily Harrington, who completed the hike in an impressive 21 hours, 13 minutes, and 51 seconds. This makes Emily the fourth woman to successfully complete the challenging El Capitan hike. Although Emily is a remarkable climber, it should be noted that she reached the top of the summit significantly injured. She obtained a bloodied head and a very bruised body while completing this incredible feat, and she's very lucky to be alive to tell her tale. 
Advice and Tips For Hiking El Capitan
El Capitan is open every day all year round, from 8 am to sunset. The only time of year when it is not available for hiking is on Christmas Day and for the entire month of August due to extreme heat. 
We cannot stress enough that the hike is not for beginners and not even suitable for intermediate rock climbers. While Yosemite is a safe park – this is an extremely challenging hike to take on, and only the most experienced hikers should consider taking this challenge. If you want to take on this challenging hike, you will need to train rigorously for it. 
The hike is a popular challenge for those hikers who are really looking to take it to the next level. If you're trying to take on this mountain, consider comparing taking on El Cap to training for a marathon. You can't just take on this mountain all willy-nilly; you absolutely must put in a significant amount of preparation and training beforehand. 
At least five people have died trying to climb El Capitan since 2013, so that should be enough to convince you of what's at stake when you choose to take on this challenge. In total, there have been over 30 fatalities in the last 100 years from climbers and hikers attempting to take on El Capitan. You should approach El Capitan with the utmost seriousness and preparation.
How long does it take to climb El Capitan? 
If you're looking to take on the El Capitan hike, you're looking at about 15-19 miles of intense challenge. The hiking trail is an out-and-back style trail that varies in challenge level. Depending on your fitness level, taking on the El Capitan trails can take anywhere from 10 hours to 6 days. It's a huge variation gap for sure, but this is because several different hiking routes are available for hikers of different experience levels. 
The first few miles of the El Capitan trail are constantly uphill, often having very tight switchbacks, so you should ensure your fitness level is in prime condition before even taking on the less intense parts of this hike. 
Before you take on this major excursion, here are some tips to take into consideration:
Climb Every Day
To condition yourself for El Capitan, you should get as much training as possible. If you're really serious about taking on this behemoth of a climbing challenge, you should be climbing daily. Maintaining a consistent and healthy routine will prime your mind and body to hike El Capitan.
Beyond climbing, you should also be making sure that your diet is in prime condition so that you are sure you have the proper energy reserves to take on this 17-mile excursion. 
Test yourself on the big rock climbing walls
Have you ever gone to a rock climbing gym? Going to climbing gyms can be a great start for those who have the longer-term goals of climbing up El Capitan. The hiking gyms are a safe and controlled way to get your feet wet by climbing up the steeper, more challenging hikes.
If you plan to take on a challenge as grand as El Capitan, you should test yourself on the climbing gym's bigger, more demanding walls to prepare your fingers and body.
If you're a bit more experienced as a climber, you can begin to practice on less challenging outdoor hikes and climbs to prepare yourself. 
Strengthen your finger muscles
Your finger strength will be an essential asset when attempting to take on El Capitan. Just as hiking and climbing should be a part of your daily routine up until you climb El Capitan, so should finger strength training. There are various kinds of ways you can develop your finger strength.
 If you're training at a climbing gym, try to go for the more challenging walls, including V5s'. If you're not used to climbing walls this challenging, doing some training every day for at least 30 days would be beneficial. 
To really take your training to the next level, you'll want to begin to engage in finger push-ups and pull-ups. If you're really committed, you can purchase a fingerboard to take your training beyond the climbing gyms. You can begin with basic 5-finger pull-ups, and as you go along in your training, you can do four, then three, then two-finger pull-ups. 
There are some pretty steep hikes on El Capitan, so doing the training that challenges you the most will be the most beneficial to the success of your climb. 
What should you bring for the hike?
Like with any long hike, you should bring some essential supplies with you to make your hike as comfortable and effortless as possible. This includes making sure that you're wearing the proper footwear, bringing as much water as you can carry, along with some snacks and maybe even some dried meals with you, especially if you're planning to make this a backpacking adventure.
If backpacking is on your itinerary for this adventure, it would also be in your best interest to bring a headlamp for when the days get dark. And for when it's bright and beaming outside, be sure to stock up on plenty of sun protection such as sunscreen and maybe a sun hat. 
You're going to want to bring loads of bug spray as well. If you plan on going into the backwoods of Yosemite park, you have to be aware of the fact that it's basically a madhouse for mosquitoes. To make sure your adventure is as bug-free as possible, load up on Off, or for the holistic hippies, Eucalyptus oil.
Do you need a permit to hike El Capitan?
Unlike other hikes in Yosemite park, such as the Half Dome hike, you do not need a permit in order to take on El Capitan. However, you must apply for a permit if you plan to turn this adventure into an overnight backpacking trip. 
The purpose of permits in this context is to limit the number of people who are given access to the backcountry so that each hiking group can enjoy some solitude while out in the mountains. Permits are available up to 24 weeks in advance and can be reserved up to four days before your hike.
Conclusion
If you're going to take anything away from this article, take this last bit of advice with you. 
Take all the hiking materials that you would typically take on a regular hike, i.e. water, food, hiking shoes, trekking poles, etc. 
Plan your hike accordingly, and make sure to apply for a permit if you plan to make this an overnight backpacking adventure.
Beginners should steer clear of The Nose of El Capitan, save for observing more experienced hikers take on the challenge.
Remember that El Capitan is an unbelievably demanding and potentially dangerous climbing challenge to take on. Please prepare accordingly and rigorously for your own safety. 
With all this considered, you can begin to plan and prepare for this once-in-a-lifetime hiking challenge. Good Luck and happy trails!