The 23 Best State Parks in Tennessee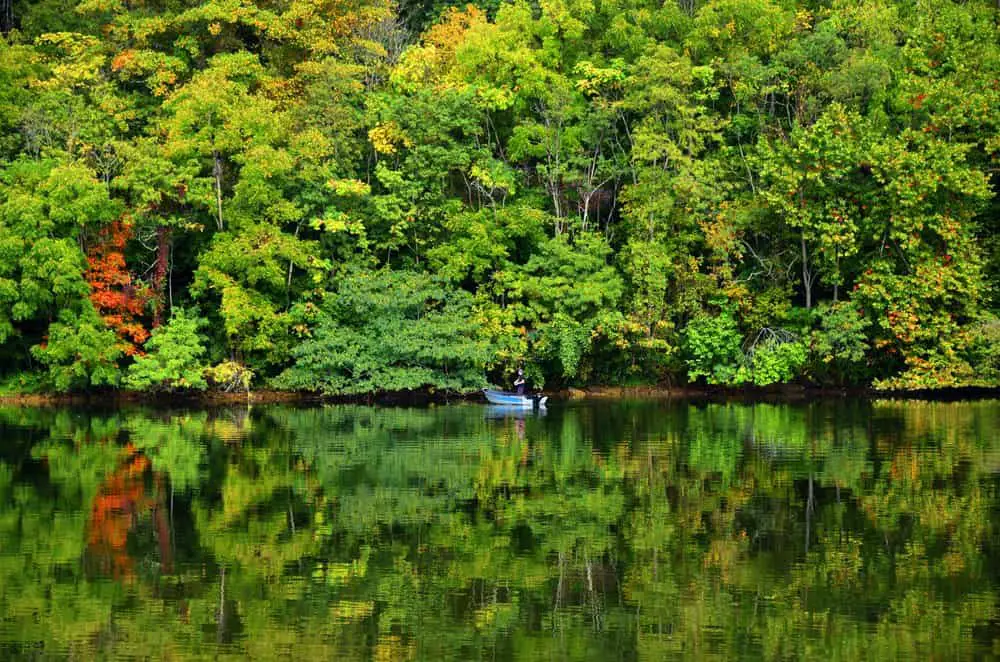 Tennessee is home to some of the most beautiful and diverse state parks in the country. From lush forests to cascading waterfalls, there are plenty of stunning sites to explore. So if you're looking for an outdoor adventure, here are some of the best state parks in Tennessee that you won't want to miss.
From the Great Smoky Mountains to the rolling hills of Fall Creek Falls State Park, there's something for everyone. The majestic views from Cumberland Gap National Historical Park are unrivaled, while the trails at Henry Horton State Park provide plenty of opportunity for hiking, biking, and horseback riding.
Whether you're looking for some great hiking, or just a leisurely stroll through some beautiful scenery, Tennessee has you covered. So let's take a look at some of the best state parks in Tennessee and discover all they have to offer.
Bicentennial Capitol Mall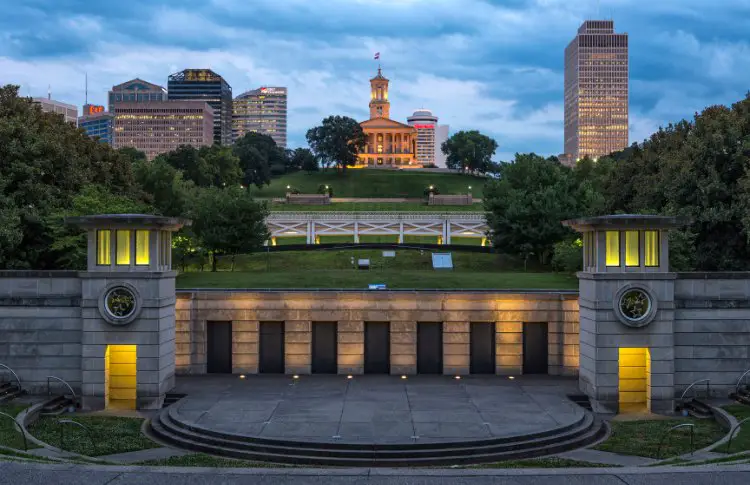 Located just in the shadow of the Capitol in downtown Nashville, this 11-acre park is packed with history, natural wonders and monuments celebrating Tennessee's Bicentennial Celebration.
The park features a 200-foot granite map of the state, a World War II Memorial, a 95-Bell Carillon, and a Pathway of History. Wander along the Walkway of Counties and check out planters with native plant species from different regions of the state. Or take advantage of the two-page park map for a self-guided tour.
For those looking for more of an outdoor adventure, you can take part in interpretive programs and tours or take on one of the hiking trails. The park also features a 2,000-seat amphitheater which offers jaw-dropping views of Nashville's skyline. So if you're visiting Nashville or just looking for an outdoor escape from city life – Bicentennial Capitol Mall is definitely worth the stopover.
Big Hill Pond State Park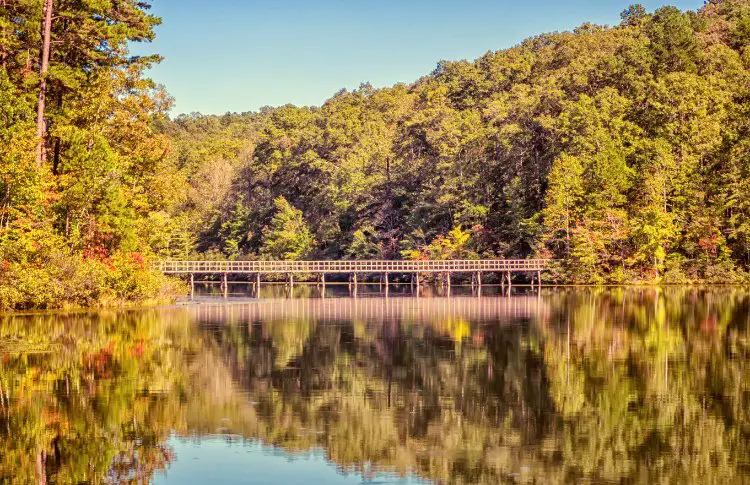 This 4,138-acre paradise offers something for everyone and is home to the 70-foot observation tower that gives you a stunning panoramic view of Travis McNatt Lake and the boardwalk through Dismal Swamp.
Visitors can enjoy camping, hiking, birding, mountain biking, fishing, or paddling on Big Hill Pond Lake during the summer months. There's also thirty miles of trails – both day use and overnight – with four backpack trail shelters to choose from.
The campground has 28 tent and small RV sites with tables and grills. Unfortunately, there are no hookups or dump stations available, but firewood is sold onsite for convenience. If you're looking for a peaceful outdoor escape in nature with ample opportunities to take in the scenery at its fullest, Big Hill Pond State Park is the perfect place to be.
Bledsoe Creek State Park
Take a step back in time and explore Bledsoe Creek State Park. Once a prime hunting ground for the Cherokee, Creek, Shawnee, and Chickamauga Native American tribes, this park is now a protected area with plenty of activities to enjoy. The park features 57 campsites and over six miles of scenic hiking trails that meander through the forest and along the lake shore.
One mile of these trails is paved and accessible to persons with disabilities. The trails are open year-round for visitors to explore and take in the stunning views. Enjoy fishing at Old Hickory Lake or take advantage of one of two boat launch ramps – one for registered campers only and the other open for the general public. Picnic facilities are also available, with some able to accommodate up to 150 people.
Plus, you can learn more about the area's rich history through park programs that provide entertainment for all ages annually. The park also offers swimming, birding, fishing and boating opportunities – so there's something here for everyone!
Booker T. Washington State Park
If you're in the mood to explore, then Booker T. Washington State Park is the perfect destination for you. Named after the famous leader, Booker Taliaferro Washington, this 353-acre park is located on the shores of scenic Chickamauga Lake near Chattanooga.
Offering beautiful scenery and a wide range of activities, there's something here for everyone in your family or group. The park boasts a six-mile mountain biking trail that's a challenge to navigate but also incredibly rewarding. If you prefer to picnic, there are three large pavilions that can accommodate up to 60 people each as well as more than 30 individual picnic sites with grills and water spigots nearby. The fishing pier is also a popular spot for anglers, with great blue herons often seen perched atop its roof.
Birdwatchers will delight at the sight of bald eagles, ospreys, and many species of waterfowl at Booker T. Washington State Park. The hilly area where the mountain bike trails are located is also excellent for spotting spring and fall migratory birds – 120 species have been spotted there!
Burgess Falls State Park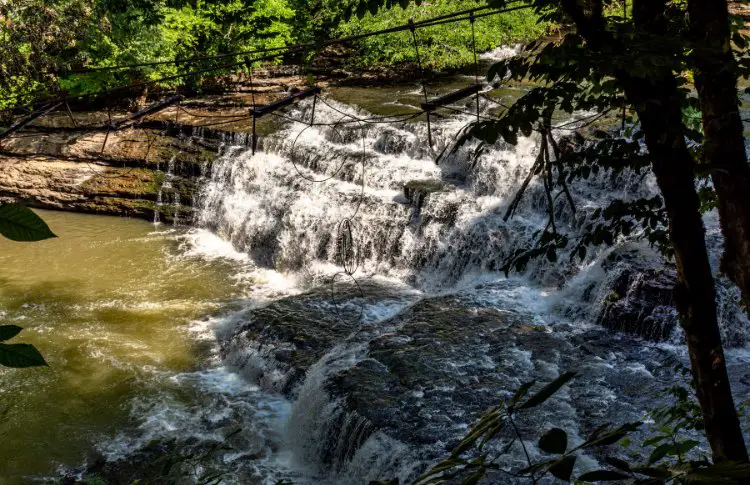 Nestled in a picturesque gorge on the Falling Water River, Burgess Falls State Park is an outdoor paradise that's perfect for a day out with family and friends.
This park is home to four waterfalls cascading down 250 feet in elevation and the most spectacular one of them all is the last one – plunging over 130 feet into the gorge. The park has a rich history, from being part of Native American hunting grounds to its use for hydroelectric power for the city of Cookeville from 1928-1944.
Nowadays, visitors can take advantage of its diverse forest and aquatic habitats with plenty of activities available year-round. Fishing is popular below the dam, while you can picnic nearby at grills installed at several spots around the park. You can also explore its gorgeous landscape by going on hikes along its trails – make sure you go back via service road to catch views of the Waterfall River – just know that swimming isn't allowed there.
Cedars of Lebanon State Park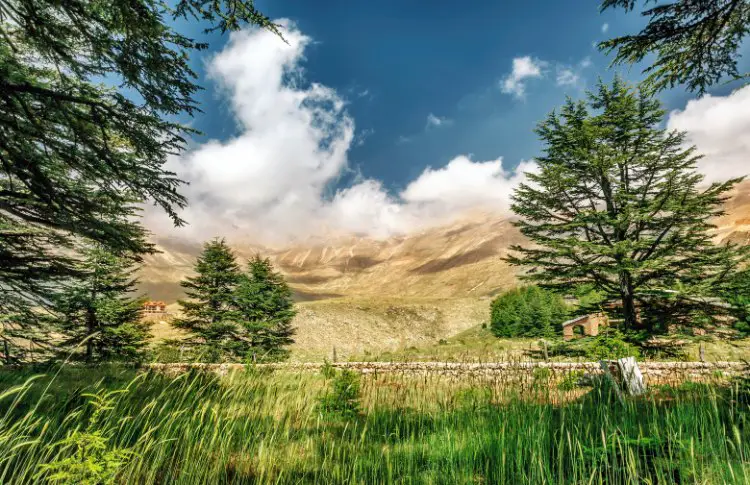 Located in Wilson County, the park is surrounded by the Cedars of Lebanon State Forest, and was named for the Eastern Red Cedar trees found throughout the area. This 1,139-acre park has plenty of amenities to offer visitors, from its 117 campsites with electric and water hookups to its modern group lodge that can sleep up to 80 people.
You'll also find lots of fun for the entire family – a splash pad and farm, as well as a golf course, hiking trails and cultural arts center.
If hiking is more your thing, head on over to Cedars of Lebanon State Park for some fantastic hiking opportunities – eight miles of trails meander through the cedar forests and glades with sights of foxes, deer, rabbits and turkeys along your journey.
Picnicking is also popular here – there are 11 picnic shelters located throughout the park with grills that can be reserved for a fee. Whether you're looking to camp or just take a day trip out into nature, Cedars of Lebanon State Park is sure to be an enjoyable experience for all ages.
Chickasaw State Park
Situated in West Tennessee, this 1,400-acre park lies along the border of Hardeman and Chester Counties and is one of Tennessee's 20 New Deal-era state parks. This area offers a variety of activities for visitors to explore, from hiking on its four miles of easy to moderate trails to paddling on its two, 54-acre lakes.
At Chickasaw State Park, guests can rent rowboats and pedal boats on Lake Placid or launch their own canoes and kayaks from both Lake Placid and Lake LaJoie (located 8 miles west). Visitors can also take advantage of the bicycle-friendly roads or get out onto the golf course for an afternoon round.
For those who love birdwatching, Chickasaw State Park also has plenty of indigenous species like pileated woodpeckers, red-headed woodpeckers, great blue herons and more. Bring your camera along to catch some great shots! And don't forget to take a dip in the lake – swimming is allowed during summer months only. So if you're searching for an activity-filled getaway with beautiful natural surroundings just an hour ride away from Memphis – you know where to go!
Cumberland Mountain State Park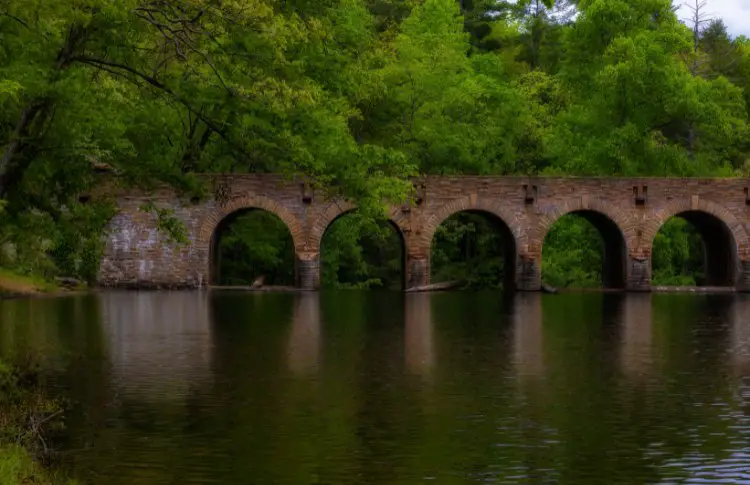 Cumberland Mountain State Park, situated on the Cumberland Plateau in Tennessee, is the perfect location for outdoor recreation. Whether you're looking to hike, fish, paddle, or simply relax – this park, literally, has it all.
Cumberland Mountain State Park began as part of the greater Cumberland Homesteads Project, a New Deal-era initiative that provided recreational areas and small farms for poverty-stricken families on the Plateau. Today, visitors can enjoy amenities such as swimming, fishing, boating, birding, golfing and more.
The park is located around Byrd Lake – a man-made lake created by the impoundment of Byrd Creek in the 1930s. There are also numerous fully furnished cabins available throughout the year as well as 140 campsites for tents and RVs. Plus there's a designated area for backcountry camping along an overnight trail – perfect for those who want to really explore this beautiful terrain.
Additionally, The Bear Trace at Cumberland Mountain Golf Course is one of the most sought-after sites among Jack Nicklaus-designed Bear Trace courses in Tennessee. The 6,900-yard par 72 layout features a design that capitalizes on elevation changes and natural features such as flowing brooks and clustered pines.
Cummins Falls State Park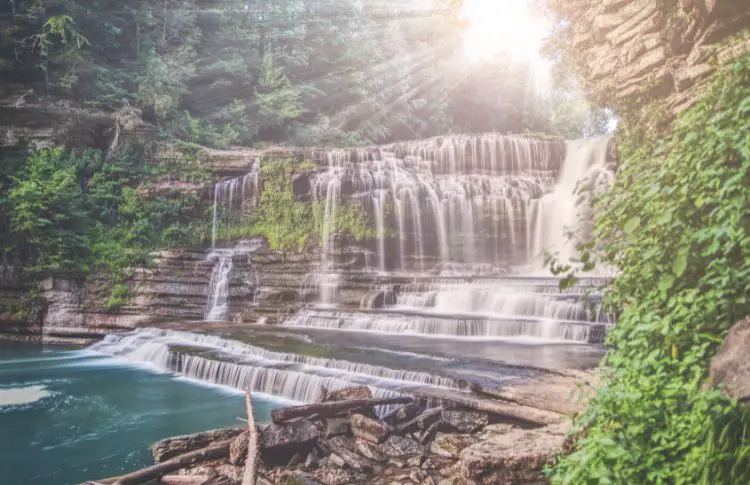 Take a journey to Cummins Falls State Park, an idyllic day-use park located nine miles north of Cookeville on the Eastern Highland Rim. This 306-acre park, situated in the Cordell Hull Watershed, is home to Tennessee's eighth-largest waterfall in volume of water and is 75 feet high.
The area has been a favorite spot of local residents for swimming and sightseeing for over 100 years, who have been enjoying the natural beauty it has to offer. Visitors can enjoy picknicking, hiking, and fishing here as well.
To access the waterfall and gorge area, visitors will have to take one of two routes that descend into the gorge. One route is approximately one mile long while the other is 1.5 miles long – both are steep with uneven terrain and have significant elevation drops. The trails and rocks at the waterfall and gorge area can be slippery, so wear sturdy shoes (and don't forget your safety gear). You're also going to need to be aware of sudden heavy rainfalls as they can result in flash floods and make streams very dangerous. 
Dunbar Cave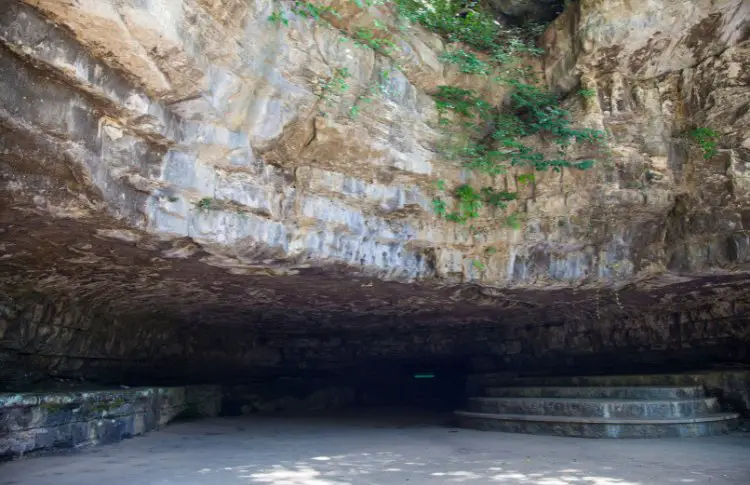 Dunbar Cave State Park is a place like no other. Located in Clarksville, Tennessee, this 144-acre park is home to a remarkable prehistoric site with significant Mississippian Native American cave art dating to the 14th century. With its long history and spiritual significance, it's no wonder that Dunbar Cave has been used for thousands of years.
For the Mississippian people living around the Red River in the 14th century (and possibly even before then), Dunbar Cave was a sacred portal into the Underworld. It is believed that they left drawings on the walls of the cave as symbols of their spiritual beliefs, some in charcoal and some carved into limestone itself.
While we can't say exactly what these drawings meant, they still hold spiritual significance to modern indigenous peoples of southeastern U.S. Today, these drawings are protected at Dunbar Cave State Park and visitors can experience them first-hand by taking one of the guided tours offered May through September.
Fall Creek Falls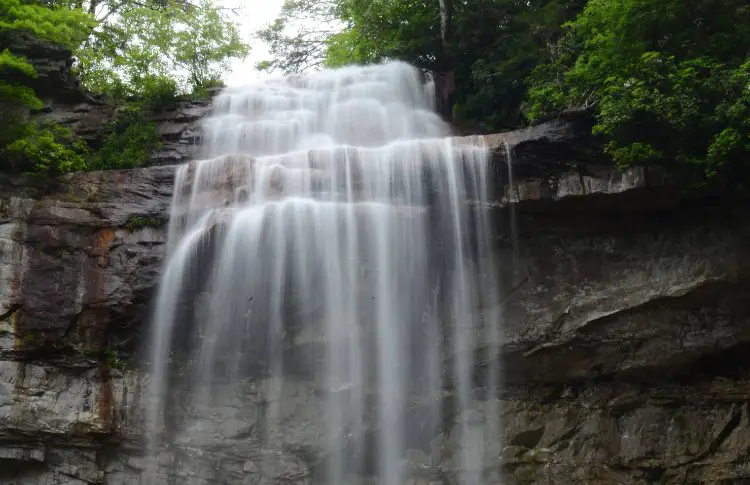 Fall Creek Falls State Park is one of Tennessee's largest and most visited state parks, spanning 29,800 acres on the Cumberland Plateau. With cascades, gorges, streams, waterfalls and lush hardwood timber – you will be treated to a stunning view of natural wonders.
The centerpiece of the park is the 256-foot Fall Creek Falls – one of the highest waterfalls in the eastern United States. Other breathtaking falls include Piney Falls, Cane Creek Falls and Cane Creek Cascades. The park has been restored by the Works Progress Administration and Civilian Conservation Corps since 1937 to its current condition today.
There are plenty of activities to enjoy here as well. From rock climbing and canopy challenge courses to boating, hiking and swimming – it's a great spot for all ages and abilities. And if you're looking for an overnight stay, there are 30 cabins, 222 campsites and an 85-room lodge available for visitors who want to spend a few days at Fall Creek Falls State Park. Whether you're a native, or exploring from out of state, Fall Creek is an absolute must.
Frozen Head State Park
Covering more than 24,000 acres of wilderness, Frozen Head State Park is named for its 3,324-foot peak in the Cumberland Mountains, which is often cloaked in snow and ice during the winter months. As you enter the park, you are embraced by a dense forest with stunning mountain views. And with 50 miles of backpacking and day-hiking trails to explore, you can spot plenty of wildlife along your journey.
There are also 20 primitive tent campsites located within the park if you want to extend your stay. For a truly breathtaking experience, trek up to the observation deck at the summit of Frozen Head peak. This 7-mile trail will take you through thick woods before reaching a clearing just above tree line that offers 360-degree views from all directions. From here you can spot The Great Smoky Mountains and Walden Ridge in the distance.
Whether it's for a day or weekend trip, Frozen Head State Park provides an unforgettable escape full of natural beauty and adventure that everyone can enjoy.
Harpeth River State Park
Looking for an outdoor escape that's equal parts adventure and relaxation? Then look no further than Harpeth River State Park. This park offers 40 miles of river access, with nine sites to visit. Whether you're a beginner or an experienced paddler, the Harpeth River is the perfect place to take in some fresh air while kayaking or canoeing (rentals and trip info available from local outfitters).
Fishing enthusiasts can also find plenty to do here, as the river is home to over 30 species of fish. For those who prefer staying on land, there are plenty of hiking trails as well. The one mile trail meanders around and through a wildflower meadow, while another trail offers a half-mile hike through nature and along majestic bluffs. Plus, there's a one mile spur trail that ascends to the top of a ridge where you can find the remains of an old marble dance floor – all that remains of a 1940s resort!
If you're looking for even more serene spots within Harpeth River State Park, then head over to Hidden Lake where you can admire wildlife in its natural habitat. Just note that while access sites close for safety during high water periods, much of the property around the Harpeth River is private land – so be sure to observe trespassing laws and be courteous to landowners.
Henry Horton State Park
Henry Horton State Park was established in the 1960s on the estate of former Tennessee Governor, Henry Horton, and is located on the shores of the historic Duck River, one of the most diverse ecosystems in the world. With so much to do and see here, you could easily spend a day or two here.
There's 10 miles of hiking trails that take you through cool sinkholes to dry cedar glades and past areas with deep cultural history. You can bring your bike or rent one to explore some of the trails, go fishing (either with your own equipment or rentals provided), try golfing at their nine-hole course, or take a guided river float. And if you're feeling brave enough why not take a swim in their pool?
There are also plenty of lodging options available – from cabins, RV sites and tent campsites to group campsites – plus there's even a restaurant and lounge for when it's time for dinner. So what are you waiting for? Heny Horton state park is one of the most popular parks in the state, for a reason!
Long Hunter State Park
Long Hunter State Park boasts over 2600 acres and consists of four sections: Couchville, Baker's Grove, Bryant Grove and Sellars Farm. The perfect spot for outdoor enthusiasts, you'll find a variety of activities to do here. From fishing on J. Percy Priest Lake to biking and hiking on the various trails available – there's something for everyone here.
The trails range from pleasant strolls to longer jaunts for the more adventurous. There's even a self-guided paved arboretum trail and a five-and-a-half mile Volunteer Trail that follows the lakeshore. Swimming is also available, as well as two boat ramps located on J. Percy Priest Lake – so don't forget to bring your boat (If you've got one!)
There's also a group camp, backcountry campsite and meeting facility available in the park – making it great for large events or weekend getaways with friends and family.
Natchez Trace State Park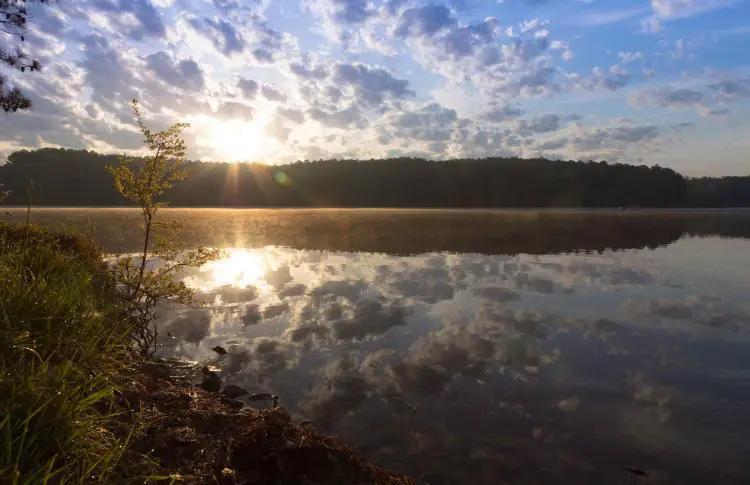 Natchez Trace State Park has some awesome history to it. This park was formed as part of Roosevelt's New Deal Program, providing jobs to many people in the area and laying the foundation for what is now a 48,000 acre oasis.
Natchez Trace State Park is quite vast – it definitely has something for everyone. From its museum that features local and park history to its four lakes perfect for fishing, to its 250 miles of riding trails, you'll never run out of activities.
Visitors also have access to campgrounds with full hookups, two bathhouses, a dump station and even an onsite wrangler camp. And with hiking trails ranging from half a mile up to 4.5 miles — plus an overnight trail that's 40 miles long — there's so much to explore! 
The Old Stone Fort
Experience a unique and captivating journey back in time at The Old Stone Fort. This state archaeological park is home to the remains of a ceremonial gathering place built by Native Americans 1,500-2,000 years ago. Today, visitors can explore this ancient fort along an impressive main hiking trail that follows the wall of the fort and features twelve interpretive panels for visitors to learn about its history.
The Old Stone Fort's location was designed to face the exact spot on the horizon where the sunrises during the summer solstice – a remarkable feat considering its age. And, with its graceful waterfalls and dramatic scenery, it's no wonder why it continues to draw history enthusiasts from around the world.
In addition to its ancient ruins, The Old Stone Fort also offers plenty of activities for visitors to enjoy including fishing and hiking. Plus, there's also an informative museum complete with displays of replica artifacts from prehistoric Native Americans as well as dioramas and photos providing further insight into its background and culture. So if you're looking for a unique outdoor adventure that takes you back in time, head over to The Old Stone Fort Park!
Panther Creek State Park
Take a detour to Panther Creek State Park for a refreshing outdoor escape. Situated in the historic Holston River Valley, just 6 miles from Morristown, this park is full of history and breathtaking views. Prior to the arrival of settlers from North Carolina and the Watauga Settlement in East Tennessee around 1785, this area was home to the Cherokee Indians.
At Panther Creek State Park, you can explore 17 different hiking trails covering more than 30 miles of terrain at all levels of difficulty. Enjoy spectacular views of Cherokee Lake and the Cumberland Mountains from Point Lookout Trail, rising 1,460 feet above sea level.
Or try your hand at 15+ miles of mountain biking trails that range from easy to difficult. Other activities include paddling on Cherokee Lake, golfing at Panther Creek Golf Course, swimming in Chickamauga Lake and horseback riding on established trails.
Pickett CCC Memorial State Park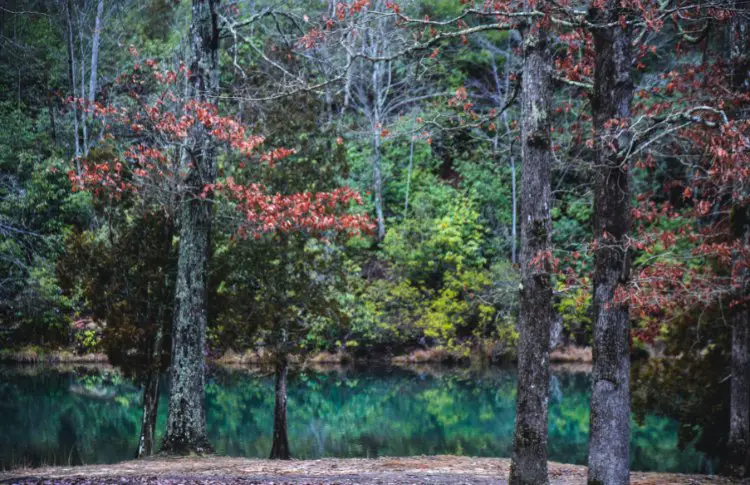 The Pickett CCC Memorial State Park is part of the Pickett State Forest and is adjacent to the Big South Fork National River and Recreation Area, offering over 20,000 acres of lush forest and unique wildlife. The park was first developed between 1934-1942 by the Civilian Conservation Corps (which is what the CCC stands for), who built hiking trails, five rustic cabins, a recreation lodge, a ranger station, and a 12-acre lake.
The park memorializes their work to this day. Pickett CCC Memorial State Park also earned Silver-tier International Dark Sky Park designation in 2015 – making it the first state park in the Southeast with this prestigious recognition. Visitors can enjoy sweeping views of the night sky similar to those found in many Western states.
The park has rentals available for visitors looking to stay overnight or longer. You can choose from 15 cabins (3 types) or 26 campsites with electric hookups and water connections. Picnic tables and grills are provided at each site too! If you're looking for outdoor adventure in beautiful Tennessee, head over to Pickett CCC Memorial State Park for an unforgettable experience like no other!
Radnor Lake State Park
Radnor Lake State Park is a 1,368-acre park that's quite unique due to its abundance of wildlife viewing opportunities and its location in an urban area. It is perfect for nature enthusiasts (and bird lovers) to observe owls, herons, waterfowl, and many species of amphibians, reptiles, and mammals.
This day-use only park has 7.75 miles of trails available for hiking, photography, and wildlife observation. Pets are allowed on the Otter Creek Road trail, while jogging and bicycles are only allowed on the same trail. The Lake Trail is accessible to people with all-terrain wheelchairs as well!
The park also features several ranger-led programs throughout the year, such as canoe floats, wildflower walks, astronomy night hikes, nature hikes and birds of prey programs. And in 2011 they opened up the Historic Valve House Trail which features interpretive panels focusing on the L & N Railroad construction of the dam in the early 1900s.
Lastly, don't forget to check out the Barbara J. Mapp Aviary Education Center which houses several birds of prey ranging from great horned owls to bald eagles. This 550-foot boardwalk and aviary complex are a must-see!
Rock Island State Park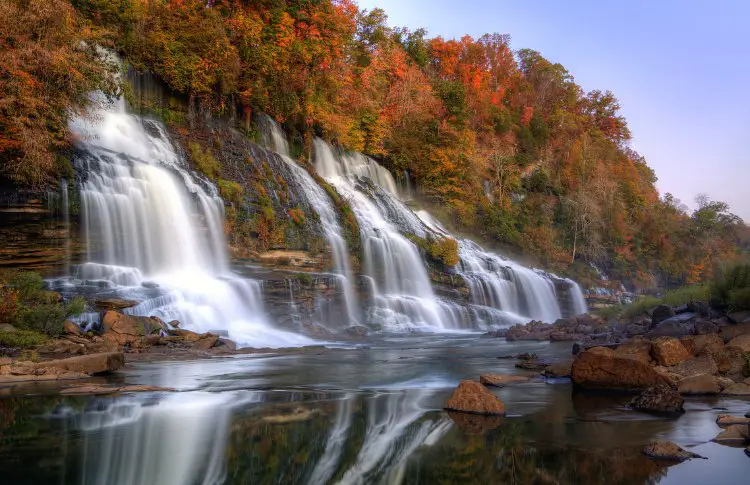 Why not take an unforgettable journey to Rock Island State Park and discover the rugged beauty of Tennessee's Eastern Highland Rim? This 883-acre park is located at the confluence of three rivers, the Caney Fork, Collins, and Rocky Rivers. Here visitors can marvel at the Caney Fork Gorge below Great Falls Dam, where they can enjoy a stunning 30-foot horseshoe cascading waterfall that was once powered by a 19th century cotton textile mill.
Rock Island offers plenty of activities for all thrill seekers, from hiking and birding to swimming and boating. Plus, you can explore historic sites like Twin Falls and Blue Hole — but use caution when doing so! Swimming or wading is not allowed in any areas from TVA's powerhouse downstream all the way down to the main beach boat ramp due to hidden and deadly currents. However, with its breathtaking views and outdoor activities, Rock Island State Park will take your breath away.
Savage Gulf State Park
Located in Grundy and Sequatchie counties, this newly established state park offers an incredible array of activities to enjoy. Hikers will be enthralled by the 60-mile trails that lead to remarkable vistas, waterfalls, and historical locations like the Stage Coach Road.
The Great Stone Door is an impressive cliff line overlooking the Savage Gulf – your eyes will be delighted as you take in its top-to-bottom crack that resembles a door left slightly ajar. And for wildflower enthusiasts, there are plenty of trails perfect for flower hunts as you make your way through different environs from the top of the plateau to the deep gulfs.
Campers can also take advantage of the nine backcountry campgrounds (Hobbs, Dinky Line, Savage Falls, Stagecoach Road, Collin West, Savage Station, Alum Gap, Sawmill, and Stone Door), which can be reserved online through South Cumberland State Park's reservation site. So if you're looking for a peaceful outdoor retreat with plenty of sites to explore and discover nature at its finest, plan a visit to the newest park in Tennessee, the Savage Gulf State Park.
South Cumberland State Park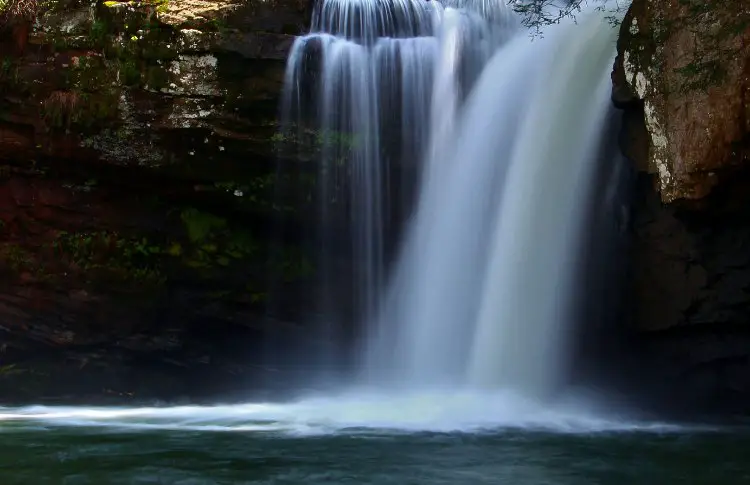 South Cumberland State Park is spread across four different Tennessee counties – Grundy, Franklin, Marion, and Sequatchie – and offers 30,845 acres of diverse terrain.
Visitors can enjoy some of the best hiking and backcountry camping in the region, with 55 miles of trails that lead to remarkable vistas, waterfalls, and historical locations such as Stage Coach Road. The Great Stone Door (mentioned previously) area boasts an impressive cliff line that overlooks Savage Gulf and gets its name from a crack in the cliff that runs from top to bottom – almost looking like a door left slightly ajar.
You can also access many other parts of the gulf via the trails here. Wildflower hunts are also popular here as you traverse through different environs, such as the top of the plateau or deep gulfs.
In addition to hiking, South Cumberland State Park also provides plenty of other outdoor activities, such as birding, hunting, rock climbing, swimming, picnicking, and fishing.
Frequently Asked Questions About Tennessee State Parks
What Is The Biggest State Park in Tennessee?
Justin P. Wilson Cumberland Trail State Park is the largest state park in Tennessee at 31,500 acres of land. It's also commonly known for its shortened name, the Cumberland Trail.
Are Camping and Lodging Available at Tennessee State Parks?
Yes, camping and lodging are available at most Tennessee state parks. Many parks offer camping and lodging options such as cabins, RV sites, primitive campsites, and group shelters.
Are Pets Allowed in Tennessee State Parks?
Yes, pets are allowed in most Tennessee state parks. All pets must be kept on a leash and under control at all times, and owners are responsible for cleaning up any messes their pet might make. Some parks may have specific areas designated for pets or additional rules, so it is important to check the park's regulations before bringing your pet.
Are There Any Special Programs and Activities at Tennessee State Parks?
Yes, many Tennessee state parks offer special programs and activities throughout the year. These may include interpretive programs such as hikes and guided tours, educational programs, special events, and more. Visitors can check the Tennessee State Parks website for a list of special activities and programs available at all state parks.