13 Best State Parks In Indiana (2023)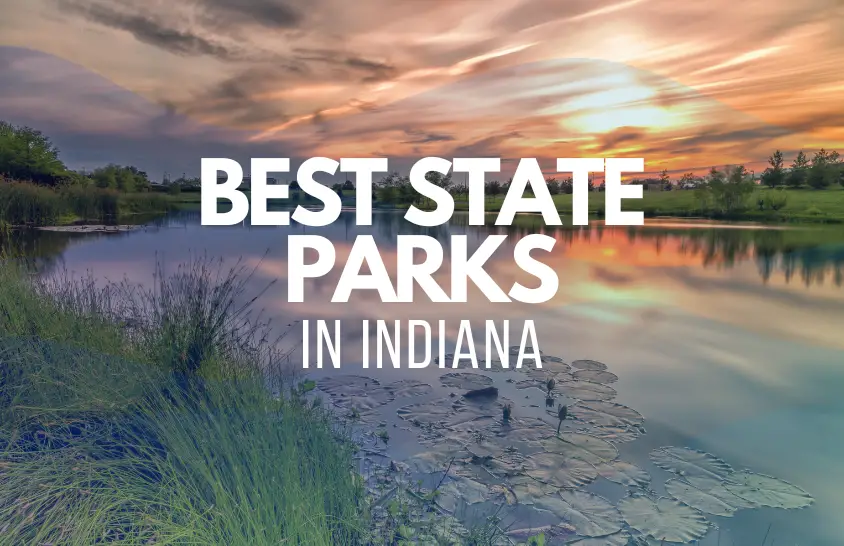 Indulge in the great outdoors and embark on an adventure in the scenic state of Indiana. Home to an abundance of picturesque state parks (24 in total), Indiana boasts a diverse range of landscapes, from lush forests to shimmering lakes and meandering rivers. With so many fantastic options, it can be difficult to choose which park to visit.
To make your decision easier, we have handpicked the top 13 state parks in Indiana, each offering its own unique appeal. From towering sand dunes to breathtaking canyons and scenic trails, these parks have something for everyone. Get ready to plan your next outdoor excursion and experience the best of what Indiana has to offer.
Brookville Lake State Park
If you're looking for a peaceful getaway in Indiana, look no further than Brookville Lake State Park. Nestled in the historic east fork of the Whitewater River Valley, this park is known worldwide for its 450-million-year-old fossils, reminders of an ancient inland sea.
The lake property consists of 25 miles of hiking trails, boating opportunities, and nationally renowned recreational and sport fishing. Two beaches and 400+ campsites provide plenty of opportunities for the perfect family vacation spot. Other amenities include archery, horseshoe pits, hunting, interpretive naturalist services, paddleboard rentals, playgrounds, shooting ranges, swimming/beach, volleyball courts, and waterskiing.
Take a stroll along one of their many trails – our favorites are the Fairfield Trailor Glidewell Trail. Fairfield Trail takes you past a 2000-year-old Native American Mound, while Glidewell Trail runs by the lakeshore up through an old pine plantation and crop fields.
Brown County State Park
Looking for an unmatched state park experience in Indiana? Then you'll definitely want to add Brown County State Park to your list of must-visit spots. Nicknamed the "Little Smokies" for its resemblance to the Great Smoky Mountains, this park encompasses 16,000 acres of rugged hills, ridges, and ravines – all crafted by glaciers from the Ice Age and meltwaters.
What's more, this park is one of the best places to go if you're looking for views of uninterrupted forestland. With nearly 20 miles of tree-lined roads and plenty of scenic vistas, it's a traditional fall-color hot spot that's perfect for sightseeing.
Other than admiring its natural beauty, there are plenty of other things to do at Brown County State Park. From hiking trails and mountain bike trails (which Bike magazine says are among the best on the continent) to fishing and swimming in their Water Park pool at Abe Martin Lodge – there really is something for everyone here. And when you're done with all that, don't forget to watch a sunrise or sunset from one of their many vistas!
Charlestown State Park
Experience the best of Southern Indiana's natural beauty at Charlestown State Park. Located 8 miles east of I-65, this park is filled with stunning vistas, rugged hills, and deep ravines. With a 200-foot elevation change, you'll be able to spot Devonian fossil outcrops and areas of karst sinkhole topography as you explore. Plus, birdwatchers will love seeing 72 species of birds – including bluebirds, black vultures, and even the occasional bald eagle!
The park has plenty to offer in terms of activities too, with hiking trails, picnic areas with shelters (which you can reserve in advance), fishing along 14 Mile Creek bank on Trail 3, playground equipment, and camping sites available. For a unique experience, take the Rose Island Loop (.9 miles) trail – it was once home to an amusement park in the 1920s!
Clifty Falls State Park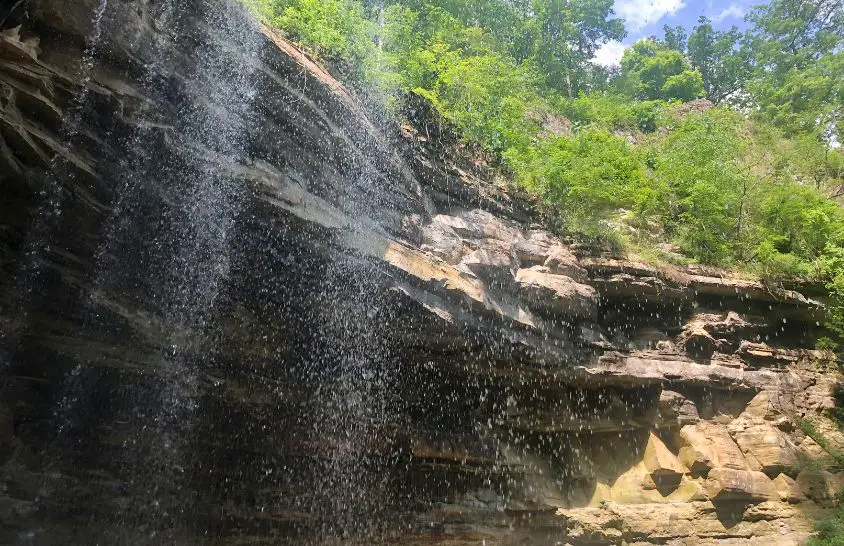 Are you looking for the perfect escape from the hustle and bustle of the city? Clifty Falls State Park, near Madison, Indiana is the perfect place for a weekend getaway. The park's waterfalls are absolutely breathtaking and range from roaring plunges to delicate mists. And with its rugged splendor, it's also an ideal spot for year-round hiking and exploring.
Head over to the Hoffman Falls parking lot for a .75-mile hike that will take you to an overlook of the picturesque falls. You can then continue on the trail as it follows Clifty Creek before reaching Lilly Memorial which boasts a long and steep staircase.
The park also offers a variety of other amenities, like a nature center and interpretive naturalist services, shelters (which can be reserved), picnicking spots, tennis courts and other game areas, meeting and conference facilities, an inn and restaurant, a swimming pool with waterslide, plus electric/non-electric camping sites.
Hardy Lake
Explore the beauty of Hardy Lake, Indiana's only state reservoir that wasn't created for flood control. With a sprawling 2,178 acres and a 741-acre lake, this multi-use facility offers plenty of activities for outdoor adventurers. From boating and waterskiing to hiking and camping, you'll never run out of things to do here.
Take a leisurely stroll or an adventurous hike along the Honeysuckle Trail, which features different stages of succession as you pass through a managed pine grove, cedar thickets, and tulip poplar trees. You'll also get to witness nature in the act of healing itself – thanks to tornado damage – in one section.
If you're looking for more ways to explore the outdoors, there are plenty of other amenities available such as an archery range, basketball court, open playfield fishing pier, hiking trails, hunting grounds, and interpretive services.
Don't forget to check out Hardy Lake's Raptor Rehabilitation Center too! It's the only one on DNR property and it provides education about Indiana's hawks, owls, falcons, and vultures.
Indiana Dunes State Park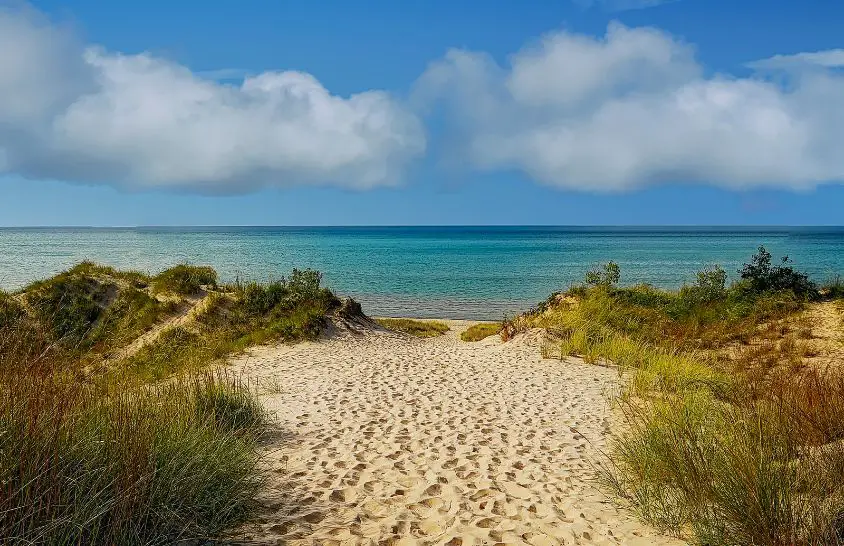 Take a trip to Indiana Dunes State Park and you'll feel like you've been transported to another world. This stunning park consists of 2,182 acres of lush, historic Hoosier landscape, with three miles of beautiful beach along Lake Michigan's shoreline.
This incredible park was established in 1925 thanks to the efforts of scientists, recreationists, and nature enthusiasts who wanted to preserve the unique beauty of the area. You can explore a wide range of habitats and plant species here, as well as large sand dunes towering 200 feet above Lake Michigan. And if you're into bird-watching or fishing, you're in luck – this spot is home to many different aquatic and land species.
The park also offers plenty of activities for everyone – from swimming at the beach (just remember that dogs aren't allowed!) and camping to picnicking and cross-country skiing. There's something for everyone here so don't miss out on Indiana Dunes!
McCormick's Creek State Park
If you're looking for an outdoor escape with beautiful waterfalls in Indiana, consider visiting McCormick's Creek State Park. It's the perfect place to reconnect with nature and take in some stunning views. From the limestone canyon and flowing creek to the scenic waterfalls, this park will take your breath away.
Hike along one of the park's trails – one of our favorites, a 1.8-mile loop trail – and witness a diverse landscape of forest trees, spicebush, and native wildflowers. Cross the stone arch bridge created by the Civilian Conservation Corps or explore Wolf Cave Nature Preserve on foot. For something more leisurely, relax in the popular Canyon Inn or watch birds from its dining room porch.
McCormick's Creek State Park also has plenty of amenities for active enjoyment throughout all seasons of the year. From picnicking/shelters and tennis courts to a recreation center, swimming pool, and saddle barn with trail rides – you'll never get bored here.
Mounds State Park
Experience a natural wonder at Mounds State Park, located east of Anderson. Here, you'll find 10 unique earthworks built by the Adena-Hopewell people that are believed to have been constructed around 160 B.C. What's more, this park is home to over 4 mounds, with the largest one being the Great Mound – offering stunning views of the White River and limestone bluffs.
If you're looking for a fun day out, then you can't go wrong with Mounds State Park – it offers plenty of activities for both nature enthusiasts and outdoor adventurers alike. Take a stroll on one of their hiking trails (the longest and most popular one being 2.5 miles), or cast your line in the White River for some fishing! You can also explore their Nature Center which is filled with interactive games, wildlife viewing rooms, and animal displays. Naturalist-led hikes and interpretive programs are offered every weekend throughout the year too!
If you're planning to stay overnight, then there's 75 camping sites with electric hookups available, along with rental buildings and shelters that you can reserve in advance. With all these amenities available, it's safe to say that an adventure awaits at Mounds State Park!
Ouabache State Park
Take in the beauty of nature at Ouabache State Park near Bluffton, Indiana. Originally operated as Wells County State Forest and Game Preserve in the early 1930s, this area was developed for wildlife management, forestry demonstration, and recreation – and it still shows today.
The 20-acre bison exhibit is a must-see when you visit. You'll get to observe these American bison in their natural habitat – something you don't often get to do today! As you explore further, take advantage of the park's many amenities such as picnicking/shelters, fishing/boating, hiking trails, paved bicycle trails, swimming beach (make sure to check the office for hours), tennis courts, basketball courts, volleyball court, playgrounds, and camping.
For those wanting to go on longer hikes or explore the entire park property should look no further than the 6-mile "Ouabache Trail". This stunning trail will take you through virtually all types of trees and terrain available in the area. Plus there are several interesting footbridges along the way too!
Pokagon State Park/Trine State Recreation Area
Located near Angola, just off I-69, Pokagon State Park is the perfect destination for anyone looking for a fun and relaxing getaway. This park has something for everyone – beautiful rolling wooded hills and meadows, wetlands, and 8 miles of hiking trails (including the challenging Hell's Point Trail) to explore.
The park is home to some unique Civilian Conservation Corps structures built by its members from 1934 to 1942. Pay a visit to the Potawatomi Inn, which takes its name from the Native Americans who once lived in this area. Or enjoy some of Pokagon's many amenities, such as fishing, cross-country skiing, nature center services, shelters and playgrounds for picnicking, recreation building rentals, and sand volleyball courts. There's even a saddle barn with escorted rides!
You can also camp out at the park with more than 200 electric sites and 73 non-electric sites. The campground has well-maintained sites with plenty of amenities like a stocked camp store and comfort stations – though do note that some may need updating. All in all, Pokagon State Park is one of Indiana's best state parks.
Shades State Park
If you're looking for a peaceful outdoor escape, Shades State Park is the perfect spot. Located about 17 miles southwest of Crawfordsville off S.R. 47, this nature lover's paradise is sure to please hikers and canoeists alike – especially with its beautiful sandstone cliffs overlooking Sugar Creek and numerous shady ravines.
Take it up a notch by hiking through Pine Hills Nature Preserve – you'll be able to take in spectacular topography on your journey. If you're more of an outdoorsman, there are also plenty of fishing spots, as well as 105 non-electric campsites and 7 backpack sites along the creek banks. Don't forget to check out the 6 Ravine Hiking Challenge too!
But that's not all – Shades State Park is also popular with astronomy groups due to its dark skies, so make sure to check out the calendar for park-sponsored star parties held by the Wabash Valley Astronomical Society.
Spring Mill State Park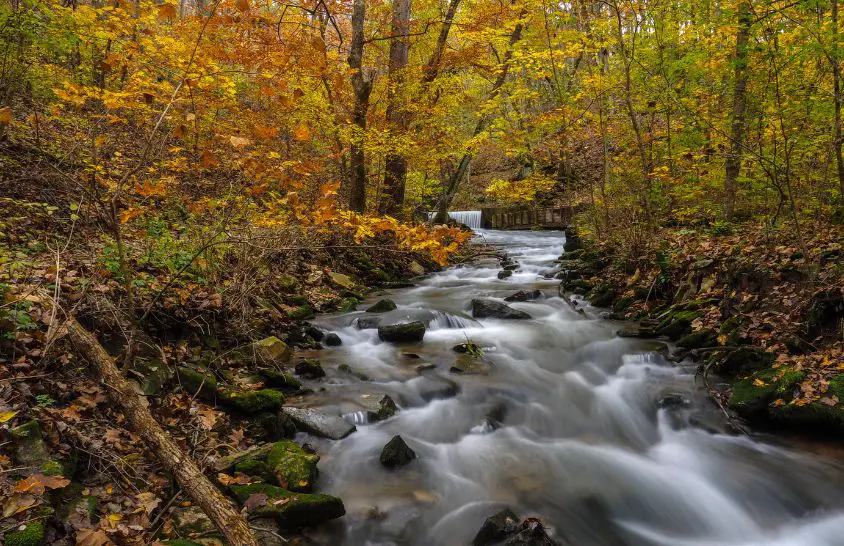 Discover the unparalleled union of nature and history at Spring Mill State Park in Indiana. Immerse yourself in the early 1800s by visiting a quaint village powered by the majestic flow of cave springs. Marvel at the various mills such as gristmills, a wool mill, a saw mill, and a distillery that stand as a testament to the ingenuity of our forefathers. This one-of-a-kind outdoor destination promises to leave a lasting impression and should be a must-visit on your itinerary.
The park has plenty of activities to offer. You can take a Twin Caves Boat Tour, go hiking or biking along the trails, explore Donaldson, Bronson, and Hamer Caves (which can only be accessed by registered groups who have completed online training about White-Nose Syndrome), take a dip in the pool, picnic in one of many areas, or even visit the Pioneer Village and Grissom Memorial. Kayaks, rowboats, and canoes are also available for rent at this beautiful spot.
Turkey Run State Park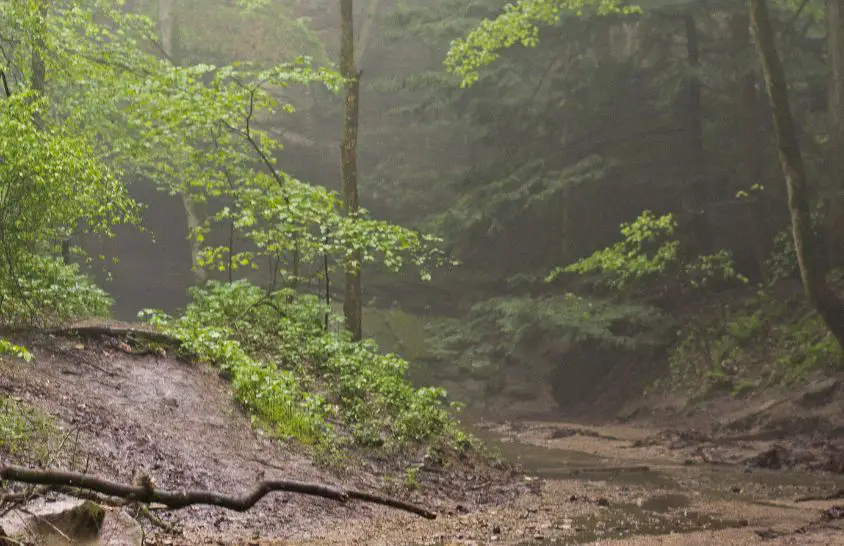 Escape the monotony of daily life and bask in the breathtaking beauty of Turkey Run State Park in Marshall. With its enchanting terrain, this idyllic park presents endless opportunities for adventure. Marvel at the majestic sandstone ravines, stroll through the serene forests of old-growth trees, and soak in the stunning vistas along Sugar Creek. Let this picturesque paradise be the solution to your search for tranquility.
The park has countless activities to enjoy, from fishing to hiking to picnicking. There are over 5 miles of trails for hiking with varying degrees of difficulty. If you want a more leisurely experience, there are picnic areas with shelters available for reservation, as well as playgrounds and other games like tennis. Not to mention 213 electric campsites with Turkey Run Inn offering accommodations and an indoor pool.
You can even take saddle barn rides escorted by experienced guides. And don't forget the nature center and planetarium with naturalist services available too! All this comes with a $7 fee at the entrance that grants access to the entire park.