16 Best State Parks In Arkansas (2023)
If you're looking for a great outdoor escape, Arkansas has some of the prettiest state parks in the country. From the majestic Ozark Mountains to the stunning waterfalls in the Ouachita Mountains, there is something for everyone here.
One of the most popular state parks in Arkansas is Petit Jean State Park, located in the foothills of the Ouachita Mountains. This park offers a variety of outdoor activities like hiking, swimming, fishing, and camping. It also features an iconic sandstone formation called Bear Cave Mountain.
For those looking for a unique experience, there's Devil's Den State Park. This park features sandstone bluffs, picturesque waterfalls, and plenty of wildlife. It's also home to a historic Civilian Conservation Corps stone lodge built in the 1930s.
No matter what type of adventure you're looking for, Arkansas has some of the loveliest parks and some of the best hiking trails in the entire country. So let's explore further to learn more about the best state parks in Arkansas.
Bull Shoals-White River State Park
Looking for a great place to fish, hike, and explore? Look no further than Bull Shoals-White River State Park in Arkansas. This world-class trout fishing spot is renowned for its stunning views of the White River and Bull Shoals Lake.
Check out the state-of-the-art visitor center at the park to learn more about the area's history and famous fishing stories. If you're feeling adventurous, venture out on Big Bluff Trail for level walks over railroad trams, up the hillside to overlooks of the White River and Bull Shoals Dam, through cedar glades and mature deciduous forests, and across streams with plenty of Ozark wildflowers.
The park also offers plenty of amenities, such as a marina store that offers boat rentals, bait, tackle, and supplies. There are also 113 campsites (63 class AAA, 30 Class B, 20 tent sites with no hook ups) plus three Rent-An-RV sites available in case you decide to stay a few nights. Plus they offer great interpretive programs like campfire cooking demonstrations, trout fishing workshops and nature walks.
Cane Creek State Park
If you're looking for a unique outdoor experience, check out Cane Creek State Park in Arkansas. Here, you can explore two regions in one visit – the Coastal Plain and the Mississippi Delta – with plenty of activities to keep you busy.
Take a stroll along the trail system and marvel at the rolling terrain, lake views, and three suspension bridges. Paddle or fish on Cane Creek Lake or explore the nearby Bayou Bartholomew, the world's longest bayou. If you're feeling adventurous, rent a kayak and go on the Cane Creek Kayak Trail. As you cruise through stands of dead trees and cypresses, keep your eyes peeled for beaver lodges and wildlife like bald eagles and great egrets.
Cane Creek State Park also offers 29 campsites (11 Class A and 18 Class B), an RV rental, picnic sites, pavilions, visitor center with exhibits and gift shop, a launch ramp, fishing piers, a bathhouse, playgrounds – plus boat and bicycle rentals for extra fun!
Cossatot River State Park-Natural Area
Cossatot River State Park-Natural Area spans 12 miles along the National Wild and Scenic Cossatot River and is a must-see destination for nature enthusiasts.
The river is home to Cossatot Falls, a rocky canyon with Class IV rapids that are perfect for kayakers and canoeists during times of local rainfall. On top of that, the park offers plenty of camping sites (tent sites with no hookups), as well as a primitive group camping area by reservation at River Ridge Group Camp.
Hikers will find four scenic trails spanning nearly 20 miles for exploring the area, and visitors can also learn about wildlife through the visitor center's exhibits and wildlife observation room. Ice-climbing and bouldering are also available here during winter months.
Take the Bushy Creek Nature Trail which begins in the parking lot off Highway 246 – it follows along a ridge top that overlooks the confluence of Brushy Creek and the Cossatot River, while also featuring a guided tree trail that teaches visitors about different species of trees in southwest Arkansas.
Crater of Diamonds State Park
If you're looking for a truly unforgettable state park experience, then Crater of Diamonds State Park in Murfreesboro, Arkansas is the place to go. As one of the only places in the world where visitors can search for real diamonds in their original volcanic source, Crater of Diamonds is a must-visit destination.
The 37-acre field – the eroded surface of a volcanic crater – is a treasure hunter's paradise. From rocks and minerals to gemstones, visitors can keep anything they find here! You can bring your own mining equipment or rent tools from the park. Plus, there's plenty to explore beyond diamond digging. Take a walk along the trails or cool off at Diamond Springs Water Park (seasonal).
If you want to learn more about what you might find at the park, head over to the visitor center to view real uncut diamonds and interact with interactive exhibits and illustrations. At the Diamond Discovery Center, you can also learn more about rocks and minerals found at Crater of Diamonds and how to search for diamonds using various techniques.
Daisy State Park
Located in a scenic setting in the beautiful Ouachita Mountains, Daisy State Park offers plenty of activities such as fishing and kayaking on Lake Greeson, ATV riding, and exploring the Little Missouri River.
And if you're visiting during the summer months, be sure to hop on one of their lake tours to witness majestic rock formations that you may not otherwise see. Plus, Daisy State Park is close to Crater of Diamonds State Park, which makes for a great day trip from your campsite.
At Daisy State Park you can explore a variety of ecosystems with the Daisy Creek Trail – a looped scenic trail that begins in a heavily wooded area and meanders along Daisy Creek and Lake Greeson. Keep an eye out for waterfowl, small mammals, owls, and other local wildlife.
The park also offers amenities such as grills, fire pits, bike rentals, RV sites, picnic areas with pavilion options, launch ramps, playgrounds and more – making it an ideal spot for camping trips or extended stays.
Delta Heritage Trail State Park
Take a unique journey to Delta Heritage Trail State Park and explore some of Arkansas's most remote and scenic areas. When the rail-to-trail project is complete, it will measure an impressive 84.5 miles long, and with 44.4 miles already completed from Lexa to Elaine in the northern corridor, and 23.8 miles from Watson to Arkansas City in the southern corridor, plus 14.4 miles on the Mississippi River Mainline Levee — you won't run out of things to see!
As you make your way through the trail, keep your eyes peeled for a variety of wildlife and plants that call this area home. There are eight trailheads along the route at Lexa, Barton, Lick Creek, Lake View, Elaine, Watson, Rohwer, and Arkansas City – many with restroom facilities – offering plenty of places to rest or cook up a meal on one of the grills or picnic tables available.
Whether you're traveling by bike or paddle tour or kayaking or just looking for a leisurely stroll through nature's beauty, a visit to Delta Heritage Trail State Park will always be one to remember.
Devil's Den State Park
This incredible park has remained largely unchanged since the 1930s when it was established as a state park site. Its rustic-style wood and stone structures, built by the Civilian Conservation Corps using native materials, still stand today as some of the most intact CCC sites in the U.S.
At Devil's Den, you can find all sorts of activities to enjoy – from fishing and boating on 8-acre Lake Devil (where you can rent canoes and pedal boats) to hiking, backpacking, mountain biking, and horseback riding trails on the surrounding Ozark National Forest. The park also offers 17 cabins with kitchens and fireplaces, 6 camper cabins, 135 campsites (with hookups in the horse camp), a group camp, a standard pavilion, store, cafe (open seasonally), a pool (open summer only), and a meeting room.
If you're looking to explore more of what Devil's Den has to offer on foot, take a stroll down its self-guided trail. You'll pass gravity flow springs, erosional remnants of sandstone strata, wet weather waterfalls and lush Ozark plant and animal life – all surrounded by rugged Boston Mountain terrain.
Hobbs State Park-Conservation Area
If you're looking to explore the Ozark landscape, Hobbs State Park-Conservation Area in Arkansas is a great place to start. This 12,054-acre state park is the largest in Arkansas and offers plenty of outdoor activities, along with some unique features such as regulated hunting and camping sites that can be accessed by mountain bikers.
Take a hike on the 54-mile trail system, which includes ADA-accessible pathways. There are trails for hiking, mountain biking, and horseback riding. The park also has 11 primitive campsites and several BBQ and grilling spots – perfect for picnicking with friends or family!
Check out the diverse wildlife along the Hidden Diversity Multi-Use Trail in the north center section of the park. Here you can spot some of the different plant and animal species that inhabit the area.
At the Visitor Center, you can learn more about this park's natural resources, limestone landscape, and history through interactive exhibits. There are also interpretive programs and workshops offered throughout the year.
Lake Catherine State Park
Let's face it: we can all use a little peace and serenity in our lives. And for that, Lake Catherine State Park in Hot Springs, Arkansas is the perfect spot.
This park is located on Lake Catherine, part of the beautiful Ouachita Mountain region. It's the only full-service marina on the lake and offers a launch ramp, pavilion, picnic sites, playgrounds, and even a well-marked trail that leads to a waterfall!
If you're looking to stay longer and really get away from it all, there are 20 cabins with varying amenities available – some of which have their own fishing pier and private access to the lake! Or if you want something more low-key, there are 70 campsites (47 Class AAA and 23 Class B), six primitive sites, or one Rent-A-Yurt to choose from. Many of these sites are on the lakeshore too.
On top of this, park interpreters offer hikes, lake tours, as well as programs year-round. The Dam Mountain Trail is also great for photographers since it passes through pine/hardwood forests with streams and cascades offering plenty of solitude – especially during spring and fall when wildflowers abound!
Lake Charles State Park
If you're looking for a peaceful outdoor escape, Lake Charles State Park in Powhatan is another great serene spot. This 645-acre park offers plenty of activities such as fishing, hiking, and river exploration – making it a great place to visit all year round.
For anglers, the park is known for its bass, crappie, bream, and catfish – with the largest number of 20-inch bass ever recorded in Northeast Arkansas. Make sure to grab your bait and tackle from the visitor center (available from March to October) and cast your line into the lake.
Nature lovers will love exploring the four hiking trails that take you through wildflowers and wildlife habitats – with lots of birds and butterflies to admire. The Butterflies & Blooms Trail meanders through different landscapes each week so every visit brings something new! There are also 60 campsites (a third of which are Class AAA) located right on the water, plus a YURT for additional lodging options.
Lake Ouachita State Park
Home to 40,000 acres of crystal clear water, Lake Ouachita State park is surrounded by the stunning Ouachita National Forest.
No matter what time of year you decide to visit this park, there's something for everyone. From swimming and skiing to scuba diving, boating, kayaking, and fishing – you can spend days exploring the lake and coves. If you're lucky enough, you might even catch some bream, crappie, catfish, striped bass, or largemouth bass!
The park also offers a variety of day-use areas and overnight accommodations. Choose from 93 campsites (including 58 Class AAA sites), eight fully-equipped cabins with kitchens overlooking the lake, 4 camper cabins with one room sleeping for four people – plus a nearby bathhouse. There are also interpretive programs such as guided hikes and eagle cruises offered year-round.
Be sure to check out Caddo Bend Trail while you're here; nature lovers and photographers will love walking on its slopes. You'll find wildflowers, boulder gardens with quartz rocks galore, scenic views, and an observation deck overlooking the lake at the end of the point.
Mammoth Spring State Park
Mammoth Spring State Park It's home to one of the world's largest spring, with an incredible nine million gallons of water flowing hourly! You'll also find the Spring River, a renowned Ozark trout and float stream.
The park is full of history, too – it boasts an 1886 Frisco train depot and museum, as well as remnants of a mill and hydroelectric plant. While there aren't any real hiking trails here, there are still plenty of things to do here, from exploring the walking trail to picnicking at the playground or baseball field. Or hop into the Arkansas Welcome Center for some rest and relaxation. And don't forget to check out their gift shop on your way out!
Parkin Archeological State Park
Do you love a good mystery? Then you'll love what Parkin Archeological State Park has to offer. This National Historic Landmark is home to a 17-acre Mississippian Period American Indian village, believed to have been inhabited from A.D. 1000 to 1550. What's more – the site is thought to have been visited by Hernando de Soto in 1541!
At Parkin Archeological State Park, you can take self-guided tours of the village and explore exhibits in the visitor center. There are also plenty of other activities available such as hiking, boating, picnicking, playground fun, and more.
The Village Trail takes you along and around the ancient village, where you'll be able to see what's left of the chief's mound and moat used for defense. You can also visit the cemetery and restored one-room schoolhouse located on the grounds.
Petit Jean State Park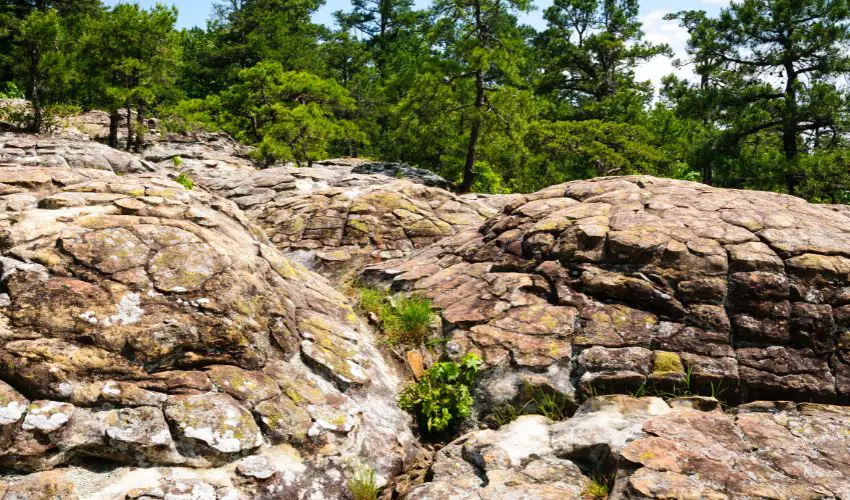 Head to Petit Jean State Park for an unforgettable experience. This Arkansas classic has been a natural and historic treasure for decades, with its rustic-style buildings and breathtaking views of the legendary Petit Jean Mountain.
The focal point of the park is the historic Mather Lodge, a 24-room lodge overlooking Cedar Creek Canyon with a restaurant, meeting rooms, and a gift shop. There are also 33 cabins (21 equipped with kitchens), two swimming pools, picnic areas, playgrounds, pavilions, a boat launch ramp, tennis and basketball court, and an amphitheater.
For exploring the outdoors, there are plenty of trails to hike through forests and meadows, over canyons, and along streams. Be sure to check out Bear Cave Trail to walk through gigantic sandstone boulders under wind and water formations like carpet rocks and turtle rocks.
Pinnacle Mountain State Park
Just west of Arkansas's capital city of Little Rock, Pinnacle Mountain State Park stands out as a diverse and exciting spot for outdoor adventures.
Explore over 22 miles of trails, including 14 miles specifically designed for mountain bikers. Take in the views from the top of Pinnacle Mountain, or explore the Big and Little Maumelle Rivers – both are sure to be a treat for nature lovers. The park also offers plenty of other amenities, such as picnics, interpretive programs offered by park staff, and pavilions for larger gatherings. Don't forget to visit the park visitor center too!
For those interested in history and culture, Pinnacle Mountain is also certified as a Trails of Tears National Historic Site. Learn more about the Trail of Tears and witness first-hand the hardships faced by native removal parties during their journey through Arkansas state parks.
Withrow Springs State Park
If you're looking for a peaceful and beautiful nature escape, Withrow Springs State Park in Arkansas is the place to explore. This stunning park features 29 Class AAA and ten walk-in campsites, three hiking trails, and plenty of unique sights. Plus, its location makes it a great put-in point for the North-flowing Class I stream – perfect for fishing or floating during the Spring months.
Take a stroll along the Dogwood Nature Trail to admire some of the park's most vibrant sights. This path is known for its many flowering dogwoods, which make it especially colorful in the springtime. As you meander through the forested hillside and across several benches and ridges, you'll be able to observe various springs and seepages as well as ferns covering a shaded ravine. The trail is around ¾ mile long and will return to where you began.
Other outdoor activities available at Withrow Springs State Park include tennis courts, baseball and softball fields, picnic areas with pavilions, and even a gift shop.