15 Must-See Hiking Trails In New Mexico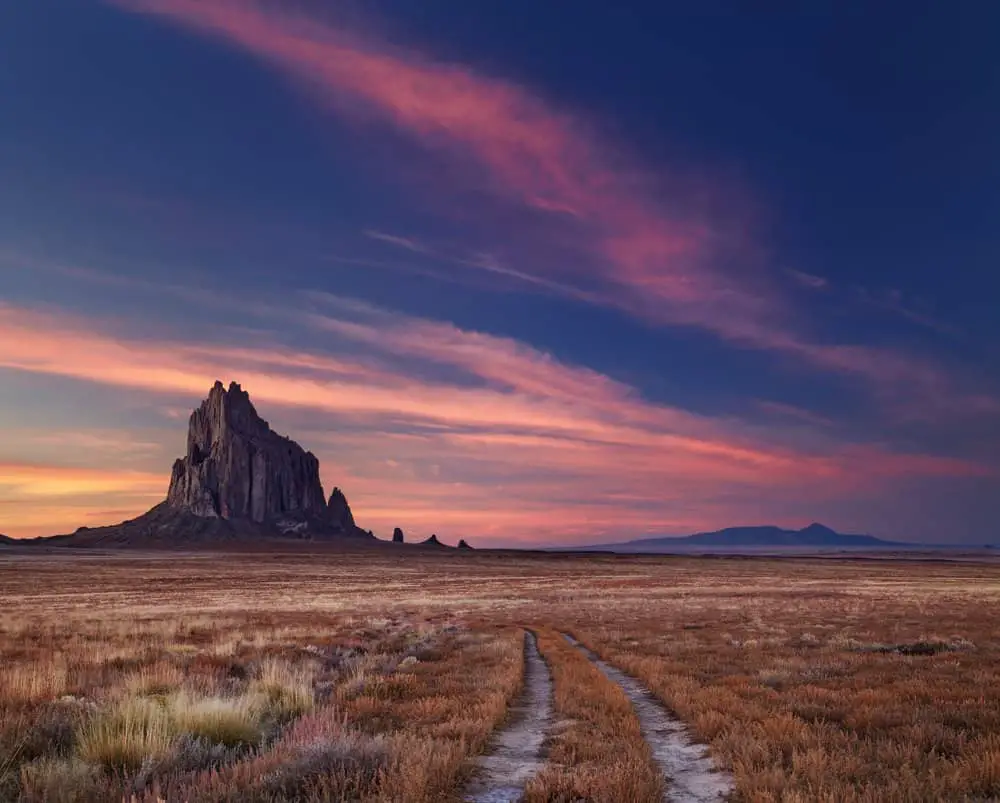 If you're looking for your next hiking destination, New Mexico should be top of your list. Why? Because it's a hiker's paradise! New Mexico has everything from crystal clear lakes to fantastic hidden canyons. And we're going to cover some of the best hiking you can find in the state.
If your hiking bucket list contains dipping in hot springs, a drop into the Rio Grande Gorge, or a picnic by a glacial lake, then consider New Mexico. The state has areas with breathtaking scenes, from the La Luz Trail in Albuquerque to Bisti/De-Na-Zin Wilderness in Farmington. 
We've compiled a list of 15 places worth taking a hike to in New Mexico in this article. We'll also provide you with tips for hiking and what to pack when hiking in this desert wonderland.
15 Best Hiking Trails In New Mexico
La Luz Trail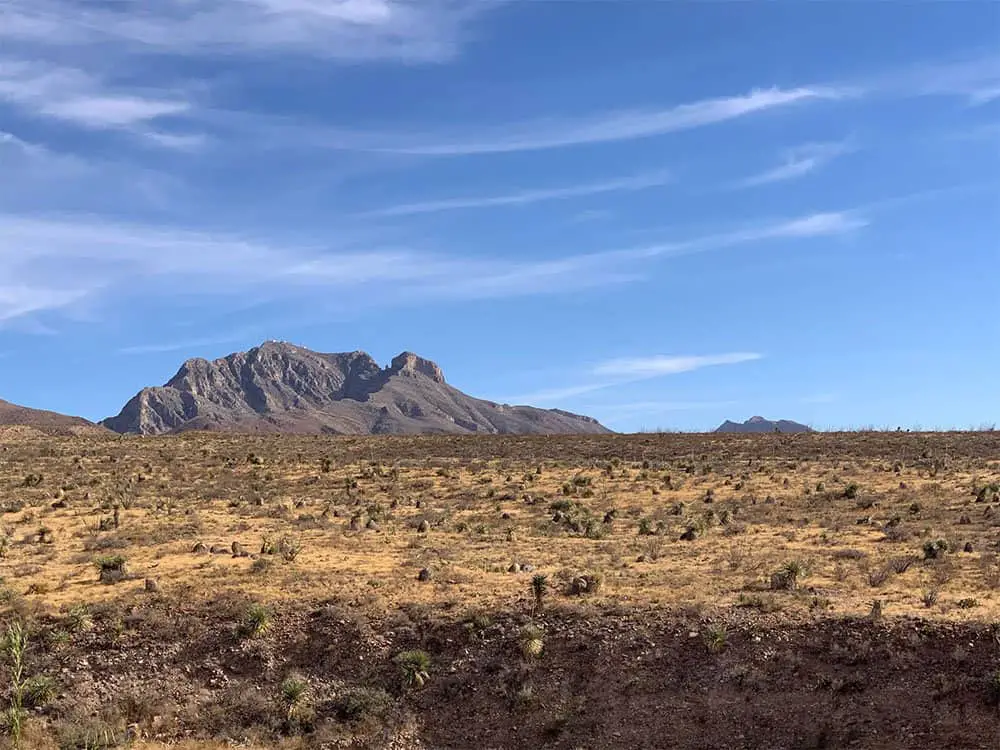 The La Luz Trail is one of the most popular hikes in the Sandia Mountains, and for a good reason. It offers spectacular views of Albuquerque and its surrounding mountains, but it also serves as one of the best ways to get from La Luz Road to the top of Sandia Peak.
This trail is one of the best hikes in Albuquerque and for serious hikers as it is hard to accomplish. You could walk up nearly 4,000 feet of elevation on this trek, and there are 19 switchbacks in its final stretch.
The trail has been used for centuries by people who have lived in and around the Sandia Mountains. It was first used by early Spanish explorers and settlers, but it wasn't until the late 19th century that this particular section became more widely traveled due to its proximity to Albuquerque. Since then, it has become one of New Mexico's most popular hiking destinations.
The La Luz trails are one of the best hikes in Albuquerque, and anytime except winter is ideal. This means you can have all the fun you want in most seasons.
---
Rio Grande Gorge Trail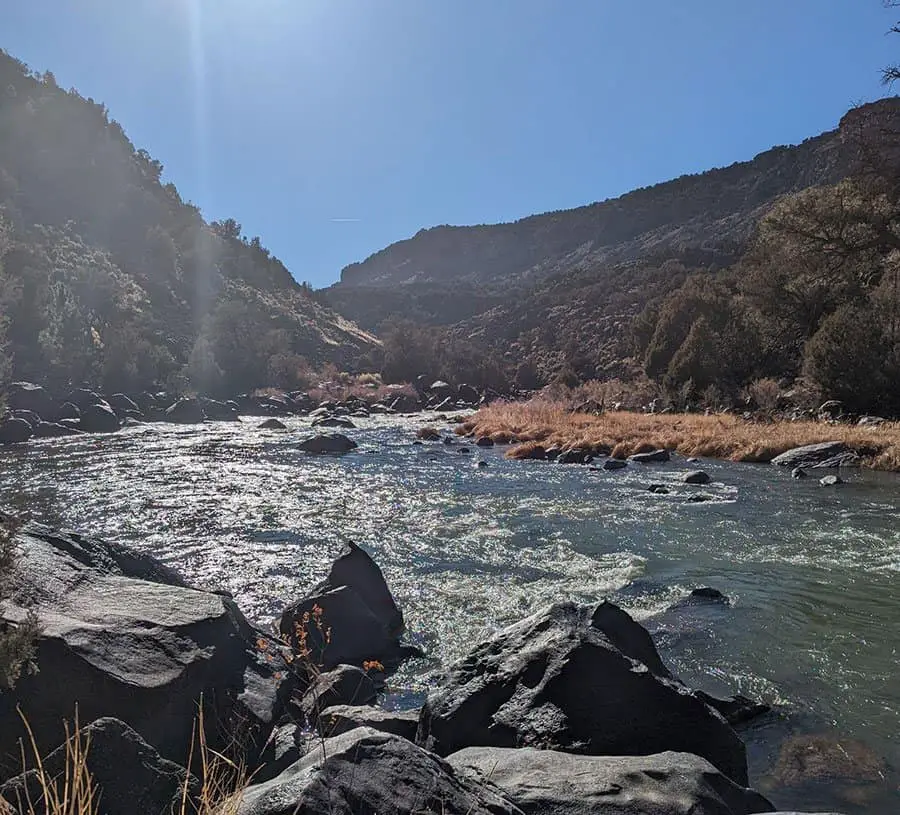 The Rio Grande Gorge Trail is one of the most stunning places in New Mexico. Located near Taos, the trail offers hikers a chance to explore the wild and rugged canyon of the Rio Grande River. The trail is a steep hike down into the gorge and then up again on the other side.
The best point of entering the Rio Grande Gorge is near Questa, at the Wild Rivers Recreation Area. It is a gentle trail, and the Gorge at La Junta is a true climb as it rises to 800 ft in eight-tenths of a mile. The Rio Grande Gorge has a scenic view that often warrants a stop to take in the full view and take pictures on your way up. 
The Rio Grande Gorge trail is a 6-mile-long hike near Taos. You get to see animals, including the mule deer, migratory birds, and red-tailed hawks that frequent the rapids. 
---
Stewart Lake Loop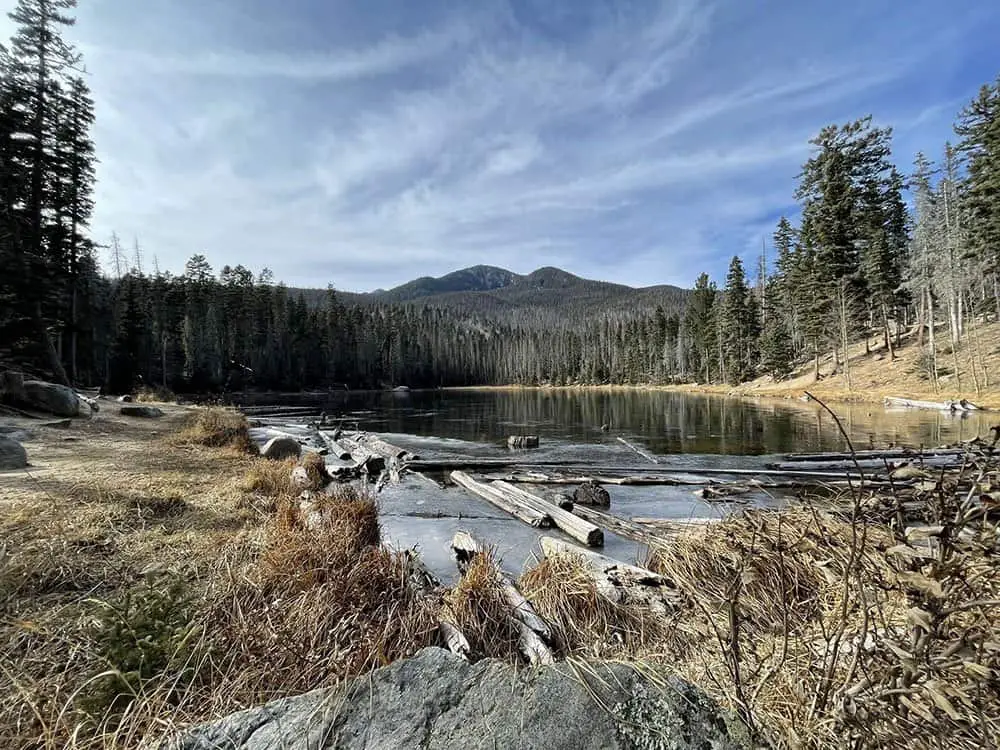 Stewart lake is a popular site in Pecos Wilderness for camping, hiking, and fishing. It is close to both Sante Fe and Las Vegas. Furthermore, it is a popular destination for hikers because of its stunning beauty and topography. 
So, what do you stand to gain from hiking in the Pecos Wilderness? High peaks, wildflower meadows, alpine lakes, and abundant wildlife. Since the hike is strenuous, it's not all beauty, but there is a guaranteed reward as you get to take lunch on a glacier. Also, there is a glassy alpine lake whose waters are so clear that they reflect the ponderosa forest. A small waterfall marks the way to this alpine. 
---
Bisti Badlands Trail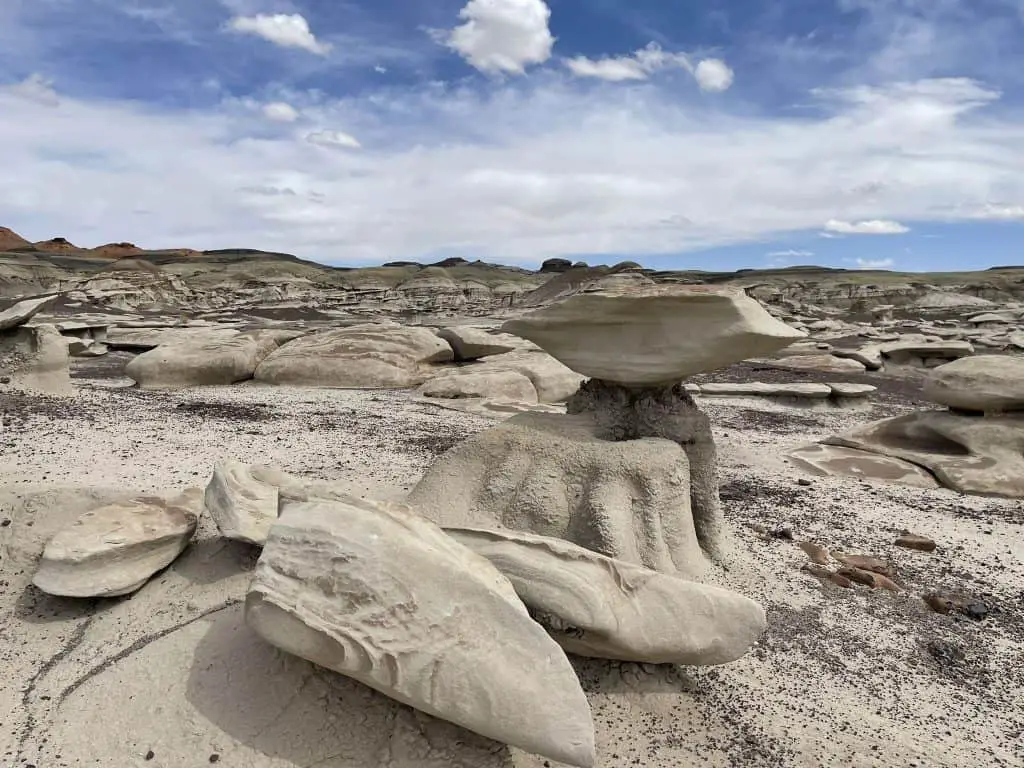 The Bisti Wilderness is one of the most surreal hiking locations in New Mexico, with over 3000 acres of wilderness. This area contains small gullies, contorted rocks, rolling dunes, and outcroppings and is a must-see for hiking in New Mexico.
The beauty of the Bisti Wilderness lies in the fact that signs of a definite trail do not exist on them, giving you the leverage to map yours. So we definitely advise hiking with a compass, map, or a GPS. 
When is the best time to hike the Bisti? The best time to wander the Bisti is in early spring because the summers are sweltering in this beautiful, but exposed landscape. When hiking in the Bisti wilderness, make sure to carry enough water to prevent dehydration. 
---
Argentina Canyon Trail
Known for its surrounding beautiful stands of white pine, ponderosa pine, quaking aspen, and white fir, the Argentina Canyon is one of the most serene hikes in New Mexico. You can view the Tularosa Valley when you follow the Argentina Canyon Trail to the Crest Trail. 
Along this trail, you would be treated to the sights of wandering elk and wild turkey. The climb to the top is not too strenuous, but you get a breathtaking view as a reward once at the top. Are you looking for a colorful hike? Try the Argentina Canyon trail from May through November and be treated to a sight of wildflower bloom from fields of primrose, penstemon, coral bells, and yarrow.
---
Gila Middle Fork River Trail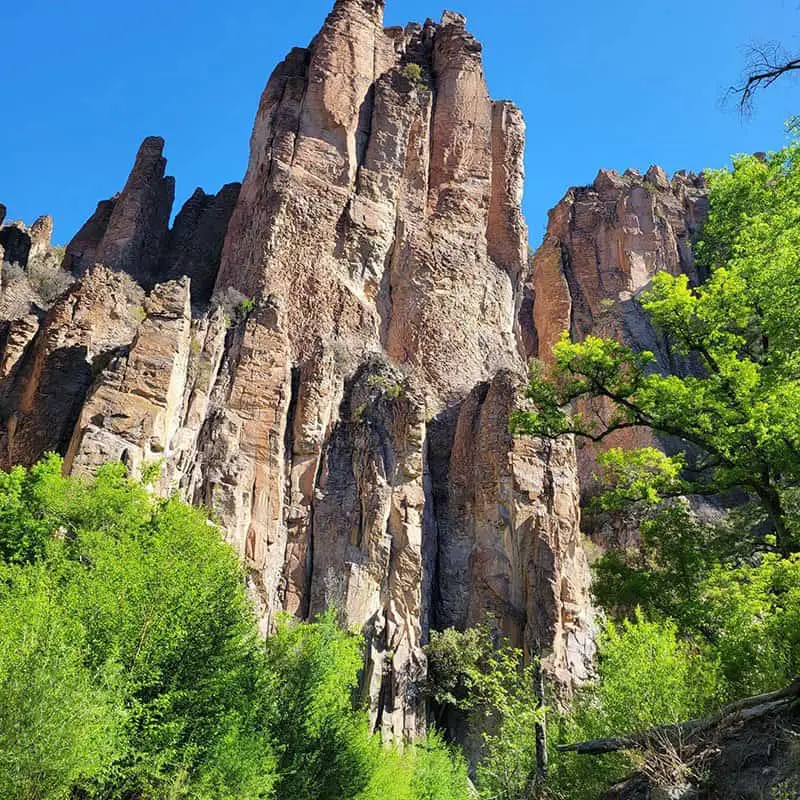 This land protected by the Wilderness Act of 1964 is one of a kind. It is a vast area of land two times the size of the Pecos, covering more than 550,000 acres of land. The Gila Middle fork is the longest trail near Silver city.
Leafy sycamores, towering clips, and several river crossings are some sights that make this trail worth visiting. About seven miles into this trail, you would find the Jordan Hot Springs, an area of relaxation for weary hikers. This trail is about 11 miles, and you can also camp overnight if engaging in round trips does not entice you.
---
Sierra Ladrones And Ladrones Peak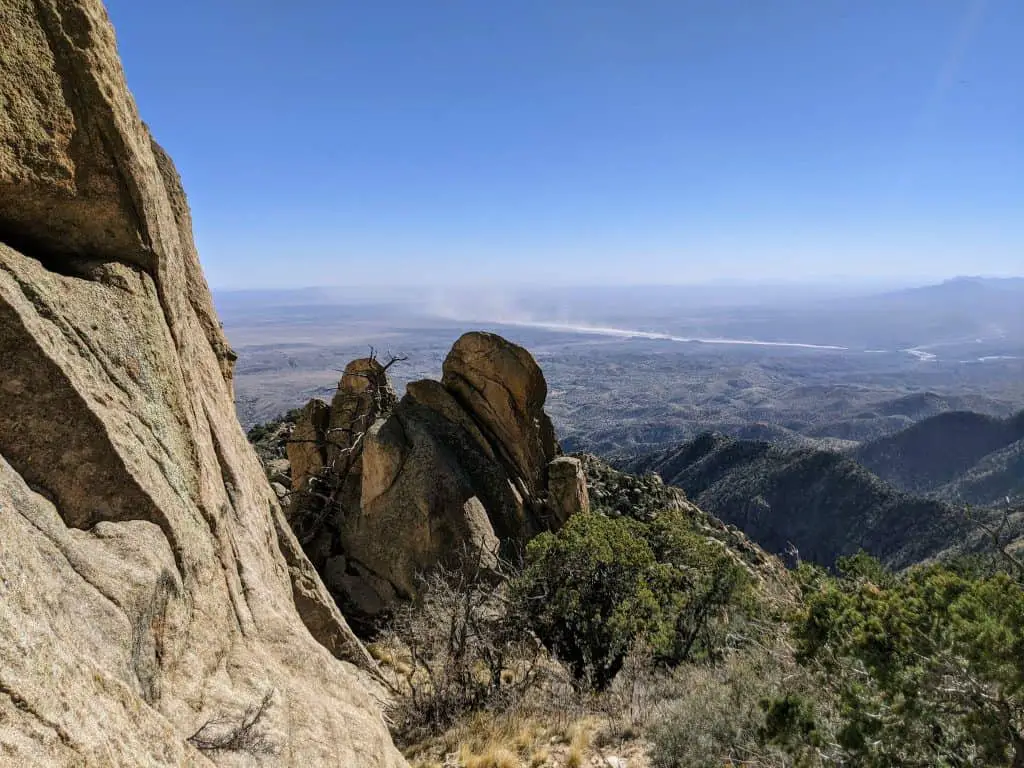 This trail contains two toothy ridges, which give you a great view of over 45,000 acres of wilderness. Also known as the thieves' mountains, the terrain is rugged, and hiking is quite difficult. However, the impressive landscapes that surround you provide breathtaking views and a sense of overwhelming beauty.
Hiking the Sierra Ladrones is a nine-mile round trip, but please note that the trail is unmarked, so ensure to come along with a map, compass, and GPS.
What's more, hiking the Sierra Ladrones is quite challenging. The higher you ascend, the rockier the terrain becomes, so make sure to take enough food and water on your trip and wear sturdy hiking boots.
---
Crater Rim Trail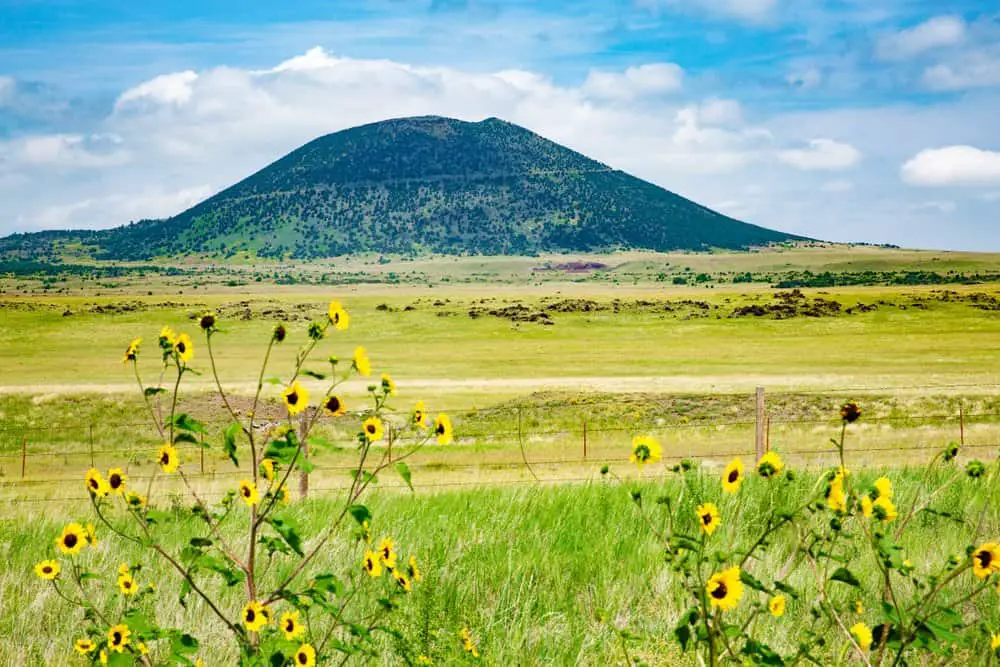 This 1.1 mile loop leads to absolutely breathtaking views of the Capulin Volcano and the fields below.
Capulin Volcano in New Mexico has been dormant for over 10,000 years, but it's still an impressive sight. The volcano lies within Capulin Volcano National Monument and is a popular tourist attraction with its great views and hiking trails.
The volcano itself is about 3,400 feet (1,036 meters) high and consists of several craters including one that has collapsed into itself leaving a large depression known as El Malpais National Monument. This depression also contains many caves that are open for visitors to explore.
The surrounding trails here totals about five miles and takes you in, into, around, and over parts of the inactive volcano. This hiking trail is open all year round, and on the rim of the trail, you get exciting views of pressure ridges, lava fows, cinder cones, and Sierra Grande, which all make up New Mexico's rich geological history. 
---
Pine Tree Trail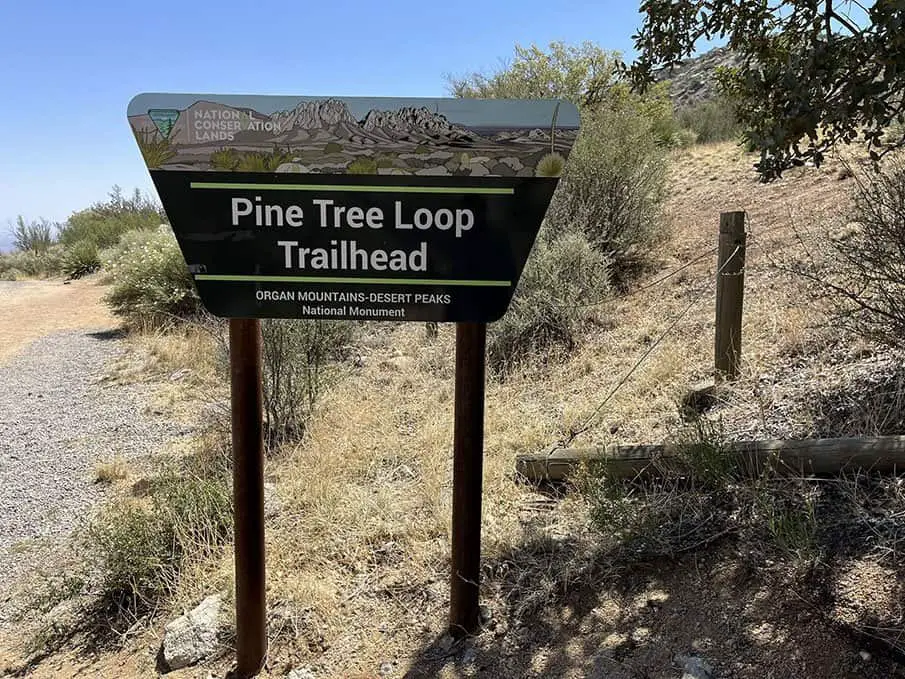 This four-mile loop trail is well maintained and a sight to behold. The Pine Tree trail is one of the most popular hiking trails in New Mexico. It is an easy trail, and walking at a moderate pace takes you through Ponderosa pines, Juniper, and Pinon fields. This trail also offers you an outstanding view of the Tularosa Basin and the Organ Mountains. 
The chances of you seeing blankets of spring wildflowers and mountain wildlife add more fun to an already entertaining hike. There is a $3 admittance fee to the campground. This trail remains open all year round, and each season comes with its challenges. 
Irrespective of the season, the Pine tree trail remains easy to moderate trail to hike as the route is well maintained.
---
Trampas Lakes Trail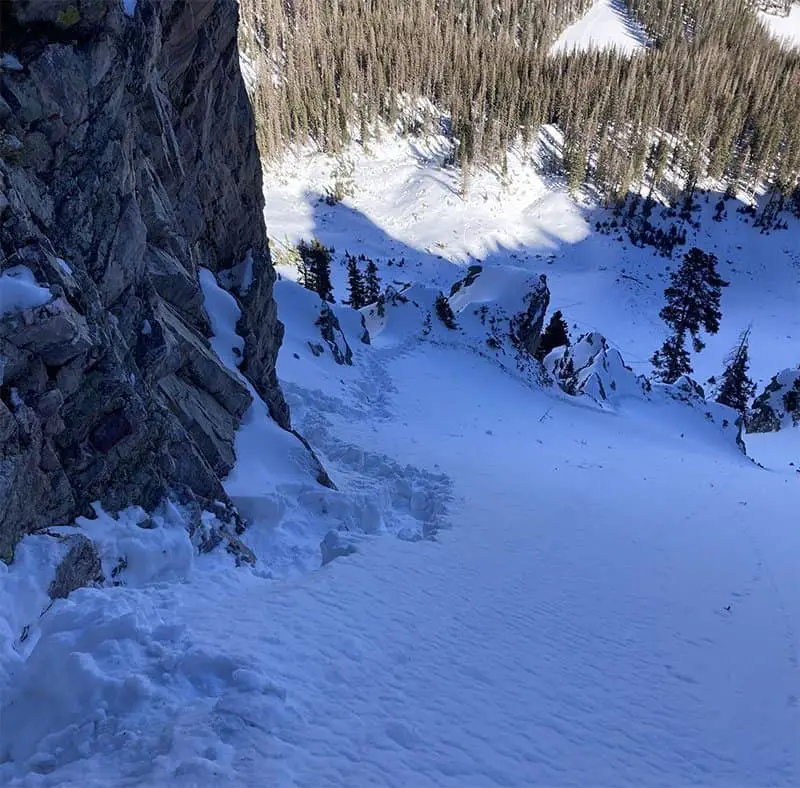 Hiking the Trampas lakes trail is strenuous, but two pristine alpine lakes, cradled in bowls lined with rocks at the trail's end, are one of the many rewards awaiting you. 
A round trip on this hike takes about 12 miles. This covers a distance ranging from the trailhead to the Trampas river. The open meadows and aspen trees are a moderate hike. However, a couple of miles into the hike, you will approach the lake through a series of switchbacks. As you climb up the ridge, the hike gets steeper, but the breathtaking views of the peaks (Truchas and Wheeler) make the hike worth the hassle. 
A little fun fact about Trampas Lake – The lakes were formed by volcanic activity and erosion over millions of years. The Trampas Lakes area was once home to Native Americans living in pueblos along the Rio Grande River. The earliest known inhabitants were hunter-gatherers who lived in caves along the banks of the Rio Grande and hunted bison that roamed the plains around 11,000 BC.
---
Winsor Trail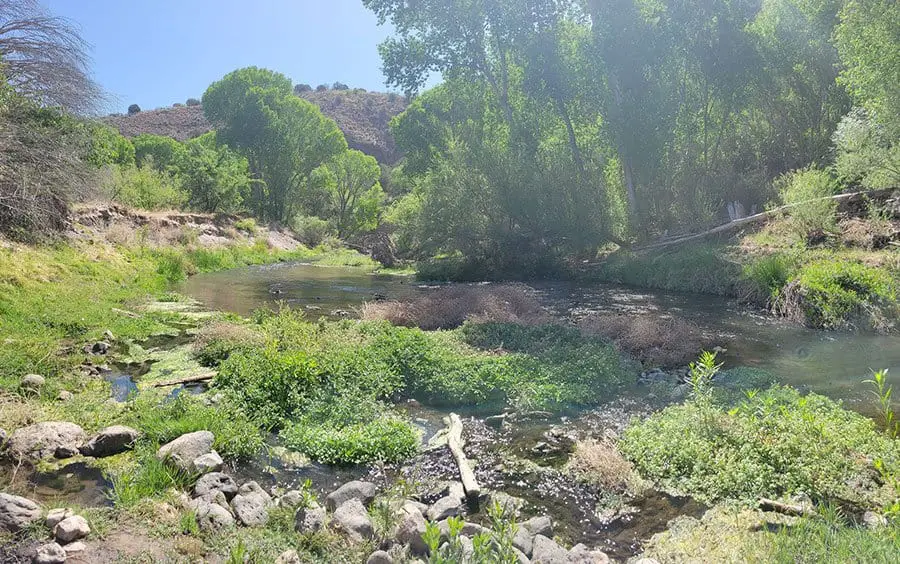 This hiking trail is often used by mountain bikers, horseback riders, and dog owners, but the Winsor Trail has enough room for all. With little of everything from stands of trees, burbling rivers, and grassy meadows, the Winsor trail has something for everyone.
With 3,500 ft of elevation, this trail can be quite strenuous, but you would forget all your hiking woes with a view of Lake Katherine. The Winsor Trail is located within the Santa Fe National Forest, and also offers stunning views of the Sangre de Cristo Mountains.
The Winsor Trail is one of the most popular trails in Santa Fe and takes 11 miles from start to finish, making it a total of 22 miles round trip. The best time to hike this trail is from April to Early October.
---
Alkali Flat Trail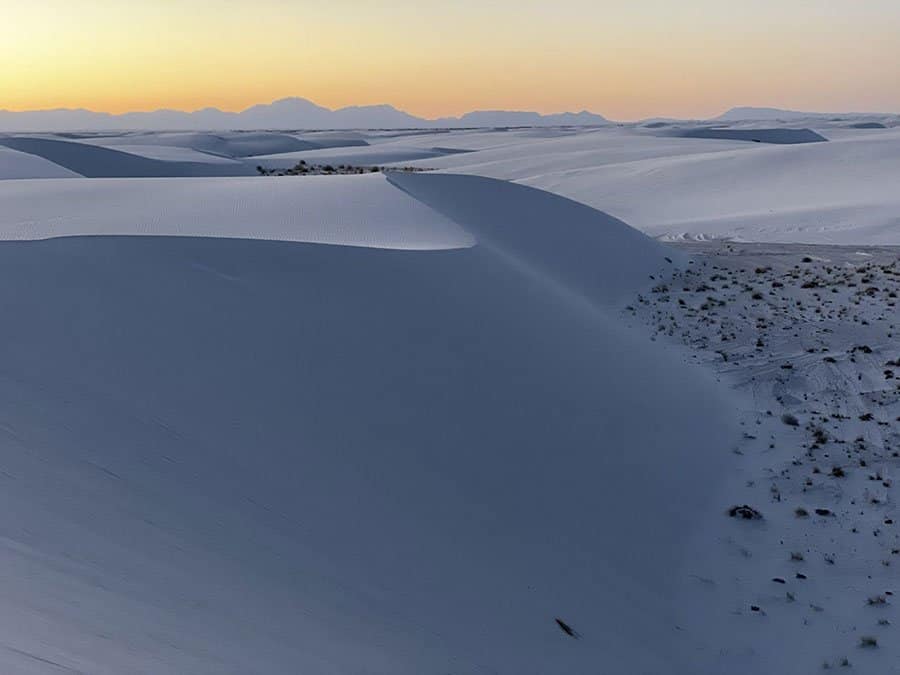 Do not let the Flat in its name deceive you. The Alkali Flat trail is anything but flat, containing gypsum instead of sand. The dunes are white and wavy, giving you both challenge and excitement when you go uphill and downhill. However, when slip-sliding sand works its way into your shoes, it can make the hike significantly more strenuous.
The Alkali Flats is a large expanse of land in the middle of New Mexico. The area is rich in history, and hiking this area can be an amazing experience.
The high desert and open plains make for a unique landscape. As a matter of fact, the scenery is drop-dead gorgeous (with good visibility factors, permitting). The Alkali Flats is a part of White Sands National Monument, which is one of the best parks in New Mexico to visit. The Alkali Flats is also home to numerous Native American sites including ancient petroglyphs and burial mounds.
As for the trail, The Alkali flat trail has a few markings, so be sure to look out for Orange topped white post-trail markers and ensure you take plenty of water when going for this hike.
---
Pueblo Alto Trail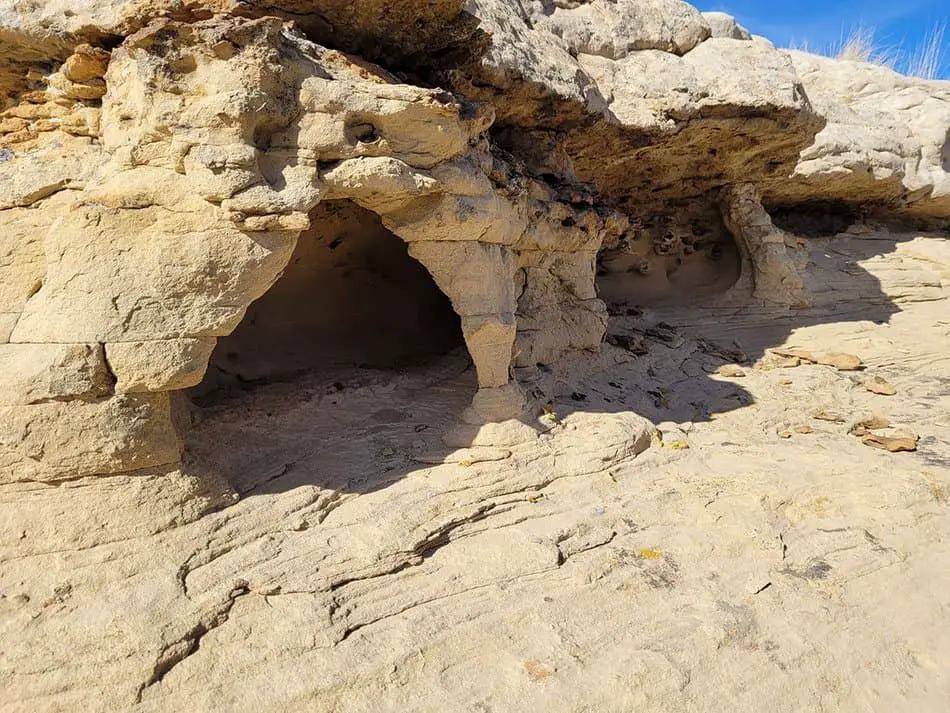 This trail is more about taking in sights and sounds and less about arduous hiking. The Pueblo Alto trail is a loop, and from its top, you get to view much of the Chaco world. This trail follows an ancient route, including a climb through a narrow canyon to the rim. 
At the top of the mesa, the trail moves across rock bleached and embedded with fossils of sea creatures from centuries ago. You can only access this remote park through dirt roads, and ensure you collect a free permit from the Visitor's center before heading out on the hike.
---
Atalaya Mountain Trail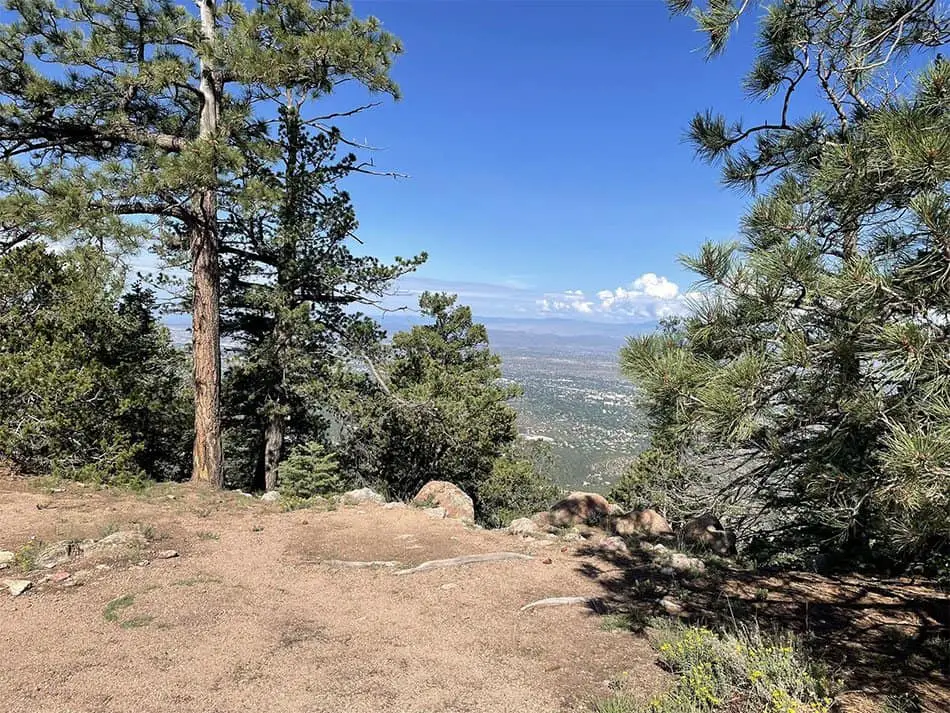 There are two aspects to hiking the Atalaya Mountain trail, the moderate climb, and the steep climb, however, both contain narrow switchbacks. The word Atalaya means Watchtower in Spanish and is a place used to spot fires. It is a single-track trail that is in good shape and well-marked.
The Atalaya Mountain trail is a seven-mile round trip hike that takes you through ponderosa pine woodland and pinion scrub in the forest of Santa Fe. The mountain's peak is at a 9,000 feet of elevation, from which you will see breathtaking New Mexico skies.
---
Zuni-Acoma Trail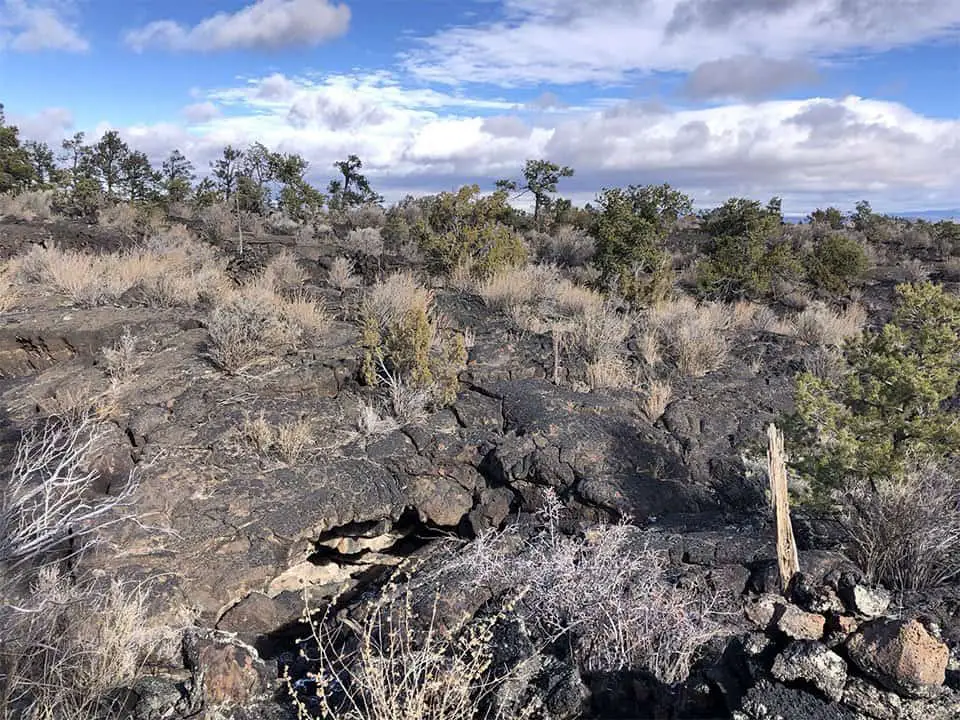 This is a fifteen-mile hike from start to finish, which crosses rugged terrains, and it is one of the most unique places to hike in New Mexico. This landscape is composed of ancient molten rock that became uneven, rough, and at times treacherous when cooled. The marks on this trail are mainly composed of piled-up lava chunks, which point hikers in the right direction. 
Ensure you take plenty of food and water when hiking through this wilderness unless you plan on making a round trip. When hiking through the Zuni-Acoma trail, you would see historical signs of travelers who have used the route before you and many hand-made bridges.
---
Tips for Hiking In New Mexico
New Mexico is a hiker's paradise with plenty of trails to explore, but there are a few things you should take note of before heading out. A successful hike involves knowing the terrain, weather, and fitness limitations before embarking on the hike. Below are important tips for hiking successfully in New Mexico:
Hike with A Partner
Being alone during an emergency is never a good thing, so you should always hike with a companion. If you are hiking in a remote area, you should hike with a minimum of four people. For places unknown to you, go with someone who knows the area, terrain, and common wildlife, or seek counsel from those who know the area before you head out. Always find out how to locate a ranger station or telephone in case an emergency occurs during your trip. 
Be Physically Fit
Before embarking on hiking trips around New Mexico, ensure you are in optimal physical condition. If you are hiking as a group, the trip's design should revolve around its weakest member. Always set a pace as comfortable as you like. 
If you have an existing medical condition, ensure you discuss your hiking plans with your health care provider and get approval before embarking on the hike. Get the necessary hiking and camping skills needed and practice the skills in advance before setting out. 
Consider Your Footing
New Mexico has a very rough and rugged terrain. The ground is mostly composed of large rocks, cacti, and canyons, which makes for difficult and challenging footing. In some cases, you may need to use your hands for balance or to help you across certain obstacles.
However, when hiking near cliffs, always consider your footing as you cannot trust trees and bushes to hold you. Always stay on trails with a good footing, such as developed trails and dry solid rock areas. 
Wear the Right Clothing
You must consider the weather of the area where you would be hiking and wear clothes the appropriate set of clothes for that weather. If the weather is too hot, wear light clothing to prevent excess sweat, and if the weather is cold, a thick cloth will help protect you from hypothermia.
Check Your Equipment
Ensure you pack emergency signaling devices and check them properly before your trip. Also, ensure all your equipment is working before you leave the house. A few of the trails we listed here have no trail markers, so a working GPS Is a must-have. Waiting until you are on the trailhead before checking might be too late.
Be Informed of The Weather
In New Mexico, weather can change quickly, so you must watch for both current weather and weather predictions. Know how to read environmental and atmospheric signs that signal a change in weather conditions. 
Avoid exposed places, lone trees, and bare ridge tops during lightning storms. Shelter yourself in an area with dense forestation, especially at lower elevations.
Know Basic First Aid
Knowledge of basic first aid could save your life during a hike, as you would be able to identify and treat minor injuries and illnesses. Bring a first aid box on your hiking trips and know how to spot symptoms of common hiking challenges like heat stroke, heat exhaustion, dehydration, and hypothermia. Knowing how to treat these conditions is also essential. 
What to Pack For Hiking In New Mexico
Like every other activity, hiking requires rigorous planning for you to achieve success. So, what do you pack for when hiking in New Mexico? Below is a list of essentials you would need;
Conclusion
New Mexico has so many amazing places and locations where you can hike to your heart's desire. There are unique and breathtaking views, terrains and varying difficulty levels for everyone to enjoy.
So the next time you're thinking about going on your next hiking adventure, consider one of the many beautiful hiking trails that New Mexico has to offer!
Frequently Asked Questions About Hiking In New Mexico
Can you hike in the mountains in New Mexico?
Yes, there are many mountains in New Mexico that offer great hiking trails.
What are the best months to hike in New Mexico?
The best time to hike in New Mexico is during the spring and fall when the weather is milder.
What do you need to hike in New Mexico?
Some of the things you would need for hiking in New Mexico include sunscreen, sunglasses, hats, the right footwear, a compass or GPS, and plenty of water.
Do you need a permit to hike in New Mexico?
No, you do not need a permit to hike in most parts of New Mexico. However, there are some areas that require permits for overnight camping or backpacking.
Is New Mexico a good place to hike?
Yes, New Mexico is an excellent place to hike with its many mountains, valleys, and canyons. There are trails for all levels of hikers, from beginner to expert.
How many hiking trails are there in New Mexico?
There are over 3,000 miles of hiking trails in New Mexico.