11 Stunning Hiking Trails in Austin, Texas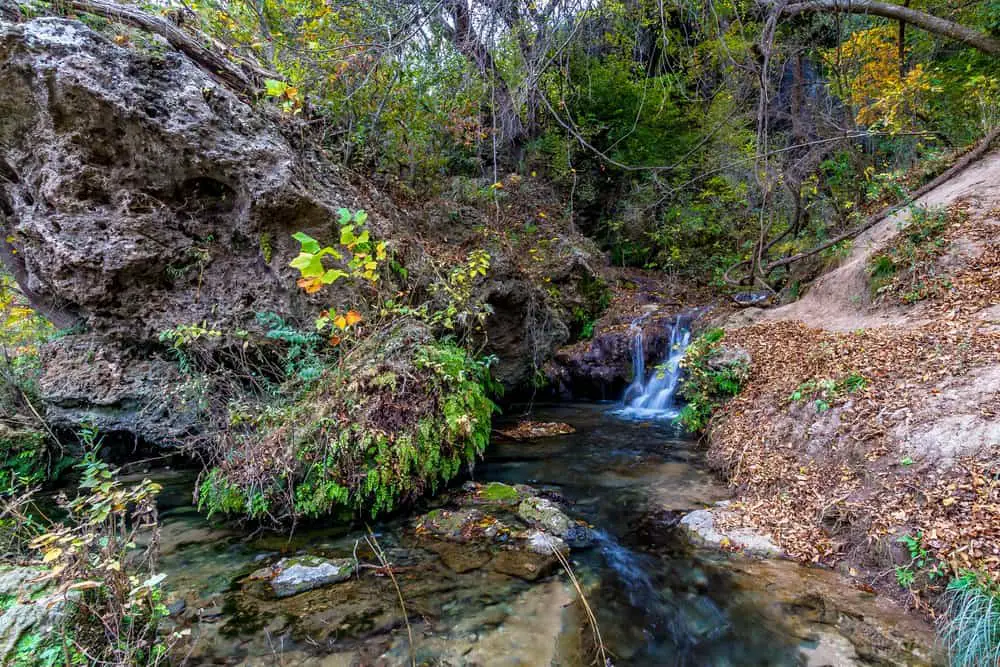 Austin is a hiker's paradise. With its incredible climate, it's no wonder so many Austinites spend their weekends hiking the area's best trails. And, some of the best Austin hiking trails are located within a 30-minute drive from Downtown Austin. From mountain biking along Lady Bird Lake to rock climbing at Reimers Ranch Park, you can find whatever it is that gets your heart racing in Austin.
If you're looking for a little more than Austin, check out our guide to the best hiking destinations in all of Texas.
11 Best Hiking Trails In Austin, Texas
Barton Creek Greenbelt Trail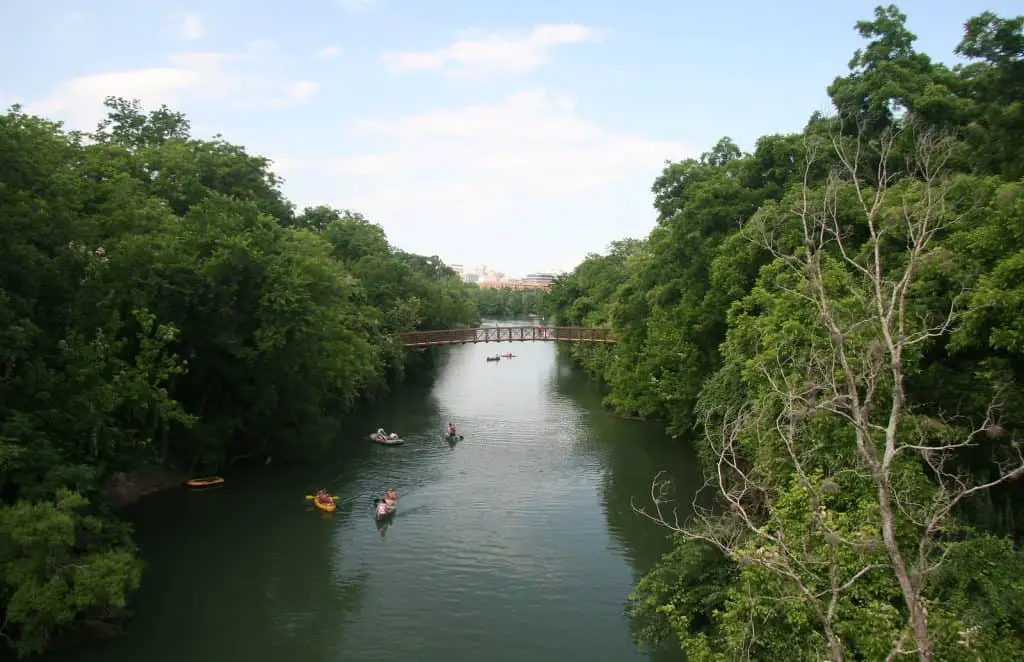 The Barton Creek Greenbelt is a natural treasure in the heart of Austin. The Barton Creek Greenbelt offers beautiful views of creeks and coves lined with limestone cliffs and abundant greenery. The trail is an excellent place to escape the city and get some exercise. There are many entry points to access the trail, but the main trailhead starts at Zilker Park and runs for about 12 miles.
The Greenbelt has many different trails that are perfect for all ability levels. A great place to start is at the Sink Hole parking area, where you will find a small wading pool, two waterfalls, and a swimming hole. If you are looking for more adventure, continue on to Twin Falls, taking you past a large waterfall and then up a steep hill to reach the second waterfall.
Length in Miles: 14.0
Elevation Gain: 600
Difficulty:

Moderate
---
Turkey Creek Trail
Turkey Creek Trail is a 2.8-mile out and back trail located near Austin, Texas that features a gorgeous lake and several activities for outdoor enthusiasts. It's also one of the few places in Austin where you can find a bit of solitude.
This secluded forested area in West Austin is a great place for hikers, mountain bikers, and more adventurous types to enjoy the outdoors. The Turkey Creek Trail travels through the scenic Balcones Canyonlands Preserve along Turkey Creek, which originates in the hills to the west.
Along with several paved sections, there's also a compacted dirt section suitable for bikes, strollers, and wheelchairs that traverses the park.
The park entrance is accessed from River Place Boulevard and features multiple trailheads with restrooms, picnic areas, and parking.
Length in Miles: 14.0
Elevation Gain: 600
Difficulty:

Moderate
---
Laurel, Yaupon, Possum, and Arroyo Vista Loop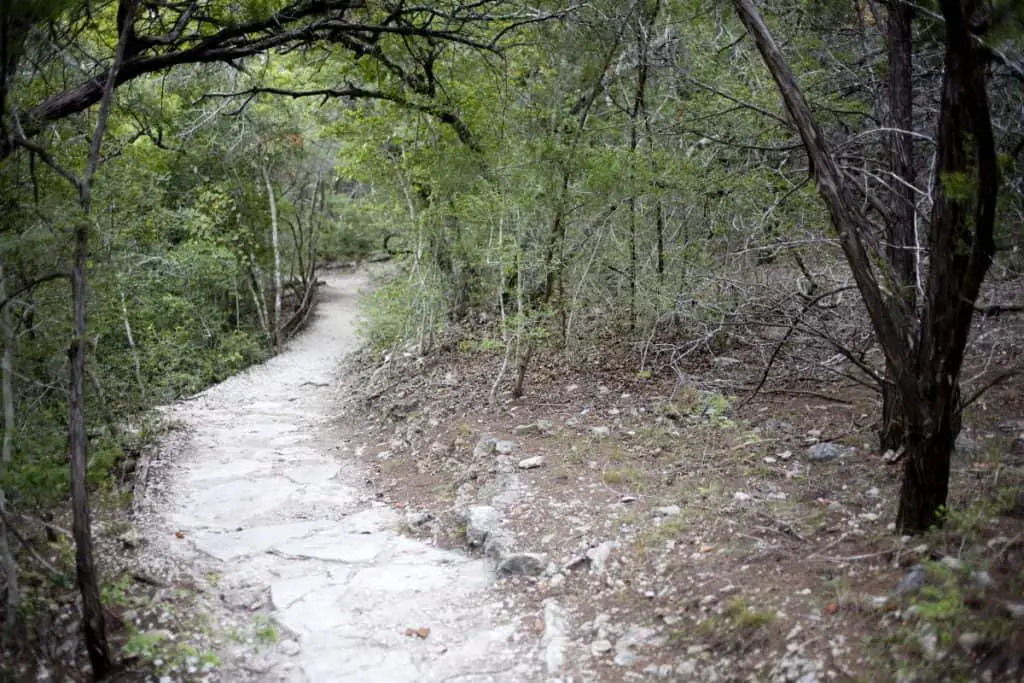 The Wild Basin Wilderness Preserve is a 227-acre nature preserve in Southwest Austin that offers a variety of hiking trails. Trails range from easy to difficult and cover about 3 miles of different terrain. The trails are narrow, rocky, and hilly, so wear sturdy shoes and watch your step!
These trails are great for people who want to spot wildlife. They're also popular with bird watchers because the area is home to many rare species.
Try the Laurel, Yaupon, Possum, and Arroyo Vista Loop if you're looking for a great workout. It's a shorter hike at only 1.8 miles, but it is considered to be quite challenging. In addition, it's beautiful and well-maintained, with quite a few water crossings for an added bit of fun.
Length in Miles: 1.8
Elevation Gain: 286
Difficulty:

Moderate
---
Homestead Trail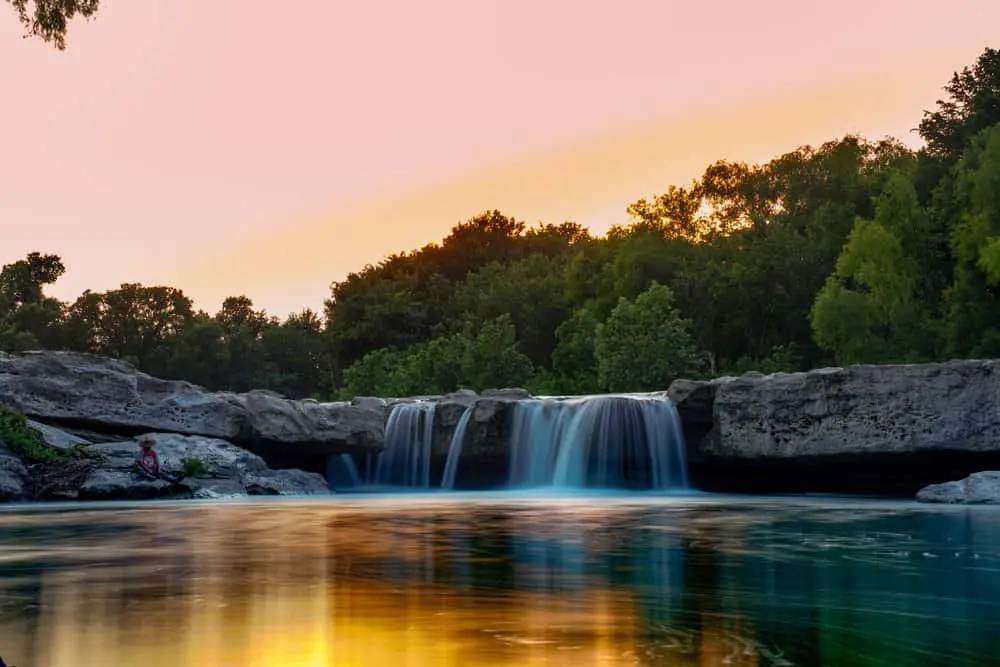 The Homestead Trail is a 3.4-mile loop trail in McKinney Falls State Park, just a short drive from Austin.
The Homestead Trail takes you past the ruins of the Smithers homestead, which was built in the 1850s. The trail also offers stunning views of Onion Creek and the waterfall for which the park is named.
McKinney Falls State Park is also home to two beautiful waterfalls, a must-see for any Texan. The park is named after Thomas F. McKinney, an early settler who owned the land in the 1800s and has a rich history of Texas history. The Upper Falls, which are smaller and have a shorter stream, flow into the Lower Falls, which are wider and more dramatic. If you're interested in exploring the park, there are several trails that you can take to view both of these waterfalls.
The park has been around since 1976, when the Texas Parks and Wildlife Department purchased this land from a private owner. In 2009, it was expanded by an additional 200 acres of land that the City of Austin donated to preserve its natural beauty for future generations.
McKinney Falls State Park is one of five parks in Austin located along Onion Creek, which has many opportunities for recreation and wildlife viewing opportunities, such as whitetail deer and armadillos!
Length in Miles: 3.4
Elevation Gain: 160
Difficulty:

Moderate
---
Lake Austin/360 Bridge Overlook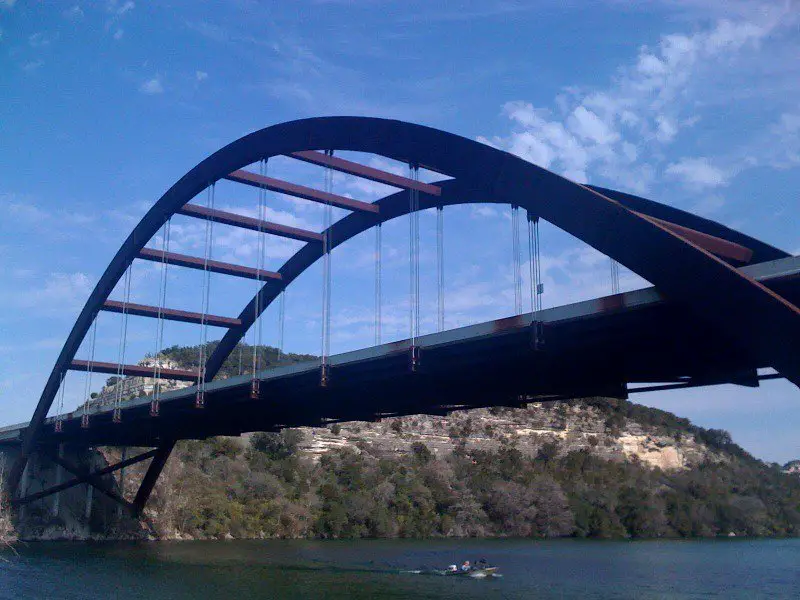 This loop trail is one of the most popular in Austin. It's well maintained, not too difficult, and has amazing views of the city and Lake Austin. Its proximity to downtown and free parking and restrooms on-site make it a great place to stop when you're in the area. It's also an excellent trail for beginners who want to get some exercise and see what hiking around Austin is all about.
The trailhead starts off from the north side of 360 near the Pennybacker Bridge (also known as 360 Bridge). The trail begins with a gentle uphill slope that takes you through some woods before opening up onto a hilltop with beautiful views of Lake Austin and West Austin.
A narrow downhill takes you back into another wooded area before opening up into another open field where you get more great views of west Austin, including Bee Caves Road. From there, it's downhill all the way back to the bridge.
Length in Miles: 0.5
Elevation Gain: 42
Difficulty:

Easy
---
Bull Creek Trail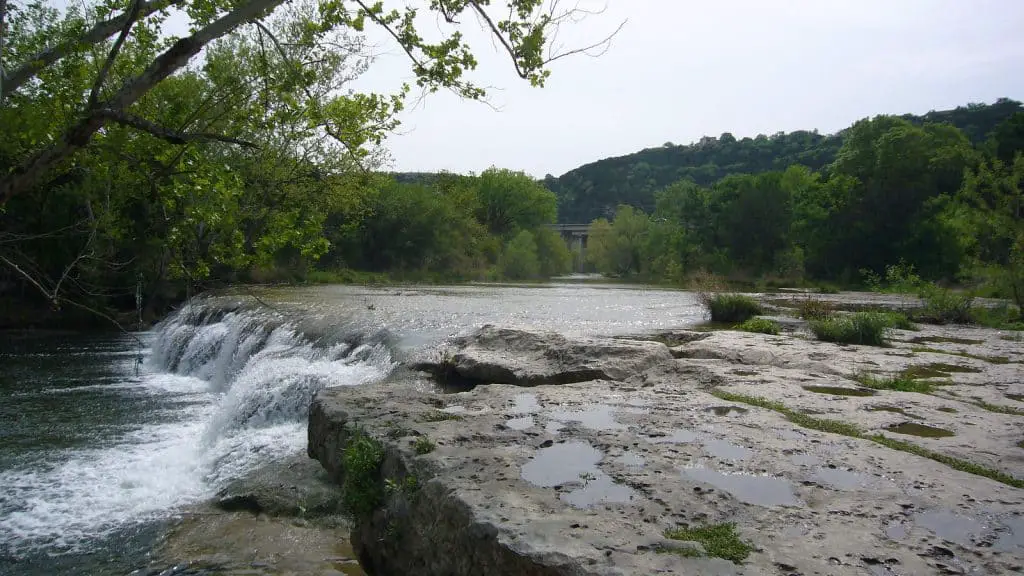 The Bul Creek Trail is a 4.4-mile loop trail located in northwest Austin. The trail is well-maintained and relatively challenging, making it a great option for experienced hikers. The trailhead starts at the north end of the parking lot and winds its way through the woods, eventually leading to a creek where you can take a break and enjoy the scenery.
The trail then continues through some more woods before opening up into an open field with great views of downtown Austin. From there, it's a short uphill climb back to the parking lot.
Covering 93.9 acres along Bull Creek, this park is ideal for swimming, fishing, and picnicking. It's also one of the best places in Austin to hike with dogs and kids. The park has several different trails ranging from a quarter-mile to 7+ miles.
The trails are popular with mountain bikers and birdwatchers, so keep your eyes peeled for local wildlife such as armadillos, raccoons, and turtles. There is also a small playground for children near the main parking lot.
The Bull Creek District Park trailhead is located at 6701 Lakewood Drive in Austin. There are two parking lots at the entrance to the park, but they fill up quickly on weekends and holidays. During crowded times, it's best to plan your trip during off-peak hours or to arrive early in the morning when you can find parking more easily.
Length in Miles: 4.4
Elevation Gain: 538
Difficulty:

Moderate
---
Pace Bend Park Trail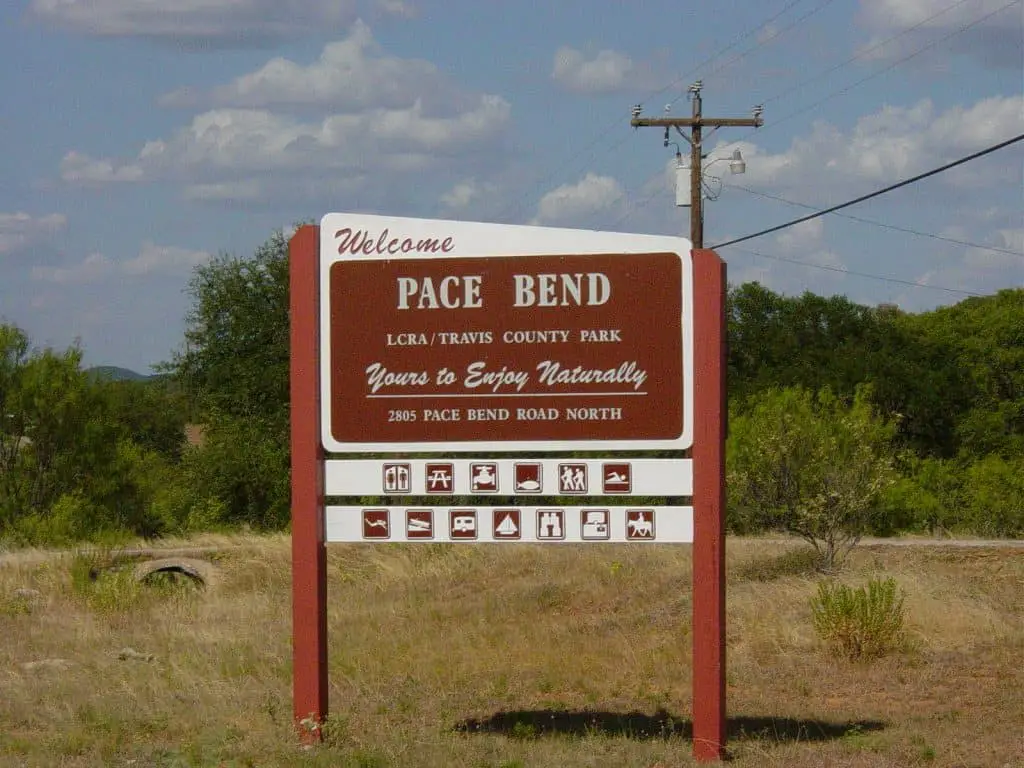 This 11.6-mile loop trail is a fantastic trail if you're looking for solitude and an opportunity to commune with nature.
However, if views are what you're looking for, you'll be disappointed as the trail is mostly shaded, and there aren't many opportunities for scenic views.
Pace Bend Park is a popular hiking spot for Austin locals, as it's just outside of the city and offers some of the best panoramic views of the Texas Hill Country. The park is located in Spicewood, about 30 miles west of downtown Austin, and has over 25 miles of trail to explore.
The trails at Pace Bend range from easy to moderate in difficulty, but if you're looking for a more challenging route, make sure to cross the street from the parking lot and hike the 3.5-mile loop that takes you up to Bluff Point. This trail is not marked on the official map so make sure you have your phone with you for directions.
The park has three swimming areas along the edge of Lake Travis, where you can go cliff jumping or relax at the beach after your hike.
Length in Miles: 11.6
Elevation Gain: 820
Difficulty:

Moderate
---
Hamilton Pool Park Trail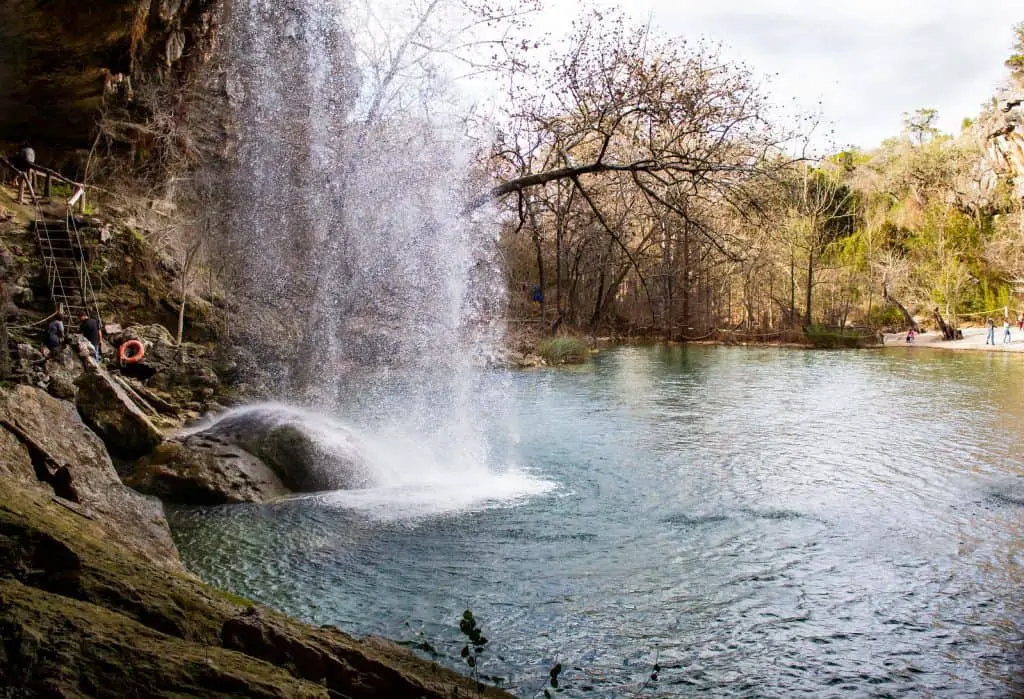 Of all the places to hike in Austin, Hamilton Pool is an absolute gem. This place is truly a must-visit if you're visiting Austin and looking to get outside. The area features crystal clear water, massive limestone rock formations, and several hiking trails that are easily accessible.
The main attraction of Hamilton Pool Preserve is the iconic Hamilton Pool waterfall which cascades into a 50 ft grotto surrounded by ancient rock walls. While this amazing swimming hole is fairly easy to access, getting there requires a quarter-mile hike from the parking lot. The entire loop trail around Hamilton Pool totals 2 miles and takes about an hour to complete.
Length in Miles: 1.8
Elevation Gain: 144
Difficulty:

Moderate
---
Mount Bonnell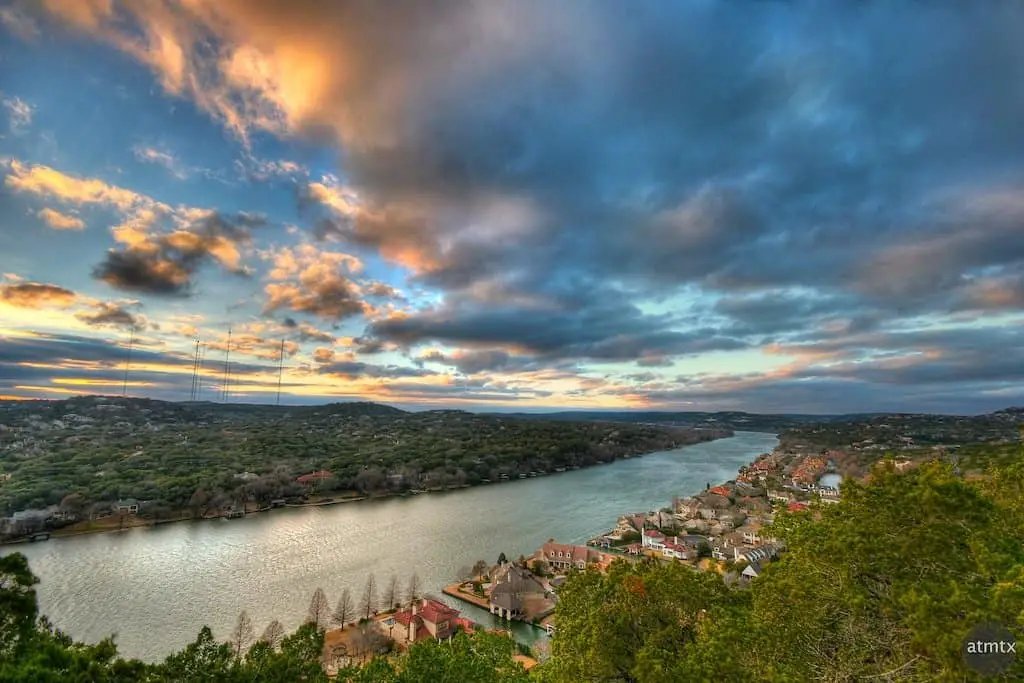 One of Austin's most popular attractions, Mount Bonnell tops out at 785 feet and offers spectacular views of the Colorado River and the city beyond. The hike is a moderate 0.75 miles in total, but there are several staircases that make for an aerobic workout.
The trails to Mount Bonnell are best suited for hikers who are looking for an easygoing stroll that offers a good workout, with the reward being beautiful views.
There's plenty of parking at the trailhead along Mount Bonnell Road, and dogs are allowed as long as they're leashed. The hike takes about 30 minutes round trip.
Length in Miles: 0.75
Elevation Gain: 785
Difficulty:

Easy

Moderate
---
Twin Falls Nature Trail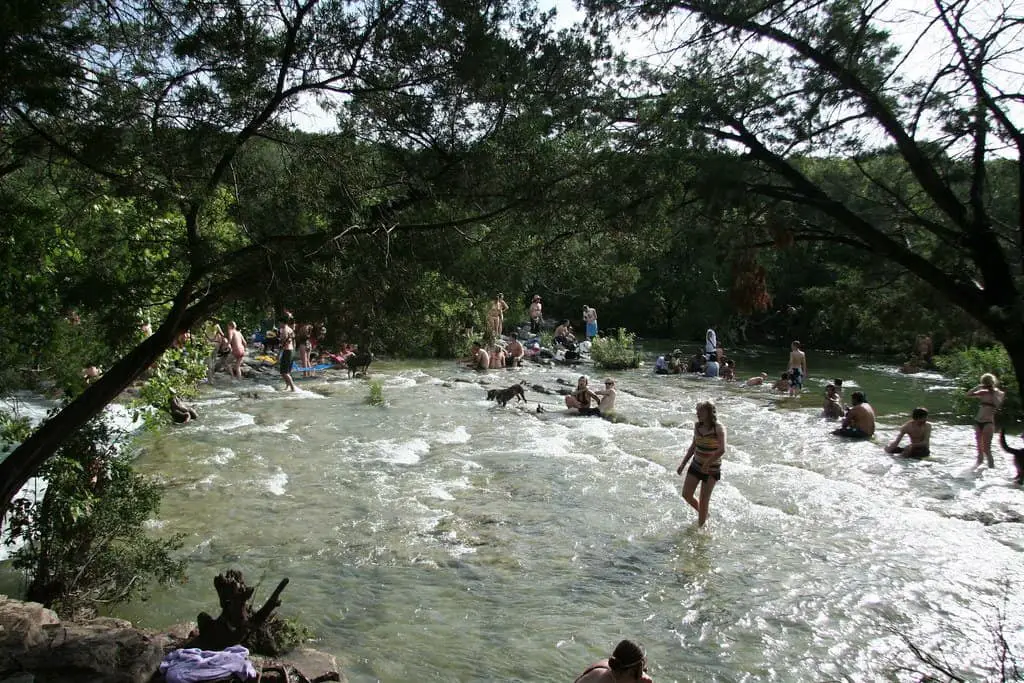 The trailhead is at the end of Twin Falls Drive near the intersection with Bee Caves Road in Westlake. You can park on the street near the trailhead. The first half mile is paved and accessible for strollers, wheelchairs, and scooters.
The trail is just under a one-mile round trip. It's shaded by large oak trees, which provide a nice respite on a hot day. There are two sets of falls, each of which has a small pool at the bottom where you can dip your feet in to cool off.
The hike itself isn't tough, but getting to the waterfalls requires some rock hopping and scrambling over boulders, so make sure you wear shoes with good traction and watch your step!
Length in Miles: 0.5
Elevation Gain: 95
Difficulty:

Easy
---
Gorman Falls Trail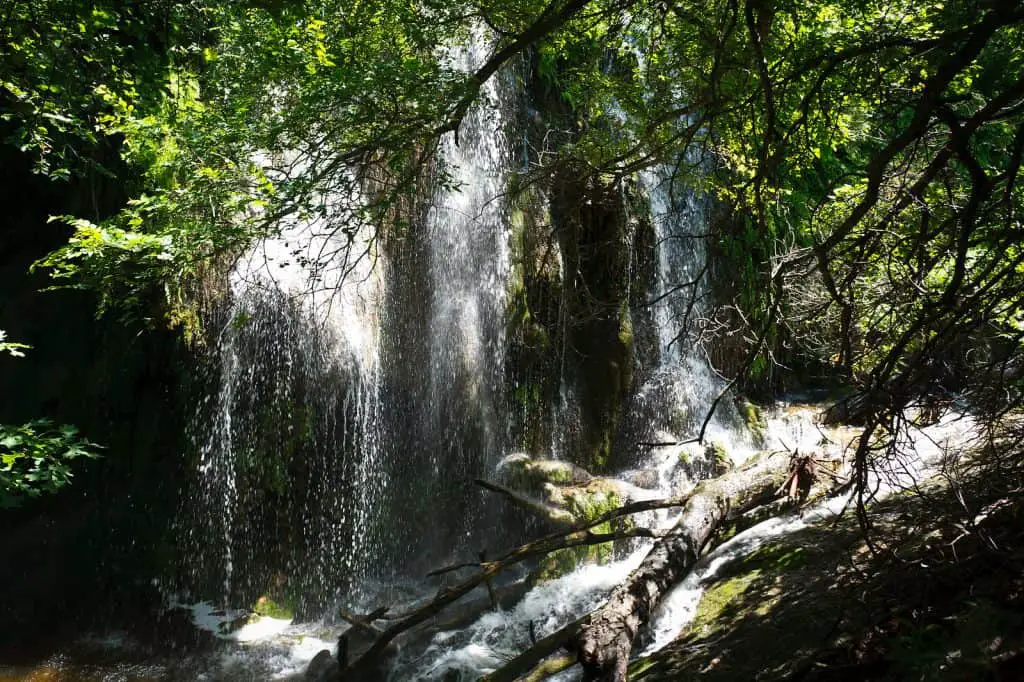 The only way to reach Gorman Falls is via an approximately three-mile roundtrip hike. The trail is considered moderately strenuous, gaining about 300 feet in elevation as it winds through the park's canyonlands. The trail is also quite rocky in places, so make sure you wear proper footwear.
In addition to the waterfall, hikers will also pass through one of the most biodiverse areas in the state — especially for spring wildflowers — and have a chance to spot some of the park's resident wildlife, including deer, turkeys, and armadillos.
The falls are fed by Gorman Creek, which flows from springs just below the waterfall's base before continuing into the Colorado River. The name Gorman comes from George W. Gorman, who established a ranch near the falls in 1858 and served as Colorado County commissioner for two years before his death in 1862. While no trace of his ranch remains today, visitors can see some evidence of more recent structures along the trail — remnants of a dam that was once used to divert water from Gorman Creek for irrigation purposes.
Length in Miles: 2.8
Elevation Gain: 331
Difficulty:

Moderate
---
Conclusion
This list of the fifteen best hiking trails in Austin showcases just some of the potential that the city has for outdoor adventure. If you live in Austin or plan on visiting, spend some time exploring these nature hikes for a glimpse into what the city has to offer outdoors. And don't forget to leave your own favorites in the comments—there are always more trails out there waiting to be discovered. Happy hiking!
Frequently Asked Questions About Hiking In Austin, Texas
How difficult are the trails on this list?
The difficulty of the trails varies. Some, like Mount Bonnell, are considered easy while others, like Gorman Falls, are considered moderate to strenuous. Be sure to read the descriptions carefully so you know what to expect before you start your hike. Even though a trail is marked as moderate, it doesn't mean it's not doable for a newbie. Prepare and plan accordingly and you'll be just fine.
Can I bring my dog on these hikes?
Dogs are allowed on most of the trails, but they must be leashed. For more information, please visit the official park website.
Are there mountains in Austin, TX?
No, but there are plenty of hills! Austin is known for its rolling hills and scenic views. Many of the trails on this list offer great views of the city.
Is Austin an outdoorsy city?
Yes! Austin is a great city for outdoor activities. In addition to hiking, there are plenty of opportunities for biking, swimming, and rock climbing.
What's the best time of year to hike in Austin?
The best time of year to hike in Austin is during the cooler months, from October to April. The summers can be extremely hot and humid, making it difficult to enjoy being outdoors.
What are some other things to do in Austin?
In addition to hiking, Austin offers plenty of other outdoor activities, including biking, swimming, rock climbing, and camping. There are also many great restaurants and bars, museums, and live music venues.
Where can I find more information about hiking in Austin?